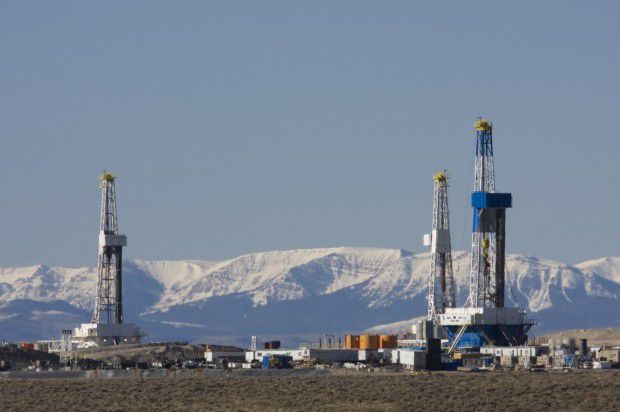 One of Wyoming's most prolific natural gas producers, Ultra Petroleum Corp., filed for Chapter 11 bankruptcy Thursday evening in Texas following months of financial instability. As a top energy producer and taxpayer in Wyoming, the firm's insolvency places the energy-dependent state's traditional revenue streams in further jeopardy.
The company is vying to erase approximately $2 billion in debt, according to a Thursday news release from Ultra Petroleum.
In light of market pressures, Ultra Petroleum announced in September it would lay down its rigs and cease drilling activity in the rich natural gas formations on the Pinedale Anticline in Wyoming.
"After several months of liability management efforts and careful consideration of how best to navigate a challenging low commodity price environment and our debt levels, Ultra's Board of Directors determined that a voluntarily filling for Chapter 11 reorganization provides the best outcome for the entity," Brad Johnson, Ultra Petroleum's CEO said in a statement. "This financial restructuring will result in an enterprise with very little debt, good liquidity and significant free cash flow that is underpinned by a large-scale, low-cost base of natural gas and condensate production."
Ultra Petroleum has long been a fixture in Wyoming's energy landscape, arriving early on in Wyoming's natural gas boom and beginning production in November 1997, according to Supervisor Mark Watson of the Wyoming Oil and Gas Conservation Commission. Among the hundreds of energy companies with operations in Wyoming, Ultra Petroleum made the largest tax contribution to the state last year.
"But Ultra stopped drilling last September, so they're just basically living on the production they have," Watson explained. "And that production is dropping. I'm sure they won't be the biggest energy producer as far as tax base for the state this year."
For months, natural gas prices have been brutally low for producers and competition tight amidst a glutted market, especially for producers in Wyoming. Henry Hub natural gas spot prices, a U.S. benchmark for the commodity, have hovered between $1.50 and $2.50 per million British thermal units for months on end. The pandemic has exacerbated already tough market conditions for natural gas, with Henry Hub at $1.59 per million British thermal units on Thursday night.
Natural gas production in Wyoming has declined by 37 percent in one decade, between 2009 and 2019, according to the U.S. Energy Information Administration. The agency forecasts natural gas production falling 5 percent this year.
For Wyoming, future economic conditions are far from certain. Several revenue scenarios published by the Legislative Service Office in April estimated a loss of $40.8 million in revenue this fiscal year, if natural gas production declines by 6 percent and prices hover around $2.10 per million British thermal units.
Meanwhile, Wyoming's other leading natural gas producer Jonah Energy has continued to weather the tough market conditions. The company has been able to avoid making layoffs and forged ahead with production since the pandemic struck Wyoming, according to Paul Ulrich, vice president of government and regulatory affairs at Jonah Energy.
"We're still fully producing in the Jonah field," Ulrich said. "We obviously laid down our last two rigs in March; however, we're also pleased to report that we're looking at bringing back a rig in July and that is very promising for us."
But he cautioned that without some meaningful relief from the state, the energy sector could be looking at a complete "economic collapse."
"The foundation of our entire economy in Wyoming is natural resources — oil, gas and coal — and we have an obligation as a state for an 'all hands approach,'" he added.
This isn't the first time Ultra Petroleum has filed for bankruptcy. It declared Chapter 11 bankruptcy in 2016. Its most recent reorganization case will be handled in the U.S. Bankruptcy Court for the Southern District of Texas. A hearing will be held Tuesday.