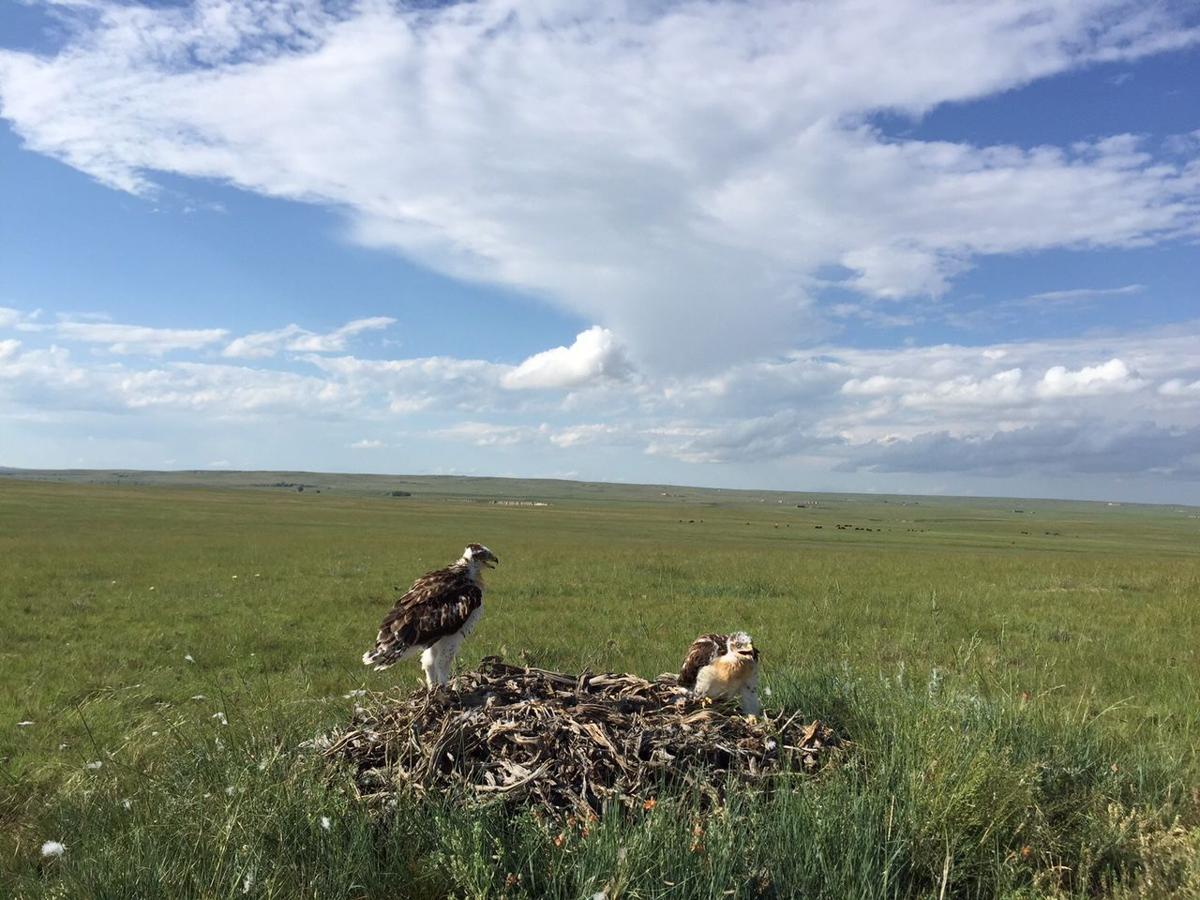 Wyoming's ferruginous hawks have taken the limelight at oil and gas major EOG Resources, Inc. lately.
An endemic part of Wyoming's Powder River Basin ecosystem, ferruginous hawks can often be spotted soaring, foraging and nesting throughout the wide-open sagebrush steppe landscapes.
"They're your quintessential Western hawk that has evolved on the Great Plains," explained Chad Olson, a co-founder of HWA Wildlife Consulting Firm. "In the Western U.S. and Canada, they're found in these big open-road landscapes."
In an effort to balance the need to protect the sensitive raptor and the advancement of energy development, EOG has been working with the Wyoming-based wildlife consulting firm for the past five years to learn more about the nesting and migration patterns of the iconic hawks swooping throughout the basin.
Ferruginous hawks are unique from many other birds in their propensity to nest on the ground. That can happen often in the Powder River Basin, where the predominately grassland and sagebrush steppe ecosystems make nesting substrates limited. The birds can sometimes be found on artificial nesting platforms, energy infrastructure, power poles and trees.
But making a home on the ground has made the hawks especially vulnerable to human disturbances.
EOG partnered with HWA Wildlife Consulting to conduct a multi-year study of the bird because of the firm's history in completing avian and other wildlife studies in Wyoming and across the Mountain West.
For this particular study, HWA collected data using trackers, called Argos satellite transmitters. Since 2016, the scientists have tagged 16 birds and gathered countless other data points from monitoring the behavior of several raptors in the region.
According to EOG, the wealth of research so far has enabled the company to implement more effective strategies to protect the hawk before drilling even begins.
For instance, the study has helped the company identify where occupied nests are located on the ground with more precision. Knowing nest locations allows the operator to institute buffer zones during nesting season and time drilling to avoid disturbing nearby hawks.
"EOG is committed to the safe and responsible development of oil and gas in Wyoming, which includes our efforts to better understand wildlife and their habitats in the state," said Creighton Welch, manager of government relations and communications at EOG.
EOG remains the leading oil and gas company in Wyoming, producing over 20 million barrels of oil last year. The scale and reach of EOG's operations means any advancements made in their approach to wildlife management could have sizable repercussions.
"We take a very data-driven approach to development, and our ferruginous hawk study has become an important component of our planning efforts," Welch continued. "This information allows us to make more informed decisions about the location and timing of our operations in the Powder River Basin."
In addition to tracking nest locations, Olson and his team at HWA have mapped the territories used by each bird.
"The bird's territories aren't nice, neat round circles around a nest," Olson said.
That means developers also need to be aware of where the hawks forage, perch and generally move about in a landscape.
HWA collects the GPS data using the trackers that transmit location points through cell phone tower networks. After that, Olson's team maps and analyzes the various points.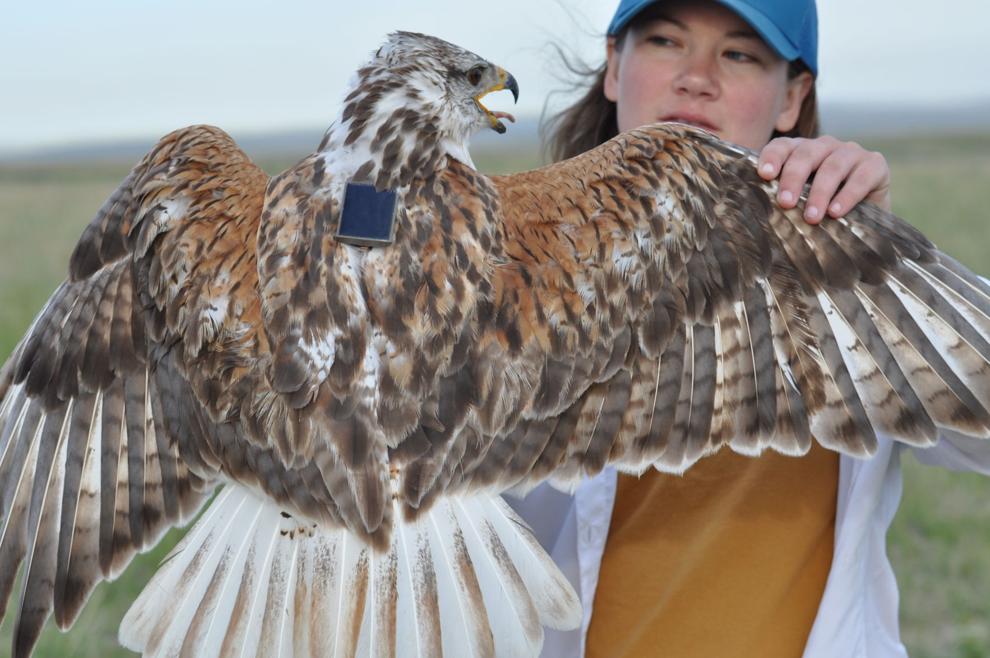 "The transmitters, they've become amazingly small and light," Olson said. "You can get an enormous number of locations on these birds, down to two to three meters. So the detail you can get in terms of habitat use and patterns is just phenomenal."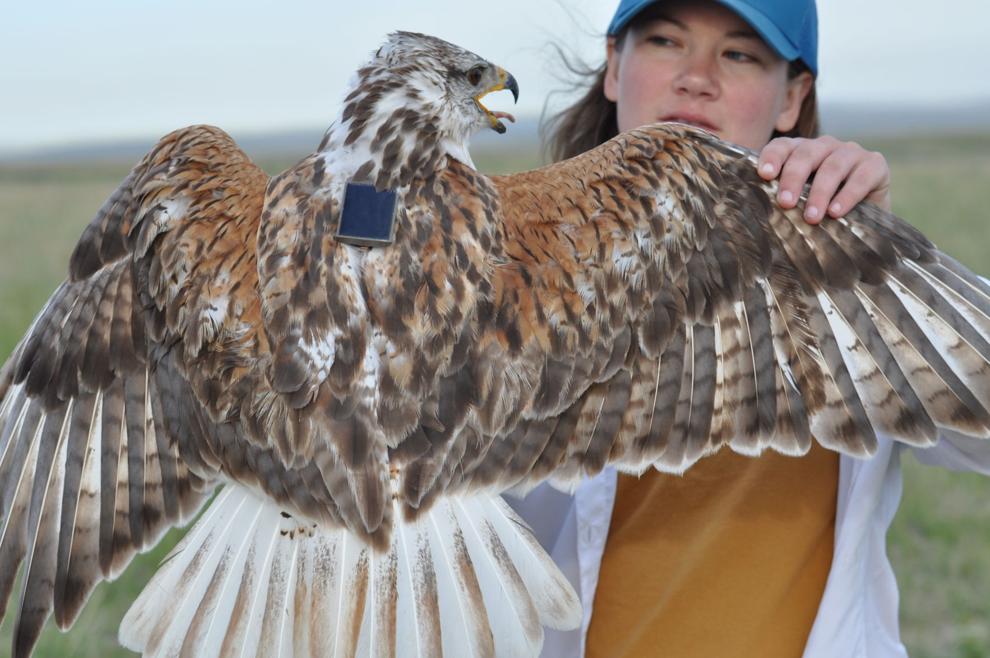 It's not just nesting season behaviors that the wildlife management group and EOG are interested in. They also have tracked the migratory patterns of the hawks to find out where birds spend their winters.
EOG said it has shared its findings with the Bureau of Land Management to help inform resource planning.
Some studies have shown signs of a decline in the ferruginous hawk population in Wyoming, with many citing a variety of disturbances and a loss of habitat. The Wyoming Game and Fish Department have long kept an eye on the bird, especially as energy development, in the form of oil, natural gas and wind, has exploded in the past decade.
But conservationists assert there's still more work to be done.
The Bureau of Land Management recently published a final environmental review for a large oil and gas project proposed in Converse County. A group of energy firms, including EOG Resources, submitted the proposal to develop oil and gas in the eastern Wyoming county years ago and an environmental review began in 2014.
If they receive approval after a public comment period, several energy firms would have the green light to drill upwards of 5,000 new wells on about 1.5 million acres of land. A revision to the area's resource management could provide operators with the option to drill year-round, which has some conservationists worried for raptors, including ferruginous hawks.
That's because the proposed amendment to the Casper resource management plan would lift some "timing limitation stipulations," currently in place to protect non-eagle raptors, thereby allowing operators to "maximize the use of horizontal development from multi-well pads."
EOG said its review of the final environmental impact statement is still ongoing, but the company will maintain its commitment to operating in Wyoming while also upholding strong wildlife management standards that protect raptors, regardless of what the final environmental impact statement requires.