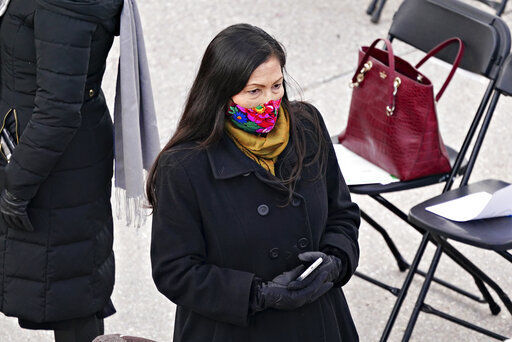 New Mexico Rep. Deb Haaland will likely face strong opposition from Wyoming's senators during her upcoming confirmation hearing for Interior Department secretary.
Sen. Cynthia Lummis said she would likely oppose an effort to seat Haaland until the Biden administration invites states heavily reliant on federal mineral royalties to the table.
In an interview with the Star-Tribune on Tuesday, Lummis expressed concern over the Biden administration's decision to pause new federal oil and gas development, and Haaland's previous statements opposing fossil fuel extraction. Wyoming heavily relies on revenues from fossil fuel activity.
"Her position on those issues is very contrary to Wyoming's best interests and, quite frankly, New Mexico's best interests," Lummis said. "So we are looking at not only opposing her, but possibly putting a hold on her nomination and others at the Department of Interior until we get a chance to talk to the president, and those in the White House about our concerns with their extraordinary negative impact on public land states."
A member of the Pueblo of Laguna tribe, Haaland would be the country's first Native American cabinet member. The Interior Department is a top federal agency tasked with managing the nation's lands, waters and natural resources, along with the federal government's relationship with tribal nations. It's also a branch of government with a long history of breaching tribal sovereignty — from stripping land away from tribes through the Dawes Act of 1887, to instituting policies to enforce assimilation during the Indian Termination Era in the mid-20th century. The legacies of these policies have ongoing consequences, often affecting how tribal consultations over mining and other land development proposals are handled.
Haaland has largely been expected to carry out key provisions of Biden's plans to advance environmental justice, reform tribal consultation and fight climate change. Many of these priorities hinge heavily on pursuing an exit from extracting minerals in federal lands and waters.
Yet Haaland currently represents New Mexico, a state deeply dependent on oil and natural gas drilling. In 2020, New Mexico received $706 million from the Interior's Office of Natural Resources Revenue, thanks to oil and gas development on federal lands. That's more money than any other state in the country. Wyoming is another top recipient of federal oil and gas royalties and received $457 million last year.
If confirmed, Haaland would need to confront the fallout from President Joe Biden's decision early on to pause new federal oil and gas leasing, a move that has been met with aggressive opposition from Wyoming's leaders and other states reliant on federal oil and gas development. Biden's Interior Department issued a Jan. 20 secretarial order requiring top officials to approve any new oil and gas leases or permits. That was quickly followed by a separate executive order instituting a moratorium on new leases, pending a review of its oil and gas leasing program.
Wyoming's opposition to energy and climate posts
It's not just Biden's pick for Interior secretary that is angering Wyoming lawmakers.
Sen. John Barrasso has signaled his opposition to Haaland's nomination but has also opposed other Biden nominees in energy and climate posts.
Barrasso offered some pushback to Biden's pick to lead the Environmental Protection Agency, Michael Regan, in his final meeting on the Environment and Public Works Committee last week. The Wyoming senator ultimately voted against Biden's nominee for energy secretary, Jennifer Granholm, earlier this week in protest of Biden's executive actions pausing oil and gas leasing on federal lands and canceling the Keystone XL pipeline project in the Dakotas.
Additional Biden appointees are expected to face a long road ahead.
In an interview Tuesday, Barrasso said that Republicans have pledged to delay any additional hearings for Biden appointees until an impeachment trial against President Donald Trump reaches its conclusion. And even then, Republicans are likely to use their position to stall any efforts to seat Biden's nominees until some of their demands are met.
"The concern that I have with Rep. Haaland is that she has some significantly radical views," Barrasso said. "She is a big supporter of the Green New Deal, which makes American energy more expensive and really does, in my opinion, very little to help the environment. So with big pain, comes very little gain."
Haaland has supported bipartisan legislation impacting public lands, including the Great American Outdoors Act and America's Conservation Enhancement Act. 
Temporarily holding those nominations, Lummis said, is one way to accomplish her goal of protecting Wyoming's interests, particularly in a Senate already wary of the economic impact of Biden's aggressive actions to address climate change.
"Our goal, if we choose to move forward with a hold, would be to have a chance to speak personally with the Biden administration so they understand that perhaps they can use executive orders without repercussions for nonpublic land states," Lummis said. "But the repercussions to public land states, and to the offshore states in the Gulf of Mexico, which are also impacted by this executive order, are tremendous. And the impacts to revenues that go specifically to K-12 education in the Gulf of Mexico states and energy-producing states reliant on public lands is tremendous."
The Star-Tribune has reached out to Haaland for comment.