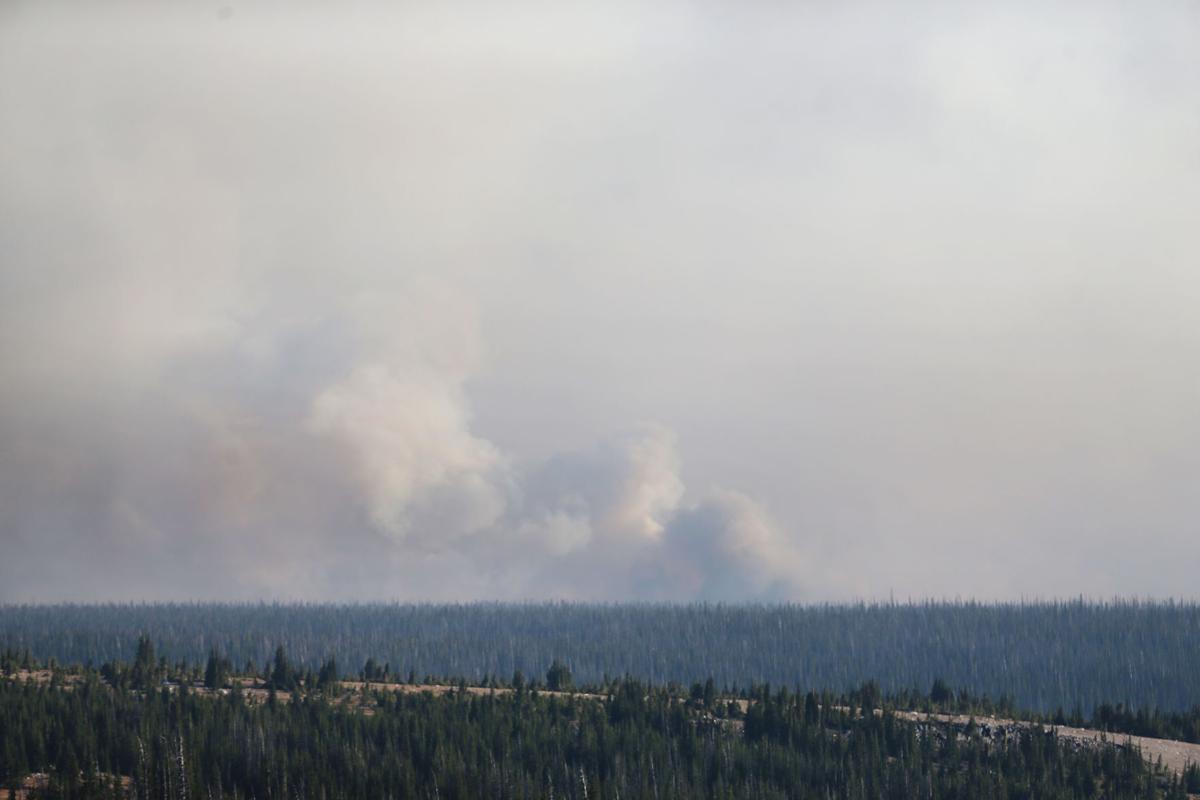 The wildfire sweeping through the Medicine Bow National Forest in southeastern Wyoming has significantly calmed in recent days and remains well contained, according to authorities.
Firefighters have started to clean up areas damaged by the largest wildfire in Wyoming recent history. On Tuesday, crews focused on suppression repair efforts on private land — clearing burned debris, repairing fences and packing up equipment. About 445 firefighters and other personnel remain on the job.
Crews have contained 73% of the blaze that burned 176,863 acres.
Many residents forced to evacuate have started the process of returning home. Authorities urged landowners to use caution and stay alert for "fire-weakened trees, smoldering or burning fuels, and firefighting trucks and heavy equipment."
The Albany County Sheriff's has lifted all mandatory evacuations orders for the Mullen Fire. On Tuesday, the mandatory evacuation status in place for Porter Ranch, Fox Park, Miller Lake, Foxborough and Dry Park was changed to a pre-evacuation status.
"Firefighters did a lot of work in there to make sure communities were safe before we made the decision to re-populate," Jon Wallace, operations section chief for the Southern Area Blue Team, said during a virtual update on Wednesday morning. "Firefighters will continue being out there, controlling and monitoring things until the winter weather comes in this weekend."
Though warmer and drier weather has crept back this week, the conditions are not severe enough to fuel the fire, according to Incident Meteorologist Dan Borsum. The landscape is still holding onto moisture from recent rain and snowfall, he explained during an update Tuesday.
In fact, temperature's are expected to drop by about 20 degrees on Thursday, with snow accumulation over the fire likely throughout the weekend.
"This is good for the firefighters," Borsum said.
Over the course of one month, the wildfire grew to envelop 176,863 acres of land. The fire damaged 66 structures and led to the evacuation of hundreds. The fire began on Sept. 17 in the Medicine Bow National Forest.
A sustained stretch of dry, warm and windy weather initially made containing the fire challenging. The fire spread rapidly across the national forest's rugged terrain, devouring the dense vegetation and beetle-killed trees throughout the national forest. On Sept. 26, a day of particularly intense fire activity, winds reached 70 mph, causing the fire to spread south.
Authorities initially said the fire was likely human caused but have not provided additional details. The cause of the fire is still under investigation.
Meanwhile, the Cameron Peak Fire — the largest wildfire in the Colorado's history — has continued to engulf over 206,000 acres just south of the Mullen Fire. An additional fire near Boulder continued to intensify on Tuesday night, growing to nearly 10,000 acres.



Follow the latest on Wyoming's energy industry and the environment at @camillereports
The business news you need
With a weekly newsletter looking back at local history.