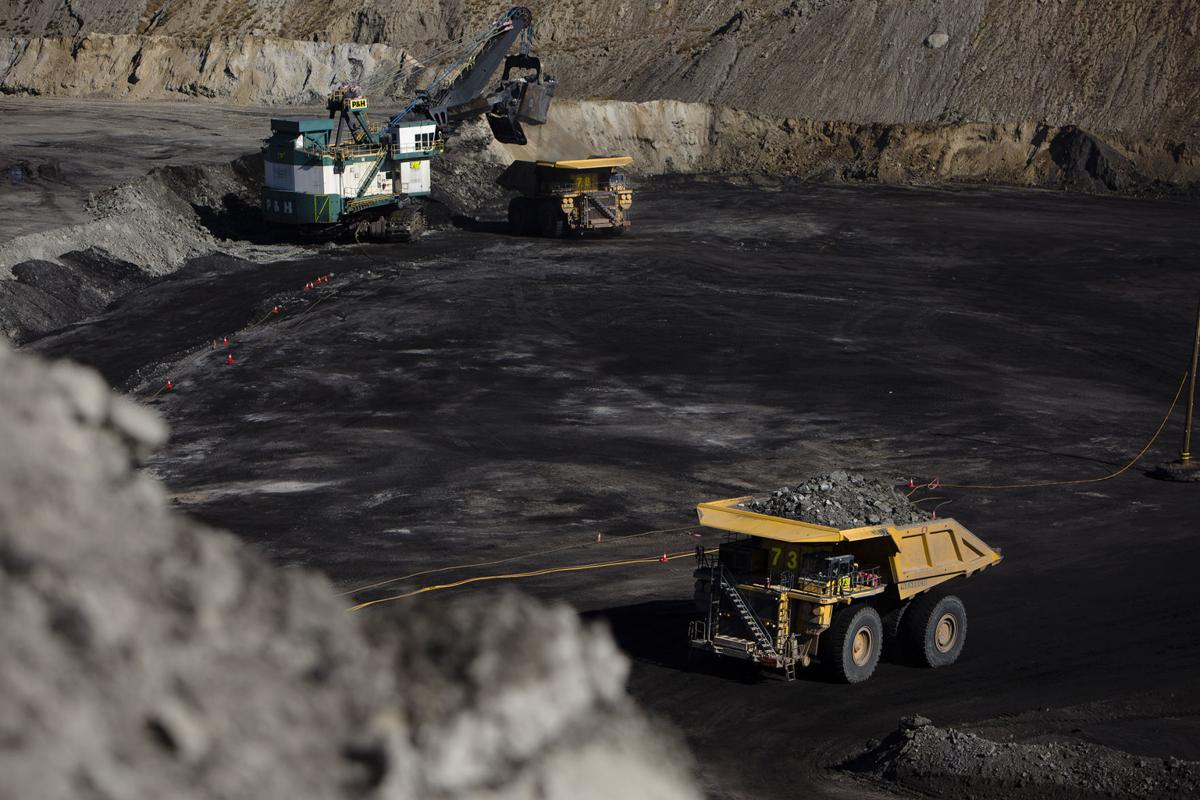 For many years an untouchable titan of coal production, the Powder River Basin continues to face decline, and the number of miners trying to survive by digging more PRB coal may be delaying the relief needed in Wyoming coal country, according to an analysis published Thursday by Moody's Investor Service, the credit rating agency.
Of the main coal-producing regions in the country, Appalachia, the Midwest and the basin — which extends into southern Montana — the PRB is in the weakest position, according to the report.
Moody's analysts confirm some of the long-term trends coming to a head for Wyoming, including the struggle of lower-heat mines to compete, environmental regulations that thinned the coal-fired power plant fleet and the lack of a promising export market for PRB coal.
And, according to Moody's, it's not going to get better any time soon.
***
The Powder River Basin is a fairly consolidated coal producer, with just three companies providing three-fourths of the coal: Arch Coal, Peabody Energy and Cloud Peak Energy. But further consolidation would likely alleviate the basin's biggest problem: too much production.
"Some of those smaller mines are actually still increasing production," said Ben Nelson, vice president and senior credit officer at Moody's and one of the authors of the analysis. "What that tells us is the basin is not consolidated enough to deal with the issue that they are facing."
Consolidation is a good thing from a commodities perspective, Nelson said.
"What it helps you to do is match supply with demand," he said.
And demand for Powder River Basin coal has fallen considerably. While large companies like Arch Coal and Peabody Energy have chosen to cut production in recent quarters, and predict continued cuts in 2019, smaller miners are upping their game, depressing the price and upsetting the balance of production in the PRB.
Moody's does not expect consolidation — buyout of other mines — to happen in the Powder River Basin anytime soon, in part because Wyoming's largest coal miners, Arch Coal and Peabody Energy are investing in other markets.
"Peabody and Arch are focusing their efforts on producing metallurgical coal, a key component in steelmaking and a stronger market today than thermal coal, and have shown little interest in consolidating the basin," the Moody's analysis states.
The third of the three largest players, Cloud Peak, may be selling itself amid financial distress — but it's unclear that the larger players would be buying.
Rob Godby, director of the Center of Energy Economics and Public Policy at the University of Wyoming, said that the Moody's analysis of the basin rings true.
Cloud Peak — which operates the Antelope and Cordero Rojo mines in Wyoming — could file for bankruptcy within a week, depending on whether the firm makes a debt payment or accepts default. And if it sells its mines in the bankruptcy process, it's possible that another smaller player or less financially stable player will try to buy the assets, Godby said.
Travis Deti, executive director of the Wyoming Mining Association, noted that operations are challenging for all producers, and the Moody's analysis confirms that.
"It's a tough environment," he said.
As long as industries like wind still benefit from federal subsidies and natural gas plants are cheaper to build than coal plants, the market may not find relief, he said, noting that coal research to make carbon capture economic enough in the power sector could help the industry.
"It's really that simple," he said. "We need customers, and right now that customer base is shrinking."
Wyoming coal customers may continue to disappear, according to the Moody's analysis, which notes the basin's particular vulnerability to continued coal plant closures.
Godby has noted the same risk to Wyoming coal in his analyses, noting in a March presentation in Jackson that the damage done to Wyoming coal country could come in fits and bursts rather than the gradual decline that some have expected — or hoped for.
A single coal plant closure could hit multiple mines, destabilizing profitability at each. Mines could close or be sold to risky owners, and both the state and the local coal communities would find themselves on the receiving end of substantial economic blows, according to Godby's analysis.
"Those are way more painful, because they feel like they sneak up on you," Godby said of the sudden downturns that could come to coal country. "That's all the more reason that the state, yesterday, needs to start planning for this."
Follow energy reporter Heather Richards on Twitter @hroxaner
The business news you need
With a weekly newsletter looking back at local history.