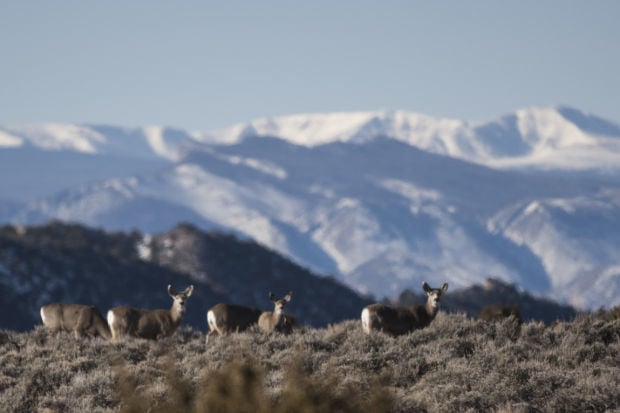 Conservative groups and taxpayer advocates joined together last week in a call to halt this year's federal oil and gas lease sales in lieu of depressed market conditions and poor financial returns for the public.
Wyoming's first quarterly lease sale of the year is scheduled to occur on Tuesday. The bureau will offer 105 parcels covering about 118,292 acres of public land.
But to critics of the upcoming sales, now is not the time for the government to be leasing public land. Volatile energy markets have continued to hit Wyoming operators, with oil prices cratering and investors shedding energy shares as the coronavirus continues to spread worldwide. Operators have trouble breaking even on production when oil prices drop too low.
"Leasing vast swaths of public land in the midst of an oil glut and collapsing market is nothing short of fiscal lunacy," said David Jenkins, the president of Conservatives for Responsible Stewardship. "It also represents a gross mismanagement of valuable natural resources that turns our nation's longstanding principle of multiple-use on its head."
Giving up land to oil companies with little ability to drill denies the public access to the land for recreational use, the groups explained in a news release last week. It also gives up minerals owned by American taxpayers well below market value, they added. Often, oil and gas companies can claim a significant portion of available parcels at the minimum bid amount — $2 per acre.
A geospatial analysis released this year by the Center for Western Priorities, a conservation group, found 1.3 million acres of active leases on Wyoming land sold for $2 or less an acre, often in noncompetitive sales.
"Taxpayers are already losing on this administration's oil and gas lease sale binge," Taxpayers for Common Sense President Steve Ellis said. "But in the current financial market, the rush to offer up millions of acres of public land for oil and gas lease is even more fiscally reckless. It's time to cap this blowout of waste."
The BLM did not return a request for comment by press time.
Statewide lease sales have also garnered opposition from conservation groups and some landowners who think the Trump administration's energy dominance strategy has sparked a race to claim thousands of public acres in sensitive habitats at the expense of the environment and the public.
Alan Rogers, communications director at the Wyoming Outdoor Council, is also concerned with the potential exclusion of key public input throughout the leasing process due to the recent spread of the novel coronavirus.
"There have been numerous recent attempts at the federal level to cut out local voices from land management decisions, and this pandemic creates another obstacle to public participation," Rogers said in an email to the Star-Tribune. "Our hope is that the BLM proceeds cautiously with any decision that requires public input."
Rogers added he is also keeping a close eye on the imminent release of the Rock Springs Resource Management Plan draft. Resource management plans provide a long-term look at how public land and minerals should be managed. Each field office considers whether public land should be open to activity or if the land needs protection.
"The public comment window will be very limited and easily overshadowed by the coronavirus response," he said.
Wyoming produces more energy on public land than almost any other state in the country. The state receives about half of the funds made through federal lease sales. Last year, the sales brought $117 million back into the Equality State's coffers. A portion of royalties paid by companies for extracted minerals also flows back to the state.