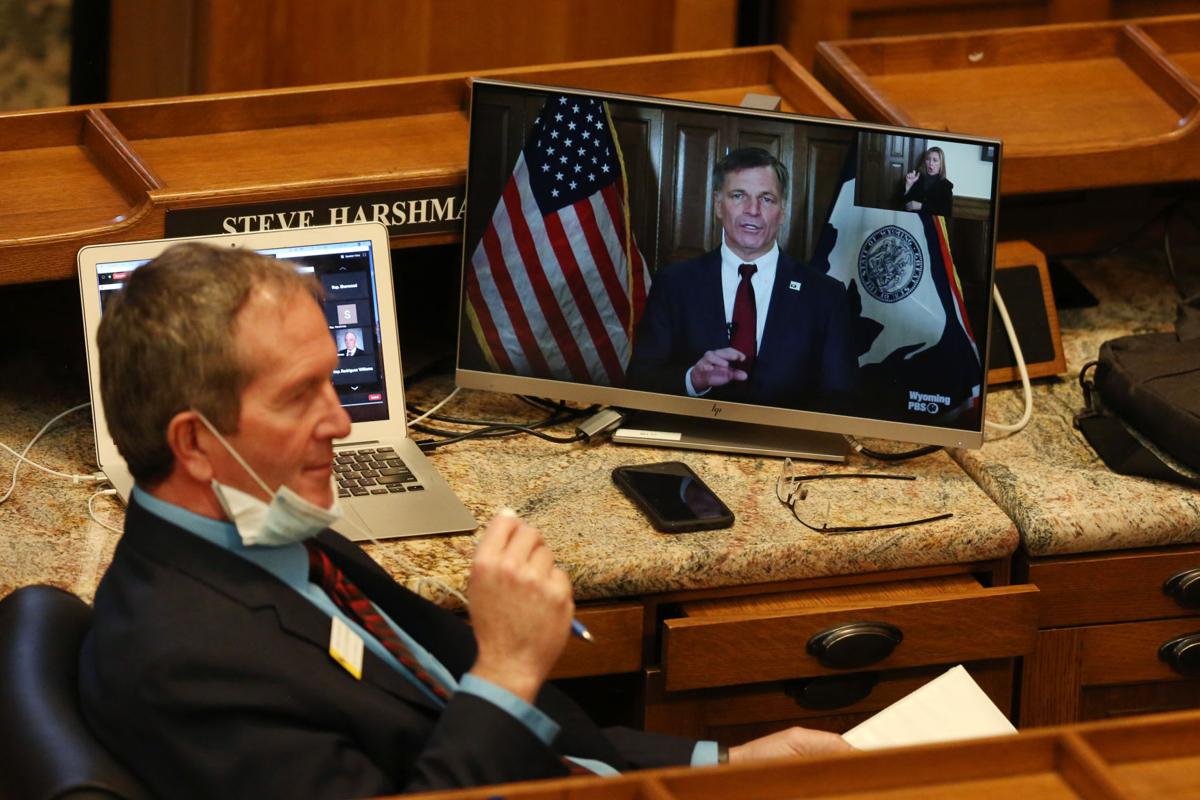 An amended financial forecast released by the state on Tuesday presents a better revenue outlook for the Equality State compared to previous estimates calculated during the early days of the COVID-19 pandemic.
Back in May, state experts predicted Wyoming could face a $1.5 billion revenue decline through June 2022 in light of the pandemic and downturn in energy. But dramatic cuts to the state budget, coupled with better-than-expected oil and coal activity over the past several months, led state forecasters to scale back their forecasts for the revenue shortfall. In the latest report, estimates for the fiscal years 2021-22 budget cycles improved by about $132 million, compared to forecasts made in October.
Although Wyoming's revenue outlook is measurably brighter than in spring of last year, the state still faces a multimillion dollar shortfall in K-12 public education funding, cautioned Don Richards, budget and fiscal administrator of Wyoming's Legislative Service Office. K-12 education funding is constitutionally protected in Wyoming. Add to that an unsustainable revenue model deeply dependent on energy, and Wyoming is not in the clear.
The Consensus Revenue Estimating Group released the updated revenue report on Tuesday, amending several projections made back in October to account for Gov. Mark Gordon's budget cuts, improved energy activity and federal coronavirus aid.
The group of forecasters consists of Wyoming state officials, economists and energy experts. They periodically analyze the performance of several parts of Wyoming's economy to determine the overall fiscal health of the state. For this report, the analysis applied to fiscal years 2021 to 2026. After analyzing data, experts propose forecasts for a variety of revenue sources, like mineral production.
In its most notable change, the group presented higher predictions for sales and use tax collection in the Jan. 12 revenue report. Sales and use taxes collected in fiscal year 2021 will still be far less than in previous years, but the loss likely won't be as severe as experts had initially predicted, according to the report.
For much of last year, many of Wyoming's counties felt the heavy toll of crashing oil prices. Not only did the lack of travel during the COVID-19 pandemic leave the world swimming in oil, a global price war also sent oil prices spiraling. As a result, counties dependent on energy activity recorded sizeable losses in sales and use tax income, among other revenue streams, as drilling nearly came to a standstill.
In the first quarter of fiscal year 2021, sales and use taxes declined in Sublette County by 53%, in Converse County by 41% and in Campbell County by 33%, year to date. Meanwhile, regions like Carbon County witnessed a surprising boost in sales and use taxes, thanks to wind energy and transmission line development.
"If you live in one of our energy-producing counties, you know the struggles we face," Gordon said during an address to the Legislature on Tuesday. "If your job is related to energy, you know even better how calamitous these past few months have been."
Yet, a "modest recovery" in oil, natural gas and coal production, along with wind power and transmission line development, has helped Wyoming avoid the revenue catastrophe many economists had initially feared. Funding from the federal coronavirus relief package allowed businesses to stay afloat too. A robust turnout in tourists also aided local economies, especially in the summer and fall.
Tuesday's fiscal report therefore shows revenue estimates for Wyoming outperforming previous forecasts.
Experts think oil production could be about 5 million barrels greater than previously anticipated in calendar years 2020, 2021 and 2022. In turn, the estimated amount of coal extracted at surface mines in Wyoming increased by 10 million tons in calendar years 2020 and 2021 in the latest report.
Still, in the first quarter of fiscal year 2021, taxes reaped from the mining industry were the lowest since 2003 and nearly 65% below the previous year's levels.
Mineral production has historically provided the state and its counties with a hefty share of revenue through coal lease bonuses, two types of mineral taxes and property taxes. But the upswings seen in coal, oil and gas production could be finite. Wyoming's fossil fuel industries face considerable structural challenges moving ahead as the country transitions to renewable energy. Though coal mines may see a jolt in demand due to high natural gas prices in 2021, the nation's appetite for Powder River Basin coal has been gradually declining for years.
"Facing reduced demand and natural gas and renewable energy competition, coal production is expected to continue the declining path after (calendar year) 2021," the report noted.
At the end of December, Wyoming's active oil and gas rig count had reached six rigs. That's better than when the rig count hit zero for the first time in the state's history in June. A state's rig count is typically a good gauge of the level of new drilling activity happening. But December's rig count is far behind the levels of years prior.
In other words, there's a long way to go before the state fully recovers and finds ways to diversify its revenue streams. Wyoming's Legislature faces tough questions about how to balance the budget.
What's more, the gutting of social services caused by the budget reductions made by the governor will have consequences, University of Wyoming economist Rob Godby warned.
"(Gordon) made more cuts than any other governor has had to make, and they were cuts to an already lean budget that was still recovering from cuts made in 2017," Godby said. "In a lot of cases, we have yet to feel that pain."
Follow the latest on Wyoming's energy industry and the environment at @camillereports