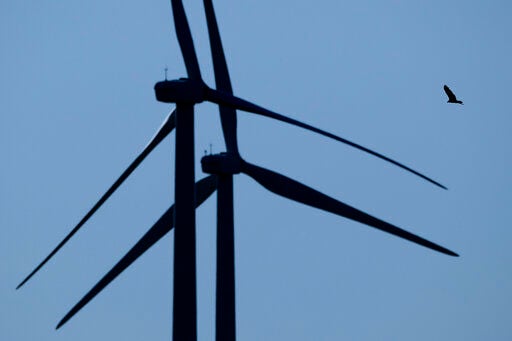 There's a new organization in town, and it's been making the rounds in the Wyoming Legislature's interim committee meetings.
Meet Powering Up Wyoming. The group describes itself as a grassroots organization promoting the use of an "all of the above energy strategy" to prepare the state for an uncertain economic future.
The team lobbies for some relative newcomers to the energy landscape here: wind and solar energy, as well as storage technology.
Last week, the organization announced it had formed an inaugural advisory board of directors. The group appointed stakeholders who hail from across the Equality State's key sectors: energy, ranching, tourism and real estate.
The members of the board include: Mark Eisele, JoAnn Skeim-True, Phil Christopherson, Amanda Disney, Gunnar Malm, Jonathan Naughton and Richard C. Grant Jr.
Malm is a sixth-generation Laramie County resident. He also works in the real estate business and considers the expansion of wind development as a positive trend for rural communities.
"In Laramie County, we have seen the development of wind generation bolster local coffers through existing taxes," he said in a statement. "These funds are critically important to allow the County to provide vital services to residents, including law enforcement, road maintenance, and even our local library. These projects also add to the long-term economic development capabilities of our community by attracting new industry and businesses not historically seen in our community."
Grant who owns Grants Ranch, also sees wind development as a win-win for landowners and business.
"Wyoming is very strong in private property rights in everything we do," Grant said. "Whether you live in town and have your own lot, that's your property. Whether you are a landowner or rancher, it's our private property. By developing wind, it's our opportunity to support our family, your business, the local economy, and the state."
Powering Up Wyoming purports to have 5,000 supporters across the state.
"As our state grapples with funding for the everyday services that we all rely on, renewable energy development is well poised to play an increasingly important role in maintaining our status as an energy leader," Chris Brown, Powering Up Wyoming's executive director, said in a statement. "Our board brings a diverse set of backgrounds and industries together to inform Wyoming residents about the opportunities that wind, solar, and storage already provide our communities and will continue to well into the future."
But the group's lobbyist is up against a lot.
Over the years, Wyoming's Legislature and state agencies have vacillated over whether to offer a full endorsement of renewable energy development in a state traditionally dependent on coal, oil and gas.
Some of the public has yet to come on board too, as seen by recent opposition to the Rail Tie wind energy project proposed in Albany County.
But new board member Phil Christopherson said it's time for the state's leaders and public to look at all options.
Christopherson is the chief operation officer of Energy Capital Economic Development in Gillette.
"I feel it is important to explore energy generation, distribution, and storage systems that can enable the nation and the world," he said.
Doing so will mean Wyoming can meet global energy demand in a way that Christopherson believes "benefits the economy, while being good stewards of the environment."
Follow the latest on Wyoming's energy industry and the environment at @camillereports