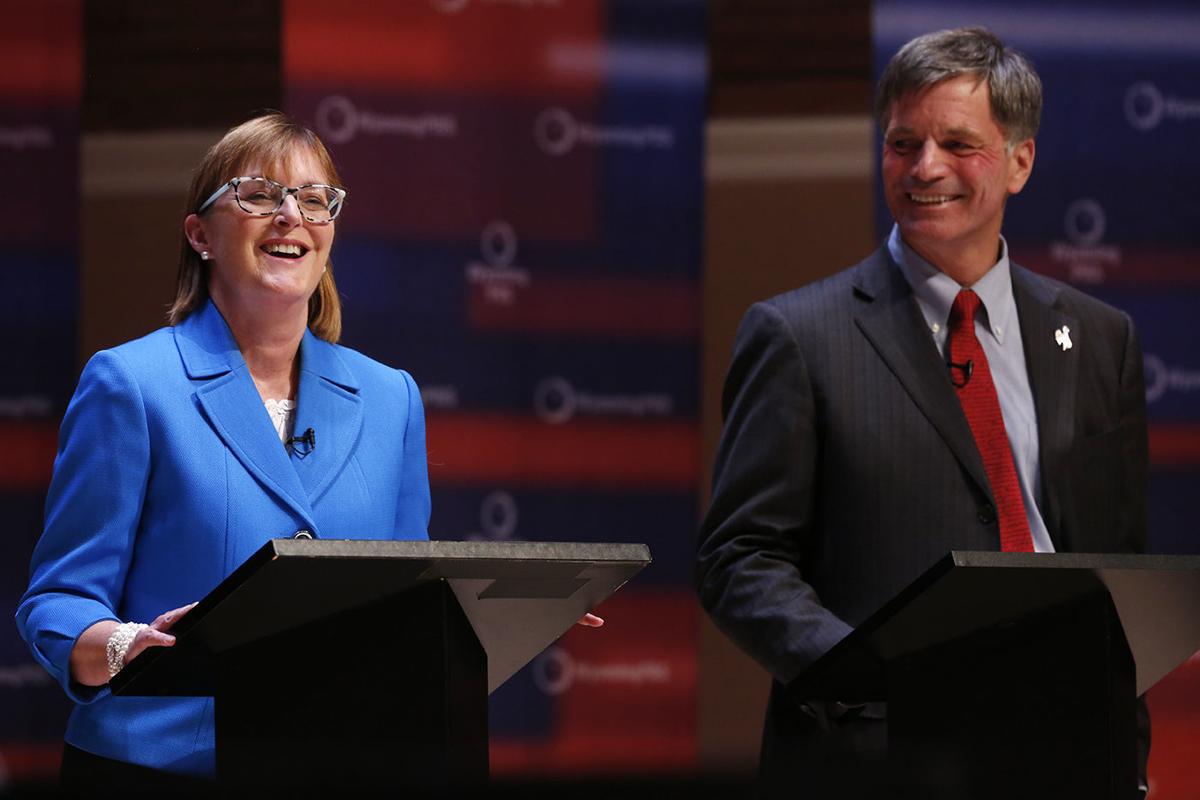 Wyoming's Public Service Commission unanimously approved a new agreement with the state's largest utility last Tuesday to ensure the cost of generating and transmitting electricity across six states within the utility's service territory remains equitably distributed.
The 2020 interjurisdictional agreement makes changes to a previous 2017 agreement in an effort to extend greater flexibility and autonomy to Wyoming and other states in PacifiCorp's service territory. Under the new plan, states will have a bit more agency to determine their own energy portfolio, but still maintain the perks of an integrated electrical system.
The changes in protocol come at a time when several West Coast states have elected to transition away from coal, while others, like Wyoming, want to continue depending on the commodity. The splintering of preferences has greatly complicated PacifiCorp's integrated electrical system.
The commission's endorsement of the agreement Tuesday comes after several years of heated negotiations between about 35 stakeholders across the six-state territory. Given the new system's complexity, PacifiCorp will have a four-year transition period in which to implement the changes.
Wyoming's Public Service Commission, upon approving the new plan Tuesday, appeared pleased a resolution had been reached.
"I think the multi-state protocol does the best it can under the circumstances," Mary Throne, deputy chair of the Public Service Commission, said at an open meeting Tuesday held by phone.
"There are several features in the agreement that protect Wyoming," she added.
Why make changes?
The call to update the multi-state agreement came when some of the states within PacifiCorp's service territory, like Washington and Oregon, announced plans to divest from coal and transition to more renewable energy. In response, some Wyoming lawmakers doubled downed on their support for coal-generated electricity.
The swings in energy portfolio preferences put a wrinkle in the collaborative approach PacifiCorp takes to providing reliable and inexpensive electricity to 1.9 million customers across the Rocky Mountain region. Having an integrated and diverse system like PacifiCorp's typically offers a host of benefits to ratepayers in the form of more efficiency, stability and lower rates.
In other words, some states' preference to transition away from coal (and others' desire to keep it) presented a particularly thorny logistical challenge for both the company and state regulators across the West. Those involved were left to consider how to fairly distribute energy costs across half a dozen states with conflicting aspirations.
Benefits to consumers
According to Thor Nelson, an attorney working for Wyoming Industrial Energy Consumer, adopting the new agreement was in the public's interest and "presented a good path forward for the state of Wyoming."
Distilled down to cost, Wyoming will see significant returns under the new protocol, Nelson said during a March 9 hearing on the matter.
Under the previous agreement, Wyoming received a $250,000 credit for its net power costs. But with the new agreement, Wyoming will instead be able to accept a $5 million credit from PacifiCorp's shareholders, with that amount growing after 2023.
"That commissioners, is the benefit that this agreement presents in dollars and cents to Wyoming," Nelson said in reference to the increased credit. "All things being equal beginning of next year, we will be $4.75 million better off in the state of Wyoming in terms of the costs allocated to the state under this agreement as opposed to the other protocol as was in place previously."
Under the revised agreement, the state will also have the authority to determine if it wants to increase its stake in a coal-fired power plant, when states like Oregon or Washington choose to withdraw their share in a plant. The Wyoming Public Service Commission would have the authority to determine on a case-by-case basis whether it was in Wyoming ratepayers' best interest to continue investing in coal-fired power plants.But "optionality is not a panacea," Nelson cautioned. Wyoming could potentially be taking on more risk in increasing its share in coal-fired power plants, he explained. That's because having an integrated system also allows PacifiCorp to dynamically respond to shifting electrical supply and demand across all the states it's serving. The agility of that system usually translates into more rate stability.But the new agreement shifts to a "fixed allocation" system."Going forward, for the generation plants will shift to a fixed allocation system, which means once Wyoming makes a decision of whether or not to accept a continued share or a larger share in a (power) plant into the future, we will be, as a state, taking a risk that our load projections are (wrong)."That change has economic implications, which the commission will have to confront eventually, according to Nelson.
Powder River Basin Resource Council, a group representing landowners, also participated in negotiations over the agreement. On March 9, staff attorney Shannon Anderson expressed support for the new version to commissioners.
"There are a lot of tough questions for you, for Wyoming, for our customers, but we feel very confident that the sophistication of the company and its expertise in bringing this group of diverse parties together to have these conversations is a great benefit in Wyoming," Anderson said during testimony.
Sinking coal
National demand for thermal coal, mainly used to produce electricity, has continued to sink. Utilities have pivoted away from coal to cheaper natural gas and renewable energy sources that save ratepayers money.
PacifiCorp plans to shutter two-thirds of its national coal fleet by 2030 to ensure ratepayers the lowest cost electricity. In the coming decades, units at Naughton in Kemmerer, Jim Bridger near Rock Springs and Dave Johnston in Glenrock will be on the chopping block. PacifiCorp will first retire Jim Bridger's unit 1 in 2023.
Commissioner Throne acknowledged that maintaining the benefits of an integrated electrical system, while also allowing each state to determine its own energy future, was complicated. But she implored other states under PacifiCorp's plan to not ditch coal entirely.
"I think that states by themselves are in a difficult position," she said. "In Wyoming, we do not think coal is the villain; in fact our thermal resources in Wyoming have benefited the region and have the ability to continue benefiting the region in terms of providing low cost and stable power. The villain in this instance is greenhouse gases and not coal generation, which has been heavily regulated since its inception."
She concluded by urging sister states also reaping the benefits of PacifiCorp's integrated power system to "recognize the value of coal and recognize what we're trying to do is eliminate greenhouse gas emissions."