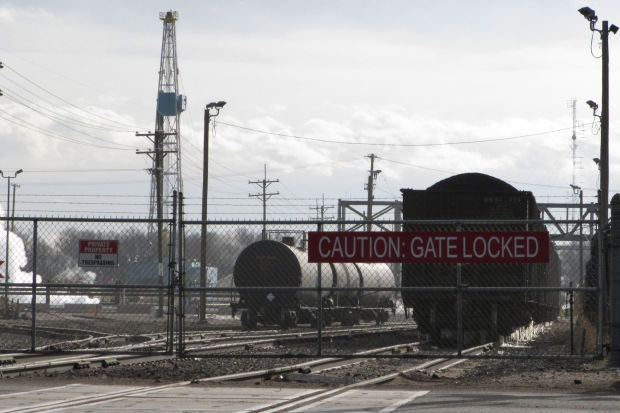 A major petroleum refinery in Cheyenne announced Monday it plans to transition to renewable diesel production and reduce its workforce to meet changing demand for lower carbon fuels.
The conversion will result in a reduction of 200 employees over several months, according to a statement from the HollyFrontier Corp.
With this overhaul, the company hopes to produce over 200 million gallons of renewable diesel every year, with the Cheyenne refinery producing nearly half that amount and employing 80 workers.
The Cheyenne facility has functioned as a petroleum refinery for 86 years, according to the company.
HollyFrontier will also invest as much as $750 million in its renewable diesel operations. The alternative fuel is derived from non-fossil fuel sources, such as animal fats and vegetable oil feedstocks. Along with producing less emissions, renewable diesel has a comparable chemical composition and performance to petroleum diesel.
Production of renewable diesel has increased over the past decade, as several states have implemented lower carbon fuel standards, according to the Energy Information Administration.
"Demand for renewable diesel, as well as other lower carbon fuels, is growing and taking market share based on both consumer preferences and support from substantial federal and state government incentive programs," Mike Jennings, HollyFrontier's president and CEO, said in a statement. "This represents an exciting opportunity to enhance both the profitability and environmental footprint of HollyFrontier through organic investment."
HollyFrontier expects to complete the conversion of its Cheyenne facility to renewable diesel by early 2022, the firm said in a news release. Petroleum refining will cease at the location. Wyoming's governor called the change "a devastating blow." The publicly traded firm notified him of the conversion plan on Sunday.
"This cost-saving decision is a reflection of both the changing nature of our country's energy supply and trends that were present before the COVID-19 pandemic," Gov. Mark Gordon said in a statement. "It is a small consolation that Holly Frontier will continue operating in the area and will offer some employees positions in other locations."
Cheyenne Mayor Marian Orr said she also received a call from HollyFrontier's CEO with the news and expressed her sympathy to the workers and families affected by the impending layoffs.
"Before COVID-19, we saw hits to our coal and oil industries including increasingly and costly regulatory compliance burdens," the mayor stated in response. "It certainly feels as if the hits keep coming. This is the world we now live in, a world that is moving away from coal and oil and moving towards clean and reliable new energies."
"These job losses are real. And they hurt," she added.
The announcement comes just months after a panel of judges in the 10th U.S. Circuit Court of Appeals determined the federal government was overextending economic relief from renewable energy standards to refineries. The ruling, if upheld, would effectively invalidate exemptions from the standards for small refineries going forward. The steep price for compliance could cripple smaller refineries, several critics of the court's decision said.
During a committee meeting with the Wyoming Legislature Tuesday, a spokesman for Sinclair Oil Corp., which also has operates refineries in Wyoming, testified to the brutal market conditions facing refineries.
"The use of gasoline and diesel really fell off a cliff," said Adam Suess, vice president of government relations. Consumption for gasoline fell by about 60 percent in April and part of May, according to Suess.
"There are a lot of headwinds for refineries, especially small refineries, which are all the refineries in Wyoming," he said.