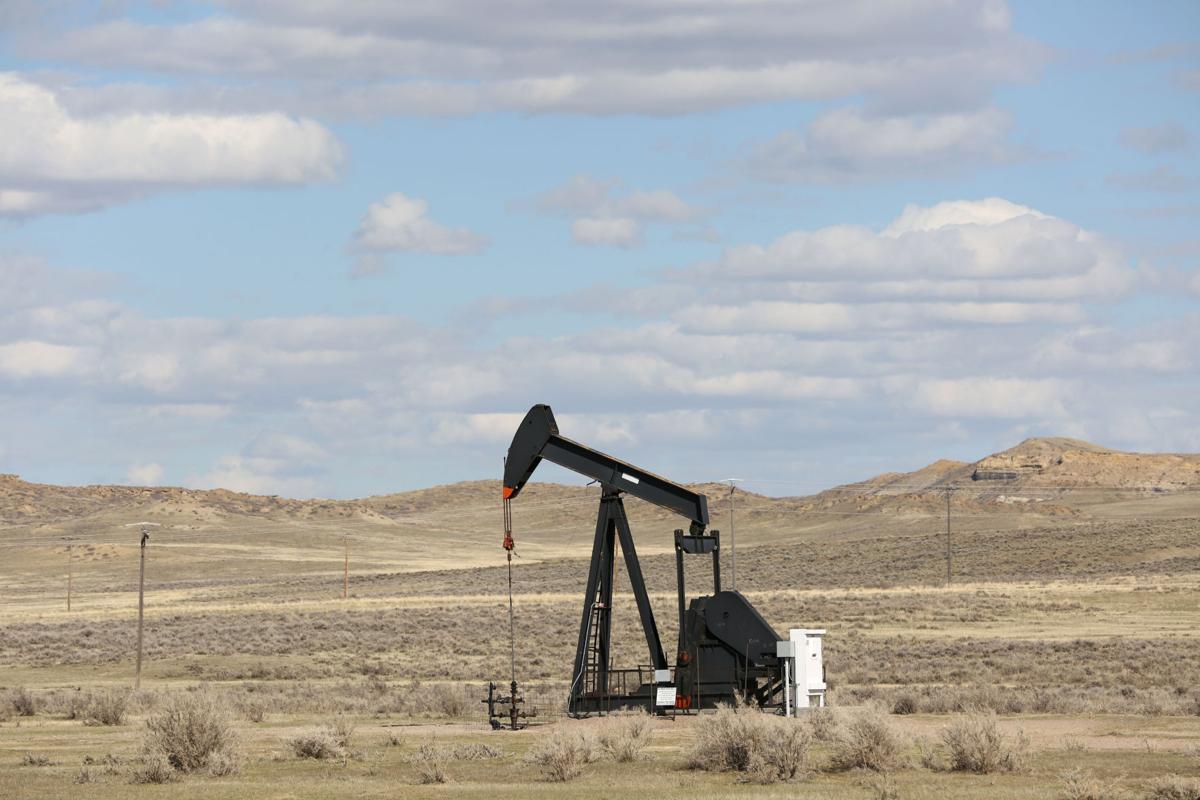 Oil and gas companies reported 613 spills last year, 26% fewer than in 2019, according to data provided by the Wyoming Oil and Gas Conservation Commission.
In total, companies recorded spilling approximately 4,761 barrels of oil, 32,149 barrels of produced water and 951 barrels of other materials last year, according to a Star-Tribune analysis. That's a total of about 19,475 barrels fewer than the year before.
Still, even one spill can have consequences for surrounding land, water and communities, environmental advocates said. Oil byproducts can pollute soil, vegetation, water or livestock.
Converse County experienced 136 spills last year, the highest number of incidents of any county. One hundred and thirteen spills last year also took place in Campbell County, followed by Park County, 54 spills, and Laramie County, 47 spills.
Merit Energy was responsible for the largest volume of material spilled. EOG Resources reported the highest number of spills in Wyoming last year.
According to Creighton Welch, the communications and government relations manager for EOG Resources, the company goes to great lengths to prevent spills in the first place. When accidents do occur, the firm promptly contains and cleans up the affected area, he explained. Four of EOG Resources' 95 reported spills either involved freshwater or were caused by wildfires, he noted.
"EOG's goal is to proactively minimize, and seek to eliminate, risks posed to the community, environment and our employees and contractors from any spills or other accidental releases," Welch said in a statement. "EOG supports transparency in our operations and complies with all state and federal reporting and cleanup requirements. We strive to work closely with all relevant agencies and involved parties to minimize any environmental and community impacts related to spills."
Devon Energy, Merit Energy and Chesapeake Energy also ranked high when it came to the number of oil and gas related spills reported.
The Star-Tribune contacted the four companies responsible for the most spills in Wyoming last year. Most emphasized that advancements in remote surveillance, automation technology and several kinds of monitoring equipment had helped dramatically decrease the amount of leaks and spills happening. Some operators also maintained simply examining the number of spills occurring each year in Wyoming did not tell the full story of what was happening on the ground to prevent and respond to spills.
"Aided by this technology advancement and industry-leading facility design, the spill events reported to a Wyoming regulatory agency by Devon Energy in 2020 resulted in less than three total barrels of fluid impacting land off of a Devon facility," a spokeswoman for the company said.
The decline in spills of oil, produced or fresh water and other materials last year in the state could also be attributable in part to a drop in drilling activity. Tough market conditions and the pandemic caused many operators to shut-in wells and wait for prices to recover.
As a result, operators produced roughly 81 million barrels of oil last year in the state, according to initial data from the state's oil and gas commission. In comparison, oil production in 2019 totaled around 102 million barrels.
Wyoming regulators require operators to either record or self-report all spills. However, the exact steps operators must take vary depending on the severity of the spill. If a spill is uncontained, the state requires operators to contact the commission by the next business day.
Spills that are contained but exceed 10 barrels must be verbally reported to the commission within one business day. Commissioners require a written report if spills produce one to 10 barrels of fluid. Operators in Wyoming are also required to keep records of spills of less than one barrel, which the commission can request to review at any time.
"It is the role of our staff and the Wyoming Oil and Gas Conservation Commission to ensure that operators are carrying on all operations and maintaining the property at all times in a safe and workmanlike manner as stated in Chapter 3, Section 4 of our rules," a spokeswoman for the state's commission said in a statement.
Wyoming's standards for spills are stricter than many other states, according to Ryan McConnaughey, communications director for the Petroleum Association of Wyoming.
"Producers in Wyoming operate under some of the strictest reporting requirements in the country," he said in a statement. "The Wyoming Oil and Gas Conservation Commission requires that the release of any fluids used in the production process, including fresh drinking water, be reported. The fact that spills were down in both 2020 (25%) and 2019 (40%) is a testament to PAW members' commitment to safety and sustainability."
It's true that proportionally to the amount of oil and produced water generated in state, the amount of waste leaked or spilled is relatively small. In 2020, less than 0.00006% of oil produced and 0.0003% of produced water in Wyoming was spilled.
But to Jill Morrison, state oversight and the penalties used to limit spills in Wyoming remain unacceptably weak. Morrison serves as the executive director for the Powder River Basin Resource Council, a conservation and agriculture organization that advocates for hundreds of landowners, many living near oil and gas development in Wyoming.
Morrison has been watching oil and gas commission hearings for over two decades, but she said operators are rarely held accountable.
"What the spills often do is they cause quite a lot of damage to the land," Morrison said. "They will sterilize the soil, cause erosion, kill plants and can affect livestock, among other issues."
Operators are responsible for self-reporting spill activity, she noted. If they fail to, an inspector may find out. Worse yet, the spill just goes unreported.
Holding operators accountable
On Jan. 12, oil and gas firm TR Operating, LLC, was in trouble.
An unprecedented number of spills at its site in Campbell County, coupled with a history of other violations over the last year, had triggered a contested hearing before the state's regulatory body.
The Wyoming Oil and Gas Conservation Commission held the hearing to discuss TR Operating's concerning pattern of spills: at least 37 spills — mostly produced water — in 2018 and 2019.
"We have been repeatedly frustrated with the issues that are caused by these pipeline spills and we have replaced a lot of pipe — at least everything in our field twice," James Hume, the manager for TR Operating, said in testimony before the commission. "We don't take these spills lightly."
Not every operator with a history of spills comes before the commission.
"We consider many factors in determining if a show cause hearing is necessary," Kimberly Mazza, a spokeswoman for the state agency, said by email.
That can include the operator's record of reporting spills, its response to the spill, its history of spills related to a well or field or the cause of the spill, among other factors, she explained.
"In the TR case, they had other violations in addition to the spills," Mazza added. "They also had a larger number of spills associated with that single field they operated, they had a history of not always reporting the spills in the time frames required by rule, and they also had not always had a good response to a spill when it occurred (meaning they didn't always have an appropriate response to remediate the spill)."
Ultimately, the commission fined TR Operating $5,000 for the three violations. A spill prevention plan was also established.
But to Morrison, of the Powder River Basin Resource Council, the fine will likely do little to stop spills or other infractions from happening again. What's more, not enough companies have been held accountable for their actions, she said, with many not required to come before the commission.
"The fines are not high enough, the enforcement is not strong enough," Morrison emphasized. "The oil and gas industry is coddled. There is a long history of problems with spills."
Follow the latest on Wyoming's energy industry and the environment at @camillereports