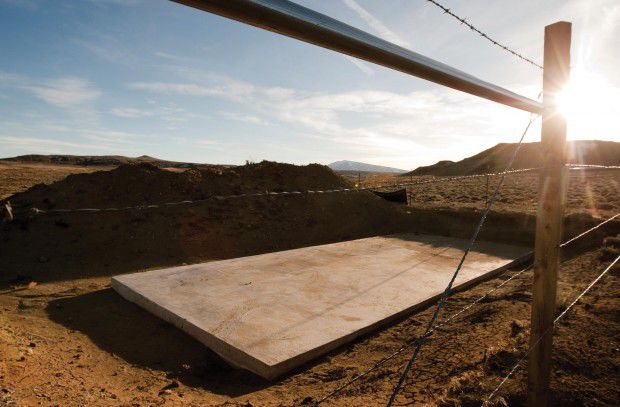 The $2 billion plant was supposed to be the future. It was supposed to turn coal into gasoline, ushering in a new era of low-carbon coal projects. Mostly, it was supposed to create jobs in a county where there were too few.
The only problem: What was supposed to happen never did.
DKRW Advanced Fuels notified state and local officials last month it is suspending plans for a coal gasification plant near Medicine Bow. The announcement was not unexpected. The project has been plagued by delays since its conception in 2004. Company officials had proposed reducing the project's size and even hinted at a suspension in recent months.
The development brings to a halt, at least a temporarily, a drama that has riled Carbon County for more than a decade and underscores the difficulty of making a coal-to-gasification facility a reality.
Only a handful of such plants exist around the world, often employed in countries with limited access to global crude markets. The Medicine Bow facility would have been America's first.
Executives at Houston-based DKRW heralded the plant as the beginning of a new wave of coal technology, one that would create a new market for a mineral with a contracting customer base. Carbon dioxide emissions would be pumped to a nearby oilfield. And in the communities of Medicine Bow (population 279) and Hanna (827), where economic life slowly withered following the closure of a coal mine that served the Union Pacific railroad, the plant would bring 450 full-time jobs.
In the end, economics proved the project's downfall, just as many observers predicted. Coal gasification facilities rely on the difference between coal and crude prices. If oil is high, as it was for much of the past decade, then there is money to be made. But oil prices collapsed in 2014 and have failed to recover to levels sufficient to justify the project's hefty price tag.
DKRW Managing Director Robert Kelly, in a letter to state regulators, said was the project is not feasible at today's oil prices. The Houston-based firm does not intend to fulfill the terms of its state permit, which required the company submit a new socioeconomic report and construction schedule by last week, he said. State regulators had not received the documents as of Friday.
"We regret not being able to move forward at this time," Kelly wrote state regulators on May 16.
The announcement did not appear to constitute a complete abandonment of the facility. DKRW representatives did not respond to requests for comment, but state and local officials who had been in contact with the company said executives left open the door to reviving plans for the plant.
Indeed, Kelly signaled as much in his letter to state regulators.
"If conditions change to allow pursuit of the project, we understand we may need to seek a new permit," he wrote.
Yet such a revival faces long odds. Delays have left DKRW without a coal supplier, a contractor and demonstrated financing. Arch Coal last year successfully petitioned state regulators to remove a condition from its mining permit that would have allowed DKRW to purchase the St. Louis-based mining firms' Carbon Basin reserves. DKRW has been without a contractor since it terminated its contract with Sincopec Engineering Group in 2014. And financing for the project remains elusive.
In 2009, the U.S. Department of Energy said it would consider DKRW's application for a $1.75 billion loan guarantee. Three years later, with the loan guarantee program engulfed in scandal over its financing of the bankrupt solar panel maker Solyndra, company executives declared they would seek private financing. They reversed course again in 2014, saying a change in leadership at the Energy Department was cause for new hope over the company's application. DKRW's application remains pending.
Wyoming, for its part, did its best to lay out the welcome mat. In 2012, Carbon County commissioners voted to support the company's request for $300 million in state industrial development bonds. But before state officials could decide on the request, the company reversed course and said it would pursue private financing.
The Wyoming Business Council approved a $1.9 million business readiness grant in 2007 for the reconstruction of two county roads to support the plant's construction. One was refurbished to the tune of roughly $1.5 million. Ron Gullberg, a business council spokesman, noted the road projects were also intended to aid other energy development and ranching operations in the area.
Carbon County received another $162,000 in state community impact assistance for the project.
The effort wasn't confined to the Cowboy State. Wyoming's congressional delegation championed the project in Washington. In 2006, the trio of then-U.S. Sens. Craig Thomas, Mike Enzi and U.S. Rep. Barbara Cubin pushed the Treasury Department for what would have amounted to a $1.3 billion tax credit. Almost a decade later the trio, this time composed of Enzi, U.S. Sen. John Barrasso and U.S. Rep. Cynthia Lummis, pleaded with the Energy Department to complete its review of the project.
In Carbon County, where construction delays had almost become an annual event, news of the suspension was greeted with a sense of weariness. Opponents of the facility, who had questioned the project's environmental impact and DKRW executives' connections with Enron, declined to declare victory.
"I have learned not to trust anything from anybody in this project," said Jason Lillegraven, a retired University of Wyoming geologist who has long opposed the facility.
Even supporters of the project seemed resigned to its fate. Leo Chapman, a Carbon County commissioner, has advocated for the plant in the hope it would bring badly needed jobs to the region. In recent years, he found himself in frequent debates with family members and friends over the project's future. At one point, he and a colleague took up a bet. They would wager a quarter on whether the facility would be built. After the project's first setback, Chapman paid up. But he took the extra step of lamenting the quarter on the hope DKRW's fortunes would change and he would get his quarter back.
His friend recently wrote an email asking if he could spend the quarter now, Chapman said. Asked what he thought of the project's viability going forward, the county commissioner replied, "I'm not betting my quarter on that for a while. I've lost enough."
Follow energy reporter Benjamin Storrow on Twitter @bstorrow
The business news you need
With a weekly newsletter looking back at local history.