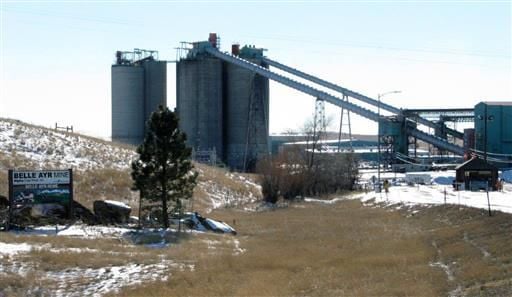 The coal mines were called "crown jewels" just two years ago, when the bankrupt company that owned Eagle Butte and Belle Ayr sold them to Contura Energy. The Campbell County mines continued to produce coal and their workers continued showing up for shifts as leases and permits passed to the new firm.
When Contura announced in December that it was unloading those crown jewels so it could focus on Appalachian coal operations that are making more money, the sale raised a question in Wyoming coal country: are those Powder River Basin assets less valuable than they used to be?
Details of the transaction in Contura's financial reports released last week show that Contura paid Blackjewel Inc. $21 million as part of the deal. The money is for taxes owed in Wyoming, according to the companies. Blackjewel picked up these two mines for nothing more than a promise of royalty payments back to Contura and an assumption of millions in clean-up costs.
Some say the deal heralds bad days to come for low-heat mines like Eagle Butte and Belle Ayr. Others are more diplomatic about the challenges for Wyoming coal, but agree that the sale is telling of how the sector has changed in a few short years.
***
Contura laid down more than $20 million as part of a deal for Blackjewel Inc. to take the two Wyoming mines. It was money that Contura owes in Wyoming in taxes for production. Instead of carrying on with that debt, some of which is not yet due, they are handing the money to Blackjewel and washing their hands of it. A small portion of the $20 million is for professional transaction fees.
Blackjewel CEO Jeff Hoops said it was an error to characterize the $20 million as a payment for the mines.
"Blackjewel received no direct benefit from that payment," he said.
In short, the money is owed in Wyoming, a cost Blackjewel promises to pay, but that Contura is effectively paying.
The Campbell County treasurer's office said Contura does not owe the county any back taxes currently, though Eagle Butte and Belle Ayr's former owner does. The state, likewise, is not missing money from Contura.
Hoops said the money is for past production taxes that have not yet come due.
Between Eagle Butte and Belle Ayr, Blackjewel is also taking over a reclamation liability of $254 million, according to state records.
That transfer is still ongoing and Contura is still currently liable in Wyoming.
Blackjewel was delayed in obtaining leases from Contura because Hoops, the CEO, was party to unaddressed environmental violations for coal mines in Appalachia. The severity of those outstanding violations was reduced after action from Hoops. The company is currently working out the transfer of permits, which includes securing financial sureties for the $254 million in cleanup costs.
When Contura announced the sale, its leaders praised the value of the Wyoming mines it was leaving behind.
"While these PRB thermal assets will not be part of our company's operational strategy moving forward, the purchaser is acquiring two solid mines with decades of minable reserves, a top-notch, professional workforce and a great operating track record," said CEO Kevin Crutchfield at the time.
Hoops did not respond to questions about what the sale of Eagle Butte and Belle Ayr for next to nothing says about the mines' relative value.
In earlier statements to the Star-Tribune, he said his company was primarily a metallurgical firm — referring to a high value coal that is not produced in the Cowboy State — but he remained optimistic about Wyoming coal. The firm had pulled in marketing partners and was focusing on the potential for thermal coal in international markets.
***
Seaborne coal is a muse that Wyoming has chased for years, and though only one coal firm in Wyoming taps that market currently, potential buyers across the sea have begun to dominate political claims about U.S. coal.
President Donald Trump campaigned on saving coal. Since his presidency began, political support for the industry has shifted from ending what supporters called a "war on coal" to finding solutions to coal's current market troubles.
One of those solutions cropping up is the idea of sending Wyoming coal to Asia.
In a recent interview at Black Thunder mine near Wright, Environmental Protection Agency Administrator Scott Pruitt touted the international market for coal. The interview came a few days after the EPA held a meeting on eliminating the Clean Power Plan, an emissions-cutting regulation that experts said could take a sizeable bite out of Wyoming's coal economy.
Others are keeping their eyes closer to the ground, tracking the coal sector as it emerges from the downturn.
"The overall market has obviously shrunk from the top end on an annual basis," said Jim Thompson, an expert on the U.S. coal sector for IHS Markit. "Less coal has been produced, less coal has been consumed."
***
Around 2015, signs of distress from indebted coal companies heralded the tough two-year period from which Wyoming's coal industry has only recently emerged. Companies were heavily indebted due to misplaced faith in Chinese demand for metallurgical coal. A number of mild winters meant less coal was needed to heat homes. Worst of all, the sustained low price of natural gas was taking its toll, stealing away the coal industry's former dominance of the electricity sector.
The perfect storm hit firms like Alpha Natural Resources, who owned the Eagle Butte and Belle Ayr mines, and the company sold them to Contura as part of their exit from bankruptcy.
But it appears that as the market has contracted, it's challenging some mines more than others. Lower-heat coal produced at Eagle Butte and Belle Ayr, around 8,400 British thermal units, is less attractive than the 8,800 Btu coal in neighboring mines.
"It's not like there's no role at all (for 8,400 Btu coal), but it's a smaller market," said Thompson, from IHS. "The 8,800 are able to control the game a little bit more."
***
For some, the entrance of Blackjewel to the Powder River Basin is a sign that the shifting market for low-heat coal will get worse.
Clark Williams Derry of Sightline, a think tank advocating a transition to cleaner energy, said he agreed there is still a market niche for 8,400 Btu coal to fill.
The question is how much of that coal has a place, and at what price, he said.
There are quite a few mines competing for limited demand. What the low-heat side of the industry is waiting for is for one of the mines to be idled, opening up more elbow room for the ones left behind, Williams-Derry said.
"Everybody is just waiting for it to be somebody else," he said.
Some of the larger mine companies, like Peabody Energy and Arch Coal, are better placed to take the cost of an idled mine and the reclamation liabilities that follow. But they are also the ones able to hold out the longest in a shrinking market, he said.
The Contura sale of these mines is evidence to how far the value of these low-heat mines has fallen, Williams-Derry argues.
"I think what it does suggest is that Contura was happy to wash its hands and just walk away," Williams-Derry said. "The fact that Blackjewel would be able to get hold of major mines, nothing out of pocket, speaks volumes to how weak the business is moving forward."
Follow energy reporter Heather Richards on Twitter @hroxaner
The business news you need
With a weekly newsletter looking back at local history.