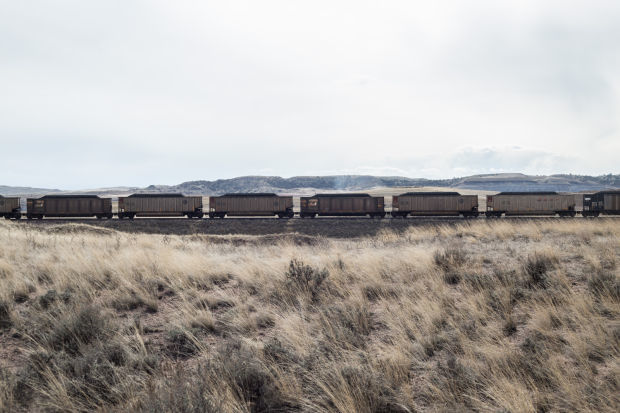 Montana regulators extended a short-term agreement with a Navajo Nation-based coal firm Tuesday, allowing the Spring Creek Mine's new owner to continue operations in Big Horn County, just 30 miles outside of Sheridan.
The agreement temporarily extends Navajo Transitional Energy Company's mining license and effectively averts another shutdown of the northern Powder River Basin mine that employs hundreds of Wyoming workers.
Montana's Spring Creek Mine briefly closed in October over a license dispute with state regulators. NTEC and Montana Department of Environmental Quality reached a temporary agreement that same week, but the mining license had a Jan. 8 expiration date.
Just one day before the interim agreement expired, state regulators granted an extension to the agreement with NTEC, preserving the company's temporary license to mine for 65 more days. But a permanent solution has yet to be reached.
"We are committed to continuing our conversations with NTEC to ensure that NTEC's affiliation with the Navajo Nation is duly recognized and respected, while also ensuring that the state-issued permits for the mine are fully enforceable, on par with any other coal mine operating under state laws," said Shaun McGrath, director of the Montana Department of Environmental Quality, in a statement. "This is a unique and complex issue that requires us to be deliberate in our approach to avoid any unintended consequences. We appreciate NTEC's commitment to working through these issues with us."
When the sale of the Spring Creek Mine closed on Oct. 24, Montana Department of Environmental Quality initially would not extend a mining license to the Navajo Nation-based firm, because NTEC had not agreed to a limited waiver of its sovereign immunity.
The coal operator could potentially protect itself from future mining liabilities using its sovereign immunity, the state agency said. In other words, if NTEC violated mining laws, the company's sovereign immunity could protect it from penalties.
Under Montana's temporary agreement, NTEC agreed to partially waive its sovereign immunity for environmental laws enforced by the Montana Department of Environmental Quality.
"We know Montana understands the value this mine provides to the region; including 200 family wage jobs, approximately $30,000,000 in Montana State taxes, and state land lease payments that fund education," said Tres Tipton, NTEC's chief marketing and operations officer, in a statement. "Continuing our existing agreement allows for the uninterrupted production of high-quality coal and is in the best interest of the region, our employees and our customers."
But the corporation could still potentially wield its sovereign immunity to shield it from citizen suits too, legal experts warned.
You have free articles remaining.
"For an entity like NTEC, possessing sovereign immunity means that the people can't sue this company; it is a company that is immune from being sued ... Basically, the law does not apply to them," explained Shiloh Hernandez, a staff attorney with the Western Environmental Law Center. "That is a very troubling idea."
Hernandez hopes the state of Montana will require a complete waiver of sovereign immunity from the company so that it is subject to all federal and state mining laws.
"The fact that there is a partial waiver (of sovereign immunity) gives me some concern, because is it is not a complete waiver," the attorney added.
Bankrupt company Cloud Peak Energy sold the Spring Creek Mine, along with two Wyoming coal mines, to NTEC last year.
NTEC agreed to purchase the coal mines outside the Navajo Nation this August for a $15.7 million cash payment, in addition to a $40 million second lien promissory note and payment of royalties for coal produced over the next five years, according to the sales agreement. NTEC also assumed $94 million in pre- and post-petition taxes.
The purchase included about $400 million in reclamation liabilities, too. Federal law requires a coal operator to line up sufficient bonds to account for future cleanup costs.
But the company has yet to present bond packages for the three mines in Wyoming or Montana.
State regulators have therefore not initiated an official permit transfer from Cloud Peak Energy to NTEC, leaving the former owner on the hook for cleanup obligations down the road. The company's status as a contract miner could now extend indefinitely as NTEC searches for a willing surety company to back it.
"I think at the very least, NTEC needs to show that it can actually get these permits, which is a fundamental part of their mining operation," said Shannon Anderson, an attorney with the Powder River Basin Resource Council, a landowners group. "In order to do that, they need to show that they will comply with all the state and federal laws."
NTEC told state officials and the public in November it was working with a broker and intended to secure all necessary bonds.