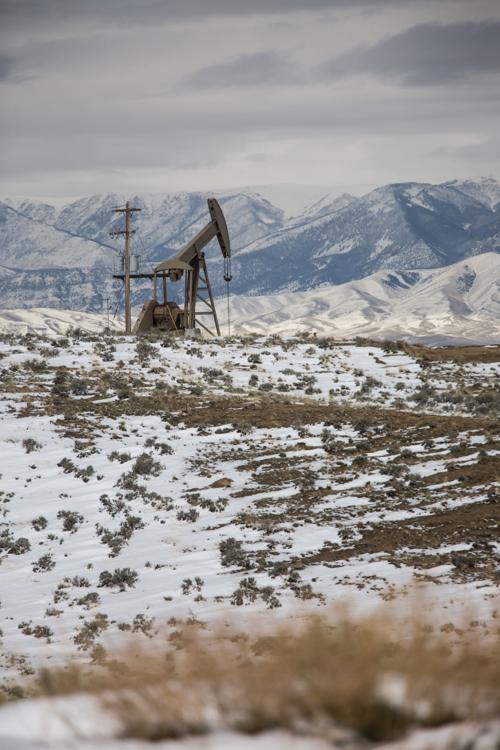 Nearly 1 million acres of federal land in Wyoming will be offered for lease to oil and gas by the end of the year, pitting energy development against conservation in a state where both are culturally significant and represent crucial parts of the economy.
Both sides of the issue say President Donald Trump has ushered in a new era of management on federal lands, evidenced by an increase in leasing. Industry argues that it has been hobbled on Wyoming's federal parcels, which are more costly to developed and carry more restrictions than state or private land. The Bureau of Land Management offering more leases, in more areas, is evidence of the resurgence they've been hoping for.
Conservationists counter that energy is being given free rein on public lands, and the administration is flaunting its ability to make and break regulations meant to protect wildlife habitat from Wyoming's most important economic engine: oil and gas.
The Bureau of Land Management has two remaining lease sales this year, one in the fall and one in early winter. Both contain contested parcels.
Leases soar
The turnaround in leasing on Wyoming public land hit soon after Trump was sworn in. The first Bureau of Land Management lease sale in Wyoming last year brought in $129 million, half of which went to the state. Industry was ecstatic, and that enthusiasm held throughout the year. By the end of 2017, the combined income from federal and state lease sales had risen by 800 percent compared to 2016.
Federal leases have a unique advantage, particularly for small developers. They last 10 years. That's a lot of time, sometimes a necessary amount due to federal regulations, for developers to plan ahead. It also gives smaller firms an edge in the market against major firms that are also stalking Wyoming plays, said Jerry Moyle a longtime-oil and gas consultant based in Casper.
"It's really positive for people like me, small guys," he said. "We don't have the money to compete, but we can go in and get ahead of people."
Why now?
There are few reasons why oil leasing turned around when it did.
Both the feds and the Wyoming Department of State Lands and Investment switched to an online auction at the start of 2017. The online sales appeared to increase the number of bidders, adding competition that pushed up prices for sought-after parcels.
The crude price was also improving at that time due to a number of international factors. OPEC held back production and the amount of crude on hand fell more than expected. Moderately optimistic forecasts said that the price would hold and improve. And over the last year and a half prices have climbed over $70 a barrel for West Texas Intermediate, the national benchmark for sweet crude, and currently hover in a $65 to $70 a barrel range.
Though not a boom in Wyoming, the price bounce has led to more leasing and drilling by operators across the state.
Large players like Anadarko Petroleum, Chesapeake Energy and EOG Resources have broad lease holdings in the Powder River Basin – one of the most attractive places for activity in the state. These companies have also turned in a record number of applications to drill, which can secure their control over drilling and spacing units in the future.
It's not only the big boys in the play. Mid-sized and small independents have tried to make their claim as well. Their race for leases and application-approvals will position them to sell to a big player down the line.
EOG Resources has 5,209 applications for permits to drill turned in to the state. Casper-based Wold Oil Properties has submitted 2,490. And Anschutz Corp. — an oil and gas firm that also has irons in other fires, like the massive Chokecherry and Sierra Madre wind project outside Rawlins — has submitted 1,421.
Interest is, of course, not limited to the Powder River Basin, but it was high-priced Powder leases that caused the first spike in leasing income at the start of 2017.
The Trump effect
One important aspect of this oil optimism, however, is the hardest to calculate: the Trump administration's pro-energy stance. This has come across in a number of ways, like the recent decision by the Bureau of Land Management to cut down on the amount of time regulators review leases that are proposed for a lease sale.
Though you always factor in the larger motivator of commodity prices, political change also plays a role, particularly in terms of how regulations are handled on federal land, said Moyle, the consultant.
Under the Obama-administration, the oil business faced tremendous uncertainty, while the current administration has been openly supportive, he said.
"They are actively trying to do business," Moyle said.
Of course, conservationists have noticed this change from federal land managers too, and have been pushing back against it.
The other side
Recently, Gov. Matt Mead and Interior Secretary Ryan Zinke announced that about 5,000 acres in western Wyoming would be deferred from leasing. The parcels overlap with a mule deer migration corridor from the Red Desert to Hoback.
The announcement followed pushback from sportsmen who wanted local land management plans to be completed before oil and gas development had a foot in the door in that corridor. But while the deferral, and related stipulations on other land in the corridor, was seen as a win by sportsmen, they hope it's not the end of the story.
There's still a lot of sensitive habitat in that area that's up for lease, and the leasing fervor that's gripped industry is coming on a little too fast for conservationists.
"I can't speak for [the Interior Department] on why they are leasing everything that seems to come across the board, but clearly we have presidential orders, instructional memoranda, secretarial orders, all pointing towards energy dominance," said Ed Arnett, chief scientist for the Theodore Roosevelt Conservation Partnership. "That's not a secret."
Breaking the rules
The problem for conservationists is that while the Trump administration focuses on industry, federal management plans and conservation strategies are being undermined.
The leasing issues have become a heated topic in regard to sage grouse, a bird that has been the focal point for collaborative conservation in Wyoming for years. Current sage grouse management plans by the Bureau of Land Management, based largely on strategies developed in Wyoming, identify important habitats and prioritize oil and gas development outside of that habitat. Leasing isn't prohibited in these areas, but it's encouraged elsewhere.
Part of the reason Wyoming is so focused on saving the bird is that its habitat is so widespread. Historically, the bird covered more than 70 percent of Wyoming. If the bird were to be listed as an endangered species, protections would be laid across that range, protections that would greatly limit oil and gas.
"That's what's at stake when we talk about the sage grouse," Mead said at a recent oil and gas meeting in Casper.
Federal regulators are considering removing the prioritization language from the grouse plans, partly at the behest of Wyoming. But since last year, conservationists have been noting that leasing is increasing in sage grouse habitat already. BLM documents analyzing these parcels have cited the various instructions coming from both Zinke and the White House.
The rules that are in place simply aren't being followed, conservationists say.
"The current plans say prioritize away from habitat and they are right smack dab in priority habitat," said Arnett of the TRCP.
A similar rush to support energy compromised the mule deer corridor, some argue.
Wyoming doesn't yet know the tipping point for how much development could happen before corridors like the one created by the mule deer become unusable by the animals, said Arnett.
"If you don't know, you should proceed very carefully and sometimes that means not doing anything until you have more information," he said.
Follow energy reporter Heather Richards on Twitter @hroxaner
The business news you need
With a weekly newsletter looking back at local history.