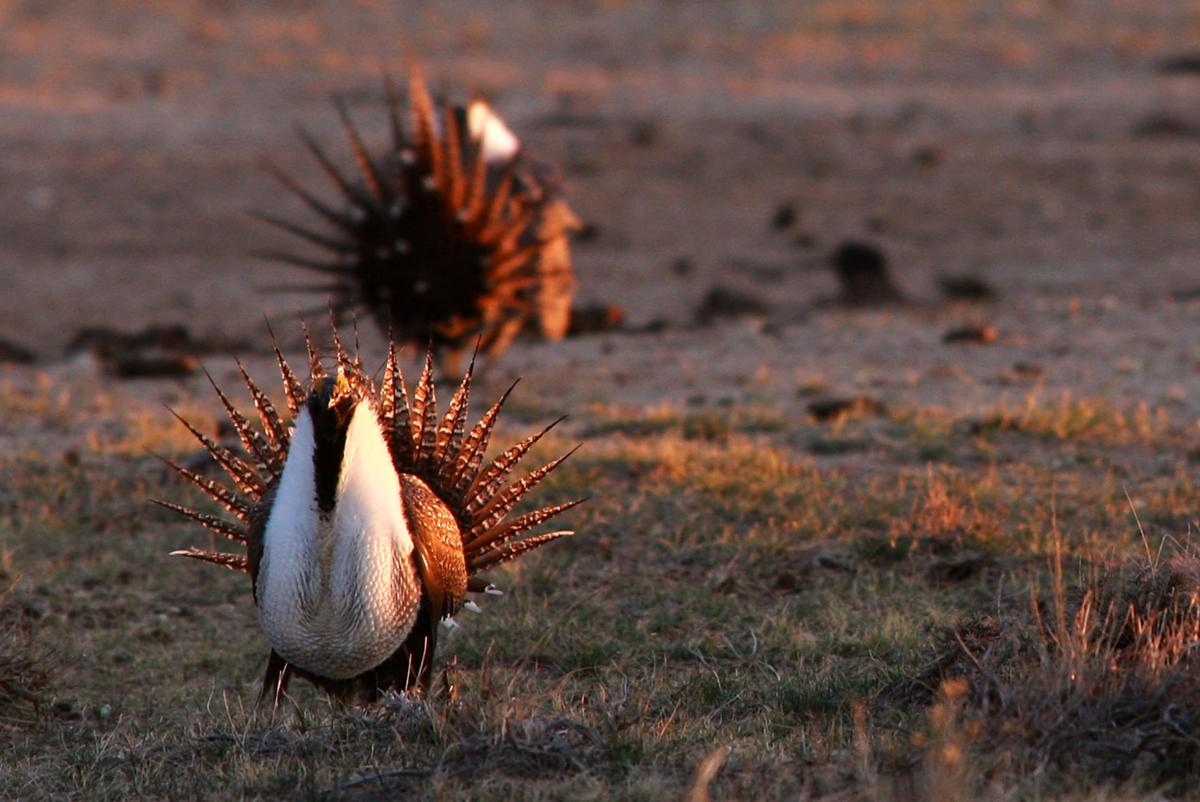 A federal oil and gas lease sale, delayed last year for offering sage grouse habitat to industry with brief public input, netted about $88 million by close Friday.
Of the revenue collected from the sale that closed last week, Wyoming will receive approximately half, about $44 million. Seventy-seven percent of the land offered for auction, 437 out of 565 parcels, was sold.
Though many oil and gas lease sales receive pushback in Wyoming for environmental or wildlife concerns, this one was particularly controversial as it tangled Wyoming wildlife habitat and the Trump administration's focus on "energy dominance."
The sale offered 757,607 acres of federal land in the Cowboy State for potential oil and gas development, a total more than double the size of Grand Teton National Park. Environmental groups that protested the sale noted that it was the largest lease sale in a single state under the Trump administration aside from one that took place in Alaska.
The tracts of land chosen by industry for the sale are habitat for the sage grouse, a bird that was nearly listed as an endangered species in 2015. Though leasing, and drilling, is not forbidden in the bird's habitats in Wyoming, federal management plans currently in place do discourage leasing in habitat when other options are available, groups argue.
They argued that point and others into the courtroom. Given the Trump administration's expedited timeline for reviewing lease parcels, a judge in Idaho ruled that the public had not been given a fair amount of time to weigh in on the sage grouse parcels in this particular sale.
The sage grouse habitat land was pulled from a sale in December and rescheduled as the auction that ended Friday.
***
Oil and gas leasing has supplied a healthy dose of revenue every quarter in Wyoming in the last two years, starting with a first quarter sale in 2017 that stirred up elation by bringing in more than $60 million. Wyoming operators heralded it as a change in keeping with the new Trump administration in Washington.
There had been fewer acres proposed by industry for sale in the preceding years, according to federal records. In 2008, the year President Barack Obama was inaugurated, industry submitted inquiries for about 1.7 million acres in Wyoming. The following year that number fell by more than half. Total acres leased for oil and gas in 2008 was 807,846. The following fiscal year that number dropped to 110,344.
In 2017, the lease income in Wyoming, from federal and state lease auctions, surged by 800 percent.
The price of crude wobbled in the final months of 2018 after a period of relative stability. West Texas Intermediate, the national benchmark for sweet crude, closed at $55.74 Friday, well within the band of prices where it has stuck for months.
The sale last week was encouraging, said Pete Obermueller, president of the Petroleum Association of Wyoming.
"It's a clear sign that there is some level of optimism," he said. "It's an investment to file for those leases."
Many have credited the rise in lease sales in recent years to industry optimism, both because the price of crude had started to climb out of its bust-level trough by the second half of 2017 and because the Trump administration had made promises to support industry. BLM in Wyoming did make some changes that appear to have had a direct effect on leasing. The agency switched to online auctions, increasing the number of bidders, and began holding statewide lease sales rather than the regional sales of years past.
The BLM also sped up public input and agency reviews, a decision that received a temporary stay from the Idaho judge after groups protested the expedited schedule for lease parcels in sage grouse habitat.
Obermueller said there are still efficiencies that industry would like to see made by the federal government.
***
Sage grouse management by federal agencies, and its impact on industry, is currently in limbo. Changes to existing management plans for Wyoming are expected soon but have not yet been published. The content of those changes instigated considerable frustration from environmental and wildlife groups in recent months. Many see the changes as robbing the plans' ability to protect the bird's habitat. One bone of contention often raised is the removal of language that prioritized oil and gas activity outside of the bird's habitat. With the most recent lease sale in sage grouse habitat as evidence, groups say the BLM has already ceased to follow its own instructions.
"This sale represents a huge loss for Wyoming," said Connie Wilbert, director of the Wyoming chapter of the Sierra Club, in a statement.
A final draft of sage grouse amendments was released in December. Wyoming's former Gov. Matt Mead offered an unexpectedly short review of the changes before leaving office, largely thanking the Interior for working with states and signing off on the suggested revisions. Mead was a voice of moderation as the Interior sought to cut the plans over the last 18 months.
Environmental groups like the Audubon Society – which has been a partner in Wyoming's development of sage grouse management plants – were more voluble.
In a protest to the amendments that are expected to be finalized soon, the conservation group listed multiple ways in which it believed the federal government had done an inadequate, and therefore unlawful, review of how the changes would affect grouse management.
Leasing controversies in Wyoming of late are not limited to sage grouse habitat. Big game migration corridors, particularly the Red Desert to Hoback Mule Deer route, have also become a source of division. Groups like the Wyoming Outdoor Council have been banging the drum for the mule deer corridor for more than a year, after two lease sales in 2018 included land that overlapped with the deer's corridor and sparked considerable debate.
A compromise brokered by the state with the BLM to work with oil and gas developers on drilling plans in parcels that share some acreage with the corridor was considered too weak by many groups. Most want the migration to be free of leasing until larger management plans are completed with parameters for how to develop in migration routes, if at all.
"Once migrations are disrupted they may never be restored. If we allow winter range and stopover sites — those places where deer stop to build crucial fat stores — to be fragmented, we can't just make more," Lisa McGee of the Wyoming Outdoor Council said in a statement. "The only surefire way to sustain Wyoming's mule deer herds is to say 'no' to oil and gas development in their most vital habitats."
In the Bureau of Land Management's upcoming sale on March 19 and 20, the agency deferred six parcels in total and two parcels in part that overlap with the migration corridor. That came in response to a Wyoming Game and Fish Department recommendation to wait for the Rock Springs Resource Management Plan to be completed.
Since the controversy over the Red Desert route, the Game and Fish Department has approved two more mule deer corridors, with two additional corridors for a mule deer route and an antelope route likely soon.
All lie in western Wyoming in areas where oil and gas development occurs.
Obermueller, of the Petroleum Association of Wyoming, said industry supports finding science-based approaches to developing in sensitive habitats. Industry does not support the "blanket deferrals" of migration corridors or habitat, he said.
"We are taking the smart approach when it comes to migration corridors, where migration corridors can remain viable and where activity can happen in a way that helps them remain viable," he said.
Follow energy reporter Heather Richards on Twitter @hroxaner
The business news you need
With a weekly newsletter looking back at local history.