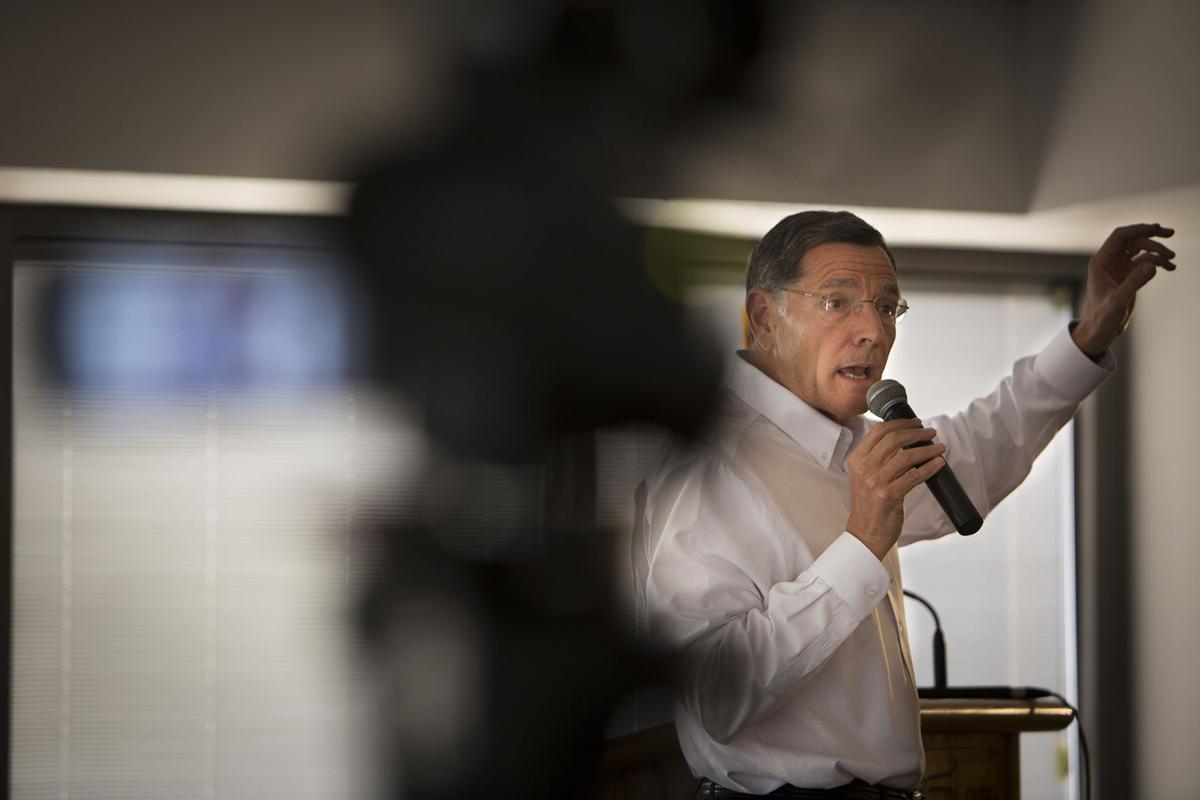 Sen. John Barrasso introduced a bill Friday to limit the import of uranium from Russia in favor of boosting uranium production in the U.S.
The Wyoming senator's latest push to support the state's ailing uranium industry comes at a time when domestic mining for the metal, which is used to produce nuclear fuel, has tanked.
The proposed legislation would further reduce the amount of uranium U.S. companies could purchase from Russian suppliers and incentivize the development of a domestic nuclear fuel supply chain.
"Russia continues to undercut Wyoming's uranium producers by flooding the market with cheap nuclear fuel," Barrasso said in a statement Friday. "Vladimir Putin and his satellite states are using uranium as a geopolitical weapon. This is a threat to both our energy security and national security. The Trump administration is taking important steps to stop them."
The revisions and extension of the Russian Suspension Agreement Extension Act aim to drum up more support for U.S. uranium suppliers over foreign governments in the name of "national security and energy independence," according to Barrasso. In addition to new import quotas under the act, the Energy Department secretary would also be required to submit a report to Congress with data on the amount of uranium imported each year.
"Our bipartisan legislation will codify those actions in law," Barrasso continued. "It will also help revive and strengthen American uranium production. I look forward to working with members on both sides of the aisle to get this legislation passed."
The bipartisan legislation was introduced by Barrasso and Democratic Sen. Martin Heinrich of New Mexico.
Sens. Lisa Murkowski, R-Alaska; Joe Manchin, D-West Virginia; Jim Risch, R-Idaho; Lindsey Graham, R-South Carolina; Kevin Cramer R-North Dakota; and Tom Cotton, R-Arkansas, have also committed to sponsoring the legislation.
Right now, most utility companies import cheaper uranium from state-run producers abroad, displacing demand for U.S. production of the commodity.
But to many politicians and industry leaders in Wyoming, importing the commodity from non-U.S. producers delivers an economic blow to the nation and state. Furthermore, the practice threatens the country's national security.
Foreign uranium companies that are state-owned can often deflate prices and make it difficult for U.S. companies to compete. As a result, Wyoming energy groups have been pressing President Donald Trump for years to institute new trade policies, like quotas, to intensify domestic demand of uranium.
According to the U.S. Energy Information Administration, an impartial energy data center, 90% of uranium purchased by U.S. nuclear power reactors came from outside the country, with about 13% of uranium imported from Russia in 2018.
Owners of nuclear power reactors bought the vast majority of uranium from Canada, Kazakhstan and Australia in 2018. Only about 10% of their supply came from U.S. companies.
Wyoming holds rich uranium deposits and leads the nation in uranium mining, though extraction of the metal has slowed in recent years here.
"The decline has been very dramatic," Paul Goranson, president of Uranium Producers of America and CEO of Energy Fuels, told lawmakers during a Senate hearing held this summer.
American uranium production nationwide has plummeted to an over 70-year low as nuclear power companies turn to these cheaper international suppliers.
In last year's fourth quarter, only about 38,614 pounds of uranium concentrate was produced at four mines in Wyoming. That's an 88% decline from the same quarter in 2018, according to the Energy Information Administration.
In July, Gov. Mark Gordon endorsed an agreement between the U.S. Environmental Protection Agency and Nuclear Regulatory Commission to "clarify" federal and state regulation of in-situ uranium production and cleanup.
The memorandum of understanding essentially outlined what each agency is — and is not — responsible for under the Atomic Energy Act when it comes to overseeing the restoration and maintenance of uranium mine sites.
But environmental groups continue to express alarm about the long-term effects uranium mining can have on scarce groundwater resources throughout the West, especially with the Trump administration declaring it will not pursue heftier regulations around cleanup of in-situ mining sites.