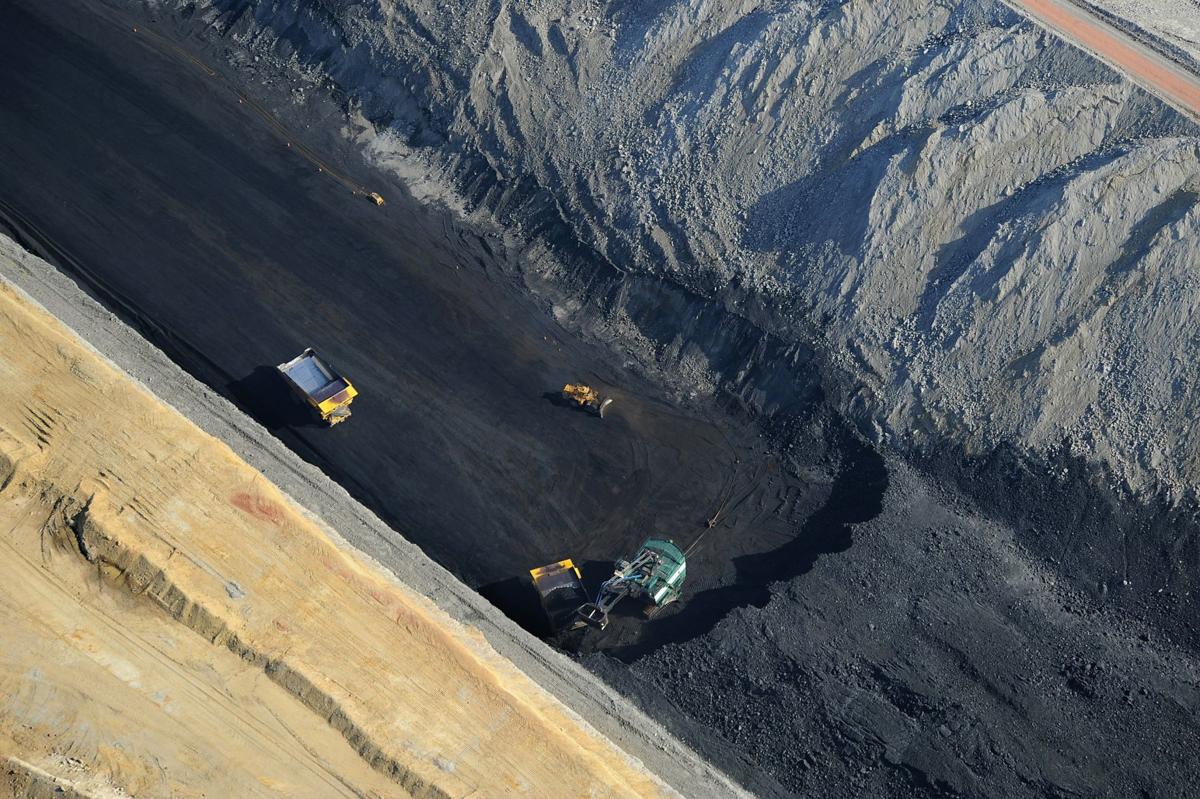 Hundreds of Wyoming miners returned to work across state lines in Montana this weekend as the brief but shocking closure of the Spring Creek Mine came to an end.
Without warning, the mine's new owner, Navajo Transitional Energy Company, shut down the facility Thursday over a permitting dispute with Montana regulators.
By Friday, Montana's Department of Environmental Quality had entered into a 75-day short-term agreement granting the company a temporary permit to mine, after the out-of-state coal firm agreed to partially waive its sovereign immunity.
"There was definitely a sense of relief that people were able to go back to work," Rep. Cyrus Western, R-Big Horn, said. "Obviously, it's not a done deal yet, but it gives both sides the breathing room to negotiate. ... I'm glad there's at least a temporary solution in place."
The Spring Creek Mine is located in Montana, but a vast majority of the workforce lives in Sheridan County.
As state regulators wrestle with NTEC's right to exercise its sovereign immunity, final negotiations could complicate the ownership transition and propagate risky liabilities down the road for both Wyoming and the Navajo Nation.
What is sovereign immunity?
As a Navajo Nation tribal entity, and a company created by the Navajo Nation Council, NTEC could potentially protect itself from future state or federal penalties by employing its sovereign immunity, Montana's Department of Environmental Quality asserted in an Oct. 23 letter.
In other words, if NTEC violated the Montana Strip and Underground Mine Reclamation Act, the company's sovereign immunity could shield it from state or federal jurisdiction, the regulatory body reasoned.
But sovereign immunity doesn't just encompass U.S. mining laws that environmental regulators like the Department of Environmental Quality uphold. It also could possibly apply to a host of federal and state labor, tax and other environmental laws. 
According to the short-term agreement reached between NTEC and the state agency, the company's sovereign immunity is partially waived specifically for the Montana Strip and Underground Mine Reclamation Act for the next 75 days, but not much else.
"It actually didn't waive sovereign immunity for any of those other kinds of laws," said Shannon Anderson, staff attorney for the Powder River Basin Resource Council, a landowners group.
"I think what really has been missing from the overall conversation, particularly here in Sheridan, has been why the Department of Environmental Quality did what they did, and in particular, whose interests were they looking out for?" Anderson noted. "In part, they were actually looking out for the interests of the miners."
NTEC can request for a waiver of its sovereign immunity from the Navajo Nation. But the likelihood of obtaining a waiver from the Navajo Nation Council members seems far off given the company's track record.
The Navajo Nation extended partial sovereign immunity to NTEC when it assumed ownership of a coal mine and power plant on the Navajo Nation in 2013. The corresponding indemnity agreement placed the Navajo Nation government potentially on the hook for about $463 million in cleanup costs (attached to the Navajo Nation coal mine and Four Corners Power Plant), if NTEC failed to fulfill its reclamation obligations.
You have free articles remaining.
Back in Wyoming
The controversy playing out between the Navajo Nation Council and NTEC spells possible trouble for Wyoming and Montana, according to Anderson.
For instance, if the Navajo Nation deemed the waiver from Montana's Department of Environmental Quality invalid or deficient, then the short-term agreement struck between the coal firm and DEQ would become void, according to the interim contract.
Wyoming continues to negotiate with NTEC over the conditions of sovereign immunity too, said Keith Guille, a public information officer at the Wyoming Department of Environmental Quality. The company has a license to mine at the two mines in Wyoming, but the public permit transfer from the mines' former owner, Cloud Peak Energy, to NTEC has yet to occur.
That means Cloud Peak Energy could still be held liable if any mining violations occur on the mines, according to Guille. 
"It is important to note that Wyoming's regulatory framework differs from Montana's," Gov. Mark Gordon said in a statement Friday afternoon. "In the event that NTEC had a violation at one of its Wyoming mines, the Wyoming DEQ could issue dual violations to NTEC and Cloud Peak Energy. Wyoming currently has the power to do inspections, enforce our environmental requirements, and if necessary collect on their reclamation bonds."
"If I was (Wyoming's Department of Environmental Quality), I would be very hesitant to even start moving forward with a permit transfer before those issues get resolved on the Navajo Nation," commented Anderson of the Powder River Basin Resource Council. "Because the further we move along in our process, the riskier it gets. If the Navajo Nation does take some action in the future to unwind everything, then what do we do?"
Public documents obtained from Montana's Department of Environmental Quality show NTEC was given advanced notice of "deficiencies" in its permit applications before closing the sale with Cloud Peak Energy.
Montana's Department of Environmental Quality received NTEC's application to become a new mining contractor in the state on Oct. 9. The application did not include the waiver of sovereign immunity that the regulatory agency requested from NTEC. On Wednesday, Montana's Department of Environmental Quality sent a follow-up letter to Spring Creek Mine alerting the facility that without a waiver of sovereign immunity, "DEQ was unable to accept NTEC as a new contractor."
"NTEC may not operate the Spring Creek Mine until such a fully-effective, complete and approved waiver has been agreed upon," the letter stated.
Given the repeated warnings, the shutdown could likely have been avoided, Shaun McGrath, Department of Environmental Quality director referenced in a statement Friday:
"While better planning and coordination by NTEC could have prevented costly and avoidable impacts to workers, I am very pleased we were able to reach this short-term agreement that will allow miners to get back to work at the mine while ensuring protection of Montana's environment."
"NTEC appreciates the commitment and effort by Montana to keep Spring Creek miners working," said Clark Moseley, chief executive officer at NTEC. "We are thankful that we were able to reach a mutually agreeable position and look forward to continuing to build on a strong partnership with the state of Montana."
NTEC declined to comment further on the reopening of the mine.
A nudge to lawmakers
In some ways, the closure of Spring Creek Mine offered Wyoming lawmakers yet another nudge to consider ways to diversify the state's energy portfolio.
"The writing is on the wall," said Western, the representative in Big Horn. "(Coal) revenue has dropped, and it looks unlikely to go back to previous levels and lawmakers are certainly aware."
Coal production in Wyoming is down 9 percent from this time last year, according to data publicized by the Energy Information Administration.
But, "coal is still going to meaningfully contribute to Wyoming economy — both from a tax revenue perspective and for local communities — by providing good, high-quality jobs," at least for the foreseeable future, Western added.