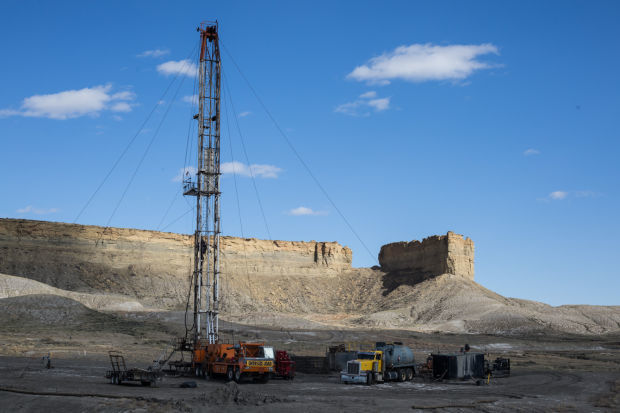 About three dozen Wyoming landowners filed a lawsuit in federal court against one of the largest oil companies operating in the region late last year. The Laramie County residents own mineral rights and have accused the international firm of suppressing competition in oil and gas activity by hoarding thousands of unused drilling permits.
In a Dec. 30 motion filed in the U.S. District Court for Wyoming, the company asked the court to dismiss the allegations, contending it had followed all state rules and regulations.
"Plaintiffs do not allege that Anadarko engaged in any conduct that violated or is inconsistent with Wyoming's oil and gas rules and regulations," the company stated in court documents. "Rather, the purported harms alleged in the Complaint flow directly from Wyoming's oil and gas regulatory framework itself."
The ownership transfer shifted over land — initially acquired from Union Pacific Resources in 2000 — to Occidental. Anadarko is still a wholly-owned subsidiary of Occidental due to an outstanding appeal over the merger.
In the eyes of the plaintiffs, Anadarko controls too much land. The company has amassed the mineral rights and permits with no intention to drill. The practice has left smaller mineral owners and other competitors with little hope of churning a profit from the lucrative minerals they still own rights to in the Niobrara and Codell formation plays.
"In this country, we honor people being entrepreneurial, people being able to use their property as they may and not be precluded from development," said Robert Schuster, the attorney representing about 35 landowners. "Anadarko and Occidental have created a monopoly structure. Through that monopoly power, they have prevented these landowners from leasing their own property."
The majority of land in Wyoming is considered split estate land. In some cases, a private party owns the land's surface, and the federal government owns the minerals beneath. In other instances, a private individual or company owns the minerals under the surface. Multiple operators, landowners, mineral owners or the federal government often have a stake in a single drilling spacing unit.
You have free articles remaining.
As of early December, Anadarko has 2,213 approved or pending permits in Laramie County and has spudded three wells since 2013, according to the Wyoming Oil and Gas Conservation Commission.
"The purpose and effect of Anadarko's acquisition of these drilling permits have been to exclude its competitors from engaging in exploration and production and oil and gas leasing in the relevant market," the plaintiffs stated in court documents.
With the loss of drilling opportunities comes the loss of royalties, income and jobs for residents of Laramie County, Schuster noted. What's more, by holding a monopoly on mineral rights in the region, Anadarko has the ability to determine prices above competitive levels, thereby excluding competition, he said.
But Wyoming law does not require a company to drill once it receives a permit to extract minerals in a drilling spacing unit, the company countered in court documents.
"In short, Plaintiffs allege nothing more than that Anadarko followed the rules set by Wyoming oil and gas law and the Commission," counsel for Anadarko stated in court documents. "That is not a valid basis for antitrust claims, federal or state."
"We believe the litigation is without merit and intend to vigorously defend it," Melissa Schoeb, a spokeswoman with Occidental, told the Star-Tribune in a December statement. "We do not expect that the litigation will have any impact on the timing or outcome of our pending sale process."
Before extracting minerals from leased land in Wyoming, an oil and gas developer must file a permit application, or APD, with state regulators. A developer that successfully submits a permit application to the Wyoming Oil and Gas Conservation Commission first becomes the "operator" of what's called a drilling spacing unit for two years, subject to renewal.
The commission instituted a new rule last month designed to curb the record volume of oil and gas drilling applications that often result from the permitting war playing out between developers in Wyoming.