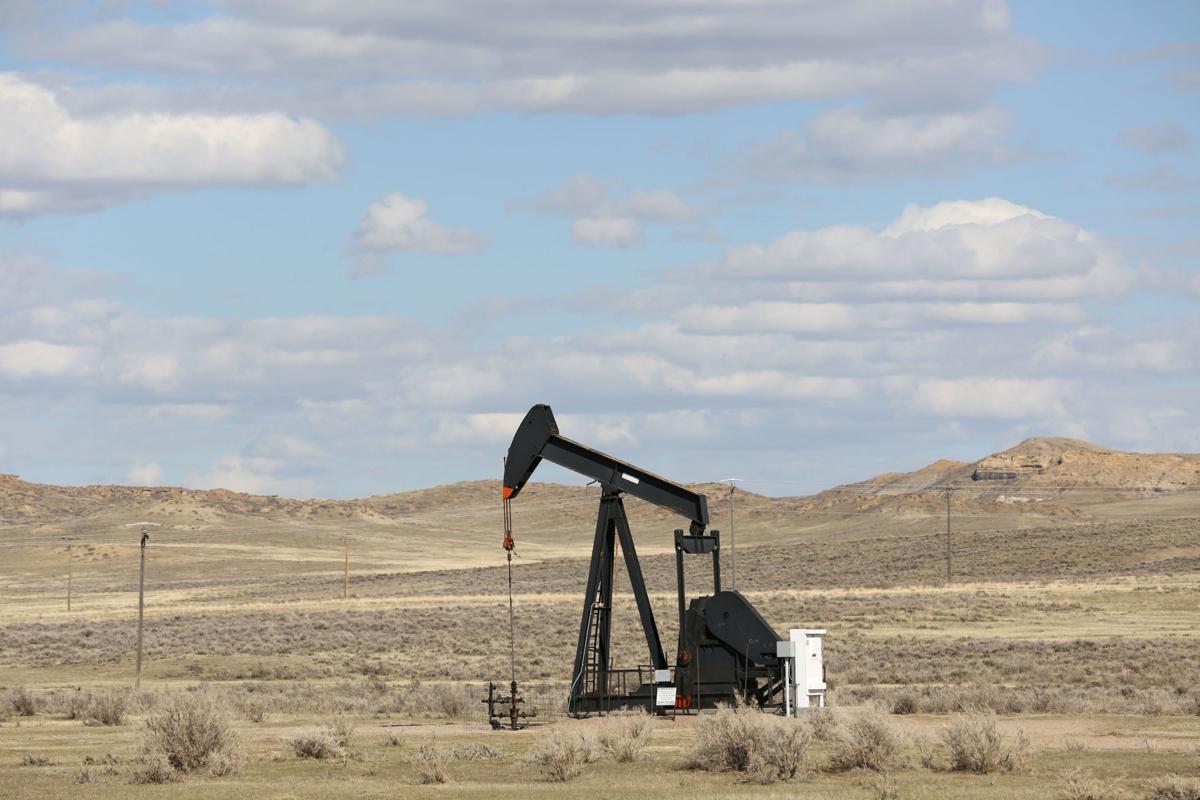 The Biden administration unveiled a flurry of additional executive actions to combat climate change on Wednesday. One particular executive order extends a suspension of new oil and gas leasing of federal lands.
Given the abundance of minerals managed by the federal government in Wyoming, a moratorium on new leasing could have a disproportionate impact on the state's oil and gas industry, compared to other places in the country.  
The Star-Tribune considered what effects the executive actions could have on Wyoming.
What's in the executive order?
President Joe Biden signed a new order on Wednesday extending a moratorium on the issuance of new leases for oil and gas operators drilling on federal lands. 
According to information released by the White House on Wednesday morning, the order requires the U.S. Department of Interior to stop approving new oil and gas leases for public lands and minerals "to the extent possible."
In doing so, the federal agency will have time to undertake a "rigorous review of all existing leasing and permitting practices related to fossil fuel development," according to materials provide by the White House.
The order does not indicate how long the moratorium will last, but stated the pause will be in place, "pending completion of a comprehensive review and reconsideration of Federal oil and gas permitting and leasing practice."
Did Biden ban fracking?
No. Oil and gas operators with existing federal leases will still be able to use hydraulic fracturing to extract oil and natural gas. Drilling on prviate land can continue.
But no new leases will be offered by the federal government. Depending on how long the moratorium is in place, production of federal minerals will likely decline over time in Wyoming.
"We're not going to ban fracking," Biden emphasized on Wednesday. "We'll protect jobs and grow jobs."
Didn't the Biden administration already pause new drilling on federal land?
Yes. On Jan. 20, the Department of Interior ordered a temporary 60-day suspension of leasing and permitting, unless certain officials approve. The order, signed by acting Interior Secretary Scott de la Vega, momentarily paused the authorization of new leasing and permitting until new personnel assumed positions and have time to evaluate the program. (Another executive order issued by Biden on Jan. 20 also halted drilling in the Arctic National Wildlife Refuge.)
The executive order issued on Wednesday halts all new oil and gas leasing of federal minerals. The order will not apply to tribal nations. Oil and gas operators with existing leases or permits in hand should still hold rights and will likely be able to continue drilling, according to energy experts. However, it's again important to emphasize that the specifics of the order's rollout have yet to be outlined.
Why would the Biden administration pause oil and gas development?
The leasing moratorium was one part of a suite of executive actions all aimed at combating climate change and putting the U.S. on a path to eliminate carbon pollution from its power sector by 2035 and achieve a net-zero economy by 2050. 
That includes the formation of an interagency working group tasked with investing in communities relying on coal, oil and natural gas as the country transitions to new power, carbon-free power sources. 
"It's not time for small measures; we need to be bold," Biden said Wednesday, moments before signing the order. "So let me be clear, that includes helping revitalize the economies of coal, oil and natural gas and power plant communities. We have to start creating good paying jobs, capping those abandoned wells and reclaiming mines."
Biden campaigned on a promise to take immediate action to slow climate change and transition the country to clean energy. Burning fossil fuels, like oil and natural gas, produces greenhouse gas emissions. A report published by the Intergovernmental Panel on Climate Change found the world needs to to dramatically cut back on greenhouse gas emissions, by at least 50% in the next decade, to stop the climate from rising over 1.5 degrees Celsius pre-industrial levels. Doing so could prevent irreversible damage to public health and the environment.
Biden spoke about limiting fracking, or hydraulic fracturing, of federal minerals to help the country transition to more renewable energy sources and address the warming climate.
The executive order issued Wednesday conveyed a sense of urgency to respond to the climate crisis. 
"The United States and the world face a profound climate crisis," the order stated. "We have a narrow moment to pursue action at home and abroad in order to avoid the most catastrophic impacts of that crisis and to seize the opportunity that tackling climate change presents."
Why does a federal drilling ban affect Wyoming more than other states?
In Wyoming, the federal government plays in outsized role in managing the state's minerals. The BLM oversees approximately 42 million acres of mineral estate in Wyoming and part of Nebraska, the biggest area in the nation. That means, here, operators produce more oil and gas from federal minerals than almost any other state in the country.
To put that into numbers: About 10% of oil and gas production nationwide occurs on federal lands. But in Wyoming, about 51% of oil is from federal minerals, along with an overwhelming 92% of natural gas.
How much money does Wyoming receive from oil and gas production?
Wyoming has come to heavily depend on revenue from oil and gas production.
Federal mineral extraction provides significant tax revenue to states like Wyoming, flowing from severence taxes, ad valorem taxes, federal royalty payments and lease payments. In addition, oil and gas companies must pay property taxes, sales and use taxes, and a conservation mill levy.
In the last four years, the BLM has collected over $438 million from lease sales in Wyoming. About half of that money has come back to the state.
In 2019, the oil and gas industry here provided $1.67 billion to state and local governments, according to the Petroleum Association of Wyoming. That included about $740 million to K-12 education, $28 million to the University of Wyoming and community colleges, as well as $132 million to local governments. 
That said, last year, drilling activity dramatically contracted in response to the COVID-19 pandemic and low oil prices. Tough market conditions and the pandemic caused many operators to shut-in wells and wait for prices to recover. As a result, operators produced roughly 81 million barrels of oil last year in the state, according to initial data from the state's oil and gas commission. In comparison, oil production in 2019 totaled around 102 million barrels.
Still, the state has gradually come to rely more and more on oil and gas production for revenue, especially as money from coal production dries up.
"There is no doubt it will affect Wyoming," Mark Watson, supervisor of Wyoming's Oil and Gas Conservation Commission, said of the moratorium.
What is the Biden administration doing to protect Wyoming workers?
The executive order places significant focus on creating "good-paying union jobs" to modernize the country's infrastructure and help the U.S. transition to renewable energy. The Biden administration will form an interagency working group tasked with investing in communities relying on coal, oil and natural gas as the country transitions to new power, carbon-free power sources. 
Here are more specifics: "The order tasks the new Interagency Working Group to advance projects that reduce emissions of toxic substances and greenhouse gases from existing and abandoned infrastructure and that prevent environmental damage that harms communities and poses a risk to public health and safety — such as projects to reduce methane emissions, oil and brine leaks, and other environmental harms from tens of thousands of former mining and well sites," according to materials provided by the White House on Wednesday.
The Utility Workers Union of America, which said it represents some workers in southwest Wyoming, cheered the introduction of the working group. 
"Coal plant closures are economically catastrophic for workers and communities," Utility Workers Union of America, AFL-CIO President James Slevin said in a statement. "The challenges in moving beyond the impacts ranges from difficult to nearly insurmountable for many people. The Interagency Working Group on Coal and Power Plant Communities and Economic Revitalization President Biden proposed today is a meaningful and long overdue acknowledgement of the contributions coal plant workers and their families have had powering America and of the challenges these individuals face in the years ahead finding equivalent employment."
How much money and how many jobs could Wyoming lose from a drilling moratorium on federal land?
One oft-cited study, conducted by University of Wyoming economist Timothy Considine last year, explored two potential scenarios under the Biden administration — a possible moratorium on new federal leases for oil and gas companies or a full drilling ban on onshore federal lands.
It's worth noting, the estimates calculated by Considine could fluctuate, depending on the future productivity of oil and gas production and prices, among numerous other factors.
A leasing moratorium could cost the state $304 million in annual revenue, according to this study. Initial losses from a drilling ban on federal land would be most significant in New Mexico and Wyoming, according to the study. 
The state's Legislature provided the Wyoming Energy Authority with funding to research the fiscal and economic losses associated with federal energy policy changes earlier this year. The study had not been peer-reviewed at the time of publication, but Considine said in December he planned to publish a peer-reviewed article outlining the results of the study.
A review of the study by Laura Zachary, co-director of Apogee Economics and Policyfound, a climate and energy firm, found multiple issues with the methodologies used in it, concluding the study "exaggerate(d) the economic impacts," of a leasing moratorium or drilling for Wyoming and other states.
What does this mean for Wyoming's education system?
Again, it all depends on the specifics of the executive order Biden implements.
But according to the Wyoming Department of Education, the state relies on roughly $150 million each year in oil and gas federal mineral royalties to fund K-12 schools. Public schools also benefit from several other taxes paid by the mineral industries in Wyoming.
At a news conference Tuesday, Superintendent Jillian Balow called the Biden administration's decision combined with the state's existing structural deficit for education funding "dire."
"A federal ban on oil and gas leases will defund schools," she said in a statement.
Will all drilling stop because of the moratorium?
Oil and gas operators with existing federal leases in hand should still hold rights and will likely be able to continue drilling, according to energy experts. However, it's again important to emphasize that the specifics of the order's rollout have yet to be released. 
A previous order, issued by Biden's Interior Department last week, only paused the issuance of new leases and permits. Operators with existing leases and permits could continue development.
Knowing the details of how the Interior Department rolls out this latest executive order will be important. For instance, the executive order does not indicate whether operators will have the opportunity to renew existing leases.
Permits to drill last two years. Lease terms vary but typically have 10-year terms. During that time, operators can explore for mineral reserves. If production begins within that 10-year period, the lease can be extended by two years. After that, operators can hold onto their leases if drilling continues. 
"The Administration has created a lot of uncertainty for our industry through their recent executive actions," said Ryan McConnaughey, communications director for the Petroleum Association of Wyoming. "Whether their ban on new leases also includes lease renewals is another one of those uncertainties, to which we would urge them to provide clarity."
Others point out that oil and gas operators already hold thousands of existing federal leases or permits, which may allow drilling on federal land to continue here for in the near term.
"There's a ton of permits that have been issued over the course of the last little while, which means there is a backlog of drilling to be worked through," said Chuck Mason, an oil and gas economist at the University of Wyoming.
An analysis by The Associated Press also concluded oil and gas firms "stockpiled" leases and permits out West, including in Wyoming, toward the end of the Trump administration. The Bureau of Land Management approved about 4,700 drilling permits nationwide in 2020.
Of the 18 million acres of federal lands managed by the Bureau of Land Management, about 11 million acres have been leased to companies for development, according to the Wyoming Outdoor Council. 
Oil and gas operators say the executive order will severely complicate long-term drilling plans. Steve Degenfelder, who works for Casper-based Kirkwood Oil and Gas LLC, said it's much more complicated than simply how many leases or permits a company holds.
"Unfortunately, the federal government doesn't lease in big blocks, so it's kind of like a jigsaw puzzle," he said. "This year, you get these pieces and next year you get these pieces. So over a three- to five-year period, you're able to put together a whole area. But it doesn't all come together in one lease sale."
Therefore, a moratorium on new leasing or other forthcoming regulatory hurdles could detrimentally slow the long-term exploration and development plans for the company, he said.
In the short-term, Mason, the economist, anticipates the country as a whole may witness a slight uptick in drilling in response to a moratorium and before leases expire. But that activity may not necessarily take place in Wyoming, and if it does, it may not last. Any regulations making it more challenging to obtain the necessary permits or clear other federal requirements to drill could significantly slow development.
Though Wyoming may not feel pinched by a moratorium immediately, Mason forecasts that by 2023 the effects of a moratorium may become apparent.
"I think down the line a little ways, I think there's cause for some concern," Mason said.
Operators may find the new restrictions too difficult to navigate and find other places to drill instead, some oil and gas experts predicted.
"If a company has operations around the United States, they may just throw up their hands and just focus on the Permian Basin in Texas," Watson, the supervisor of Wyoming's oil and gas commission said. "It's a whole different ballgame when you're dealing with federal rules."
Another big factor to consider is commodity prices. Drilling activity depends on oil and natural gas prices. When oil prices collapsed last year due to a global price war and the COVID-19 pandemic, oil and gas production sharply declined. The state's oil and gas industry is still recovering from that crash too.
As of Friday, Wyoming recorded four oil and gas rigs, compared to 23 at the same time the year before, according to Baker Hughes. The rig count is typically a strong indication of how much new drilling activity is taking place.
Will pausing new leasing and permitting on federal land help stop climate change?
According to a U.S. Geological Survey report, between 2005 and 2014, fossil fuel extraction (including coal) from federal land contributed to 23.7% of national carbon dioxide emissions, 7.3% of methane and 1.5% of nitrous oxide. That said, a sizable chunk of those emissions came from coal extracted from federal minerals.
However, many environmental groups and scientists called the executive actions' efforts to curb fossil fuel development an important first step and a precursor of more policy changes favorable to the climate.
Skeptics say oil and gas developers will simply shift operations to private land or other countries.
How does the process of leasing land to oil and gas operators even work?
The U.S. Bureau of Land Management auctions parcels of federal land and minerals to oil and gas companies for development, four times a year. (The BLM is a branch of the Interior Department and is charged with managing 245 million surface acres of land and 700 million acres of subsurface mineral estate across the country.)
If a company obtains the lease, it still needs to secure a permit to drill and complete environmental reviews.
In the past, Wyoming has seen pretty big financial returns for oil and gas development on federal leases, receiving a portion of federal royalties, as well as some of the money collected from federal lease sales. Much of this funding supports public services in rural communities.
But critics of the federal government's oil and gas leasing program have said taxpayers do not receive a fair enough return. They also aren't so sure the economic fallout from a leasing moratorium or drilling ban would be as big of a loss as some here might think.
For instance, oil and gas lease sales in Wyoming brought in just $11.7 million from sales in 2020, a 92% decline from the year prior. In 2019, bids brought in roughly $140 million.
To many conservation organizations in Wyoming, the negative backlash to Wednesday's executive order is overblown and misplaced. The challenges facing the oil and gas industry do not stem from a lack of access to public lands.
"The sky isn't falling on Wyoming," said Dan Smitherman, Wyoming state manager for The Wilderness Society. "Our lawmakers are just pushing a policy of prevarication instead of action, serving us empty promises that nationwide deployment of carbon capture is always just around the corner. Over the past 20 years, the signals have piled up that Wyoming must find new sources of revenue rather than relying on fossil fuel production and dying industries to pay the state's bills. It's past time for Wyoming to untangle our future from the volatile fossil fuel market and invest in our communities and people."
What are oil and gas groups saying?
The Petroleum Association slammed the Biden administration, noting the consequences of a potential moratorium could be far reaching and devastating to the state.
"Today's announcement is another step in the administration's plan to eventually shut down all production of natural gas and oil on federal lands," the association said in a statement. "This misguided policy does nothing to reduce the demand or to improve environmental outcomes, but rather increases reliance on foreign sources of energy not beholden to America's environmental, labor or safety standards while increasing energy costs for consumers.
"In Wyoming, federal lands represent more than half of all oil production and more than 90% of the natural gas produced. Some are trying to argue that a lease ban is not that big of a deal. We beg to differ. A ban on federal leasing could devastate Wyoming's economy and upend our way of life."
What are Wyoming political leaders saying?
Wyoming's governor and other political leaders lambasted the Biden administration when it issued its first moratorium on oil and gas leasing, and the executive order issued on Wednesday.
"The President's decision to halt Federal leasing on oil and gas under the guise of a 'pause' is beyond misguided," Gov. Mark Gordon said in a written statement on Tuesday. "It is disingenuous, disheartening and a crushing blow to the economies of many Western States, particularly Wyoming. No matter how it is framed, this action is still a ban on leasing."
Sen. John Barrasso called the expected executive order "illegal and divisive."
"Despite all the hot air from climate alarmists, banning new oil, gas, and coal leases on federal land and waters will do nothing to address climate change," Barrasso said.
"Energy producers will simply go elsewhere — likely out of state or overseas," he added. "The president's order will deprive thousands of people in Wyoming of their jobs and a principal source of revenue for public education and other essential services. If President Biden is serious about bringing our country together, he needs to understand that actions speak louder than words."
Sen. Cythina Lummis is expected to introduce legislation challenging the moratorium on oil and gas leasing issued through executive order on Wednesday. Barrasso will be a co-sponsor on the legislation, according to a senior senate aid.
Rep. Liz Cheney joined over a dozen other members of Congress in a letter decrying a moratorium on oil and gas leasing and permitting.
"Today's executive orders signed by President Biden will endanger our economy in Wyoming and threaten our national security," Cheney said in a statement on Wednesday. "As the country continues to battle the economic crisis posed by COVID-19, cutting off a major lifeline that Americans have relied on to survive during this time is reckless and irresponsible. We should be expanding opportunities for energy production and economic success, not eliminating them. I intend to work with allies in Washington and partners in Wyoming to fight against these devastating orders to defend the interests of the people of Wyoming and our nation." 
What effect could this order have on consumers? Could gas prices change?
"Probably not much," according to Mason, the UW economist, said on Tuesday. "Gasoline prices are determined by crude oil prices, and crude oil prices settle in the international markets. So having a five to 10% reduction in crude production, you will not be able to see the difference in international crude markets."
Star-Tribune staff writer Morgan Hughes contributed to this report.
This story will be updated.
Follow the latest on Wyoming's energy industry and the environment @camillereports