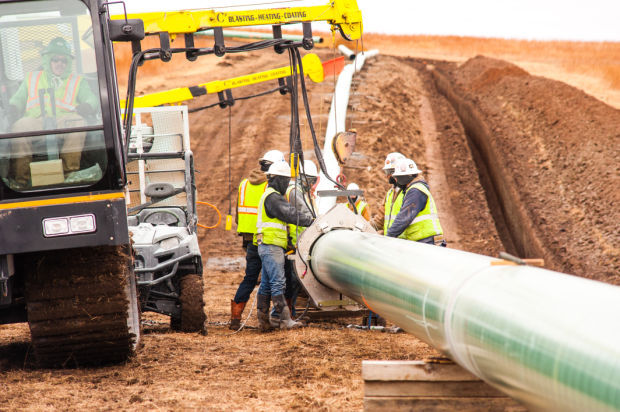 Look no further than the Pony Express Pipeline at Guernsey to judge whether oil or natural gas is more in demand.
After 17 years transporting natural gas, the pipeline will switch to shipping oil before the end of this year.
That's in direct response to the plummeting price of natural gas compared with the relatively robust oil prices.
The new owner of the Pony Express Pipeline, Tallgrass Development LP, is betting on oil. The company is investing approximately one billion dollars to retrofit the pipeline for oil and to extend it by 260 miles to Cushing, Okla.
Pony Express will transport domestic light crude found in Wyoming, North Dakota and Montana to Oklahoma.
The irony of the Pony Express Pipeline is that it was one of the first projects converted in the other direction, from oil to natural gas, in 1996.
Brian Jeffries, executive director of the Wyoming Pipeline Authority, explained that 17 years ago "Wyoming lacked pipeline capacity," which drove down what Wyoming producers could get for their natural gas because they couldn't transport it to market.
Now the situation is reversed between oil and gas.
"The world has turned a bit," said Jeffries, and it pays to ship the oil out.
Bruch Hinchey, executive director of the Petroleum Association of Wyoming, said that "everybody's switching to oil" because in the past four years gas prices have been depressed. But oil prices have stayed high, in the $80 to $100 per barrel range.
You have free articles remaining.
And it's not only Wyoming oil that is driving the need to ship. "North Dakota has a ton of oil" that needs to be moved, said Hinchey.
John Eagleton, vice president for business development at Tallgrass said the switch was caused partly by the decline in demand for Rocky Mountain natural gas because eastern markets found new sources closer to home.
"The other thing that stimulated all this was tremendous increase in oil production in North Dakota and Montana as well as from Wyoming," according to Eagleton.
Demand for space on the pipeline has been strong. When Tallgrass made its offer to all comers that want to use the pipeline, "the response was very good," said Eagleton.
Jeffries pointed out that building a pipeline can take a long time due to the permitting process. So the availability of an already-constructed pipeline like the Pony Express is a plus.
Eagleton said there are also environmental reasons that using existing pipeline is an advantage; there's no need to open a ditch and lay down pipe.
The process to change a gas pipeline to oil involves additional pump stations and extensive testing to ensure that the existing pipe hasn't deteriorated, said Mick Rafter, Tallgrass vice president of operations.
He said testing is being done on the 432 miles of existing pipe being readied for re-use to look for questionable areas.
"We're preparing the pipe to adhere to the code we operate under at an operating pressure," he said.
Pony Express Pipeline will originate at Guernsey, go southeast crossing through the corners of Colorado and Nebraska before turning south at Lincoln, Kan., terminating at an existing oil facility in Cushing, Okla.
According to information from Kinder Morgan, the original owner of Pony Express, it should transport up to 100,000 barrels of oil per day.
Rafter said they expect the Pony Express pipeline to be in service in August 2014.