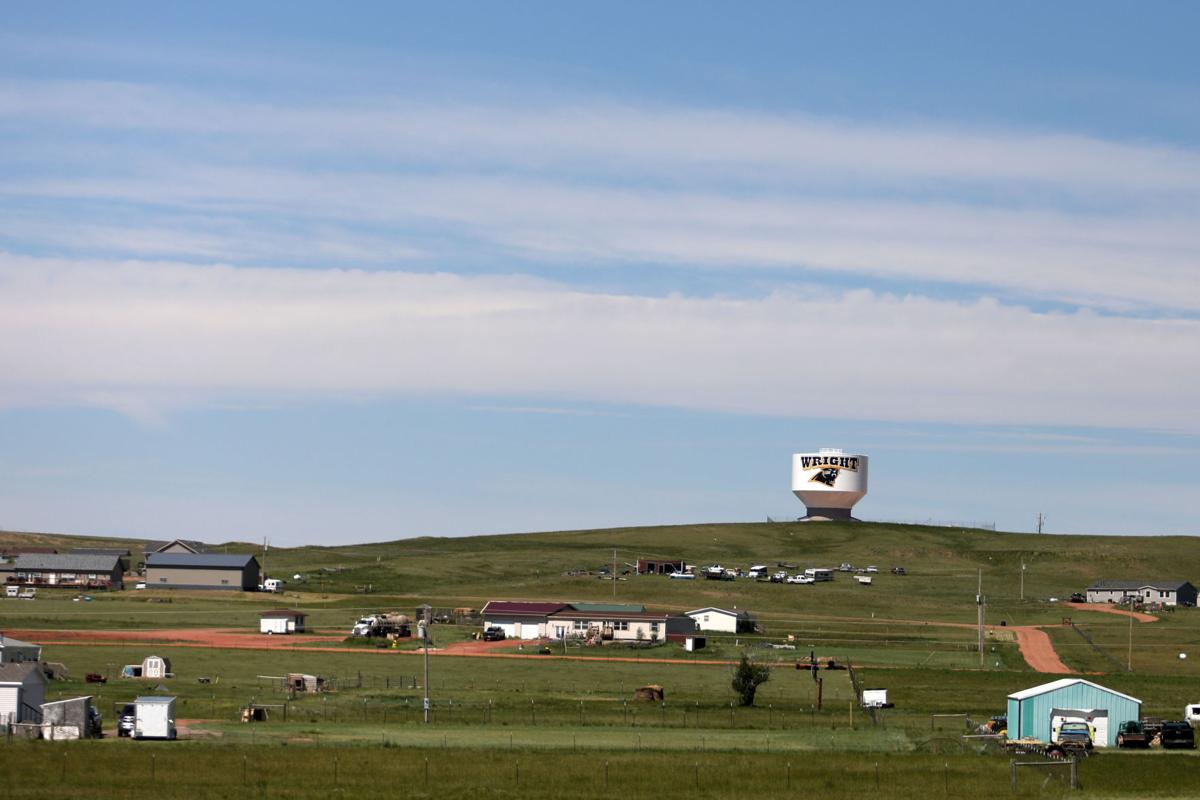 Two leading Interior Department officials in the Trump administration embarked on a visit to Wyoming coal country last week to meet with state partners and tour the nation's largest and newest coal mines, along the way emphasizing the president's commitment to the industry.
Casey Hammond, deputy assistant secretary for U.S. Land and Minerals Management, alongside Lanny Erdos, deputy director for the Office of Surface Mining Reclamation and Enforcement, met with the governor's office and Wyoming environmental regulators on Friday to discuss President Donald Trump's "energy dominance agenda," among other topics.
"We always want to reiterate that the president cares about Wyoming, he cares about the mining industry and he cares about the coal industry," Hammond said during an interview with the Star-Tribune on Friday afternoon. "We're doing our absolute best in being a partner with the state and families of Wyoming."
To the Trump administration, one of the department's core missions involves lifting "burdensome" or "duplicative" regulatory requirements, which only bog down coal operators and prevent the country from achieving "energy security," according to the department. That also entails encouraging greater investment in the coal industry and generating more regulatory certainty for mineral companies. But to conservation advocates, this strategy also means weakening environmental protections.
"We are trying to create the environment where the industry can be successful and can continue to provide those jobs, continue to be part of our energy future and can continue to provide that reliable source of power," Hammond added.
Wyoming hosts 16 different coal mines and ranks No. 1 in coal production nationwide. For years, the mammoth industry has funneled billions of dollars into the state's coffers for critical infrastructure, public education and other social services.
But times have been tough as of late.
Wyoming coal mines have laid off or furloughed over 600 workers since the COVID-19 pandemic hit in March. Industrial demand for electricity has waned with stay-at-home orders and a constricted economy. Coal production across mines in the Powder River Basin contracted by one-third during the second quarter, compared to 2019. On top of that, six coal companies have petitioned for Chapter 11 bankruptcy since 2015, throwing the future of coal-dependent communities into question.
When coal operator Blackjewel infamously filed for bankruptcy and abruptly shut down Eagle Butte and Belle Ayr, leaving nearly 600 miners out of work, some miners questioned the president's support for the industry for the first time. Trump did not address Wyoming miners in the days and weeks following the incident; his silence sowed disappointment and doubt for some miners, according to several interviews.
But Hammond and Erdos appeared poised to correct the narrative on Friday, underscoring what they considered the president's unwavering support for families fueling the country.
"From our perspective at Interior, our approach is always to be responsive and try to be a good partner throughout these processes," Hammond noted. "Our eyes are always primarily on the jobs. We're always going to do whatever we can to see the state succeed and see as many jobs survive on the other end of any process from the outset. I think that these (coal) jobs are so critical, not only to the state, but to the country."
"The president's been very vocal for his support of this industry," he added.
Federal aid during COVID-19
In recent months, the Interior Department has introduced multiple proposed rule changes to streamline the regulations tied to coal production. In many cases, the amendments shift more regulatory responsibility onto the shoulders of states, easing regulatory oversight at the federal level. Some landowners here view the changes with concern, seeing them as an erosion of necessary federal oversight of states and a limit to public participation.
In May, the Office of Surface Mining proposed a new rule to streamline how it handles the 10-day notices it extends to state partners to investigate a citizen complaint about potential violations at a mine. The official notice requires state regulators, such as Wyoming's Department of Environmental Quality, to promptly respond to the alleged violation and, if necessary, issue corrective action within 10 days.
Under the new rule, the Office of Surface Mining will contact its state partners upon receiving notice of a possible mining violation, before issuing its standard 10-day notice. That way, the federal bureau is aware if state regulators have already launched an investigation or gone so far as to require corrective action at a mine site.
Erdos called the proposed rule change merely "a clarification."
"We're trying to be a very transparent and wise with American dollars that are spent on these investigations," he explained. "We don't want to duplicate what the state has already done.
Ultimately, the federal agency will still hold the right to conduct an investigation in Wyoming, but first it will contact the state.
Critics of the proposed rule have said the change may restrict citizen participation and compromise the integrity of coal mine oversight. Many have urged the Office of Surface Mining to withdraw the proposal.
The rule has not been finalized, according to Erdos.
This month, the Interior Department also announced amendments to how the federal government calculates mineral royalties, saying the move would relieve industry of regulatory burdens and promote domestic energy development.
The revisions would change how coal, oil and gas companies calculate royalty payments for minerals extracted from public land to bring the Interior Department's policies in line with Trump's executive orders, one of which requires government agencies to prioritize "energy independence and economic growth," according to the department.
If implemented, the new guidelines would reverse the valuation rule put in place by the Obama administration in 2016, which sought to close "loopholes" in mineral royalty policies and increase the financial returns on federal land use.
Collectively, these rule changes roll back regulatory mandates required of coal producers, with the aim of advancing Trump's American-First Energy Strategy. The Interior Department has said current mandates "unnecessarily encumber energy production, constrain economic growth or prevent job creation."
Each step of the way, advocates for conservation and taxpayers have bristled at what they consider unfair breaks to fossil fuel industries. 
The Interior Department does not anticipate any additional regulatory changes for coal being proposed in the immediate future, Hammond told the Star-Tribune on Friday.