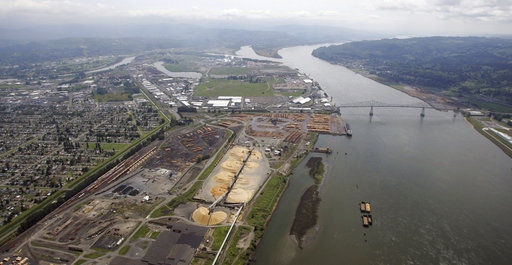 President Trump signed two executive orders Wednesday that attempt to ease restrictions on energy infrastructure development and curtail the ability of states to deny or delay energy projects.
One order addresses a recurring political frustration in Wyoming with states like Washington, who have used their authority under federal law to impede developments on environmental grounds, to Wyoming's potential economic loss.
Trump's executive order instructs the Environmental Protection Agency to clarify the state and federal balance of authority over projects that cross state waterways by rewriting the agency's guidance of the Clean Water Act. A provision of that federal law, section 401, grants states the authority to certify water permits. In effect this provision has allowed states a veto power over projects that have federal approval.
The president's order states that the EPA's guidance on the Clean Water Act has created "confusion."
Wyoming politicians have been more direct, accusing states of "hijacking" the law for political reasons. Wyoming has been uniquely interested in how other states use their authority under the Clean Water Act, particularly Washington state, which has denied a water permit for the Millennium Bulk Terminals, a coal port proposal that Wyoming has long hoped would facilitate a seaborn market for Powder River Basin coal.
"It is a welcome change to see the federal government taking steps to help encourage American energy development instead of looking for more ways to throw up red tape to block it," Sen. Mike Enzi said in a statement Wednesday praising the president's approach. "Projects like the Millennium Bulk Terminal in Washington would provide a boost not only for Wyoming's coal mines, but for America's economy as a whole."
Enzi, alongside Sen. John Barrasso, reintroduced a bill Tuesday to address the Clean Water Act authority from the Congressional side. That legislation would weaken the controversial state veto power. Barrasso said in a statement Wednesday that the legislation went hand-in-hand with the president's action as a way to stop the political left from hampering energy development.
"Washington state and East Coast states have used this authority to slow down important energy projects," he said. "The water quality certification process (section 401) is designed to protect America's water, not advance liberal political agendas."
When the legislation was first floated by Barrasso in 2018, then-Gov. Matt Mead noted that he did not hold a position on the bill, but he did not believe it would inhibit Wyoming's ability to protect its water. The director of the Wyoming Department of Environmental Quality, Todd Parfitt, said in a note to the senator at the time that he didn't believe the bill as written impeded state authority.
The Western Governors Association, however, signed off on a letter in August to congressional leadership cautioning against changes to section 401 of the act, arguing for its importance in states' ability to oversee their waterways.
Industry groups came out in favor of the president's executive orders Wednesday, arguing alongside conservative politicians that the Clean Water Act provision had been undermined due to previous interpretation.
"This guidance, overdue for updating, has allowed for implementation of the CWA in a manner inconsistent with the statute and to inhibit projects that are clearly in interstate commerce," Lee Fuller, executive vice president of the Independent Petroleum Association of America, said in a statement.
Other trade organizations, such as the American Energy Alliance, also applauded Trump's orders.
Environmental groups viewed the president's action as one in a series of attacks on the systems that protect the environment from fossil fuel development and allow states and citizens to voice protest of energy development.
"President Trump is once again demonstrating that he will do whatever it takes to advance the fossil fuel industry's agenda," said Jill Tauber, vice president of litigation for climate and energy for Earthjustice. "These executive orders are a blatant attempt to rubber-stamp oil and gas projects by curtailing the role of states and communities in making decisions about projects on their land."
Wyoming's senators were not the only ones to speak out about Trump's executive orders.
Gov. Jay Inslee, D-Washington, defended the Clean Water Act's role in granting states power over projects.
"No amount of politicking will change the facts — states have full authority under the Clean Water Act to protect our waters and ensure the health and safety of our people," Inslee, who is running for president, said in a statement. "Washington will not allow this or any presidential administration to block us from discharging that authority lawfully and effectively."
A second executive order signed Wednesday solidifies presidential authority over cross-border energy infrastructure, such as natural gas pipelines.
Follow energy reporter Heather Richards on Twitter @hroxaner