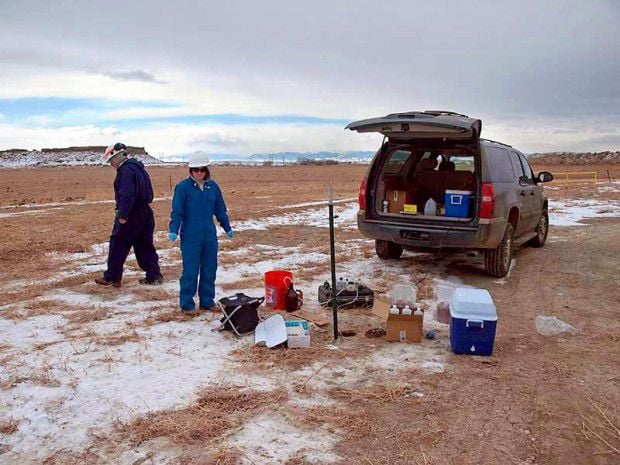 Wyoming regulators are doubling down on conclusions that natural gas operations were likely not responsible for polluted drinking water in the small town of Pavillion.
The Wyoming Department of Environmental Quality released an 80,000-page report Thursday mirroring findings from earlier studies, despite recent criticism from the Environmental Protection Agency.
Evidence could not tie water pollution to hydraulic fracturing in the gas fields near Pavillion, but further monitoring is recommended, according to the state. Contaminants found in 13 water supply wells sampled by Wyoming regulators in 2014 were likely naturally occurring, the report stated.
A pesticide and a plastics contaminant were discovered in samples. The state said that though inorganic compounds were found in excess of drinking water standards, they were commonly linked to naturally occurring salts, metals and radionuclides. Some common radionuclides are fluorine and chlorine. Oil and gas drilling mud also contains some of the found compounds, according to the state.
The report noted a number of other potential problems for water quality, including pressure building in gas wells, but then said no evidence was found indicating that the problems actually caused water issues.
Gas migration is a common result of some drilling, which creates an avenue for natural gas to escape from the high-pressure bedrock or soil where it was contained to lower-pressure environments above. Some critics of hydraulic fracturing have claimed that increased gas migration is a result of fracking.
Wyoming regulators concluded that bacteria in water supply wells was likely the cause of taste and odor complaints in the Pavillion area.
In addition to its own sampling, the state relied on the Pavillion study conducted by the Wyoming Oil and Gas Conservation Commission, completed in 2014.
Thursday's report does not deviate substantially from the draft released by Wyoming regulators in December. However, the state's findings at that time have been criticized by the U.S. Environmental Protection Agency, which originally investigated Pavillion's water.
In March, the EPA penned a blistering review of Wyoming's report, saying the state downplayed health risks and failed to provide evidence to support its findings on the source of water contaminants.
Federal regulators noted that Wyoming failed to provide proof of its claim that the Pavillion field's gas wells were stimulated with small amounts of fracking fluid, nor did they address whether fluids could have escaped gaps in the protective layers around the field's gas wells.
Though they have not retracted their earlier conclusions, state regulators acknowledged they had a difficult time determining how much seepage was due to gas wells because of natural movement of gas in the Wind River Formation.
***
Some Pavillion residents and environmentalists immediately responded to Thursday's report expressing alarm and frustration with the state's action.
John Fenton has a farm in the area and has been fighting for answers for years. He's the chairman of Pavillion Area Concerned Citizens.
"I had no expectation that anything would really change," he said. "We're back to what's always been industry's talking points: that there is nothing going on, and it's bacterial problems."
The whole approach of the state's investigation has caused doubt for residents like Fenton. During the original federal study of Pavillion's water, there were numerous opportunities for the locals to attend public meetings. When the state took over in 2013, it didn't offer that civic engagement, he said.
"We would have to call and beg for information," he said. "I think in cases like this, when it's such a hot topic, transparency is one of the most important tools you have, and that was the first tool they put away."
The company that operates the gas field, Encana, contributed $1.5 million to the state's study. That troubled some in Pavillion, Fenton said.
"You have the very people potentially being investigated paying for part of the study," Fenton said. "If you were just a lay person looking at it, that seems dishonest and not how you want to conduct it yourself."
Fenton said he wasn't sure what the next step in fighting on the issue would be, except to go through the state's study and analyze its findings.
The Powder River Basin Resource Council denounced the state's report as inadequate and called on the state and Encana to clean up groundwater contamination.
***
However, others championed the state's report as a blow to anti-fracking movements.
"Today's announcement from the Wyoming DEQ doesn't just close the case on Pavillion – it's a knockout blow for activists who have tried to use Pavillion as a key talking point for their ban-fracking agenda," said Randy Hildreth, the Colorado director of Energy In Depth, the media and community outreach arm of the Independent Petroleum Association of America.
Gov. Matt Mead commended the state's efforts in a statement after the Pavillion report was released. The state has spent close to $1 million installing water cisterns to qualifying Pavillion landowners. It has also provided a bottled water delivery service to 11 homes for two years. That service will be discontinued in March.
Pavillion's drinking water was originally investigated by the EPA, which released a study in 2011 linking fracking to contaminated drinking water. The study's findings spread rapidly, and the small Wyoming town became a poster child for the anti-fracking movement.
Industry leaders, politicians and state regulators criticized the federal findings.
Two years after it released its shocking report, the EPA handed over control of further study to Wyoming. A Star-Tribune investigation revealed that the federal regulators did so fearing pushback on their findings.
Dominic DiGiulio, the former lead investigator on the EPA's investigation of Pavillion, also criticized the state. In an article released in March, DiGiulio defended the EPA's original findings. That article came out after the state's official comment period on the December draft, so a response to its contents is not included in Thursday's final report from the DEQ.
State regulators will hold a public meeting in Riverton in early December. Their report includes a recommendation that the EPA plug its monitoring wells in the field. Though a number of recommendations and considerations are noted in the state's final report, a timeline was not provided Thursday morning.
Follow energy reporter Heather Richards on Twitter @hroxaner
The business news you need
With a weekly newsletter looking back at local history.