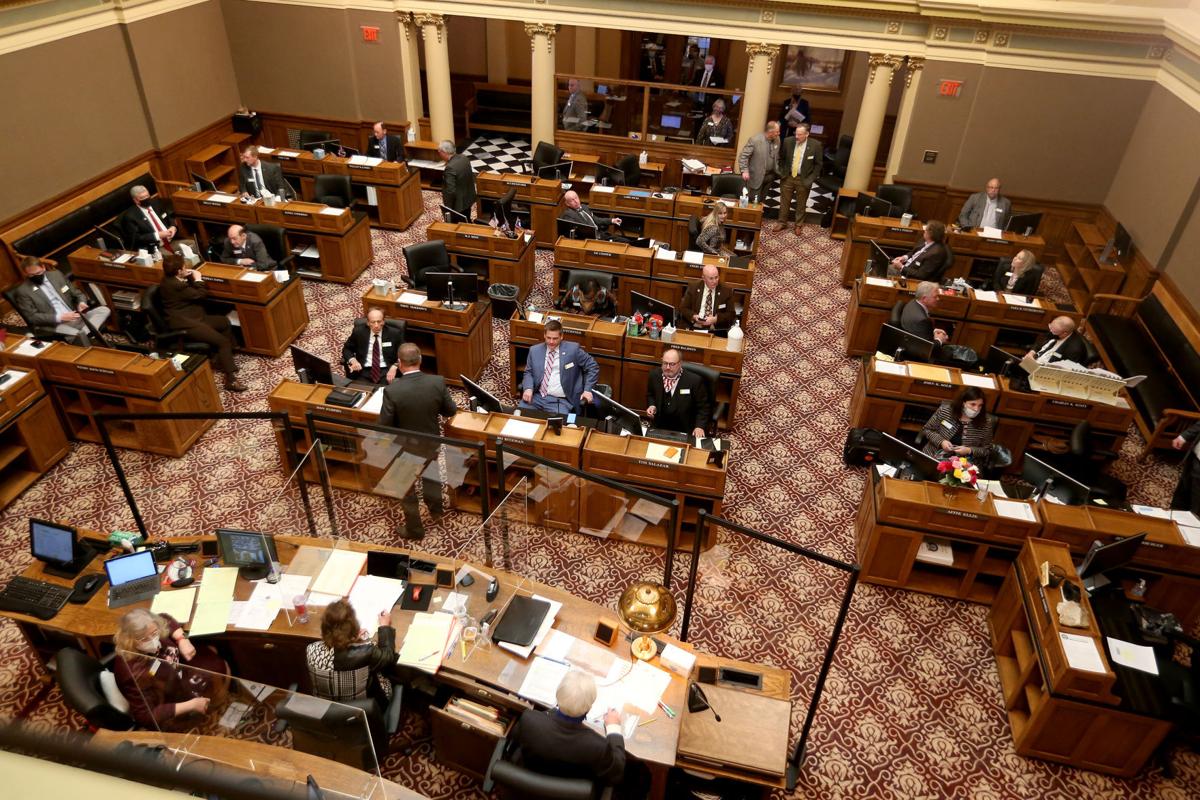 After two snow days closed down the Capitol, Wyoming's 66th Legislature reconvened on Wednesday and sped through the remainder of the week — debating, passing and defeating a flurry of bills.
The Star-Tribune monitored the progress of several key bills last week and provided a rundown of what you may have missed.
Death penalty repeal defeated, again
Wyoming's Senate voted to defeat a bill to repeal the state's death penalty on Thursday. Sen. Brian Boner, R-Douglas, sponsored Senate File 150 primarily on fiscal grounds.
Maintaining the option to sentence convicted defendants to death costs the state about $750,000 annually. But the state has not executed a person for nearly three decades. No individuals currently sit on death row in Wyoming, and the state has conducted only a single execution in the past 40 years.
Other supporters of the repeal bill called for eliminating the death penalty in the name of criminal justice reform. Nationally, 185 people who received wrongful convictions have been exonerated from death row since 1973, according to the Death Penalty Information Center.
Opponents of the repeal bill said it was important to have the option to sentence individuals convicted of the most heinous of crimes. The final vote on the bill was 11-19.
Restrictions to abortion access advanced
Four bills to restrict abortion, including one to outlaw the procedure after a fetal heartbeat can be detected, will advance for a floor debate.
The Legislature's House Labor, Health and Social Services Committee moved all four bills by the same 7-2 margin last week. The no votes came from the two committee Democrats, Reps. Cathy Connolly, D-Laramie, and Andy Clifford, D-Fort Washakie. The nine-person committee is unique in the overwhelmingly male Legislature in that five out of the nine seats are filled by women.
Medical marijuana gains momentum
A second Wyoming bill related to marijuana advanced out of the House Judiciary on Thursday after a 6-3 vote.
The medical marijuana bill's sponsor, Rep. Bill Henderson, R-Cheyenne, said March 12 that as Wyomingites become increasingly more supportive of medicinal uses of the drug, it makes sense to start learning about it now to be able to develop good policy down the road.
The study would involve the public, he said, including those who would benefit from marijuana being available as treatment. In its current version, the bill aims to allocate $30,000 to the report.
Second amendment rights bulked up
A bill intended to protect Wyoming gun owners from potential federal restrictions passed unanimously out of the Senate Judiciary Committee on Wednesday.
Sen. Anthony Bouchard, R-Cheyenne, says he penned SF 81 as a way to protect the Second Amendment in Wyoming and to preempt efforts by Congress to further regulate, restrict or confiscate firearms.
It seeks to invalidate federal laws governing gun ownership among law-abiding citizens, spanning taxation, transfer, confiscation, and registering or tracking firearms or owners.
Defending coal
State lawmakers have unveiled more than a half dozen bills this session to help Wyoming's coal sector stay afloat. Most of the bills have not advanced, but a few pieces of coal legislation have gained traction.
First, House Bill 207 would give Wyoming's governor and attorney general $500,000 to challenge actions taken by other states that "impede the export of Wyoming coal or the continued operation of the state's coal-fired electric generation facilities, including early retirements of those facilities." The bill passed second reading Friday in the House.
Second, House Bill 166 would prohibit the early retirement of coal or natural gas power plant units, unless a utility company takes additional steps to prove ceasing operations would not hurt customers or compromise reliability. The bill passed second reading Friday in the House.
Finally, House Bill 155 passed out of committee after some amendments on Friday. This bill would ask state regulators to analyze how closing a coal or natural gas power plant could affect grid reliability in Wyoming and nationwide before giving a company the OK to retire it. Prior to giving a utility company permission to shut down an aging power plant unit, state regulators would have to consider if the closure would increase the risk of power outages.
Tolls on I-80?
Wyoming's Senate approved a bill on Friday morning that would allow the state to charge drivers a toll when trekking across Interstate 80. Senate File 73 has become one of very few tax bills advanced this session to help the cash-strapped state.
The lead sponsor of the bill, Sen. Cale Case, R-Lander, said the proceeds generated from a toll on the state's main east-west thoroughfare would go toward much-needed road and bridge maintenance, traffic safety improvements or wildlife management.
Follow the latest on Wyoming's energy industry and the environment at @camillereports