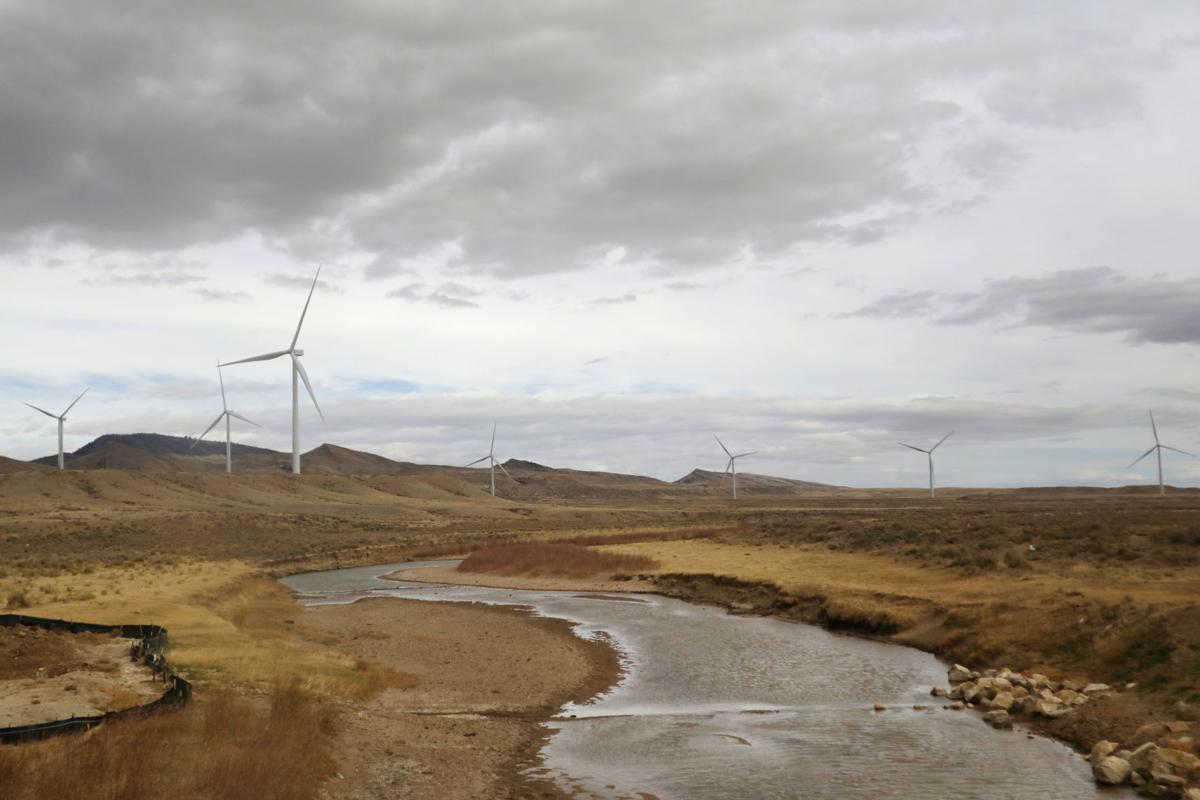 MEDICINE BOW — Only one multi-story building exists in this tiny town of under 300. The Virginian Hotel rises up 3 1/2 stories and sits in the heart of the town.
On a late October day, an American flag in front of the hotel fought the ferocious northeast winds, as they cut through a nearby valley. Just beyond the quintessential Wyoming town, other, newer structures have recently been erected: wind turbines.
The fleet of them majestically stand tall across the horizon. Springing up throughout the sagebrush plains, the turbines dwarf Medicine Bow's historic hotel. The enormous blades of the new turbines swoop in languid circles, keeping time with the wind.
The domineering addition to the town's surrounding slopes makes sense in a lot of ways. For one, the area boasts some of the highest classes of wind in the world.
Online wind energy capacity has grown substantially across Wyoming this year. But that growth has been especially profound in Carbon County, where its blustery landscapes make the region a mecca for harnessing power from wind.
Online wind capacity statewide is expected to have increased this year by over 1,000 megawatts. Some projects have hit delays due to the COVID-19 pandemic and will be finished early next year.
That burst of development has had some notable financial returns for Wyoming's rural communities.
In the second quarter of this year, as most counties sustained losses in tax revenue, Carbon County's taxable sales jumped by 108%. The uptick in revenue can be traced back to the wind energy projects budding across the county. In addition to the sales and use taxes, wind developers also pay property and electricity generation taxes.
The state's leading utility, Rocky Mountain Power, has created some 1,200 construction jobs and paid $70 million in tax revenue this year for wind energy and transmission development. Nearby, the Power Company of Wyoming, an independent energy company also working in the county, has been moving ahead on constructing the largest wind farm in the country. During its construction season this year, it employed a peak of 100 construction workers; many of these workers had lost jobs during the downturn in oil and gas.
But the future of the Equality State's relationship with renewable energy development remains murky as federal wind production tax credits expire, cutthroat market conditions slow down projects and the state's tax conditions remain far from stable.
Despite this year's boom in wind, few new projects are coming down the pike or set to come online next year. It's true, some companies have announced plans to install wind turbines here in the coming decade, but none are assured. The uptick in wind development here could peter out soon, some developers predict.
As the state scrambles to diversify its economy and recover from the collapse wrought by the COVID-19 pandemic, it's worth asking: What's the future for wind energy in Wyoming?
A utility's pivot toward wind
Over the last 12 years, Laine Anderson has watched up close as wind energy farms multiplied in Wyoming.
A petroleum engineer by training, Anderson transitioned from the oil fields, by way of a dude ranch, to the state's largest utility, PacifiCorp.
"I was working at the ranch, and renewables — like solar and wind — were stuff I just studied up on my own," the erudite engineer modestly recounted. "I found interest in it once I had the opportunity to get into it. It has been a wonderful career so far."
He came on as a construction manager for the utility, and helped erect some of the state's first wind farms on the hills of a reclaimed coal mine near Glenrock, and another between Hanna and Medicine Bow.
He now serves as the director of wind operations for the entire utility, which operates across six Western states. Under his watch, PacifiCorp has exponentially expanded its utility-scale wind generation capacity, seeing the investment in renewable energy infrastructure as the best way to keep ratepayers' rates low.
This year alone, Rocky Mountain Power, a subsidiary of PacifiCorp operating in Wyoming, has been in the process of building the 250-megawatt Ekola Flats wind energy project, located just beyond Medicine Bow in Carbon County.
Under the utility's watch, several other wind farms have sprouted up, or been upgraded, in Carbon County, including the TB Flats, Ekola Flats, Dunlap, Seven Mile Hill and the Foote Creek wind projects. The utility has wind farms in Converse and Albany counties too.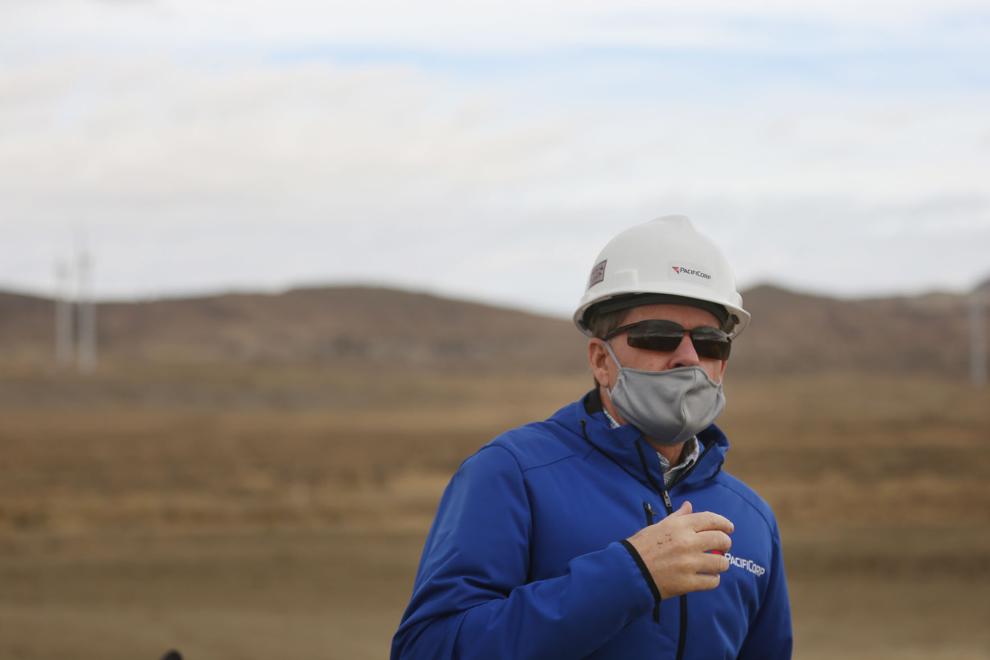 Sometimes the rate-regulated utility elects to contract with another developer to build a wind farm. Other times, it will build the project itself. It all comes down to cost, Anderson explained.
"Being a public utility, we have to send it out for bids to determine if we can actually build it cheaper than someone else," Anderson said.
A sizable portion of the fresh development underway in wind comes in the form of "repowering" efforts, or the process of upgrading and modernizing existing wind farms.
To repower a wind turbine, construction crews de-install the blades one by one. The big box mounted on the top of the turbine — that's roughly the size of a school bus — has to come down too.
In their place come larger blades and bigger generators, capable of producing more power — about 20% more than the older equipment. Blades have grown substantially, giving some turbines rotor diameters of about 140 meters. That's longer than a football field.
In Carbon County alone, the company has completed repowering the Dunlap and Seven Mile Hill I and II wind projects. Upgrades at the Foote Creek I wind project will be completed by the end of the year, according to the company.
Rocky Mountain Power provides roughly 146,000 Wyoming residents with electricity from a variety of sources: coal, natural gas and wind. But a majority of the energy produced here is shipped out West to more populated states.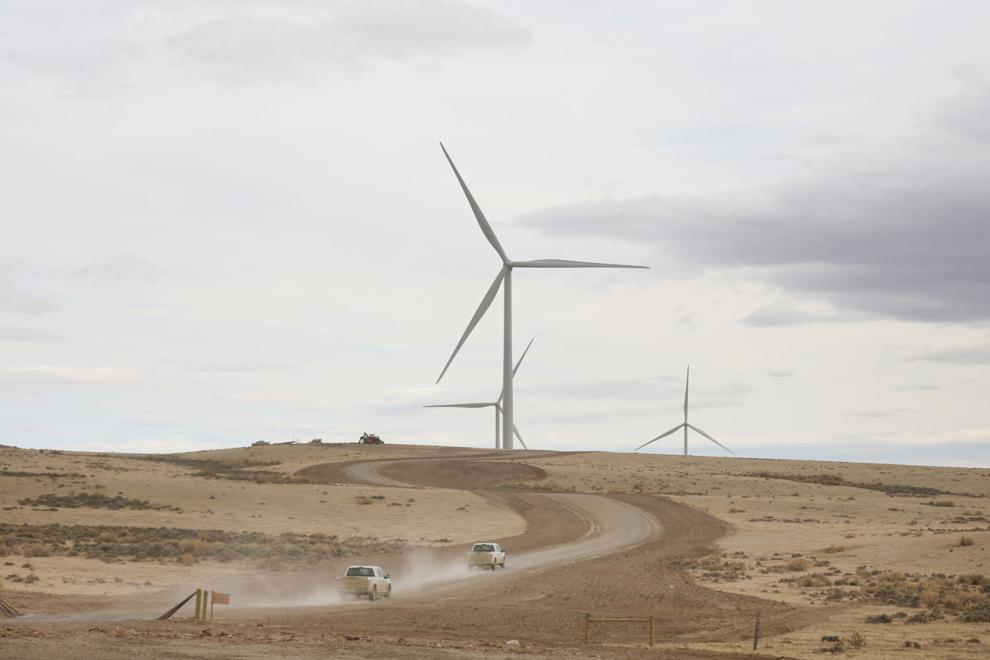 Recent plans show PacifiCorp pumping $6 billion into expanding renewable energy and infrastructure projects in the coming years here.
That expansion includes 1,150 megawatts of added wind generation capacity already underway this year in Wyoming, not to mention 1,800 additional megawatts of wind and solar power in the foreseeable future.
With that comes the need to bulk up transmission line infrastructure to carry the electricity to customers throughout the Western power grid, and modernize the existing company-owned wind fleet.
The utility has gradually moved toward renewable energy and away from coal for several years. But that transition was only accelerated after a 2019 integrated resource plan showed how investing in wind, solar and battery storage would save customers substantial money down the road.
"As a regulated utility, we have to provide the lowest cost generation available for our customers," explained Sharon Fain, Rocky Mountain Power's vice president for Wyoming. "We are truly fuel agnostic. It is what makes sense for our customers."
As utilities and independent power developers look to invest in Wyoming by building out ambitious renewable energy projects, companies have faced roadblocks and political hurdles from a state deeply devoted to more traditional energy sources: coal, oil and gas.
That hasn't stopped some wind developers from trying.
The largest wind farm the country has ever seen
Meander roughly 60 miles west of Medicine Bow to a stretch of open ranch land near Rawlins and Sinclair, and you will find another wind project underway.
The development of the massive 3,000-megawatt Chokecherry and Sierra Madre Wind Energy Project is still chugging along. The wind farm will sport roughly 900 turbines tucked within the rural, rolling hills several miles outside the towns. Once complete, it could be the largest wind energy farm in the country.
Decades ago, the Anschutz Corporation, primarily an oil and gas company, saw an opening in the market to generate renewable energy in Wyoming for states out West. It created Power Company of Wyoming LLC to stake out a wind farm on 320,000 acres of private land, already owned by an affiliate of the company. The project site also overlaps with a checkerboard of federal land, managed by the Bureau of Land Management.
In January 2008, Power Company of Wyoming launched a series of regulatory reviews required by federal, state and county governments before construction could even begin. The intensive environmental impact statement was started in 2008 and completed in 2012, with subsequent site-specific analysis conducted by BLM from 2013 to 2019. The company also gained unanimous support from the Carbon County Commission, Wyoming State Board of Land Commissioners and the Industrial Siting Council.
Ryan Jacobson is the director and engineering brains behind the massive wind farm and has been with the project since the beginning.
"When I got involved with the technology, I just fell in love with it and have stuck with it ever since," Jacobson said.
He's undertaken at least half a dozen full redesigns for the first phase of the wind farm over the past decade to account for findings unearthed during the environmental reviews or public comment periods. Part of his job has been anticipating what kinds of technological advancements might be ahead too, and adjusting the layout for the wind farm accordingly.
No wind turbines have been installed yet on the wide open landscape. Before that can happen, the company has had to lay the groundwork by constructing sturdy dirt roads and turbine pads. To even reach its current phase of development, Power Company of Wyoming has had to hire hundreds of construction workers, along with archaeologists, geologists, engineers, ecologists, environmental compliance specialists, meteorologists, soil scientists, biologists and others.
The 450 miles of new road will eventually connect the turbine pads to one another, forming a constellation across the landscape.
So far, the team has completed about 120 miles of road.
Underneath the ground will be a web of electrical lines, taking the power produced by the wind at about 34,500 volts to one of six small substations on the ranch. By the time it reaches the main substation on the north end of the project, the current will be kicked up to 230,000 volts. From there, it is onboarded to a transmission line and jetted off to customers throughout the West.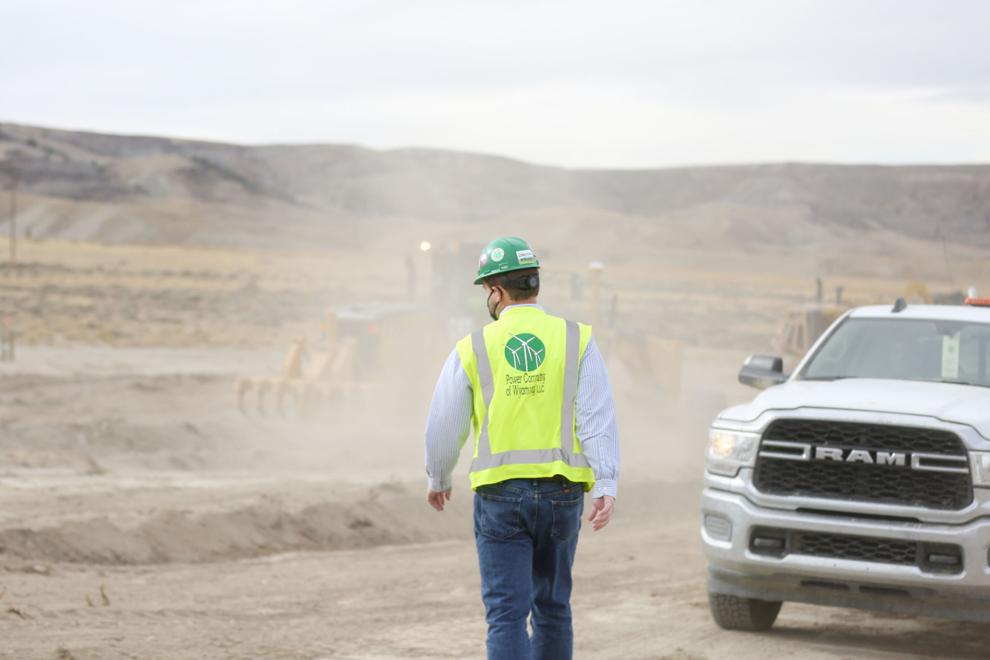 For phase one of the project, the company plans to install 500 turbines. In phase two, the company plans to install another 396 turbines. Wind technology has advanced quickly enough that fewer turbines will likely be needed down the road to produce an equivalent amount of energy as older turbine models.
Power Company of Wyoming hopes to bring the project into operation by 2024. The first phase would come online in 2024 and the second phase in 2026, based on the current schedule.
The Chokecherry and Sierra Madre wind farm will eventually funnel power from its main substation onto a new transmission line, called the TransWest Express Transmission Project. The transmission line will be a 732-mile line capable of delivering power generated from wind farms in Wyoming to out-of-state customers. It will weave through four states and 14 counties. The project's northern terminal and about 92 miles of the line will be built in Wyoming.
TransWest Express LLC (another affiliate of Anschutz) has obtained all necessary state and county permitting and has right-of-way acquisitions secured for a vast majority of the route, according to Kara Choquette, a spokeswoman for the wind energy and transmission line project. The project developer hopes to complete all remaining regulatory requirements in 2021.
If that happens, construction on Wyoming's first independent and interstate transmission project in decades could likely begin in the second quarter of 2022. The transmission line is estimated to pump $1 billion of investment into Wyoming.
Unlike a rate-regulated, utility-owned transmission line project, TransWest Express is not limited to a specific service territory. The line will eventually export Wyoming electricity to new customers beyond the confines of a specified area on the power grid.
That is, if the company can keep its prices competitive and lock in customers.
Finding a market
Power Company of Wyoming has been working to secure commercial agreements to sell the wind energy it generates. It's a competitive process. Any increase in the cost to produce the wind in Wyoming could make the wholesale price of power higher and disadvantage the project from securing the customers it needs.
As an independent power producer, Power Company of Wyoming must compete against other renewable energy generators in the Western market, Choquette explained. In other words, the company is not guaranteed a customer base, like the rate-regulated utility Rocky Mountain Power. The Chokecherry and Sierra Madre Wind Energy Project has to be selected to provide power.
If another source of energy is cheaper, a utility or power distributor could pass Power Company of Wyoming by.
Knowing the competitive environment of being a renewable energy developer, the pace of wind development in Wyoming isn't guaranteed to continue, Choquette said.
"I was thinking 2020 may be the first and last big burst of wind in a while (in Wyoming)," she said.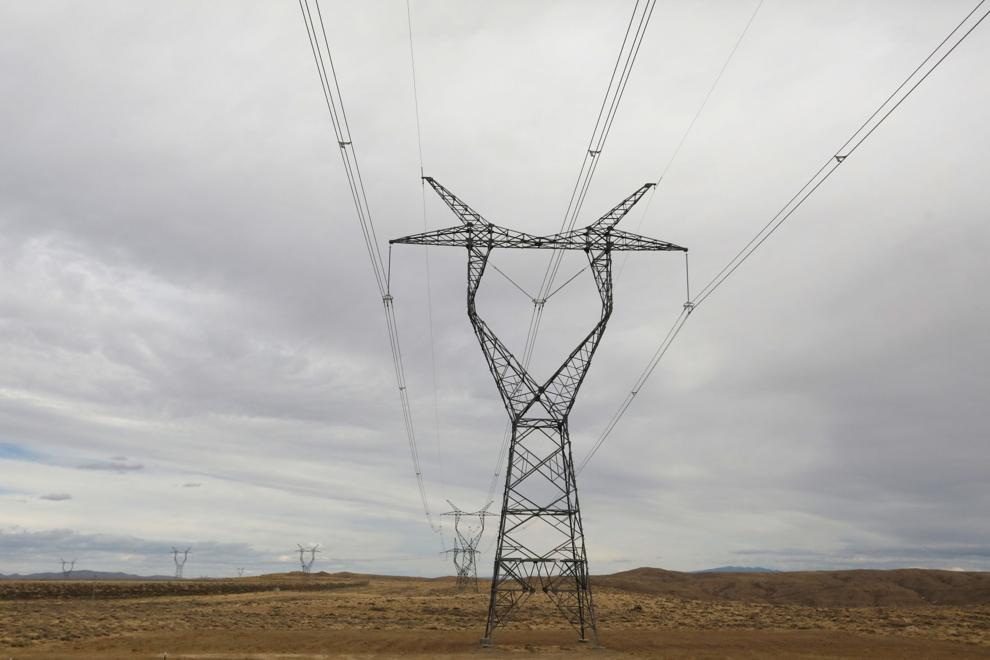 Wyoming's wind conditions may be some of the most favorable for wind energy development in the nation, but that doesn't guarantee developers will come.
Key to ensuring continued investment in Wyoming will be stable tax policy, according to interviews with multiple renewable energy developers. The state's tax uncertainty and existing wind generation taxes may already be hindering wind development in the state, many also said.
Earlier this month, Wyoming lawmakers narrowly voted to advance a bill to increase the electricity tax burden on wind energy producers in the state. The change would eliminate the three-year grace period from the $1 per megawatt hour electricity tax now available to wind facilities.
Proponents of the tax hiatus have argued the move could drum up a much-needed alternate revenue stream for the state during a ballooning fiscal crisis brought on by the coronavirus pandemic and a downturn in the fossil fuel industry.
But the renewed possibility of changes to wind energy regulations has sparked concern among the state's utility companies, independent power producers and other renewable energy supporters. Many say the exemption repeal would hike costs for consumers, create regulatory barriers and severely deter renewable energy investment in the state.
Another season complete
On one of the last days of work for the season in late October, about 76 workers bustled about the Chokecherry and Sierra Madre project site under a gunmetal-grey sky.
Jacobson, the director of the wind project, drove his pickup along the site's firm dirt roads specifically constructed for the project. Workers shuffled about along the shoulders to install wattles and other erosion control systems.
As the cold weather sets in and the soil starts to freeze, Power Company of Wyoming demobilizes construction for the winter.
But crews will be back as soon as the ground thaws next spring, constructing roads and turbine pads, completing erosion control systems and reclaiming disturbed ground with native seed mixes.
Eric Diggs has worked on the wind project for three seasons. Before, he worked up in Gillette at the Black Thunder and North Antelope Rochelle coal mines for roughly eight years.
Diggs started looking for other job options "when the layoffs started heating up and our hours got slashed," he said. "I needed money."
He eventually found the job with Power Company of Wyoming and started right away, preparing the site for the wind turbines.
"I had never thought of working on a wind farm, but it has been awesome," he said.
He said the skills he gained from coal mining were "fully transferable" to his new job.
"Gillette could be like a pipeline, because you have all these heavy equipment operators," Diggs said. "I mean, I got in there (at the Chokecherry and Sierra Madre site) and knew exactly what was going on immediately. By day two, other people were asking me what to do, and they were coming off road jobs. I mean, the skill level that operators from Gillette have is above and beyond."
That said, the future for Wyoming's energy workers, in wind and in other energy sectors, is all but certain.
"Nothing is really saving coal — anything that has been tried (at least) — which is bad for the state," the former coal miner said. "Coal is where our money comes from."
But it will take more than just wind to keep Wyoming workers employed, he said. The downside of wind energy jobs is that they are often not permanent, or require a worker to move frequently, he noted.
"You're not home every night," he said. "It's not a stationary job."
Nonetheless, Diggs hopes wind jobs will only become more common here in years to come.
"I would like to see more wind projects go up around the area, like on reclaimed land from coal mines," he said.
Besides, he added, "you have the operators and equipment here."
Follow the latest on Wyoming's energy industry and the environment at @camillereports