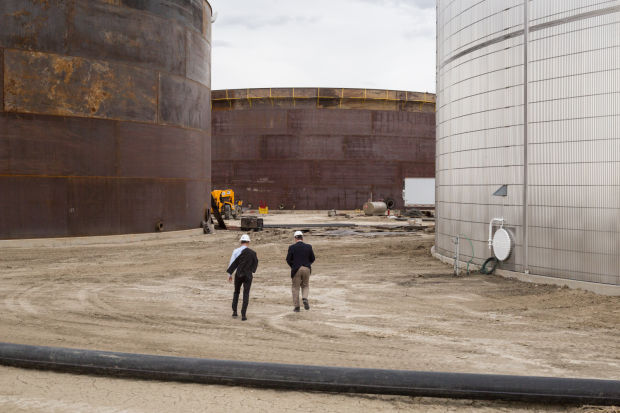 To hear America's leading oilmen tell it, lifting the 40-year ban on U.S. crude exports would be a boon to the national economy. It would shrink the trade deficit, spur a new round of drilling and create jobs. One industry-backed study predicted an end to the embargo would create a million jobs nationwide. 
But Wyoming's captains of industry are less sanguine. To be sure, the state's leading oil executives support lifting the ban. They say it could open new markets and ease a supply glut that has been holding down domestic prices. 
Yet most offered more measured predictions than their national counterparts. Ending the ban would likely benefit Wyoming producers in the long term but is unlikely to bolster slumping crude prices in the near future, they said.
"There is a possibility we would get an indirect uplift" in price, said Jack Vaughn, CEO of Peak Powder River Resources, a Durango, Colorado-based company active in Wyoming. "I'm not saying it moves the floor enough to set off another boom, but it helps."
The impact of lifting the crude export ban has been fiercely debated since the proposal began making its way through Congress this year. The House voted to end the prohibition by a 261-159 margin earlier this month. 
Ending the restriction would allow American oil companies access to new markets, supporters contend, allowing producers to fetch a higher price for their crude.
U.S. crude often trades for less than its international counterpart, a "discount" in industry speak. Brent, the benchmark for international crude, was trading for roughly $50 a barrel Friday. American crude stood around $47 a barrel. 
Critics contend the push to lift the ban is an attempt by industry to pad its bottom line and warn it could lead to higher prices for U.S. consumers at the pump. 
The debate follows a surge in new U.S. production and comes amid a slump in global crude prices, which have lost more than half their value since their peak last year.
For many local producers, the debate over crude exports is a secondary concern in their deliberations over whether to drill new wells. Global supply and demand remain the most important factor in those decisions, they said. 
"It is yet to be seen how much it is going to help," said Peter Wold, who heads two Casper-based oil companies. He conceded he had not tracked the issue closely, saying, "In the situation our company is in, we haven't been hamstrung or backed up in our production capacity." 
Indirect effects
The effects in Wyoming would probably be indirect, executives said. Few companies in the state are likely to sell directly overseas. Instead, the benefit of lifting the ban would come in easing the supply glut at Cushing, Oklahoma, the largest commercial storage hub in the U.S.
Inventories of light sweet crude at Cushing hit record levels in recent years, as drilling accelerated nationwide. Lifting the ban would allow companies in states such as Texas to sell directly overseas, reducing the bottleneck at Cushing and strengthening the price of WTI, local executives predicted. 
"I think longer term it's beneficial," said Joseph DeDominic, who leads two Anschutz Corp. oil companies. "I don't think short-term a couple dollars is going to change our decisions, or someone else's."
Others were more bullish on the impact of lifting the restriction. Production in the Powder River Basin is already teetering around break-even prices, said David Ballard, president of Billings, Montana-based Ballard Petroleum. A recent study by Tudor and Pickering, an investment bank, estimated break-even around $50 a barrel at two fields in the basin, he noted.  
Even a slight increase in oil prices would help spur more production because it would reduce the risk of investing in new wells, Ballard said.
"We're talking about the ability for companies to take on debt to drill wells. Everyone can drill out of cash flow, but that won't keep many rigs busy," he said. "That's where that extra couple bucks, where prices are now, would get you back into a spot where you would be drilling. If it's $2 or $5 (a barrel) increase, that would be significant for our decision to keep a rig busy full time."
Legislative push
Devon Energy, an Oklahoma-based producer that has been aggressive in the Powder River Basin, has helped spearhead the legislative push on Capitol Hill to end the restriction. 
Devon declined a Star-Tribune request for comment. But in a recent interview with the Wall Street Journal, Devon CEO Dave Hager said the House's vote to end the prohibition "gets us one step closer to leveling the playing field so that domestic producers can compete in the global marketplace."
The majority of Wyoming's producers nonetheless took a cautiously optimistic approach.
Vaughn, the Peak Powder River CEO, said he doubted lifting the restriction would prompt a spike in oil prices, echoing a sentiment expressed by other local executives. 
"Is it going to move the market $10 a barrel? I doubt it," he said. "It does open up some opportunity for better balancing worldwide."
Balancing, in industry speak, refers to global refinery capacity. Many refineries in the U.S. have been set up to process heavy, sour crudes from overseas, and are less able to handle the light sweet crude produced from American shale fields like the Bakken. Much of the new production in the Powder River Basin and in Laramie County is sweet crude. 
International refiners, by contrast, are able to process light sweet crudes and may be ready customers of oil from U.S. shale plays. 
"If you can export to the countries with the appropriate refinery, you can sell it for a higher price than what you can sell it for here," said James Williams, president of WTRG Economics in London, Arkansas. 
Still, he noted, lifting the ban "is not a game changer." Producers in the northern Rockies still face infrastructure challenges in transporting their crude to refineries in the south. 
Such transportation challenges are responsible for the price discrepancy between Wyoming crude and West Texas Intermediate, the U.S. benchmark, he said. Southwest Wyoming Sweet was selling for roughly $40 a barrel Friday, or $7 below the national price.
Supply and demand
Other factors are also far more important in determining crude prices, analysts said. Chief among them is the global supply and demand for crude. Prices have fallen as new supply has entered the market while demand has stagnated on the back of weakening economic indicators in China.  
John Saucer, an analyst at Mobius Risk Group in Houston, said it makes sense to lift the ban, noting it will give producers access to more markets. But he predicted it would have limited impact on crude prices.  
America has already eased trade restrictions on oil exports, he noted. The U.S. is exporting roughly 15 million barrels of crude to Canada a month. American condensate and refined oil products, meanwhile, are not subject to the ban and have grown in recent years. 
"It is more of a fine-tuning mechanism because we've already had a radical shift in our export balances," Saucer said. "I don't think lifting the ban will have an immediate impact on drilling anywhere, whether that is in Wyoming, Texas or anywhere in the U.S."
Some argued lifting the ban would come at a cost to U.S. consumers. While an increase in WTI prices might benefit oil-reliant states like Wyoming, it would hinder industries nationwide that depend on cheap oil prices, said Tyson Slocum, director of the energy program at Public Citizen, a Washington D.C.-based advocacy group.
"What the fight is all about is who gets this discount -- U.S. producers who want to export that discount overseas or U.S. refiners who are sharing it with consumers," Slocum said. 
Some refineries have opposed lifting the ban, arguing it will increase gasoline prices. It is unclear how Wyoming refiners felt about the issue. Wyoming Refining Co. in Newcastle and HollyFrontier in Cheyenne did not return requests for comment. 
Others rejected the notion refineries were passing on a discount to consumers. Midwestern refineries have been the primary beneficiaries of the low price of WTI, said Williams, the WTRG economist. Yet Midwestern gasoline prices have tracked closely with national prices, he said.