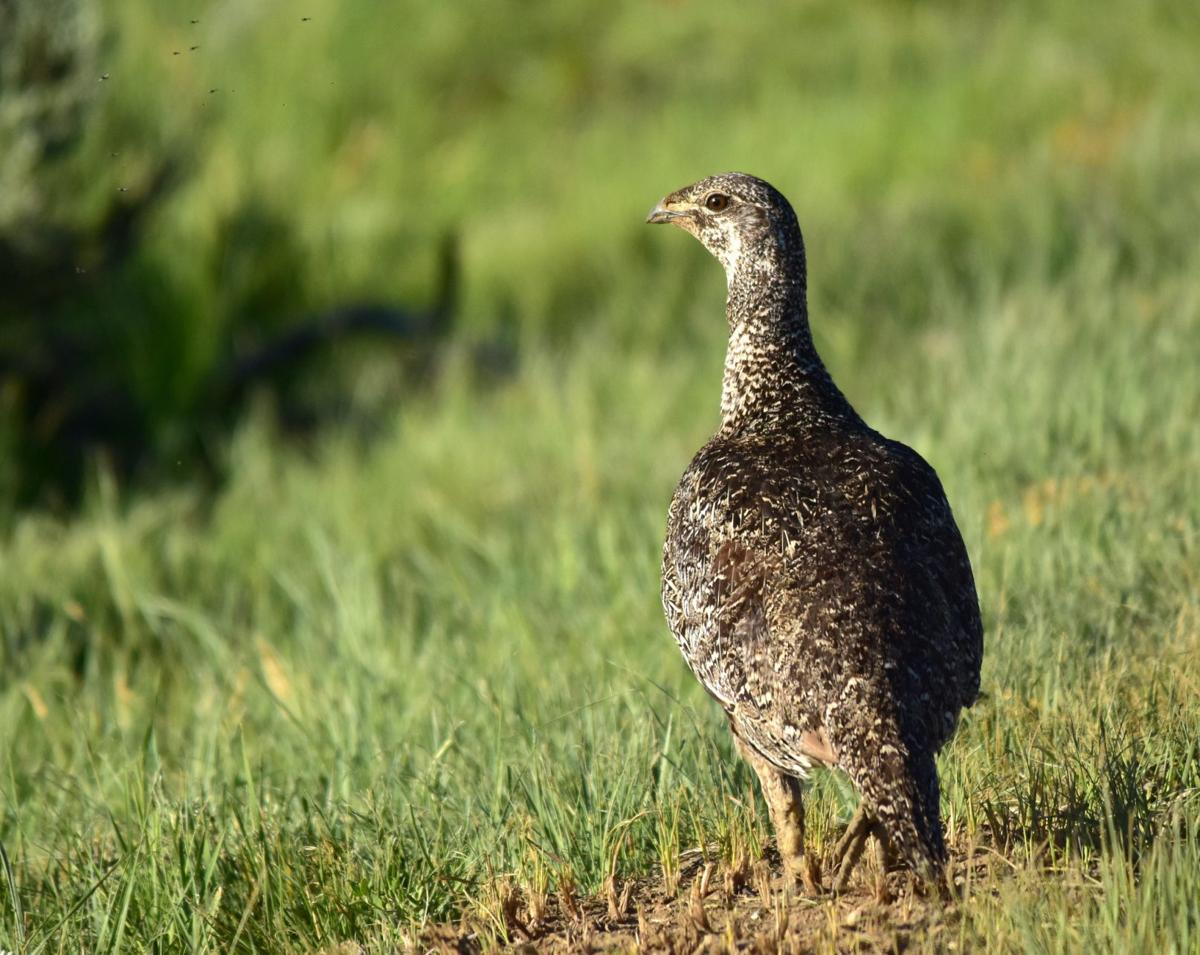 A federal court decision to vacate several public land sales for oil and gas development Thursday delivered a resounding win to conservation groups fighting to protect Wyoming's iconic sage grouse, but brewed significant uncertainty for the state's energy sector.
A judge in the U.S. District Court in Idaho voided the results of five oil and gas lease sales involving millions of acres of public land in sage grouse habitat. The Bureau of Land Management failed to provide sufficient time for public comment prior to opening up the parcels of land to development, according to the ruling. Conservation groups had challenged the sales in court alleging the expedited development of oil and gas on habitat home to sage grouse would have imperiled the vulnerable bird and precluded public participation in violation of federal law.
But Wyoming public officials and energy producers considered Thursday's decision a severe blow to the state's economy. If the ruling stands, 450 leases in Wyoming would be affected by the order, according to the Petroleum Association of Wyoming.
"Considering there may already be activity taking place on these leases, it could be a long and complicated process resulting in uncertainty for producers," said Ryan McConnaughey, communications director for the Petroleum Association.
Gov. Mark Gordon chided the judge's decision Friday calling it "extreme, impractical and unworkable."
The state and Western Energy Alliance, an oil and gas association, both intervened in the case as defendants. The president of Western Energy Alliance told the Star-Tribune on Friday it would likely appeal the ruling.
In 2018, the Trump administration issued an instruction memorandum, requiring the Bureau of Land Management to "simplify and streamline the leasing process to alleviate unnecessary impediments and burdens." In the eyes of several conservation groups, the sudden overhaul in federal leasing policy undermined existing environmental review and public participation requirements.
Public protest periods went from 30 days down to 10 days under the Trump administration's new policy. Field offices also saw their window of time to review parcels of land limited to six months.
To the Idaho judge, these policy changes — applied to five lease sales throughout 2018 — undermined bedrock environmental regulations.
"(The Bureau of Land Management) inescapably intended to reduce and even eliminate public participation in the future decision-making process," U.S. Chief Magistrate Judge Ronald Bush wrote.
If it stands, Thursday's decision would vacate 2018 land sales that took place in Wyoming, Nevada and Utah. Any future lease sales on sage grouse habitat would need to revert to the former policy, requiring a full 30-day public protest period.
"This administration has been relentless in its efforts to cut the public out of public lands decision-making, starting in 2018," Talasi Brooks, a staff attorney with Western Watersheds Project, said in a statement. "The court wasn't fooled by the agency's efforts to disguise its intention to provide greater influence to extractive energies, and the sage grouse and 350 other sagebrush-dependent species will benefit from today's win."
Though development has already commenced on some of the land at issue in the case, the court's decision means 100,000 acres of sage grouse habitat have a chance of being spared from drilling, according to Brooks. To conservation groups, including those at work in Wyoming, that's a victory for both sage grouse and the public.
The two lease sales slated for voiding in Wyoming encompass about 550,000 acres and are almost exclusively sage grouse habitat, according to Alan Rogers, communications director for the Wyoming Outdoor Council, a conservation group. About half of that leased land in Wyoming is priority habitat management areas — land identified for protection in order to keep sage grouse off the Endangered Species Act list. What's more, a number of the contested parcels fall within regions essential for the survival of sage grouse, like Wyoming's Golden Triangle and Red Desert.
Wyoming is home to the world's largest sage grouse population, forcing public officials to walk a fine line between preserving the imperiled bird's limited sagebrush habitat, and not infringing on the state's economic backbone — mineral industries. Amid the state's ongoing debate, the number of sage grouse has continued to decline.
"Prioritizing oil and gas development outside core habitat is one of the primary reasons that grouse aren't already listed as threatened," Rogers said. "That approach has gone by the wayside the past two years."
More uncertainty for oil
To the disdain of several oil and gas operators, the recent court ruling voids two Wyoming oil and gas lease sales — from June and September of 2018. The order throws into question for several developers any plans to continue or commence production of oil on parcels sold during these sales.
Wyoming's governor said the decision would directly affect the state's bottom line and could hamper future production. "The millions in bonus bids received by the State of Wyoming, to date, are already incorporated into state budgets and programs," Gordon said in a statement. "Oil and gas companies have already invested time and money in preparation and development of the leases. I urge the U.S. Department of Justice to immediately review the order and request a stay of the ordered relief until the issue can be appealed and a different judge can review this matter."
For Kirkwood Oil & Gas LLC, an independent exploration and production company based in Casper, the recent ruling will likely come at a cost, affecting 37 of their leases covering 37,158 acres throughout Wyoming, said Steve Degenfelder, a land manager at Kirkwood.
"Who knows how many rigs, and workers associated with the rigs, will remain idle because of the ruling," Degenfelder said in an email. "It's absurd to think the Judge thought companies throw millions of dollars at leases to prevent vacated sales. All companies want is a predictable business environment which the Judge just destroyed."