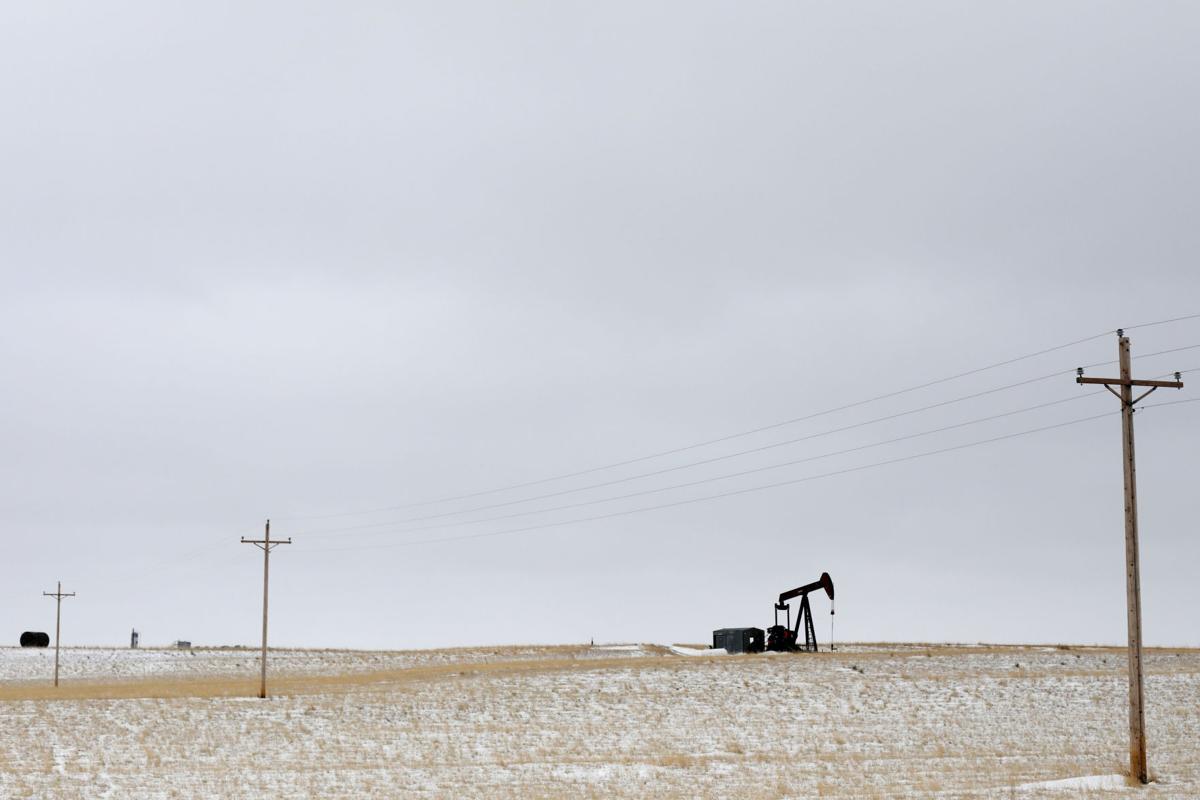 Wyoming could lose millions of dollars in annual revenue and thousands of jobs if the federal government bans oil and gas development on federal land, a new study commissioned by the state and released last week shows.
The study, conducted by University of Wyoming energy economist Timothy Considine, explores two potential scenarios under the new presidential administration — a possible moratorium on new federal leases for oil and gas companies or a full drilling ban on onshore federal lands. The state's Legislature provided the Wyoming Energy Authority with funding to research the fiscal and economic losses associated with federal energy policy changes earlier this year. The study has not been peer-reviewed, but Considine said he plans to publish a peer-reviewed article outlining the results of the study.
If the government institutes a complete ban drilling on federal land, the losses could be massive for the Equality State, the forecasts revealed. That's in part because almost all natural gas production and about half of all oil production occurs on federal land in Wyoming.
Wyoming could stand to lose $2.74 billion in investment and an average of 18,228 jobs annually between 2021 and 2025, according to the study. If a moratorium on leasing is instituted, Wyoming could miss out on an average of $2.31 billion in annual investment.
Drilling on federal land also provides significant tax revenue to mineral-dependent states like Wyoming, flowing from two kinds of mineral taxes, federal royalty payments and lease bonus payments.
A total drilling ban on federal land could translate into $345 million in revenue for the first five years of the policy with the amount of forgone revenue only ballooning in future years, the analysis found. If a leasing moratorium went into effect, the state could be out $304 million in annual revenue.
The U.S. Bureau of Land Management auctions parcels of this land to oil and gas companies for development, typically four times a year. The state usually reaps hefty financial returns for this development, receiving a portion of federal royalties, as well as approximately half of the money collected from federal lease sales. Last year, lease sales delivered $117 million to Wyoming's coffers, much of which supports public services in rural communities.
"The economic predictions are devastating to Wyoming, to be blunt," Gov. Mark Gordon said during a news conference held Tuesday afternoon.
The grim estimates calculated by Considine could fluctuate, depending on the future productivity of oil and gas production and prices, among numerous other factors. But regardless, slowing drilling activity on federal land could be devastating for Wyoming's economy, according to the study.
"I always knew these potential policies could have an impact on Wyoming more so than many other states, but I was personally shocked by the scale of the impact," Glen Murrell, executive director of the Wyoming Energy Authority, told the Star-Tribune.
Murrell said the policies would leave Wyoming in an extremely challenging position.
"There is no clear action that the state can take that would compensate for such a massive shock to the oil economy in Wyoming," Murrell said. "We could do incremental things, certainly, but nothing that could fully mitigate that impact of removing 50% of our oil resources from consideration."
A state of uncertainty
It's worth noting neither a leasing moratorium or drilling ban have not been formerly proposed or implemented.
That said, President-elect Joe Biden's proposed plan to combat climate change has left Wyoming's energy industries apprehensive about potential future policy overhauls. The candidate's vision to transition to clean energy sources could severely undercut the coal, oil and natural gas production the state still deeply depends on.
These fears weren't assuaged during the final presidential debate in late October, when Biden declared he would "transition away from the oil industry" in favor of more renewable energy sources.
President Donald Trump has repeatedly claimed Biden aims to end fracking for oil and gas, though Biden's campaign and transition team have maintained they have proposed no such plans. Biden also scrambled to clarify his stance on oil after the final debate, telling reporters: "We're getting rid of the subsidies for fossil fuels, but we're not getting rid of fossil fuels for a long time."
Meanwhile, climate advocates have continued to pressure Biden to take a firmer stance on drilling.
On Tuesday, 538 organizations joined together to urge Biden to ban future leasing of federal land for fossil fuel development. The groups argue halting fracking on public land is critical to leading the world in dramatically reducing carbon emissions and averting an irreversible climate disaster.
Fossil fuel production contributed to an average of about 24% of the nation's greenhouse gas emissions between 2005 and 2014, according to the U.S. Geological Survey. The proposed drilling ban could eventually be lifted, the groups contend, if the U.S. Interior Department analysis finds continuing oil and natural gas development could be done in a way that still allows the U.S. to slash greenhouse gas emissions by 50% by 2030 to stop the climate from rising over 1.5 degrees Celsius.
"Fossil fuels are killing our planet, so we've got to keep what's left in the ground," Kierán Suckling, executive director of the Center for Biological Diversity, said in a statement. "We must commit to bold, urgent action to address both the climate and wildlife extinction crises. The first order of business at the Interior Department should be to fully implement Biden's pledge to ban all new federal oil and gas leasing."
Others, including the study's author, have maintained that a federal drilling ban would likely shift oil and gas investment to private land, or abroad to Russia or Saudi Arabia.
"Even if in the unlikely event a leasing moratorium or a drilling ban were to reduce emissions, they would be achieved at great cost," Considine, the study's author, concluded. "There are many cost effective technologies and strategies to reduce greenhouse gas emissions. Restricting development of oil and gas on federal lands is not one of them."
How Wyoming compares
A regulatory overhaul for drilling on federal land would likely have an disproportionate impact on Wyoming's economy, given the abundance of federal land in the state.
Wyoming develops more federal minerals than almost any other state in the country, contributing 38% of the natural gas produced on federal land nationwide, along with 16% of oil production.
Nationwide, about 10% of oil and gas production occurs on federal land. But in Wyoming, that share increases: 51% of oil here is drilled on public land, along with an overwhelming 92% of natural gas.
"This independent report confirms that President-elect Biden's repeated calls for an end to natural gas and oil production on federal lands would have a crippling effect on Wyoming's economy," Pete Obermueller, president of the Petroleum Association of Wyoming, said in a statement. "Sacrificing Wyoming and her people for no measurable emissions improvement may be politically expedient, but PAW will fight it on behalf of the thousands of Wyomingites who make their living in this industry."
In addition to Wyoming, the study also explores the outcomes of such policies would have on neighboring states including, New Mexico, Colorado, Utah, Montana, North Dakota, California and Alaska.
Initial losses from a drilling ban on federal land would be most significant in New Mexico and Wyoming, according to the study. But a nationwide drilling ban could result in an annual loss of $7.2 billion, with 76% of the investment drain hitting Wyoming and New Mexico, the analysis concluded.
"President-elect Biden has had to face the reality that he can't ban fracking nationwide, so he's pledged to ban leasing and fracking on federal lands," Kathleen Sgamma, president of Western Energy Alliance, said in a statement. The group represents oil and gas operators across the region. "A Biden ban would be devastating to the economies of western states by eliminating thousands of jobs just as Americans are struggling to recover from the pandemic."
Follow the latest on Wyoming's energy industry and the environment at @camillereports