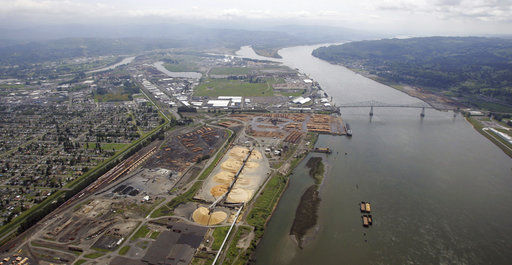 Gov. Mark Gordon has blocked Wyoming lawmakers from hiring a private attorney to sue Washington state and its Gov. Jay Inslee over a coal port terminal.
A bill that survived the recent legislative session would have greenlighted $250,000 to go after Washington regarding the Millennium Bulk Terminals coal port — a proposal that's been essentially frozen by failing to obtain a state water permit.
Gordon has said as recently as January's State of the State address that he agrees Washington is putting an economic stranglehold on Wyoming coal by refusing to allow its trade through a port on that state's coast. However, he has also said the attorney general's office was on the case.
"Let there be no doubt this administration fully stands behind protecting our coal industries," Gordon said in a press conference Friday after vetoing the bill. "The challenge here is we have the potential to cause some confusion. ... It's very important we speak with one voice."
Wyoming's coal industry has longed for a cheaper avenue to Asian markets for many years. Current exports — which are minor considering the extent of Wyoming production in the U.S. coal-for-power market — have come not from Wyoming but from Montana. The state is closer to Canadian ports and has higher heat coal.
But some state lawmakers, including Rep. Chuck Gray, the Casper Republican who sponsored the coal export litigation bill, say a port on Washington's coast would be a significant economic boon for Wyoming. Counting on company estimates of total export capacity and estimates of how much coal could come from Wyoming, Millennium Bulk Terminals represent some $50 million in potential annual revenue.
Gray called the governor's decision unfortunate in a statement emailed to the Star-Tribune on Friday.
"The veto is detrimental to efforts to protect the coal industry from a radical Leftist political ideology that seeks to put it out of business by any means necessary," Gray said. "It's going to take a team effort between the executive and legislative branches for there to be success on this issue."
Gray noted that the Legislature was not in session and therefore could not override Gordon's veto. He said he intended to continue looking into the topic.
"Hopefully, as we look at this issue again, we will have an opportunity to override any veto that might occur," he said.
Others have cast doubts on Gray's hope for the coal port, noting that even with a port in Washington the economics of Wyoming coal making it to Asia do not work.
While coal companies like Cloud Peak once invested in coal port proposals on the West Coast, the industry of late has focused on surviving in a rapidly contracting domestic market. Cloud Peak, the only publicly traded company in Wyoming to send some of its coal to Asia, released dire financial statements Friday morning that herald a likely bankruptcy.
The coal port litigation bill first came up in 2018, before Wyoming's Attorney General, under then-Gov. Matt Mead, had filed a friend of the court brief in a suit against Inslee and Washington state. The bill's iteration this year gave more oversight to lawmakers before making a decision to sue but potentially allowed legislators to bypass both the attorney general's office and the governor's office, a matter of criticism for some during the legislative session.
Others echoed Gordon's concerns regarding a confusing approach to the coal port problem.
Sen. Affie Ellis, R-Cheyenne, noted in a recent interview with the Star-Tribune that a private lawsuit could have unintended consequences undermining the existing lawsuit against Washington.
Like Gordon, Ellis, an industry lawyer who once worked in the Wyoming Attorney General's office, approved of the litigation's intent — to help Wyoming's troubled coal industry find more buyers.
Staff writer Nick Reynolds contributed to this report.
Follow energy reporter Heather Richards on Twitter @hroxaner