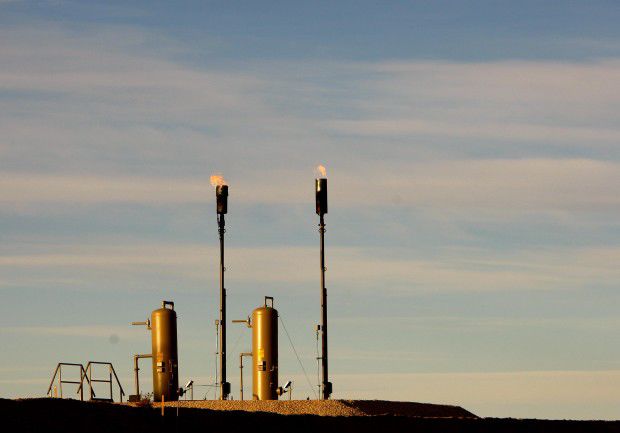 Wyoming regulators approved new rules aimed at curbing methane emissions from oil wells on Tuesday, disappointing environmentalists, who argued the measure lacked the provisions needed to curtail releases of the power greenhouse gas, and winning praise from industry, which said the plan would improve the state's understanding of oilfield air quality.
The Wyoming Oil and Gas Conservation Commission's 5-0 vote in favor of the new regulations took place under far different circumstances than when proposals to limit methane emissions were first floated in 2014. Oil production in Wyoming was booming at the time, raising concerns over the potential public health and environmental dangers posed by increased drilling. Today, the state's oilfields are largely silent following a 70 percent collapse in the price of crude.
Commissioners acknowledged the change in comments before their vote but said the measure would improve data collection on methane emissions from oil wells. Companies now report total emission levels, but they do not identify what type of gas is being released or how it is being disposed of.
The new rules will require operators to say what is being emitted and whether it is being vented or flared. Venting is the practice of releasing raw gases into the atmosphere. Flaring, the process of burning off many pollutants in a well's gas stream, is generally thought to be the less hazardous of the two disposal strategies.
"Although this is a painful time for the industry, I think now is a great time for folks to get their plans together for when drilling picks up," said Tom Drean, Wyoming state geologist and a commission member. "I think this particular rule, with the plans that are required, would help fill that gap."
Industry representatives hailed the move. Many assume methane comprises all flaring and venting emissions, said John Robitaille, vice president for the Petroleum Association of Wyoming. But in many cases the volumes being reported include harmless gases.
Emissions from the top flaring and venting well in Wyoming during 2015, which comprised around 20 percent of the state's annual total, were almost entirely made up of nitrogen, according to state regulators.
"We really don't know what is accurate," Robitaille said. "My hope is we will get a more accurate handle of what is going on."
Environmentalists said the rule falls short of measures considered by other oil and gas producing states and the federal government. North Dakota has a prohibition on venting while the U.S. Bureau of Land Management recently proposed a similar ban.
The Wyoming rule lowers the daily venting limit from 60,000 cubic feet of gas to 20,000 cubic feet. The 20,000 cubic foot threshold was perhaps the biggest change from the draft rule, which had called for a 30,000 cubic foot standard.
"We had hoped the Commission would raise the bar at least to the level that North Dakota has and outright prohibit the antiquated and dirty practice of venting with a narrower exception carved out for only those wells that technically have no other choice," said Amber Wilson, environmental quality advocate at the Wyoming Outdoor Council, a conservation group.
The new rule leaves flaring thresholds unchanged. Operators will still be required to apply for a permit if daily flare volumes exceed 60,000 cubic feet.
Wyoming oil and gas companies reported flaring and venting volumes of 5 billion cubic feet in 2014, according to a Star-Tribune review of state figures. Flaring volumes for 2015 are a matter of some dispute given the volumes reported by the top flaring well.
Industry argues it should not be counted because the majority of the well's emissions were nitrogen. That would bring Wyoming's total to 4.6 billion cubic feet for the year. Environmentalists say the state lacks the data to show the well's emissions should not be counted. If the well's total were included, Wyoming flaring and venting volumes would equal roughly 5.8 billion cubic feet.
Follow energy reporter Benjamin Storrow on Twitter @bstorrow