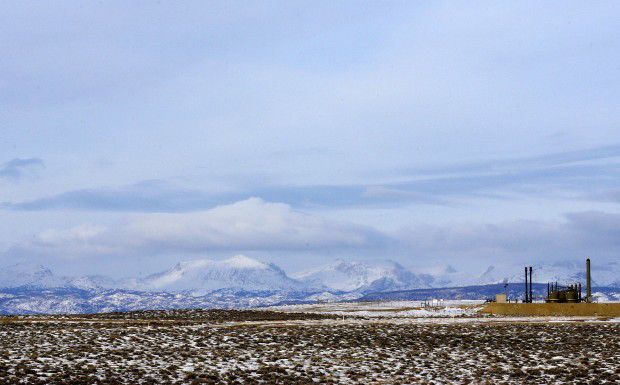 Wyoming Department of Environmental Quality declared the first ozone action day of the season in the Upper Green River Basin on Monday. Regulators feared the weather conditions would generate high levels of ozone, an air pollutant that blossoms when sun reacts with emissions from industrial activities.
The announcement triggered industry and residents to take steps to minimize emissions containing volatile organic compounds and nitrogen oxides.
Individuals can help keep precursor ozone emissions at bay by not idling vehicles or overfilling gas tanks. Companies must limit natural gas production or construction activities during the day.
Emissions mixed with cold temperatures, a lack of wind and snow cover can concoct higher concentrations of ground-level ozone.
The pollutant can cause lung damage or other health conditions. The state's air quality specialists recommended individuals with chronic respiratory ailments or older adults and children "limit strenuous or extended outdoor activities, especially in the afternoon and evening."
Energy companies took steps to limit drilling, completions, well unloading and flowback during periods of high ozone levels last year, according to a Nov. 29 presentation by Jonah Energy and other oil and gas firms operating in the region.
Concerns over dangerous levels of ozone are not new to Sublette County residents.
Despite contingency plans in place to temper excessive concentrations of the pollutant, the basin — particularly Boulder — experienced a puzzling uptick in ozone levels last year.
Monitoring stations in Boulder recorded ozone continuous eight-hour averages surpassing the federal Clean Air Act limit (70 parts per billion) nine days during last year's ozone seasons.
On a particularly polluted day in late March, Boulder monitors documented a daily average ozone level of 105 ppb, a level considered "unhealthy" by the U.S. Environmental Protection Agency. In 2012, the federal agency identified the Upper Green as a "nonattainment zone," meaning the air conditions did not meet the standards enshrined under the National Ambient Air Quality Standards.
In response, Wyoming air quality regulators have undertaken several mitigation efforts in the basin, imposing stringent inspections and emission capture requirements for industry — regulations the federal government referred to when updating its air quality standards in 2016.
Elaine Crumpley, a long-time leader of Citizens United for Responsible Energy Development in Pinedale, has closely monitored the concerning ozone levels in the basin.
She was surprised to see the spike in ozone levels this month, considering the myriad contingency actions put in place in recent years to prevent ozone levels from climbing.
"We really weren't expecting ozone this year because of all the (inspections and testing) that have come into place," she explained.
Ozone levels reached a one-hour average of 76 ppb on Thursday, six points over what the Environmental Protection Agency considers safe. But ozone levels had not exceeded the federal limit of 70 ppb eight-hour average, as of 5 p.m. Monday."Being this early in the season, I would say that ... it is not working," Crumpley added. "We need a different way of doing things."
The state's Air Quality Division provides updated information on its monitoring stations on its website: www.wyvisnet.com.
Follow the latest on Wyoming's energy industry at @camillereports
The business news you need
With a weekly newsletter looking back at local history.