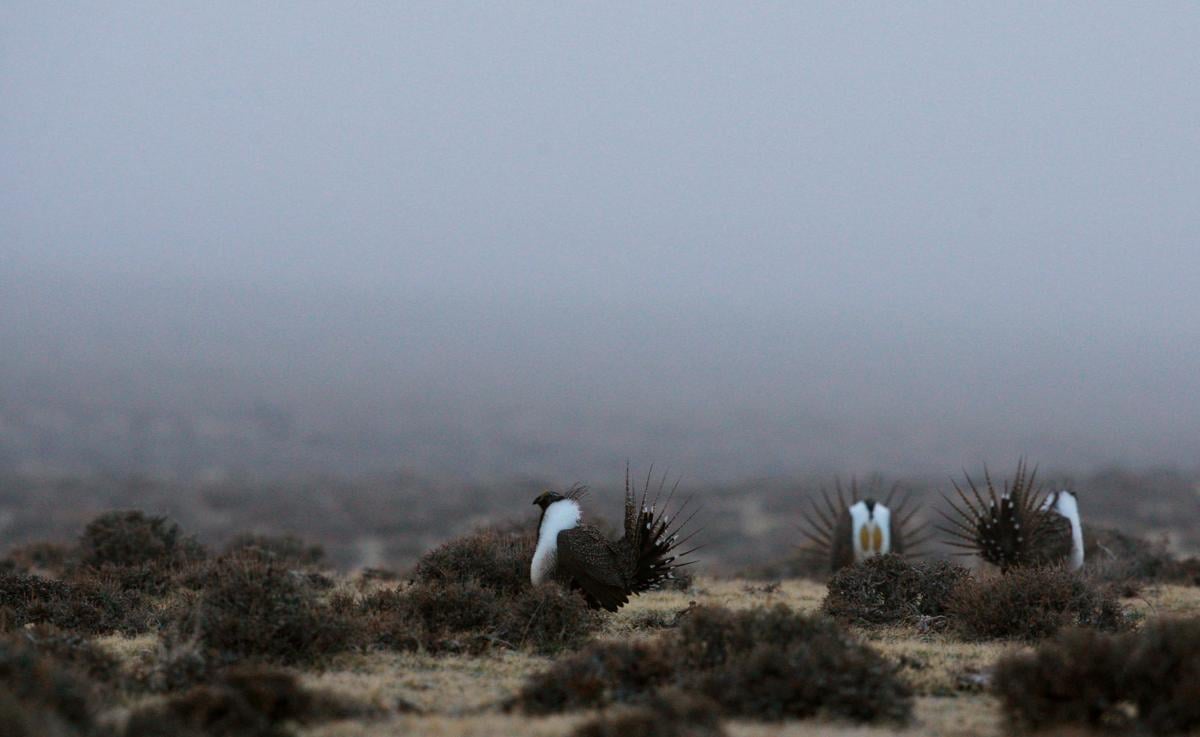 Wyoming produces more minerals from public land than almost any other state in the country and also maintains some of the most coveted wildlife habitats in the world. That makes the Trump administration's sweeping changes to the nation's landmark environmental act, finalized last week, especially potent for the leading energy producer.
On Thursday, the U.S. Council on Environmental Quality published its final revisions to regulations implementing the National Environmental Policy Act, known as NEPA, with the aim of "streamlining and modernizing" the act. In the week since President Donald Trump announced the monumental changes, Wyoming lawmakers, citizens and industry leaders have responded — heaping both praise and disapproval on the regulatory overhaul.
Introduced in 1970, the bedrock conservation law requires the federal government to undertake detailed environmental reviews of major infrastructure projects, investigating how potential development could impact the nation's land, air, wildlife and water resources.
But the Council on Environmental Quality received a directive from the president in 2017 to update the regulations. Trump has long considered NEPA a costly barrier to completing critical infrastructure ventures, like pipelines and highways.
Wyoming Sen. John Barrasso immediately cheered the advancement of the new provisions last week.
"President Trump is cutting red tape to help get our economy back in the black," Barrasso said in a statement. "These updates will make the National Environmental Policy Act work better for the American people. Right now, important construction projects are being slowed down because of lengthy government permitting processes and lawsuits. The administration is making this process more predictable and efficient. We can protect the environment and move our economy forward at the same time. This rule gets that done."
Major revisions
The 74-page final rule published in the Federal Register outlines in detail the slew of updates made to NEPA.
In one revision overwhelmingly welcomed by Wyoming energy actors, federal regulators will have a mandate under the new rule to complete environmental impact statements within two years. The statements will be limited to 150 pages, or 300 pages for projects "of unusual scope or complexity." Right now, environmental impact statements take an average of 4.5 years. Environmental assessments will need to be completed on a one-year timeline and can not be longer than 75 pages.
The new rule also modified what kinds of infrastructure projects will require a NEPA review. Under the new rule, "non-federal," or private projects with little federal involvement, would receive exemption from rigorous environmental reviews now mandated under NEPA.
Environmental activists sounded alarm over the elimination of a provision requiring a scientific analysis of the direct, indirect and cumulative effects of industrial projects. The Trump administration's rule only requires regulators to consider the "reasonably foreseeable" effects of proposed developments, instead of mandating a more substantial analysis of the "cumulative effects" for all ventures under review. Critics of the recent rule said these definition changes will weaken, if not gut, investigations into a project's potential harm to the climate, such as its greenhouse gas emissions over time.
For half a century, NEPA has provided the public — including communities most directly impacted by infrastructure development — a forum to comment on proposed projects. The scope of public comment opportunities will also likely shrink under the final rule, analysts explained.
"There is just going to be a lot less NEPA under these new rules, (thereby) limiting the ability of the public to weigh in, know what's going on, and communicate with decisionmakers," said Shannon Anderson, an attorney with the Powder River Basin Resource Council, a landowners group. "I think that will be a real downside."
Wyoming responds
Wyoming's checkerboard of private and public land is unique among other energy-intensive states. The state produces more energy from federal minerals than almost any other state in the country, requiring many operators to complete intensive environmental reviews and obtain permits at multiple levels of government.
The Petroleum Association of Wyoming welcomed the new changes to NEPA, saying the lethargic pace of current federal reviews often hampers energy plans from coming to fruition.
"Natural gas and oil projects routinely take more than five years to analyze under NEPA, some even stretch beyond a decade," Ryan McConnaughey, the communications director for the association, wrote in a statement to the Star-Tribune.
"Long-term delays like this outlast a development's initial purpose and economic viability resulting in an exponential loss in investment to producers and revenue to the State of Wyoming," he continued. "Modernizing the NEPA process by no means removes environmental analysis or protections. Rather, it instills confidence in producers to kickstart investment and provide quality middle-class jobs. Years-long delays in the NEPA process certainly keep bureaucrats busy but do nothing to better protect our resources. Putting an end to bureaucratic paralysis created by a multitude of redundant regulatory processes while still protecting the environment is a balanced approach we welcome."
What's more, the lengthy regulatory requirements place the state at a grave disadvantage in the energy market, according to Paul Ulrich, vice president of government and regulatory affairs at Jonah Energy, a leading natural gas producer operating in Wyoming's Green River Basin. Companies turn to other states when federal environmental reviews become too long and cumbersome, he said.
"Any time that we can streamline the NEPA process to fit those time frames within the reasonable expectation of a two- to three-year cycle for large-scale analysis, it is going to help those of us who operate on public land," Ulrich told the Star-Tribune in a phone interview.
While Wyoming-based companies like Jonah have elected to wait out the regulatory hurdles in the state, other, larger companies have fled to more lucrative areas, he explained. In Ulrich's mind, that has a cumulative financial loss for Wyoming.
The current environmental review process dictated by NEPA "has led to a number of large-scale proposals languishing and being shelled as the market moves on," Ulrich added. "We've seen that in Wyoming on a number of occasions. I'm very hopeful that a streamlined NEPA process will negate that moving forward."
Wyoming operators also stressed the industry's commitment to continuing to undertake environmental reviews, even though such requirements are curtailed under the new rules. The consequences for not completing full and complete environmental reviews could be severe, according to multiple operators, exposing them to lawsuits or penalties down the road.
Yet, several conservation groups working to safeguard natural resources across Wyoming and the west expressed alarm at the new rule revamping NEPA too.
"NEPA is credited with improving and enhancing countless federal projects," Joro Walker, general counsel for Western Resource Advocates, said in a statement. "Yet, with this new rule, the Trump administration is quashing public input and undermining our democratic processes in what is essentially a gift to polluters. While our communities work at breakneck speed to address the COVID-19 pandemic, this new rule opens the door to ill-informed decision-making that could damage our health, our clean water, our clean air, and further fuel the climate crisis, with low-income communities and communities of color facing the greatest risks."
Anderson, of the Powder River Basin Resource Council, warned the quality of the reviews would likely be compromised under the new, accelerated timelines too.
"There are just going to be a lot more situations when NEPA is not going to be done," she said. "Or where it is going to get done, it's going to be rushed and shorter and more limited."
An analysis by the Center for Western Priorities found 94% of public comments on NEPA sent to the Council on Environmental Quality earlier this year criticized the proposed revisions.
The rule will take effect on Sept. 14. But several analysts said the dramatic changes will inevitably be challenged in the courts. The rule could also be subject to a Congressional review.
"We have consistently defeated this administration's relentless, vicious dismantling of safeguards for people and the environment, and we will do so again with this final rule," Susan Jane Brown, at the Western Environmental Law Center, said in a statement. "A thriving economy is not at odds with worker protections and a healthy environment — it depends on both."