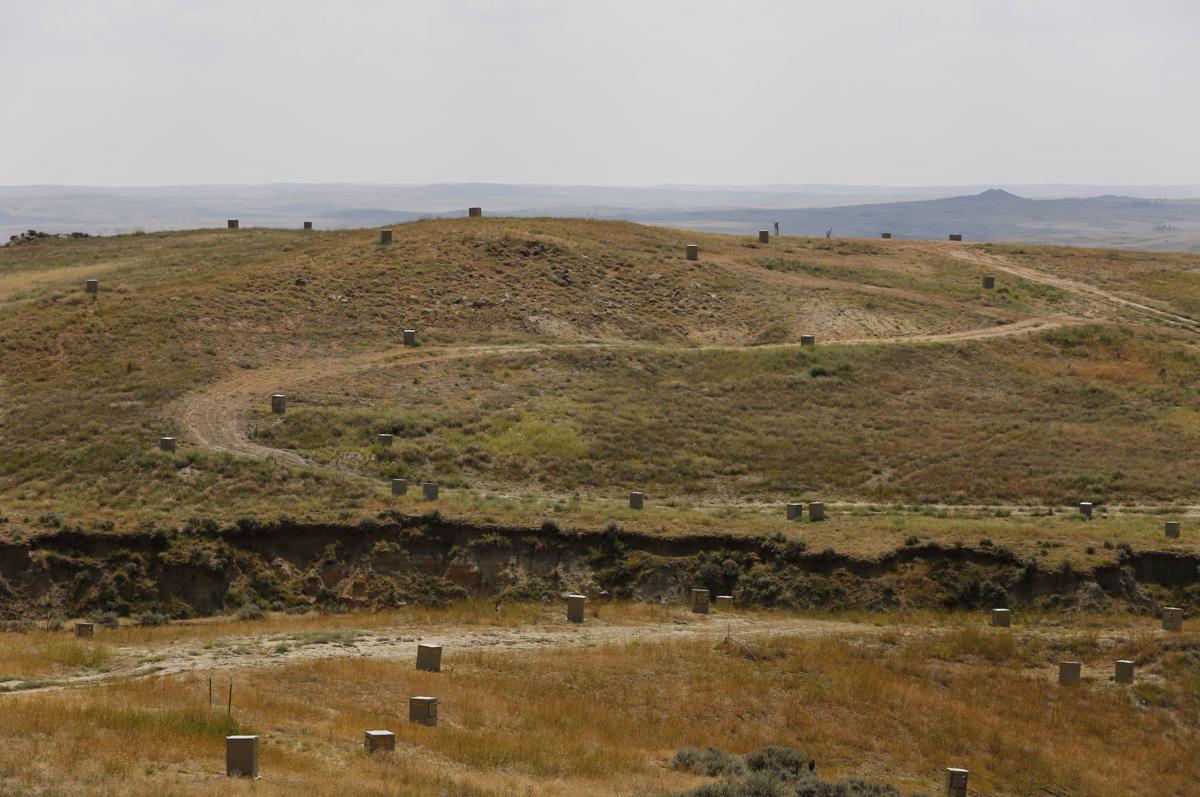 A 70-year low in domestic uranium production has Wyoming producers worried.
Despite persistent calls from state lawmakers and industry groups to institute federal trade policies to boost domestic demand for the mineral, the industry continues to founder — shedding workers and cutting costs.
Last year, a pair of independent producers petitioned President Donald Trump to implement a pair of "common-sense" reforms to boost U.S. uranium production. Energy Fuels and Ur-Energy recommended requiring that 25 percent of uranium bought by government entities come from the U.S. Quotas would restrict foreign sourcing of uranium vital to the country's economy and national security, petitioners reasoned. It would also catapult domestic demand and buoy the ailing uranium sector.
But a recent announcement by the Department of Commerce to delay the release of policy recommendations from the U.S. Nuclear Fuel Working Group to Trump signaled that even a sliver of relief for uranium companies may still be far off.
"We need to have real demand in which someone is purchasing uranium at a price that is sustainable for continuing operation and development," explained Paul Goranson, chief operating officer for Energy Fuels.
Following the Trump administration's July 12 decision not to institute uranium quotas, Goranson testified before Wyoming lawmakers at the Federal Natural Resource Management Committee meeting on Wednesday in Casper.
"If you look at the real bottom line, the U.S. is the only nuclear power in the world that does not have a complete fuel cycle. In fact our fuel cycle is not just incomplete, it's nearly gone," Goranson told Wyoming officials.
What's missing is uranium.
Over the past few decades, employment in uranium mining has tumbled. The U.S. uranium industry employs less than 400 workers, with about 50 percent of workers based in Wyoming, according to a 2019 uranium report published by the Energy Information Administration. Since 1980, the number of workers employed in uranium production has declined 98 percent.
In this year's first quarter, about 58,000 pounds of uranium concentrate was produced at four mines in Wyoming.
"That number is so low," Goranson said. "It's never been reported that low before in the history of nuclear power in the U.S. dating back to the Manhattan Project."
According to Goranson, Ur-Energy had to shed 25 percent of its workforce.
"(Energy Fuels) also publicly stated that we'll be continuously looking at and managing our expenditures," Goranson said. "As long as the market stays where it is, you have to manage your cash flow to protect your shareholder value."
In the heat of this decline, Wyoming lawmakers have been overwhelmingly supportive of boosting uranium production, but to no avail.
"The industry has been sending up yellow flags and now red flags for some time saying, 'You need to be paying attention,'" Rep. Lloyd Larsen, R-Lander, said. "If we run out of our domestic supply and if (Wyoming) is no longer here to provide it — and the federal law says that is the only place you can get uranium for your defense systems — what are you going to do?"
In a Sept. 23 letter to Trump, Gov. Mark Gordon also requested a meeting with the Nuclear Fuel Working Group to describe the "current uranium crises that affect Wyoming's economy and our role in securing America's energy and national security."
And in an Oct. 8 letter authored by over a dozen members of U.S. Congress, including Rep. Liz Cheney, lawmakers urged the Trump administration to "take bold and immediate action to revive and expand the domestic uranium industry" to support a U.S. nuclear reactor force.
But he did launch a 90-day U.S. Nuclear Fuel Working Group to brainstorm recommendations to support the country's critical mineral industries. This month, a spokeswoman for the U.S. Commerce Department told the Star-Tribune the working group's deadline had been extended 30 days.
***
Criticism of the call to institute domestic uranium quotas has come from both energy groups and conservationists.
For instance, nuclear energy companies around the country opposed Energy Fuels and Ur-Energy's proposed quota. Several nuclear firms welcomed Trump's decision. Regulating the uranium market would likely hike production costs and lead to layoffs in the nuclear sector, industry leaders warned.
At a House subcommittee meeting on energy, Tommy Rock, an environmental scientist based on the Navajo Nation, testified to lawmakers about the environmental and public health consequences of uranium mining.
"Comprehensive cleanup of a uranium mining operation is a near impossibility, and once the operator of the mill is gone, the costs emerge in health impacts to the community and are often ultimately shouldered by taxpayers," he stated.
Unlike coal or oil, uranium mining companies do not pay federal royalties for the extraction of minerals, he also noted.
"There are currently 523 abandoned uranium mines on the Navajo Nation alone, which demonstrates this is not a small, isolated issue but one that has widespread effects on our community," Rock stated.
A federally funded study released this month revealed a quarter of Navajo women and children carried dangerous amounts of radioactive metals in their bodies, linked to proximate uranium mining that occurred following World War II on the Nation.
Amber Reimondo, energy program director at Grand Canyon Trust, a conservation organization, also testified in June about the environmental ramifications of expanding mining.
In particular, she highlighted studies connecting groundwater contamination to uranium mill occurring at the active White Mesa Mill in Utah, owned by Energy Fuels.
Wyoming uranium mines only use in-situ mining, a specific extraction process that involves chemicals. A proposal advanced by the EPA in 2017 to monitor this practice was abandoned last year.
In March, Ur-Energy received a green light from the U.S. Bureau of Land Management to expand its Lost Creek Mine in southern Wyoming.
But to many uranium advocates in Wyoming, conversations about the environmental and health repercussions too often overshadow the benefits the mineral has provided to the state.
"I don't think the country as a whole likes to talk about uranium," Larsen told the Star-Tribune. "You say 'uranium,' and they fail to see all of the great benefits that we have received from the nuclear industry."
The U.S. Nuclear Fuel Working Group plans to submit recommendations to the president next month.
Correction: A previous version of this article incorrectly stated Ur Energy plans to lay off 25 percent of its workforce. The layoffs have already occurred and the company has no plans to lay off additional workers at this time.