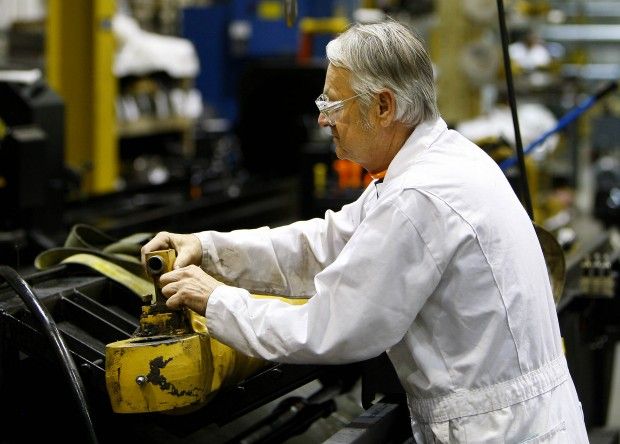 Wyoming's energy sector is experiencing a different type of boom these days: a sharp increase in the number of layoffs.
What once amounted to a steady trickle of "headcount" reductions, structural readjustments and right-sizings, to borrow the industry terms, has developed into a torrent of pink slips and early retirement packages in recent weeks.
The trend is all the more notable for its breadth. Unlike past downturns, which affected one sector or another, all of Wyoming's major energy industries have been affected.
The list of firms who have resorted to layoffs reads like a who's who of Wyoming's top oil, coal and energy service companies:
Kiewit Corp. announced it was laying off 38 people from its Buckskin Mine on March 4.
Anadarko Petroleum cut 1,000 positions companywide on March 10. The number of jobs lost in Wyoming was not disclosed.
Peabody Energy reported a "small" layoff at its Caballo and Rawhide mines on March 11.
Power Service Inc., a Casper equipment provider, cut more than 50 positions on March 18.
Halliburton laid off employees from its Casper and Rock Springs locations as part of a wider effort to cut 5,000 jobs company-wide.
Wyoming Machinery Co., a heavy equipment dealer, is offering early retirement packages to employees at its five locations across the state.
And on Tuesday, some employees at Peabody's North Antelope Rochelle mine were handed letters telling them not to report to work on Friday. They will learn if they still have a job at a meeting in Douglas later this week.
"In my opinion, the state's overall labor market is not as bad as the Great Recession yet," said Wenlin Liu, a state economist.
Year-over-year drops in total employment have been around 3 percent, Liu noted. By comparison, total employment fell by 5 percent between late 2009 and 2010, when the great recession reached its peak in Wyoming.
Unemployment is now around 5 percent, where it once stood around 7 percent in the Great Recession.
But there is no doubt about the impact of the slowdown on Wyoming's broader economy, even if no official measure for defining a recession at the state level exists, Liu said.
You have free articles remaining.
Yet by national standards — two consecutive months of real GDP decline — the Cowboy State is already in recession. Wyoming's GDP declined in the first and second quarters of 2015.
"The fact is that the economic condition nowadays in the state is worse than the first half of 2015," Liu said.
Layoffs at Wyoming's coal mines are especially striking. Where oilfield employment often rises and falls with the price of crude, Wyoming's coal mines have remained steady employers.
The cheap costs of mining Powder River Basin coal, where the vast majority of state production is centered, have helped companies working in the region avoid staffing reductions, even as the coal industry nationally resorted to widespread layoffs and major mining firms like Alpha Natural Resources and Arch Coal filed for bankruptcy.
But western coal production is now in free-fall, as companies cut their budgets in the face of a prolonged downturn in price.
Some 6,440 tons of coal were shipped from mines in the western U.S. last week, according to the U.S. Energy Information Administration. That is the lowest weekly coal shipment total in the last 12 months and down from 10,000 tons this time last year.
"I don't think production will be over 700 million (tons) this year, and it was over 900 million (tons) last year," said James Stevenson, a coal analyst at IHS Energy. "I can't think of a commodity as big as coal in the U.S. that appears to be down that much."
The decline is, in some ways, a welcome sign for the coal industry. Wyoming coal companies largely maintained shipments in 2015, even as utilities burned more and more natural gas. The result was a massive buildup in coal inventories, which have tempered demand and weighed down prices.
It creates a bullish scenario for 2017 and 2018, Stevenson said, noting production has fallen so steeply that it will need to rise to meet demand in the coming years.
But many companies don't have that much time to wait for a rebound. Bloomberg Business reported Monday that Bowie Resource Partners abandoned a financing deal needed to complete its $358 million purchase of three Peabody mines in Colorado and New Mexico.
The deal is crucial to Peabody's efforts to raise enough money to avoid a bankruptcy filing, according to industry analysts.
Bowie initially set an early February deadline for securing financing for its purchase. John Siegel, Bowie executive chairman, said Tuesday his firm has not given up yet on the transaction.
"We are continuing to work diligently," Siegel said. "We are working as we speak."
The stakes of the Bowie deal to Wyoming's wider economy were underlined by a separate development in Casper. There, Wyoming Machinery Co. announced last week it offered a voluntary early retirement package to its employees.
The Casper-based firm makes heavy machinery for a variety of sectors, but the oil and coal industries account for much of its business, a fact highlighted by the company's two offices in Gillette.
It is unclear how many of Wyoming Machinery's 750 employees will take the offer, said Jeff Litzinger, a training and development manager at the firm. They have until May to decide.
He then added an optimistic note: "Energy is a major part of Wyoming's economy, and we feel confident that Wyoming can continue to be a leader in the industry."
Follow energy reporter Benjamin Storrow on Twitter @bstorrow