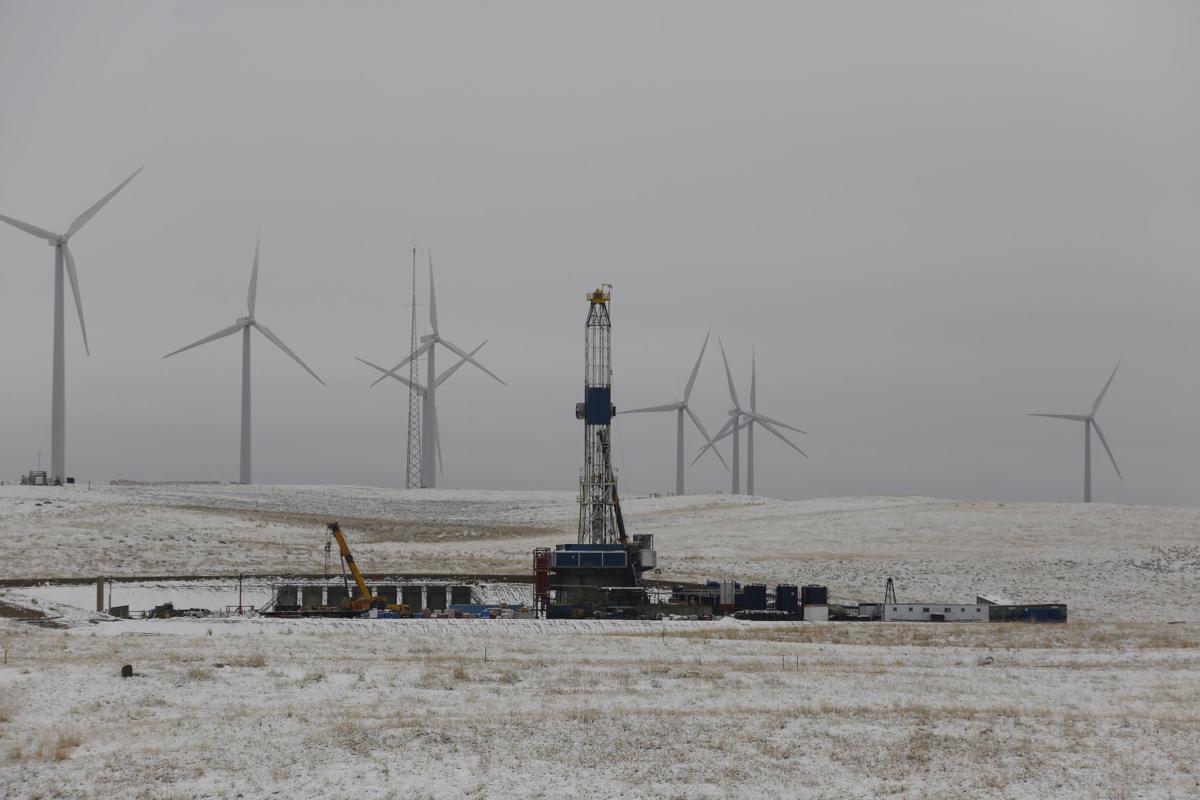 Just five months into the fiscal year, officials in Converse County have about 90 percent of their budget covered, thanks to the sharp increase in mining activity that's occurred in what has become the heart of the state's oil industry over the last year and a half.
From the purchase of new mining equipment to the sale of drilling supplies, taxable sales in Converse County jumped by 73 percent in the third quarter of 2018 compared to the previous year. The uptick is responsible for much of the statewide rise in transactions that provide sales and use tax income, according to a report released by state economists last Wednesday.
While economic improvements in Wyoming have occurred in most sectors, it is oil and gas — buoyed by crude prices that remained stable through much of last year — that account for much of the growth.
Statewide taxable sales from the mining sector increased by 21 percent from the third quarter of 2017 to the third quarter of 2018. With all sectors included, the increase was just under 10 percent statewide.
Oil money
Sales and use tax revenue started to rise in Converse late last year as oil and gas drilling increased. Much of Wyoming's backlog in applications for permits to drill, which is now up to 25,000, are for wells proposed in Converse County.
The businesses that haul water, fish out broken tools that are lost down a well or offer completion services followed the rise in drilling, further boosting economic activity across the county.
"It's certainly in the mining sector," said Treasurer Joel Schell of his county's increased revenue, noting that the drilling industry impacts other areas of the county economy, from retail businesses to the average cost of renting an apartment in Douglas.
"We just see that start to cascade into other sectors," he said.
In fiscal year 2018 — the period from mid-summer of 2017 to mid-summer of 2018 — the mining sector accounted for about 43 percent of the county's sales and use tax revenue. That meant about $2 million a month was coming into the county coffers on average, largely from oil and gas activity. That average has risen to about $3 million a month so far for fiscal year 2019.
Industry activity has also boosted other counties, from Carbon, where sales and use taxable income was up 37 percent compared to the third quarter of 2017, to Crook, where the rise was about 36 percent.
Crook is not a hotbed for oil and gas. The county is home to agriculture, bentonite plants and retirement homes. It has some oil activity and methane production near its county lines. Crook's increase in taxable sales is likely due to recent pipeline activity and equipment overhauls in the bentonite industry, said Treasurer Mary Kuhl.
Campbell, Weston, Platte and Goshen counties all experienced robust increases in sales and use taxable income, with counties that are home to oil and gas activity growing the fastest, according to the report. Seventeen counties saw improvements, while six counties, including Fremont, Sweetwater and Sublette, experienced decreasing taxable sales.
Falling oil
The story of an improving oil and gas sector in Wyoming has changed in recent months.
Crude prices started falling in October after an encouraging period for Wyoming's current most valuable export. The spot price for sweet crude, WTI, was about $20 dollars lower at the end of the year compared to January 2018.
Though lower oil prices are concerning for Wyoming, where the industry has been gradually pulling the state up from an economic trough, they are less problematic for the national picture, said Wenlin Liu, chief economist for the Wyoming Economic Analysis Division and author of the quarterly report.
Economists had been concerned that the runaway financial market could overheat the national economy. Falling oil prices are one aspect of the Wall Street decline that's calmed some of those concerns, Liu said.
"Apparently, there is a cognition gap between Wall Street traders and the main street economists," he said.
Low oil prices are a boon for manufacturing in the U.S. as they drive down gas and diesel prices from companies and individuals and deflate the risk of rising inflation.
Uncertain impacts
Wyoming's economy continues to rebound, with its fortune tied closely to the mining sector, which provides about one-sixth of the sales and use tax collections, according to the report.
The oil and gas sector is not as robust, yet, as it was before the downturn.
Mining's contribution to the sales and use tax collections in the third quarter of 2018 was 30 percent lower than that period in 2014.
While oil activity has been increasing, it is unclear what a change in price will mean for it in places like Converse. The drop may have yet to impact company plans for some operators in Wyoming's oil and gas sector, Liu said.
"The decision of expansion in investment may depend on length of depressed price levels, though the industry has definitely improved their operation efficiency in the past few years," he said.
Nationwide, and in Wyoming, those efficiencies have change the portrait of a healthy oil and gas sector in terms of production and jobs.
Liu said that though U.S. oil and gas production is 20 percent higher than 2014, employment is about 20 percent lower.
The falling price will have an immediate impact, Liu noted. While drilling activity is closely tied to the sales and use taxes that provide so much of county income, the price of crude determines how much money flows into Wyoming's depleted coffers from severance taxes and federal mineral royalties.
Follow energy reporter Heather Richards on Twitter @hroxaner