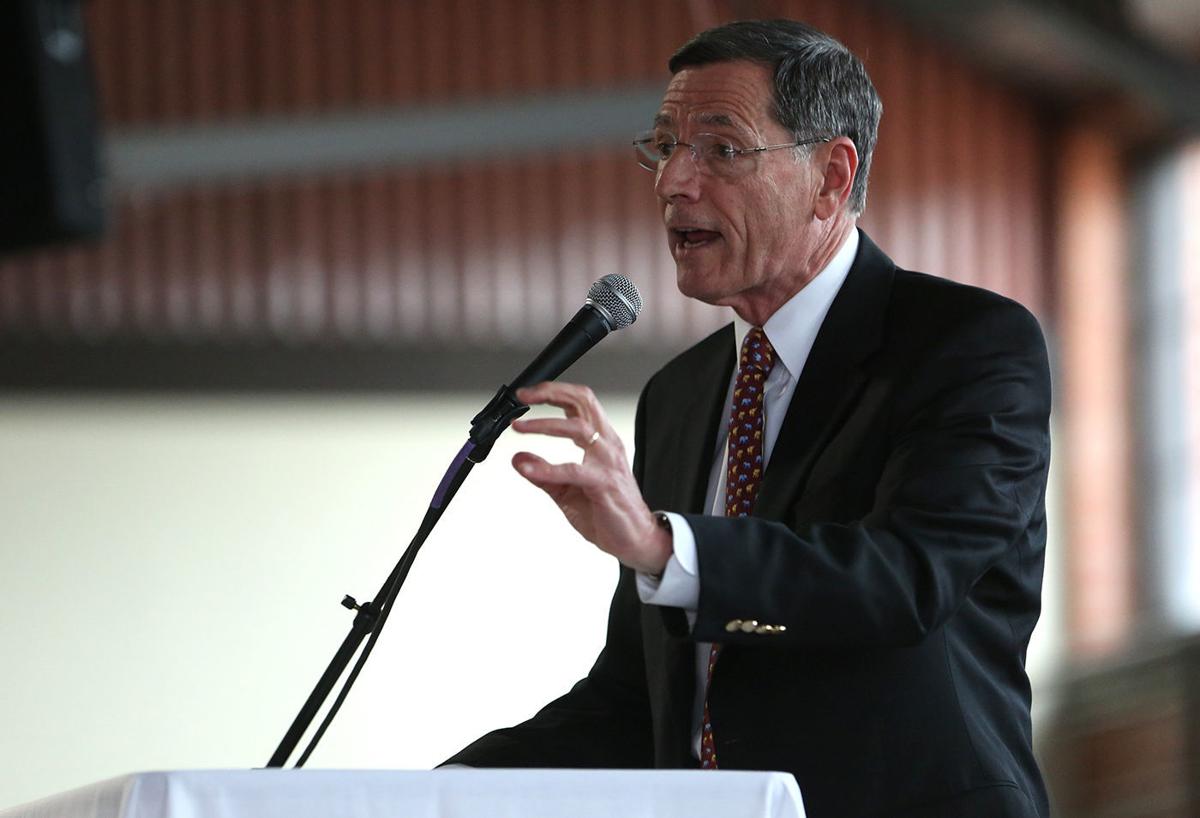 Sen. John Barrasso proposed draft legislation Monday that would amend a cornerstone conservation law, the Endangered Species Act, potentially giving states greater authority to address wildlife that is struggling to survive within its borders.
Barrasso and the draft's supporters say the bill is intended to start a conversation as well as address some of the ESA's shortcomings.
The Endangered Species Act became the law in 1973. It has not been reauthorized since 1992. 
"We must do more than just keep listed species on life support," Barrasso said in a recent statement on the bill. "We need to see them recovered."
Under the proposed bill, state-federal recovery teams could be formed to strategize conservation for a listed species. Those teams can instigate a review of a listed species if the group unanimously agrees that their conservation attempts justify a delisting.
The measure would prohibit scientific data from being disclosed in a public records request — if it includes a business or private landowner's proprietary information. Otherwise, the scientific basis of decisions with a species is to be public information. The bill would also authorize a national list that prioritizes species for listing, status reviews and habitat designations.
***
From the humpbacked grizzly bear to the black-footed ferret, a number of Wyoming's most well-known species have come close to blinking out before finding a spot on the endangered species list.
Sage grouse almost made the list, but the likelihood of strict protections for the bird that struts unknowing above Wyoming's oil resources drew together state agencies and political leaders, industry and conservationists to save the bird's habitat before the Endangered Species Act took the matter out of Wyoming's hands.
Some of Barrasso's draft is closely aligned with recommendations from the Western Governors Association.
At Wyoming Gov. Matt Mead's request, the group of Western leaders started examining the ESA two years ago. Vexed by the onerous process leading up to and following a listing, the governor invited any and all to the table to talk about solutions, said Mead's policy advisor David Willms.
"If you wanted to come, there was a seat at the table for you," he said. "That's just the way we always operated."
The governor is firmly behind Barrasso's approach, which instigates a debate about the ESA, he said. Previous attempts to touch the controversial act often failed because they were brought by politicians who had a specific aim in mind, something that served a frustration or need of their constituency, he said.
This appeal is broader, evidenced in starting with a draft bill instead of a final one, he said.
You have free articles remaining.
"Nothing in there is trying to take away any authority from the federal government," he said.
One of the key aspects of the proposed amendments is providing states with more time. The Endangered Species Act has often led to a heavily burdened U.S. Fish and Wildlife Service and a host of species that end up in the courts, he said.
Sage grouse are an example of that route. Conservationists sued the federal government for not listing the bird. Then the U.S. Fish and Wildlife Service decided sage grouse should be listed, but that it wouldn't be because other listings had a greater priority. Conservationists sued again.
The court provided a timeline to address the bird's declines before it would be forced to make a decision. Leading up to that 2015 deadline, Wyoming barreled forward, strengthening its plans to address habitat fragmentation by setting aside some areas for strict protections and allowing non-core habitat a lighter hand.
The Wyoming way, mimicked in federal plans, was found potentially effective enough to preclude the bird from a listing in 2015. A review of the federal sage grouse plans sparked fierce debate last year, with conservationists arguing that the bird has been put at risk once again.
But the collaborative work to save the bird remains widely praised as unprecedented and effective by partners from the Audubon Society to oil firms.
Willms said the time given under the revised ESA would allow states to do the kind of work that precluded the sage grouse from a listing, but maybe without all the litigation and tears.
***
Not all states are up to a Wyoming-scale approach to a threatened or endangered species.
The draft bill does not yet designate specific funding that may help states approach the timely and costly work of protecting species in decline. But neither does it force responsibility on states that didn't want it, according to Barrasso's staffers.
For the ones that want a seat at the table, the bill brings them to a position of greater influence, but leaves the federal agency intact, and to some degree, in charge.
Barrasso's approach is strongly modelled on Mead's, they said. The focus is on collaboration and dialogue.
The Western governors commended that strategy in a February letter to Barrasso.
"The chairman has approached this polarizing topic in an inclusive, thoughtful manner. The proposed bill reflects this fact and offers meaningful, bipartisan solutions to challenging species conservation issues," the group wrote.
For the senator's part, he thanked Mead for his leadership and promised bipartisanship.
"When it comes to the Endangered Species Act, the status quo is not good enough," he said in a statement. "I will work with anyone who is committed to help the Endangered Species Act reach its conservation potential."
Follow energy reporter Heather Richards on Twitter @hroxaner