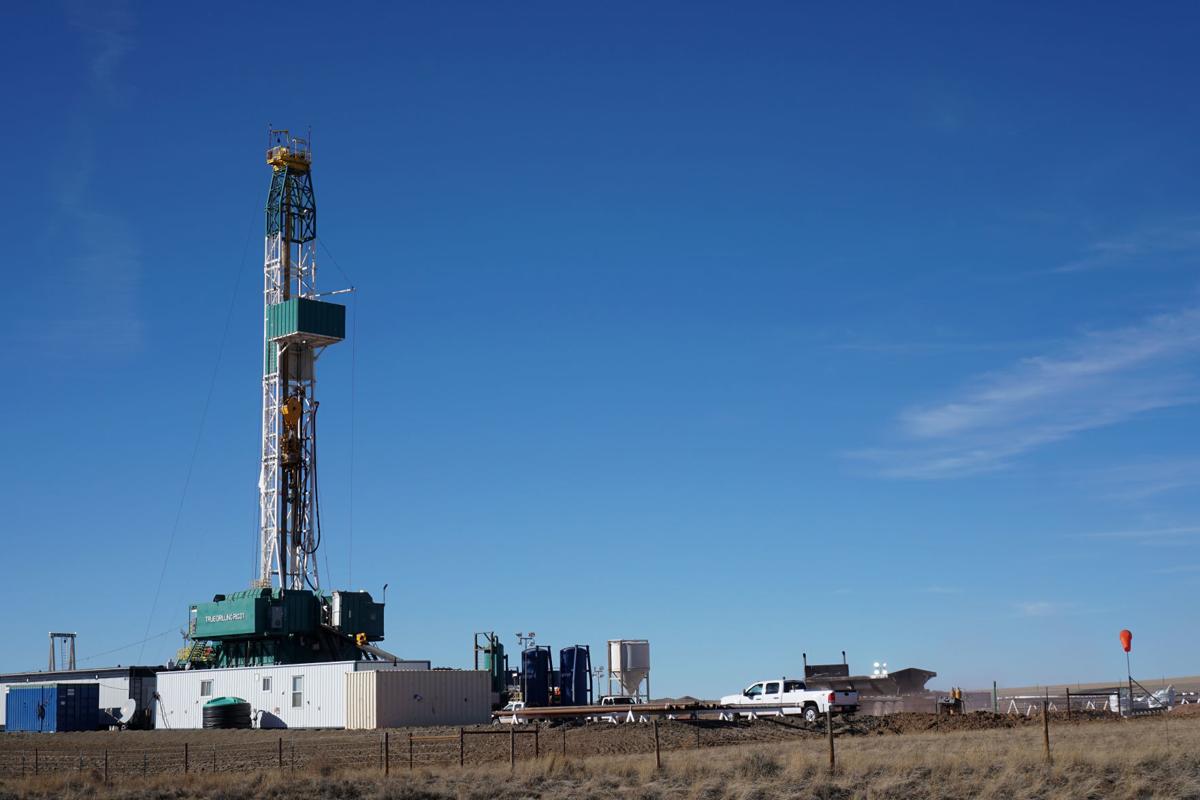 Industry is returning to some Wyoming counties, as oil and gas rigs hop across the state, raising sales tax revenue with the promise of production dollars to come.
But while the industry is certainly operating in a better environment than a few years ago, the turnaround for counties that depend on oil and gas isn't as robust. From the Powder River Basin to the gas fields of southwest Wyoming, the return is modest at best.
Oil, gas and coal are crucial to state funding in Wyoming and lawmakers are still facing an enormous deficit because of the drop in fossil fuel revenue over the last few years. Improvements in the price of crude encouraged lawmakers early in the year but depressed enthusiasm for any new taxes to replace industry dollars.
The state, along with towns and counties, tightened its belt.
But on a local level, officials are more pragmatic about what a potential turnaround for oil means for county services and town budgets.
From fire departments to law enforcement, the improvements in the price of crude are starting to hit home. But it's slow going. The strengthening industry isn't buoying up counties equally.
"I think it's just going to be a matter of time," said Cindy Barlow, assessor for Johnson County, on the outlook for industry revenue for her county. "We need more time for markets to actually settle and see how they are going to play out."
***
Wyoming oil and gas regulators received a record number of applications for permits to drill — 10,000 — over the last year. A lot of that activity is focused on the Powder River Basin.
"People are a lot more intrigued by the Powder River Basin than they were a couple years ago," said Mark Watson, supervisor of the Wyoming Oil and Gas Conservation Commission.
"(Texas's) Permian's been discovered ... But the Powder River Basin is still relatively new compared to other ones. Every time we see these new wells, production gets better and better. So, the interest is there."
Not all of those applications to drill will turn into a new well or oil dollars flowing into local bank accounts. The interest in the Powder has created a rush to shore up position in the basin.
But, drilling is up. Production is expected to be at least as good as last year, perhaps a bit better, Watson said.
"Obviously things are a lot better than they were last year, the price, being at least $10 or $15 over what it was," he said.
But there isn't a boom happening, not right now. A price jump would likely stir that kind of activity, but so much is dependent on how much companies can make for each barrel.
***
Counties are well aware of the importance of price.
"Even though we have production, that price for a barrel of oil is critical," said Barlow of Johnson County. "So if the industry doesn't see price point recovery, gosh. When the price of oil is cheap that mineral is going out of our state cheap."
After the price boom of 2014, a period of decline hit the oil and gas industry and the counties that depend on it. Sweetwater County lost $700 million dollars in tax income. Campbell County lost $2 billion.
Now, with the price of crude at $65 a barrel and companies showing increasing interest in drilling, the overall narrative is that Wyoming's cornerstone industry is on the mend.
In Campbell County, the bust meant less money for libraries and water projects. And it meant less money for education— not just for the county, which brings in enough tax revenue to provide for the students in K-12, but for the rest of the state. Wyoming redistributes tax dollars for education and Campbell County, with its coal mines, is the largest contributor to the pot.
"Any time there is a deficit … that affects all those entities," said Troy Clements, Campbell County assessor. "You have less dollars to work with budgetary wise."
Part of the reason growth is slow, even with the price of oil sitting near $70, is that production taxes come in one year late.
Campbell County's assessed value for oil is up 17 percent this year, but that's comparing last year's production to 2016. Gas is up 31 percent this year; again that refers to income from gas production in 2017 compared to the previous year.
***
Sweetwater County lies outside the trendy Powder River Basin, but it has experienced a spike in applications to drill since the price began to improve.
But in terms of revenue, the county has mainly seen improvements from the sales tax collections. From production dollars, they are pretty much steady.
Unlike some of the other industry counties, Sweetwater is not as wholly dependent on oil, gas or coal as others. It has a steady income stream from trona mining. The underground mines provided more than $400 million to the county in 2017, about the same as gas.
Oil and gas money can flood Sweetwater when the price is right and fossil fuels are flowing. In 2015, oil and gas represented 44 percent of the county's budget.
"2015 was kind of a fluke, but it was a fluke in the right way for us," said Dave Divis, county assessor for Sweetwater. "Now, it's just kind of leveled off."
The improvements in oil and gas are helping counties get closer to normal — not boom times.
Campbell County is not only reliant on oil dollars, but coal revenue. The county is home to the largest surface mines in the country. When oil tanked, the county was also dealing with an unrelated bust in the coal sector.
Now, the total tax income that determines the budget is up roughly 6 percent, from $4.2 billion to $4.4 billion.
"For us, it's pretty significant," said Clements, of Campbell County. "Even though we have the highest assessed valuation in Wyoming, It makes a big difference when you're talking budgets."
***
For some counties, oil and gas has yet to arrive to help their troubles disappear.
Johnson County, which lies on the western side of the Powder River Basin below the eastern slope of the Big Horn Mountains, lost nearly half of its tax income between 2015 and 2016.
Though the price of crude has improved, the county hasn't seen a real rally of local revenue, said Barlow, the county assessor.
Part of the reason for that is that Johnson County isn't a new oil play.
The county's best years were more a result of natural gas than oil, in particular, coal bed methane. The county experienced just a piece of that pie, in the northern corner of the county, Barlow said. Yet, when the county's value was at its height of around $800 million, about $500 million of that was coming from gas. There was both robust production and good price for each thousand cubic feet of natural gas.
Now, gas' contribution to the county's value is down to about $100 million, she said.
"It's interesting as we move forward that oil seems to be the trend of Wyoming," Barlow said.
The areas of excitement in Wyoming, like the Powder River Basin, are newer plays focused on oil, she said.
Johnson's oil resources are a bit older.
There's a well-earned stability in the oil and gas industry in Wyoming. Things are improving, but a turnaround is not a boom. For locals, the last year has been better than the previous. Next year, may be about the same.
Follow energy reporter Heather Richards on Twitter @hroxaner