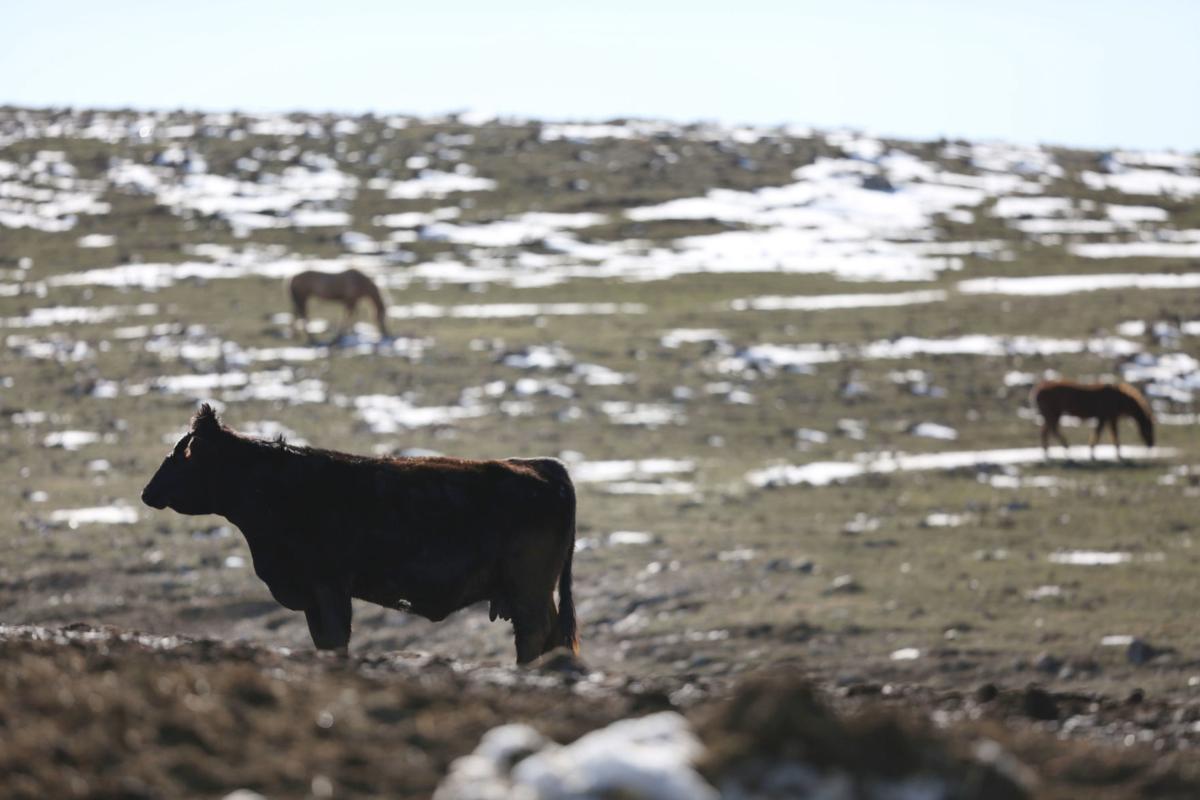 The Cobb Cattle Ranch extends around the unincorporated community of Savery. Only the Little Snake River Museum and dilapidated two-story buildings belonging to the 25-person gathering interrupt the panoramic view among the ranch's acreages. Cobb cattle alone outnumber inhabitants 24-to-1.
Civilization's encroachment has spared Jack Cobb and his family's ranch. The coronavirus pandemic, however, has cast uncertainty over the sagebrush and open prairie.
Two of his ranch hands spent a month away, leaving him and only a handful of others to deliver around 100 calves. His most pressing worry had been the two feet of snow settling onto the hardened soil. Consecutive 50-degree days eased his worries and paved way to a promising calving season — at least until the coronavirus arrived.
Just like the four generations before him, Cobb's ranch work is essential. They've worked the ranch through depressions, recessions, the addition of 12 states, multiple World Wars and multiple Chicago Cubs World Series championships. The world could crumble at a moment's notice, and a Cobb would still be in the pasture, tending to his animals. They couldn't get more quarantined even with intention. His family has been social distancing since the 1880s.
"Even if they tell us we have to stay in place, we can't," Cobb said. "We have to feed and work animals. We're isolated, but I have to be out and do my job."
Cobb is one of the many Wyoming ranchers left to navigate a chaotic market during calving season. Suggested quarantine orders and social distancing guidelines have shuttered restaurants and slowed the economy into an unprecedented drop. Market prices have consistently dropped, giving ranchers less return on current sales. Experts worry that if the market doesn't recover by the time Wyoming producers market the majority of its cattle sales in the fall it'll spell disaster for operations of various sizes.
***
Scott Zimmerman's been involved in agriculture for all of his 63 years. He's a former Pine Bluffs rancher and current lobbyist working in government affairs for the Rocky Mountain Farmers Union, representing Colorado, New Mexico and his native Wyoming. He couldn't imagine a more worrisome time in his history.
"We are in completely uncharted waters," Zimmerman said. "There's never been anything like this happen. I've never seen anything like what we're seeing today."
In light of those circumstances, Zimmerman has been one of the many advocates for a government subsidies package into the agricultural community.
Since March 27, U.S. Department of Agriculture Secretary of Agriculture Sonny Perdue has urged the White House and Congress to expedite their coronavirus stimulus package to farmers and ranchers. In total, Perdue said $15 billion in cash would be distributed to the agricultural sector in the first phase of subsidies, according to a USDA release. The Star-Tribune recently reported Wyoming would see $1 billion in stimulus money and a special legislative session will determine how that money gets dispersed.
***
Andrew Walmsley, the American Farm Bureau's Director of Congressional Relations, said Wednesday that he anticipated a hastened distribution of funds due to the severity of the situation. Even so, Wyoming producers won't see relief until well into the growing season.
"Hopefully it will be fast-tracked, and we'll get some details this week — and then, obviously, it will take several weeks for everything to be put in place and for farmers to actually see the benefit of the program," Walmsley said.
Subsidies are planned to come via direct payments. Producers received $23 billion in cash payments to mitigate affects of the Sino-U.S. trade war on livestock and crops in 2019 and 2018.
American Farm Bureau chief economist John Newton told the Star-Tribune it's too early to indicate how much will be needed in subsidies to aid ranchers. The latest coronavirus relief projects won't cover all of it, but they're a step in the right direction.
"Our effort to flatten the curve could mean an extended recovery period and we don't know when it looks like we'll be getting back to normal," Newton said. "We're doing what we can through stimulus packages and they'll expand what they can."
***
Some have decried the lack of urgency in Washington while the local agricultural communities have been left to wait on relief. Cobb has taken his cattle to the Torrington Livestock Auction and Lex Madden, one of the auction's three co-owners.
Madden's sale barn has followed 10-person limits during sales and maintained sanitary conditions. Those steps haven't changed the economics facing ranchers as they watch prices drift closer toward panic.
"You just hope that in D.C. we can get together, stop being so (partisan), add a couple dollars to help take care of the small people and the American people in the hospitals and first responders," Madden said. "They want to make it political and they want to add stuff that has nothing to do with the coronavirus."
Not receiving federal subsidies into the fall could be far more damaging. Whereas some Wyoming farmers have elected to replant their crops in order to cut their losses, livestock producers told the Star-Tribune that they can't simply hold their sales and wait until market recovery. That would lead to overcrowding in pastures, potentially putting future market sales at risk with that much livestock eating all the proteins in their natural environment. That's given even mid-range operations little choice but to work through current circumstances.
"My only real worry is for my commercial cattle friends," said Fred Thomas of Obsidian Angus in Meeteetse. "They're the ones that are taking the brunt of it right now. If they've still got calves they can't hold them forever."
***
While some seek the safety net of a subsidies package, other Wyoming producers have proudly turned away government aid for years. Kevin and Keri Schilthuis operate Fort Causeway Farms outside Lovell. They raise organic beef and commercial lamb, so they don't follow the same markets and aren't pinned into the same corner as typical Wyoming ranchers.
This has allowed them to operate completely under their own power. They've heard about a stimulus package, but it's not something they expect to take part in. They're one of the many American ranching operations that have shied away from government intervention — shielding themselves from the possibility of oversight or intervention.
"You have to understand there's always a price to pay when you take handouts from the government," Keri said. "So we've tried to operate without federal aid."
They're a few of the lucky ones. Many in the industry look at this subsidy as not a handout but a necessity. Jim Magagna of the Wyoming Stock Growers Association took comfort in knowing the majority of Wyoming producers have until the fall, when live cattle sales hit their peak.
Three-fourths of farmers surveyed in a recent Purdue University report said they worried about the coronavirus' potential impact on their farm incomes. Sixty-two percent said they anticipated another injection of trade war subsidies before the end of the year. It's the last hope for some family-owned operations.
Magagna has spent his years representing and helping Wyoming producers. He's sympathetic toward those apprehensive of subsidy packages. But the free market hasn't aided producers in this case. They were in an unfavorable position before a pandemic. Then the coronavirus brought markets to their knees, crippling ranchers at their roots. And there was no adequate bracing to be done.
"We're not one for federal handouts, but there's no way you could have prepared for this," Magagna said. "Even if you knew it was coming you couldn't prepare for it. No farmer or rancher could have put money away for this."
Follow sports reporter Brady Oltmans on Twitter @BradyOltmans
Concerned about COVID-19?
Sign up now to get the most recent coronavirus headlines and other important local and national news sent to your email inbox daily.