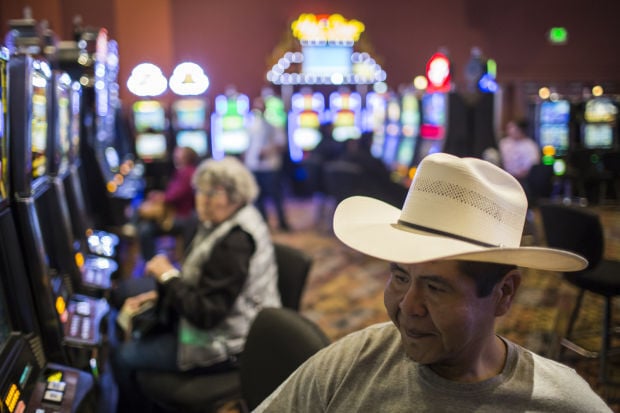 The Wind River Hotel & Casino will reopen next week after closing in March to limit the spread of the coronavirus.
The "grand reopening" will take place at noon Wednesday, the casino announced in a Facebook post Thursday. Face masks will be mandatory for all employees and patrons.
The casino's return comes with a number of additional safety measures. Everyone entering the building will first have their temperatures checked. Six feet of distance between people is required, according to a Friday Facebook post, and touching — including handshakes — is to be avoided.
The casino asks for people to wash their hands frequently, use hand sanitizer stations, avoid touching their faces, properly cover coughs and avoid frequent cellphone use if they are not regularly disinfecting them.
Wind River also urges those feeling sick to stay home.
The casino is a major economic driver for its owner, the Northern Arapaho Tribe. The casino is considered Fremont County's largest employer.
The Wind River Hotel & Casino, Little Wind Casino, and 789 Casino and Smokeshop initially closed March 16, less than a week after the first coronavirus case was confirmed in Wyoming.
"Our primary focus is to protect the health of our patrons and employees," the casinos said then in a Facebook post. "... We are taking this action as responsible business leaders within the community and as one of the largest employers in the region. We will continue to monitor and comply with all orders, directives, instructions and/or recommendations made by government agencies and will advise once a reopen date has been established."
Fremont County has been hit harder by the coronavirus than any other Wyoming county. As of Friday, it accounts for nearly 22% of the state's confirmed cases, more than 20% of its total cases and 41.7% of its COVID-19 deaths. Fremont County makes up roughly 7% of Wyoming's population.
Fremont has also done far more testing than any other Wyoming county: 29.2% of the state's total reported tests.
Wyoming's Native American population has also been disproportionately affected by the pandemic. Twenty-one percent of the state's confirmed coronavirus patients are American Indian, according to Wyoming Department of Health data, but just 2.7% of Wyomingites identify as American Indian/Alaska Native, per 2019 census estimates.