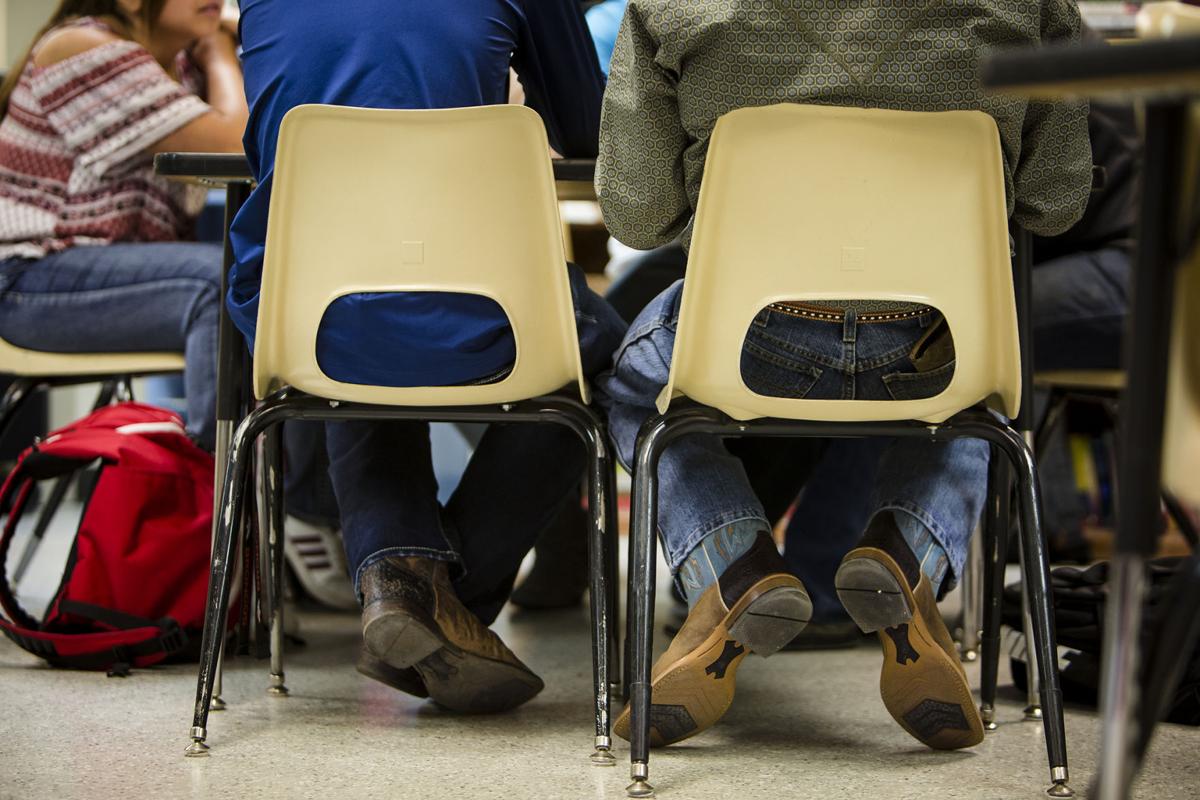 Surveys and interviews with state leaders, educators and parents raised a broader question about what Wyoming's education system should be offering to its students, consultants told lawmakers Thursday.
The responses — collected over recent months as part of the consultants' wide-ranging review of the education funding model here — covered a range of topics, from special education to the effectiveness of the existing funding system. The consultants, Augenblick, Palaich and Associates, used three different methods to obtain responses from three different groups:
one-on-one or small-group interviews with state leaders, like Gov. Matt Mead, state Superintendent Jillian Balow, the heads of several state education organizations, and others;
panels with more than 200 total educators in four towns across Wyoming;
an open online survey that had more than 1,200 responses from educators, parents, students and others. Forty-eight percent were parents, and 44 percent were educators.
The information was relayed by the consultants to the lawmakers on the Select Committee for School Finance Recalibration, which is charged with examining Wyoming's system for funding education. Thursday's meeting, which will continue Friday, is the first time the consultants have brought completed analysis to the committee, which must have its work finished by the end of January at the very latest.
The wide range of responses to the consultants' survey revealed a deeper question at the heart of Wyoming's education system: What should its ultimate goal be? Should it be used to ready students for a college campus, or should it prepare them for an office or job site?
The answer was both. Educators interviewed by the consultants and the broader range of people who took an online survey said that students are generally ready for college but that more emphasis should be placed on preparing those teenagers who will join the workforce after high school.
Either way, the respondents said, students should be ready for any post-high school path, and right now, the education system may be overemphasizing college readiness.
Justin Silverstein, one of the consultants who presented the findings to lawmakers, said that topic came up in every interview the firm performed.
Survey "(r)espondents often argued that not every student is going to go to college, so the educational program should ensure that they can be successful in whatever path they pursue," the consultants wrote in a memo to lawmakers.
Some of the interview respondents said the potential overemphasis on college readiness can be traced to districts striving to offer Hathaway Scholarship requirements, at the expense of workforce readiness courses. Because of the classes schools must ensure students have the opportunity to take, there's less time for career technical education courses, the consultants were told.
"School and districts are making staffing and course offering decisions based upon the opportunities they need to provide students to be eligible; for example, providing a fourth year of math," they wrote in their memo.
Still, there was some push back at the meeting. Paige Fenton Hughes, the superintendent for Converse County School District No. 1, said her district offered a lot of career technical education. But there weren't a lot of jobs in Converse County for a high school graduate with a strong background in CTE.
"Kids can be perfectly successful without a college education, that may have been true," she told lawmakers near the end of the meeting. "I don't think that's true anymore."
Rep. Cathy Connolly, a Laramie Democrat and University of Wyoming professor, agreed and said that was especially true for women.
"For girls, they need to go to college," she said. "It concerns me some if we don't encourage our young people to consider postsecondary education."
Educators said that a compounding factor is the dearth of qualified CTE teachers in Wyoming. Last spring, UW announced it was ending its CTE program, formally hosted at UW-Casper, because of low enrollment. A number of people — including UW instructors — had come to its defense as essential and unique to the state.
The elimination of that program did not come up at Thursday's re-calibration meeting, which was coincidentally held at the UW-Casper part of Casper College's campus.
Response to
the
funding model
There was consensus elsewhere in the results. For example, educators on the panels consistently advocated against further budget cuts and to continue providing districts with block grants because of the flexibility they give districts.
The educators also spoke out in favor of the current 100 percent reimbursement policy for both transportation and special education spending. Essentially, every dollar a district spends in either of those areas is reimbursed by the state.
Still, there was some disagreement.
For instance, educators generally felt they were meeting the needs of special education students. But parent respondents felt the opposite, the consultants told lawmakers on the recalibration committee.
Additionally, educators felt that the funding model that the state has used since 2005 is responsive to districts' and students' needs. But parents were more likely to disagree.
Elsewhere in the responses:
10 percent of educators said special education services for students with severe needs could be improved. For instance, the consultants noted that Wyoming has no school for the deaf or blind;
some educators also warned that recent cuts were having an effect on the educational program they're required to provide to students and others said they didn't want electives cut;
survey respondents were divided on whether all districts in the state could provide students the opportunity to meet the Hathaway Scholarship's requirements, though Connolly noted that no district has ever notified officials that it's unable to.
Follow education reporter Seth Klamann on Twitter @SethKlamann
Be the first to know
Get local news delivered to your inbox!