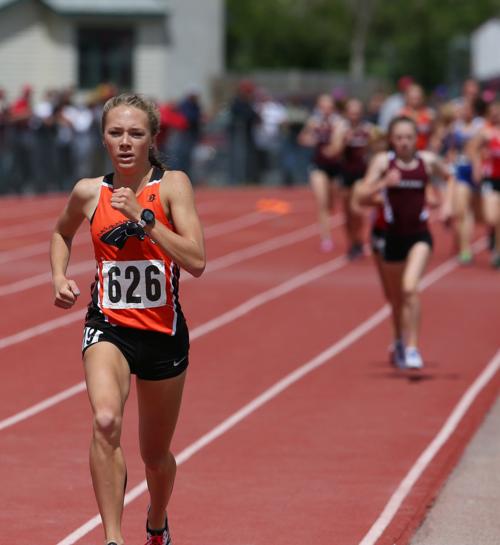 In the final race of her final high school track meet, Anna Gibson brought the sunbaked crowd at Kelly Walsh's Harry Geldien Stadium to its feet.
Perhaps realizing they were watching the Jackson senior for the last time, although others likely knew Gibson was running down a state record that had stood for 16 years, the fans at the Wyoming State High School Track and Field Championships rose in unison.
Gibson, who has learned to block out distractions when she competes, admitted to hearing the crowd as she chased the all-class record in the 1600-meter run.
"Absolutely," she said. "I heard so many people. And our girls soccer team had just got off the bus (from the state tournament in Sheridan) and they were standing around the fence. There were a lot of people screaming."
Gibson, who had been one of the weekend's distance standouts, crossed the finish line with a time of 4 minutes, 48.14 seconds. That meant Alicia Craig, who set the mark of 4:52.12 at Gillette back in 2001, was now No. 2 on the all-time list.
"I was in the race by myself and I knew I was going to have to make it happen," said Gibson, who will run cross-country and track at Brown University in the fall. "I ran with my watch, which I never do, and I was hitting my splits for the 100, 200, 400, 800.
"I just needed my last 400 to be really fast."
It was, giving Gibson her third individual victory of the meet and fourth overall for the weekend. She also won the 800 and 3200 and anchored the Broncs' 4x800 championship relay team.
The 1600, however, had been the focus of Gibson's attention.
"This was the one I really had my heart set on," she said. "I'm glad I could make it happen."
Gibson wasn't the only athlete to put her name in the record books at the meet as Evanston's Leila Martinez, an exchange student from Spain, set the new standard in the triple jump with a leap of 39 feet, 10.25 inches, and Torrington's Logan Harris won the shot put with a heave of 63-08.5.
The previous marks had been held by Gillette's Emily Moore (39-7.5, 2006) and Cheyenne Central's John Godina (63-1, 1990), respectively.
That all three new state records came on Saturday seemed only fitting. Two days after the meet began with temperatures in the 30s and with snow falling throughout the day, Saturday's temperatures, which hovered near 60, were a welcome respite.
"I think that was the last thing that went through my mind," Gibson said. "This is perfect! The sun's out and for Casper it's not too windy."
4A Boys notables
Laramie junior Albert Steiner (1600, 3200), Natrona sophomore Hunter Brown (long jump, triple jump), Kelly Walsh senior Lamont Frisby (100, 200) and Laramie senior McCade Johnson (110 hurdles, 300 hurdles) all were two-event winners.
For Frisby, it was the second year in a row he swept the sprints.
Johnson, who won the 300 hurdles title last year, entered the meet with his sights set on breaking the record, but his time of 37.54 seconds was one-half second off the mark held by Kelly Walsh's Joey Czellecz (37.04, 2014).
"In the 300 there was a little bit of a headwind so I couldn't get my steps down and I had to stutter through the first two hurdles," said Johnson, who will compete at the University of Wyoming next year. "But the backstretch was probably the best backstretch I've had all year just because of the wind. So (the wind) kind of hurt me and helped me. I think if I could have gotten my steps down I could have set the state record.
"But I'm really happy with my year. I had a lot of (personal records), so it's definitely better than what I expected."
Gillette senior twins Logan and Cory Myers entered the weekend having won state titles in indoor track as well as in tennis doubles. But the only outdoor state track championship either had won came last year when Logan ran on the Camels' winning 4x400 relay team.
Friday, Cory got his title in the 800. Saturday, Logan doubled their individual gold medal haul when he won the 400, although he had to hold off a fast-closing Cory to do so.
"I felt Cory behind me," Logan said. "I could hear him breathing."
Cheyenne Central senior Eric Lundgren didn't defend his high jump title – he finished second after slipping on his attempt at 6-4 and not jumping again – but he still took home a gold medal by winning the shot put. The Colorado State signee also placed third in the discus.
"I didn't have huge expectations (Saturday)," he said, "but I threw respectable distances. And by finishing first, second and third that's the most points I've ever had at a meet."
4A Girls notables
Gillette won the team title for the second time in three years with junior Kelly Moodry (200, 400), senior Kassidy Wanke (100) and junior Kealy Hill (pole vault) all winning individual championships.
"It feels great to finally see all my hard work pay off," Moodry said.
While Cheyenne East senior Cosette Stellern wasn't able to repeat her shot put-discus double from last year – she won the discus and finished second in the shot put – the University of Wyoming signee still left her mark as one of the most-accomplished throwers in state history.
Stellern placed in both the shot put and discus in all four state meets of her high school career, accumulating 58 points for the Thunderbirds during that span. Twin sister Sierra finished second in the discus and fourth in the shot put this year, giving her 30 combined points in the two events in four years.
Evanston's Martinez not only set the state record in the triple jump but added a state title in the 100 hurdles as well.
"I kind of surprised myself," said Martinez, an exchange student from Spain. "I hoped to win, but I had never run that fast before."
Sheridan senior Peyton Bomar, who had fought through injuries the past two years, ended her prep career in style as she won both the 300 hurdles and the long jump.
This story originally ran in the Casper Star-Tribune and on trib.com.
Be the first to know
Get local news delivered to your inbox!