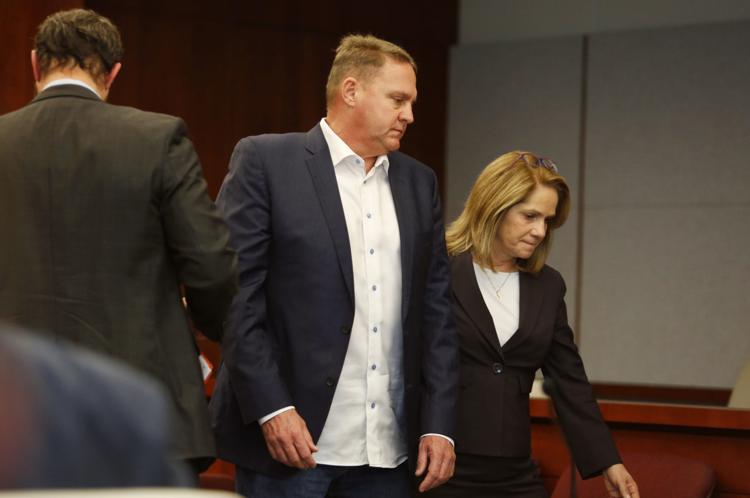 Two men who testified in Tony Cercy's February sexual assault trial were arrested Friday on allegations they tried to dodge subpoenas for his upcoming retrial.
Sheriff's deputies arrested Marcus Spurgin, 22, and Ryun Olson, 24, on Friday afternoon after they tried to avoid service of documents that would compel them to appear in court for Cercy's November trial in Thermopolis, court documents allege.
A jury acquitted the Casper businessman in February on first- and second-degree sexual assault charges. Jurors could not agree on a third-degree sexual assault count, so Cercy is slated to stand trial again.
The charges stem from a then-20-year-old woman's allegation that in June 2017 she awoke to Cercy performing oral sex on her. She had passed out on the couch in his Alcova lake house.
Court documents filed against Olson state he did not return phone calls left by a sheriff's deputy in an attempt to serve the subpoena.
When the deputy went Thursday to Olson's workplace — where Spurgin also works — a secretary told him that Olson had just returned from lunch, the documents state. Spurgin then arrived in the lobby and said Olson was not available, the documents state.
Spurgin, whom deputies were also trying to serve a subpoena to, said he did not know if he would have time to go to the sheriff's office and accept his subpoena before leaving town for work on Saturday, the documents state.
The documents state the sheriff's deputy then reached Olson by phone. He said he was in Texas, according to the documents. When the deputy confronted him about the inconsistency, he then said he was in Casper, the documents state.
Olson agreed to come to the sheriff's office the same day, according to the documents. By Friday he had not done so and the deputy requested a warrant for his arrest.
When Spurgin did not answer his phone Friday, deputies requested a warrant for his arrest. Both men spent the weekend in jail, records show.
Spurgin and Olson each face a single misdemeanor count of avoidance of service.
Daniel Forgey, the district court judge hearing Cercy's trial, agreed to release the two men on $10,000 bonds to compel their appearance at the November trial.
Speaking with the Star-Tribune by phone on Monday morning, Spurgin's family members said they would have to consult with their attorney before speaking to the press. Spurgin's attorney, Rich Jamieson, declined to comment Monday.
Olson's attorney, Anna Olson, declined to speak with a Star-Tribune reporter. A person answering the phone at her office said she did not comment on open cases.
During Cercy's first trial, Olson had a contentious back and forth with Natrona County District Attorney Michael Blonigen over what he described as Olson's refusal to meet with prosecutors.
Spurgin testified that Cercy's accuser fell off a boat the day before the alleged assault. Defense attorneys had implied bruising on the woman's legs came from getting in and out of boats, rather than from Cercy, as the prosecution had alleged.