Should Wyoming tax bars, restaurants, museums and hotels to pay for tourism promotion?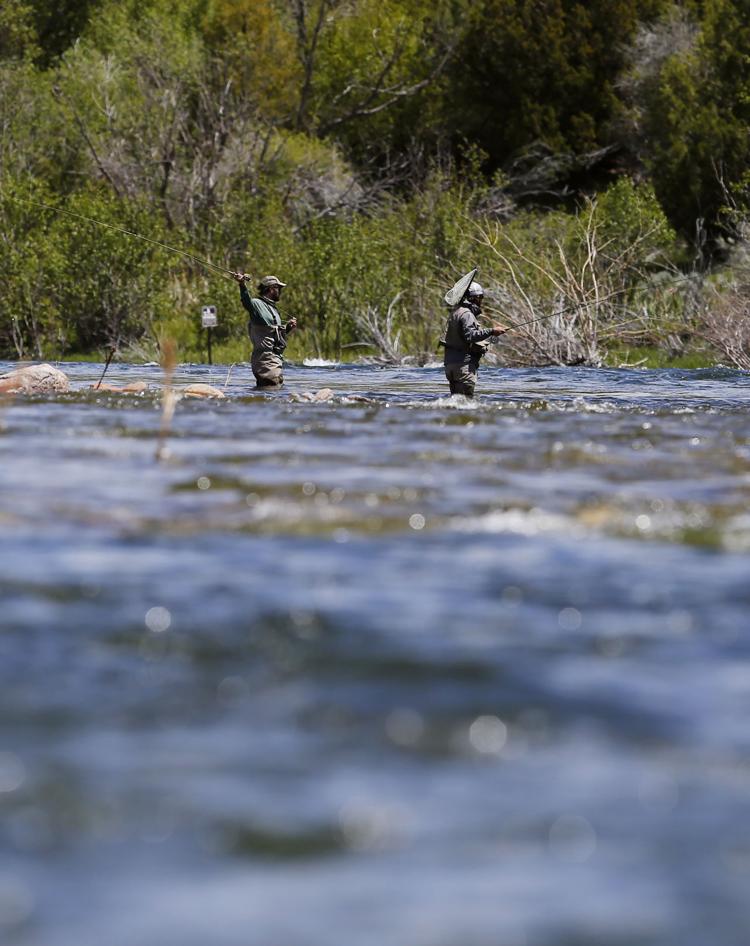 BUFFALO — The Wyoming tourism industry says it wants to tax itself in order to cover the cost of promoting the Cowboy State to visitors around the country and world. But while legislators were generally supportive of the concept, the specifics may trip up the proposal.
"The devil will always be in the details," Rep. Cathy Connolly, D-Laramie, said at a meeting of the Joint Revenue Committee in this quiet mountain town, itself a tourism destination, on Tuesday.
Wyoming Office of Tourism director Diane Shober presented the plan to levy a 1 percent tax across most of the leisure and hospitality industry alongside Chris Brown, executive director of the private-sector Wyoming Travel Industry Coalition.
The plan would levy the 1 percent tax on two tax-classification groups of businesses in Wyoming, covering the arts, culture, recreation and related industries as well as hotels, bars and restaurants. According to Shober, that tax would replace the roughly $13 million the tourism office currently receives from the Legislature each year and would make the agency self-sufficient during a time when the state is facing hundreds of millions of dollars in deficit.
Brown said that the plan had broad support across the private sector based on what he described as conversations with 75 to 100 businesses across the state in recent months.
"We're really trying to take a look at a long-term sustainable funding model for tourism," Brown said.
Industry support
Hospitality industry members from across Wyoming spoke at the meeting, all in favor of the 1 percent tax proposal, which Shober and Brown suggested was a better option than levying a statewide lodging tax, which would need to be set around 3 percent to raise sufficient revenue.
Brown said that the lodging industry felt that it would be unfair to place the entire burden for funding tourism on hotel operators and that a 3 percent statewide lodging tax, on top of locally applied fees, was more likely to deter visitors than a smaller tax spread across several sectors of the tourism industry.
Jeff Golightly of Snow King Mountain Resort in Jackson said that his investment group had spent heavily on upgrades to the mountain and would continue to do so because of Wyoming's growing number of visitors.
"We believe the Wyoming Office of Tourism is integral to ensuring our tourism industry continues to remain strong," Golightly said. "I would just ask that you please consider putting the 1 percent … tax and move that forward so that the industry can tax itself."
Shobert said that any additional funding that her office might receive through a tourism tax would be directed toward national and international marketing. The number of state employees working on tourism has remained flat for the last 15 years, at just under 25, Shober added.
She said that Wyoming needed to compete with neighboring states like Montana and Colorado, which spend nearly twice as much as Wyoming does on tourism promotion.
"The goal is to be in the same competitive positioning as where our competitors are," she said.
Sen. Ogden Driskill, R-Devils Tower, who operates a bar and restaurant near the national monument, said that he has seen a direct connection between where Wyoming directs its promotional dollars and who visits his establishment.
"When they target the Northwest, you see (license) plates of the Northwest. When they target Minnesota, you see the plates," he said. "This isn't a, 'We don't know if it works.' We know it works."
Concerns expressed
The committee agreed to consider a bill at its December meeting that would levy a 1 percent "tourism tax" on all hospitality-related businesses and place that money in a special fund earmarked for the tourism office while eventually reducing the amount the Legislature pays for promoting the state to zero.
But that wasn't quite what the tourism officials had sought. Brown requested that only leisure and hospitality operators that are currently taxed would be required to pay the additional 1 percent tourism tax. Services, like ski lifts and guided trips, aren't currently subject to sales tax in Wyoming and so would not be required to pay the tourism tax.
However, Sen. Dave Kinskey, R-Sheridan, said that he wanted the tourism tax applied across the entire industry. If Brown wanted specific services to be exempt, Kinskey said, he should come with a list.
"Put the burden on the industry to come back and say particular subsets should be exempt," Kinskey said. He clarified that it was reasonable for certain businesses that technically fall under the same tax code as leisure and hospitality, like freelance writing, to be exempted but that allowing clear tourism attractions like ski areas to be exempt from the proposed tax made little sense.
Sen. Cale Case, R-Lander, expressed the same concern and voted against moving forward with the tourism tax. Case owns a bar and said that it did not make sense to tax his patrons to fund tourism while ski lift tickets would go untaxed.
Plus, Case said, many of the people who drank at his bar likely weren't interested in promoting Wyoming as a place for outsiders to visit.
Committee co-chair Rep. Mike Madden, R-Buffalo, opposed having the tourism tax placed in a dedicated fund, calling that a "poison pill" that could sink the chances of such a bill passing the Legislature. It would be preferable for the money to be placed in the general fund and then appropriated for use by the tourism office.
Senate 'buzzsaw'
The revenue committee was tasked with considering some form of statewide tourism tax by the Legislature's leadership, and it remains unclear whether the bill would have a chance to pass the full body during the budget session in February, or even whether the committee will choose to sponsor it at a meeting later this year.
"You've seen what happens to taxes when they hit the Senate," Kinskey said. "They hit a buzzsaw of opposition — I'm proud of being part of that buzzsaw."
But, Kinskey said, he wanted to support the lodging tax.
Senate President Eli Bebout, R-Riverton, has said he will oppose almost any effort to raise taxes or expand current levies but has mentioned a tourism tax as a revenue option he might support. Wyoming faces a several-hundred-million-dollar deficit in both the general fund and education fund.
The Legislature rejected every proposed tax increase during last year's session, eventually approving a few vehicle fee bumps as a means of increasing revenue.
Madden, who unsuccessfully proposed adjusting the cigarette tax for inflation during the last session, was supportive of the idea of such an industry tax.
"It's really encouraging when you see an industry want to cooperate and want to work as partners on something like this," Madden said.