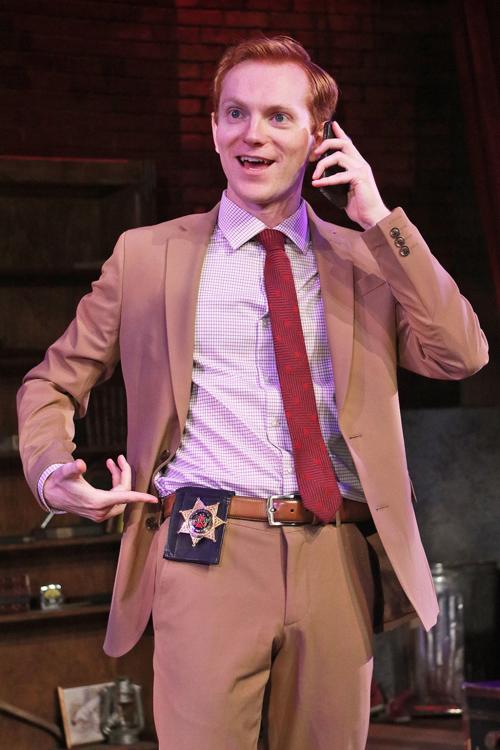 Casper native Mark Schenfisch made the final callbacks of an audition last fall to play the detective in the mystery musical comedy "Murder for Two." But the part went to somebody else.
Months later, he opened an email asking if he could replace the actor and be at rehearsal that Wednesday. It was a Monday at his home in New York City last summer, and the show would open 11 days later in Florida. He hadn't performed the show in a couple of years and spent the next 48 hours "getting the lines back in my brain and getting the piano back in my fingers," he said.
"They paid me really well and I had a lovely time in Florida and really enjoyed working at that theater and the people at that theater — and had a fun whirlwind of a week putting up a show."
Schenfisch grew up on Casper theater and music stages and these days works in New York City as a theater and voice-over actor as he builds a career in composing as well.
He's been working for the past several months on the English language dub of anime "Yu-Gi-Oh! VRAINS," airing in Canada and Australia. He voices a major character, named Lightning, who will appear in about 20 episodes by the end of this season, he said.
On the music side, he landed a spot in the prestigious Advanced BMI Lehman Engel Musical Theatre Writing Workshop, where he's working on a musical theater piece.
Not every audition works out, but that's life in the entertainment industry, he said.
"Yeah, you find your peace with it; you make your good impressions, and those stick around. You make network connections and those stick around, too. It's a wild ride and it's different for everybody. And it's been good."
Progress
Schenfisch grew up playing seven instruments and graduated from Natrona County High School in 2011 as a Presidential Scholar and valedictorian of his class with a perfect overall ACT score. He earned both a bachelor's of fine arts degree in acting and a bachelor's of music in composition from Michigan State University in 2015 and moved to New York City.
He's since performed in regional shows and voice acting gigs. He started last month in the Advanced BMI Workshop. The program teaches the craft of musical theater writing and its alumni include writers of many Broadway shows such as "Little Shop of Horrors," "Next To Normal" and "A Chorus Line," according to its website. Schenfisch auditioned for and spent the previous two years in the pre-advanced BMI Workshop before a successful audition presentation in May for the advanced program.
He left high school wanting to compose and left college wanting to act, and four years later he's working on building a career in both.
"And I'm like, 'I really want to do both, so how can I do that?" he said. "I think to a certain extent it's just been, 'OK, what do I focus on in this time period?' and, like I said, making the choice to commit two years to BMI and possibly more, and now committing this time to writing the show."
You have free articles remaining.
In the Advanced BMI Workshop, Schenfisch is working on a musical adaptation of a popular web series about video gamers. He and his collaborator in the pre-advanced program, Sam Balzac, teamed with Allison Frasca, who created "All Star: The Best Broadway Musical." The team is working with the rights-holders to create a musical, though Schenfisch can't yet reveal the details.
Schenfisch auditions whenever possible for productions of "Murder for Two" a two-person show that involves piano playing and the most frequent show of his professional career. He's performed it four times, once as an understudy at a regional theater in Michigan under Brett Ryback, who originated the role off-Broadway. Schenfisch had been a fan of him and the show since he'd first heard of it.
The gig first gave him a chance to add the show to his experience and helped him make networking connections. The composer, Joe Kinosian, played the suspect and introduced Schenfisch to the musical theater writing team Kait Kerrigan and Brian Lowdermilk. Schenfisch worked as their assistant for a show workshop and became an associate music director by the end. Those connections inspired Schenfisch to apply for the BMI Workshop program, he said.
The nature of his career means constantly seeking work.
"And I think sometimes, between gigs and between this and that, it's hard to look at anything and say, 'Oh, yes I'm making progress with my career.' But then looking back on it, looking at the people that I've met, looking at the things that I have done, it's like, 'Oh yeah, there's progress.' It's slow progress, but I'm getting my feet under me. "
Showbiz
One of Schenfisch's best auditions was for an actor to either pretend to be a concert pianist or to actually play the piano for a commercial. The casting director told him the previous person who auditioned said the piano was too low and had trouble with the pedal. Schenfisch flipped the polarity with a switch and helped adjust the keyboard stand to fix the problem for the day's auditions.
He made the callbacks and was dressing in his tuxedo when his commercial agent called. They'd cancelled the final callbacks. Schenfisch found out later they'd cast two minor celebrities to sit at the piano and not even pretend to play. That was one for the books, he laughed.
"You bring everything you got, and then you just say, 'OK, great, 'I did my best,' on to the next audition."
Among his adventures was a chance to be an accordion hand double for a Chinese independent film. Once in a business meeting, he met Anthony Rapp, who played Mark in the original cast of "Rent" and resembles Schenfisch with glasses and red hair. Schenfisch had to resist asking for a photo with him.
"So I remained professional, but I was very excited in my head."
When asked where he comes from, he'll respond, "'Oh, Casper, Wyoming and it's, you know, a metropolis of 50,000, ha ha.'"
Schenfisch in Casper performed through local organizations like Artcore and the Casper Chamber Music Society — often with his sister and father as a trio, Fisch Stew — as well as with the Casper Children's Theater and Natrona County High School theater.
NC theater teacher Zach Schneider said it's every teacher's dream to see a student succeed in their field.
"I am incredibly proud of Mark and the work he is doing," Schneider wrote in a text message. "His talent in music was never a question, but to make it into the BMI workshop is an amazing achievement."
"He has always had a tremendous expressiveness in his playing," Schneider continued. "I was lucky enough to nudge that talent into acting and he has really found a way to make a living acting, composing and playing."