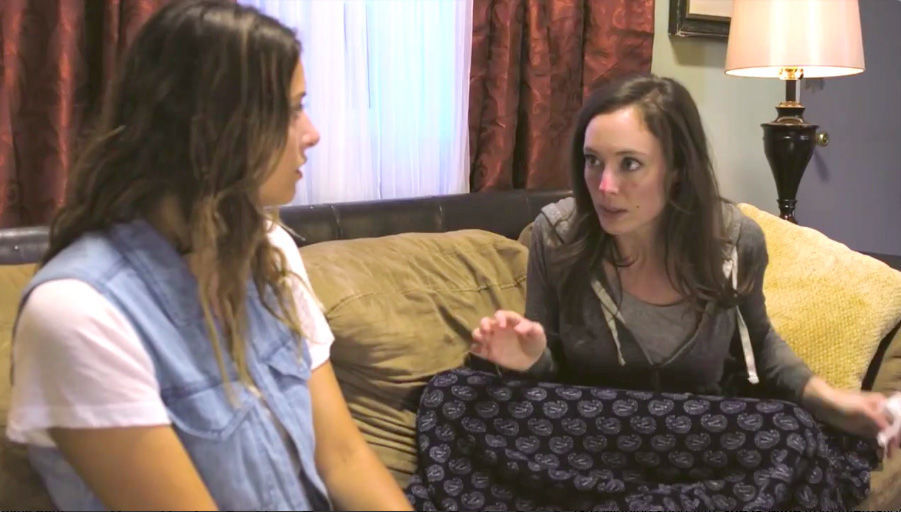 Mary Helen Schmidt grew up in Cheyenne and the tiny town of Albin with a love for acting she never thought could become a career.
She loved acting from her first audition and play at age 6, "A Christmas Carol" at the Cheyenne Little Theatre.
"But I wasn't thinking of it as this is as like, 'Oh this is something you do when you grow up,'" she said. "I thought this is something you do for fun until you grow up."
That's what she thought until she grew up and was about to graduate college.
She also never imagined when she took on her role in "She is Mine" that the short film would win awards at festivals around the world, or that she'd be nominated for Best Supporting Actress in a Short Film at one of them, the recent London International Filmmaker Festival. She won the award Tuesday.
Schmidt has spent the last several years working in Los Angeles and has performed in numerous commercials, stage musicals and festival films.
She'll appear in an upcoming new television streaming series "Cypher."
"It's very slow progress, and most of it I can only do from the inside," Schmidt said. "But I feel I've reached a point where I have more momentum than ever."
Discovering possibility
Schmidt used to direct plays for neighbors in her family's front yard. She sang with her sisters in talent competitions and performed in high school plays.
She lived in Albin from age 8 until she started college on a music scholarship at Laramie County Community College. She took acting classes for fun and decided to audition for a play after she hadn't been on stage in a while.
"I was never scared or shy or anything about that," she said, "but then I was older, and I was like, 'Oh this is hard now.'"
She decided to overcome her fear of auditioning by trying out for every play she could and performed at the community theater. Schmidt kept auditioning even after because she loved acting — and because she thought she'd never perform again after college.
Music continued to pay her way to Bethel University in Minnesota, but she took on a second major in biology and at one point planned on graduate school and a career in the science field.
Everything changed in her senior year, when her voice teacher invited students on a program to New York to study with her voice teacher who was a voice coach for Broadway performers.
"And my thought was: 'I'm about to graduate. Once I graduate, I'll never perform again. Everything I've done up to now has been for a practical purpose. This will be the last time I'll have a chance to do something like this.'"
The program involved master classes with people who made a living on Broadway as dancers, singers, costumers and other careers in the industry.
"That was the first time I really felt like I had permission to let myself be myself really," she said. "I realized then that that's something that I always had wanted, but I'd never once considered it or let it into my mind as a possibility."
She'd always thought a performing career meant beating nearly impossible odds and being a rare "best of the best of the best," she said.
"And when I was there, that's when I realized neither of those things were true," she said. "First of all, odds are just numbers that measure what is. They don't determine anything. So whenever what is changes, those numbers also change. So you're not beating anything. There's nothing there."
"And then the second thing was I realized there is no best of the best of the best. That really can't be determined. Like, yes, there's people that are really, highly skilled and very talented. But there's no one person at the top. It's really just about a lot of people who are very different from each other and just know themselves really, really well and are willing to work very hard, and then there's room for everybody."
Putting in the work
Schmidt started her career in Minneapolis and St. Paul, Minnesota, where she worked for biomedical device company by day and built her acting resume on a non-stop schedule of stage shows. Then she suddenly stopped landing theater jobs and turned her focus to on-camera work in the twin cities' independent film scene and market for commercials. She eventually had to cut back on hours at her day job, and she had to make a decision where to go next to progress in her career.
"And that's when I was really honest with myself," Schmidt said. "And I was like, 'I really want to make films; I really want to do films and television.' Because as much as I love theater and it's such a beautiful experience, once you finish, it's like it never happened. It's over, done, there's nothing to show for it. And I really wanted to be a part of creating things that last."
She moved in 2012 to Los Angeles, where she's auditioned, worked, landed agents and now a manager and grew her skills — including in a two-year Meisner acting program, she said.
The best sign of progress to her is being able to support herself for a full year without survival jobs, which she's accomplished off and on, she said. That can come and go unless you're a big star, she said. She uses her music degree to teach voice lessons, and her ideal is making a living solely through her acting and teaching.
Schmidt got involved with "She is Mine" from Sena Tunali because she loves women-made projects, and the comedy was different from her many more dramatic and heavier roles. It turned out to be a bigger deal than she'd anticipated.
The film premiered and won the Silver Award for Narrative Comedy Short at Paramount Pictures Studios at the Hollywood Independent Filmmaker Awards and Festival followed by dozens more festivals, including IFF World Cinema Milan 2019, ARFF International Berlin 2019, International New York Film Festival 2019. It's picked up four more awards and several nominations, including Schmidt's for best supporting actress.
"And that's the first time that has ever happened to me," she said. "So yes, that's a big deal."
She hadn't thought past the nomination until Tunali sent her a message telling her she'd won the award.
"I really was like, 'I better just take in this nomination," she said. "I didn't really think about winning it."
The award comes as she's been sidelined from acting while healing from injured ankles.
"So it's just encouraging to see something like this when I've felt so separated from being able to act in anything right now," she said. "So it's nice to have something happening even though I'm not there making it happen."
Schmidt is passionate about work that empowers women and promotes human rights and equality, according to her IMDb bio.
"There's so many people out there doing so much work around those issues and creating stories that really open up kind of a whole new perspective for people that might not understand another people group or just people from a different walk of life," she said, "and I really want to be a part of that in whatever way I fit, in whatever way I can bring something to the table or empower someone else to tell their story or whatever. That is what I am most passionate about."
Even as a busy working actor, she sets time aside for her Wyoming-born love of the outdoors.
"So that's where I grew up, that's what makes me feel like myself," she said. "Sometimes living in the city kind of gets to me a little bit, and then I'll go out and climb a mountain or go hiking. I feel more myself on the side of a mountain or out in the wilderness exploring more than I do anywhere else, really."
Follow arts & culture reporter Elysia Conner on twitter @erconner
Stay up-to-date on what's happening
Receive the latest in local entertainment news in your inbox weekly!