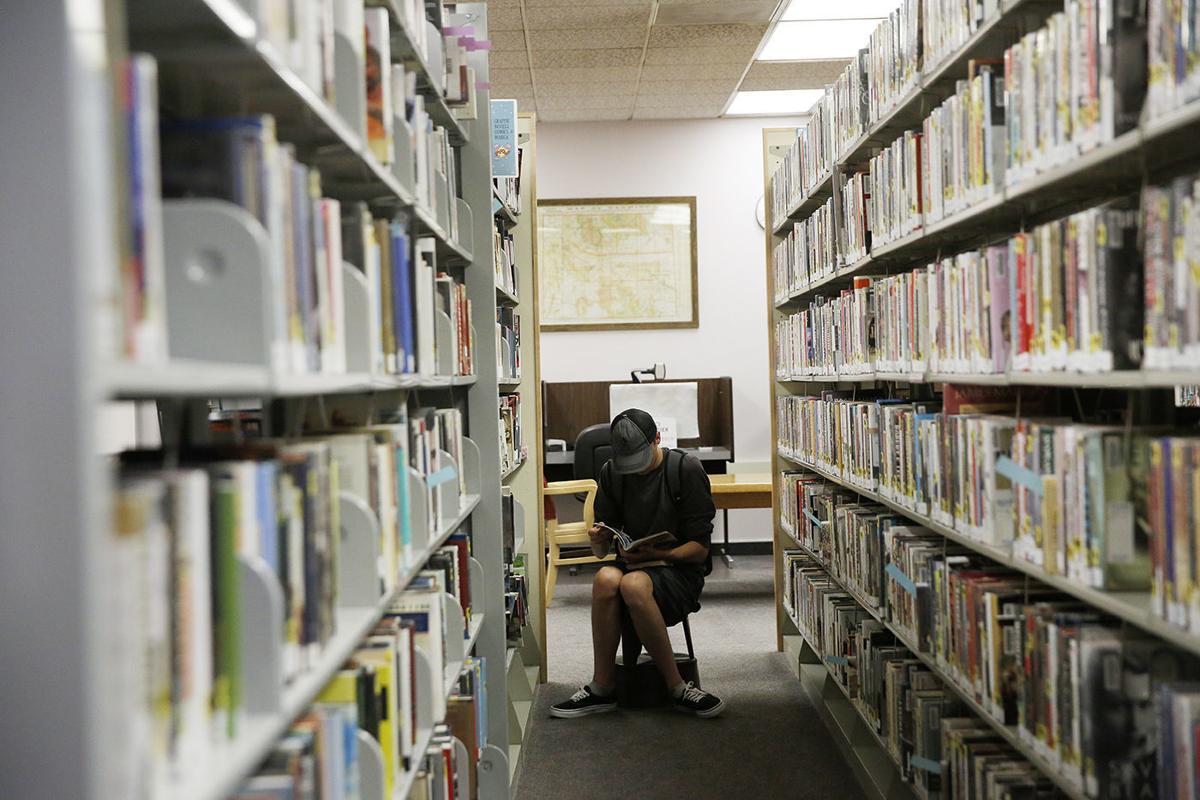 Actor Anne Mason leans forward towards the camera.
"My goodness, it's all hardware!" she says, as she portrays a character named Woodnut from a sci-fi thriller play, "The Nether."
She catches herself and leans back.
"I beg your pardon," she says in the video. "I mean, it's all mechanical. It's incredible what we have done using the materials of this earth."
So begins a monologue of Mason's series she started on her Facebook page after COVID-19 forced closures of gathering places like the usual home of Mason's art, the theater. While audiences can't gather, Mason is among artists across Wyoming bringing plays, museums, music and other art forms to them through the internet.
"And it's a different kind of coming together, because we have to use new means of communication," Mason said. "But people are adapting, you know, I think that that's the sign of a strong community. ... Wyoming residents are — we are resilient people. We are used to soldiering through tough winters and walking into the wind. There's strength in the fiber of our bones. And this is simply putting that strength to the test in a new capacity."
Taking it online
The monologue series is a personal project of Mason's. She is the producing artistic director and founder of Relative Theatrics in Laramie and has worked professionally around the county.
She offers video chat coaching to help others — beginners to seasoned actors — perform monologues. People can expect to see more from her and others in the coming weeks, she said. The sessions are free, though participation and those who wish to may donate to Relative Theatrics on its website.
Relative Theatrics was scheduled to open "Two Degrees" this month. Now, the cast plans to perform a virtual reading of the play April 17 and hope to feature a call-in with the playwright, Tira Palmquist. The company's "Antigone Project: A Play in Five Parts" that's part of the company's free "Read, Rant, Relate" play reading series with UW Classics and the UW Art Museum and funded in part by Wyoming Humanities will now be held through YouTube livestream on Friday.
"I really strongly believe in the power of theater and the arts, especially in times of turmoil and for the alleviation that they can bring," she said. "They can provide a creative outlet; they can reduce stress; they enhance empathy. There are so many wonderful skills that come out of engaging with the arts. And I think that in times like right now, things are fraught. People are worried. And the theater and the arts can serve as a temporary cure for all of that. And so even though we can't be gathering in person, we still can be engaging with one another and telling stories for each other and exploring humanity together."
10 Cent Stranger is among bands across Wyoming taking their music to social media. The Laramie band was preparing to leave this week for the now-postponed Treefort Music Fest in Boise, Idaho, which featured a Wyoming music showcase through the Wyoming Arts Council. They'd planned a Jackson gig on their way back and to then record their next album. With all those plans on hold, 10 Cent Stranger released videos from that album on their social media. Each band member performed their part from their own homes. Lefevre's other band, Bob Lefevre & the Already Gone, also plans to post songs on its social media pages.
"I think musicians are people that often, or at least for us, like sharing that with people," he said. "And getting out in front of people is a really important part of that, something that we really enjoy and get a lot of satisfaction from. And losing that hurts, you know."
Still, he feels fortunate that he and most of his bandmates, who have other jobs, haven't faced struggles of full-time musicians out of work, including the many who supplement their gig income at restaurants and bars. The performances taking place online offer a way to to support the artists, he said.
"And I think that's something for people who are in the fortunate situation of being able to continue their work and to continue their income," he said, "to have ways to support those artists at a time when, you know, they're really hurting for money, basically."
Finding opportunities
Museums around the state are ramping up their online offerings. The University of Wyoming Art Museum, for example, is posting virtual gallery tours on its Facebook and Instagram pages, curator of education and statewide engagement Katie Christensen said.
The museum moved its Friday lunchtime drop-in meditation online on social media and offers to the public two videos they published for faculty moving classes online. The museum's YouTube channel features previous videos of artist interviews and past exhibitions. They plan to share all the offerings on social media, and upcoming plans include video lessons with faculty artists for projects people can do with household materials and a "teen hootenanny" based on the museum's teen program.
In a challenging time, the museum aims to continue serving a variety of communities and age groups in Laramie and around the state, Christensen said.
"It's an opportunity for us to continue to reach those communities," she said, "but also possibly open up to folks we haven't been able to reach in the past."
The Natrona County Library is among those innovating digital options, including weekday morning story times with the library's children's department on Facebook Live, marketing and PR manager Megan Bratton said.
Staff members plan to host an online version of next month's Books on Tap book club, which normally meets at local bars.
Readers can access digital e-books, magazines and streaming videos through apps that they can download on smart phones and devices. The Libby app offers a vast collection of e-books and audio books for all ages as well as streaming video, and it's adding new material to accommodate people during the closures, Bratton said.
Instructions are available at the library's website, and staff members are available by phone 8 a.m. to 5 p.m. weekdays to answer questions.
The Wyoming Humanities Council plans to post daily links to its "Hope through Humanities" series featuring "easy to consume nuggets of information" from its collection of podcasts and interviews featuring long-term themes important to Wyoming like diversification of the economy, conservation and Wyoming land, executive director and CEO Shannon Smith said. People can access the series and find out more at thinkwy.org and Wyoming Humanities of Facebook.
"You've seen the Metropolitan Opera is putting out all their videos for free for people to watch, and there's a lot of just national incredible things," she said. "But we wanted to just put a Wyoming spin on it and have some of these incredible Wyoming people that we've interviewed and or have done talks for us."
Mason said there's a lot to learn on how to connect with audiences digitally. But she also sees opportunities, like the playwright — who probably wouldn't have been able to make it to the live production — being part of Relative Theatrics' digital reading. The theater plans to give the play a full run during its next season.
Amid the changes, financial loss and setbacks that arts groups and many others are going through, a silver lining is being able to reach new audiences online, she said.
"But I think that there's a lot of opportunity," Mason said, "for some really, really phenomenal connections to be made and conversations to be had and new reflections about life, about humanity, about the way that we connect with one another and support each other."
Arts & entertainment online
Here's an ongoing list of Wyoming's online arts and entertainment offerings. Check back for updates. If you have an event or online project you'd like us to share, email details to features@trib.com.
Theater, visual arts and dance
Anne Mason's monologues and coaching
Mason posts monologues at @annecatharine89 on Facebook, Twitter and Instagram and offers free video chat coaching for others — from those who've never acted to seasoned actors — to help them perform monologues. The sessions are free, though people may donate to Relative Theatrics. Email amason@relativetheatrics.com for more information.
Relative Theatrics plans 7 p.m. Friday play readings. Find out more on the company's Facebook page and other social media.
The Relative Theatrics cast plans a virtual play reading of "Two Degrees" 7 p.m. April 17. Find out more at Relative Theatrics' website, Facebook and other social media pages.
Riot Act, Inc.'s 'Viral Readings' is a weekly online play reading posted on Fridays or Saturdays with volunteer actors reading public domain plays. The series kicks off with "Lysistrata." The company hopes to begin hosting readings soon with a small viewing fee to help to support Riot Act. Find out more at Riot Act, Inc. on Facebook, riotactinc on Instagram and riotactinc.org. Those interested in acting/reading may email info@riotactinc.org.
Dancers Workshop offers livestream classes through Zoom. Find out more at dwjh.org.
Wyoming artist Isabel Rucker is sharing live videos on her Facebook page of her artwork processes and "all sorts of creative random thoughts."
Museums
National Museum of Wildlife Art
The Jackson museum invites people to take audio tour through its Museum App (both an app and a web browser version are available), take a virtual tour of the museum, search the online collection, and watch the Elk Refuge Webcam. Find out more at wilddlifeart.org.
Buffalo Bill Center of the West
University of Wyoming Art Museum
The museum's free video art classes feature projects people create at home on The Nicolaysen Art Museum Facebook page. Visitors can like and follow to be notified about classes and museum news.
Heart Mountain Interpretive Center
Mondays: Live streaming programs on the site's history. Tuesdays: Multimedia content created by the Heart Mountain community through the years. Wednesdays: Stories of artifacts in the foundation's collections. Thursdays: Heart Mountain Wyoming Foundation board chair Shirley Ann Higuchi reads from her upcoming book, "Setsuko's Secret" about her family's time at the camp. Fridays: Virtual tours of the interpretive center and historic site, including the original barrack and root cellar not yet open to the public.
The site's hospital grounds, memorial and honor roll, and Setsuko Saito Higuchi Interpretive Trail remain open to the public for self-guided visits and guided tours by appointment. Find out more at 307-754-8000, ext. 101.
"Learn with the Doc" virtual learning series with staff microbiologist Kelsey Phillips features video lessons posted 11 a.m. Tuesdays and Thursdays through Thursday (or longer if needed) on the museum's Learn with the Doc Facebook event page. Participants can share results in the comments and Phillips will offer guidance and feedback to families. Find out more at thesciencezone.org or 307-473-ZONE.
Music
Cabin Fever Sessions organized by Western AF feature weekly live streamed music. Find out more at Western AF on Facebook and YouTube and westernaf.net.
The Lander Community Concerts Association launched its Facebook Live Outreach Series on its Facebook page.
The Madcap Schism series continues with local musicians and other artists live streaming 10:15 a.m.– 8:15 p.m. April 26 onMadcap Schism: Another Big One on the Madcap Schism: Another Big One Facebook event page
Members of Sheridan band The Two Tracks posted a video they shot in our backyard on the band's Facebook page.
Books
The Natrona County Library offers a virtual story time for kids via Facebook Live at 10:30 a.m. weekday mornings on its Facebook page. The videos will remain until the new one is posted. Readers can learn how to download and use apps on their devices to access digital books, magazines, audio books and streaming videos at natronacountylibrary.org. The library also offers online databases including periodicals.
Library staff members are creating more online materials including e-book and e-audiobook recommendations and tutorials for digital streaming and apps like Libby by Overdrive, RBdigital, and Cloud Library as well as recorded book talks and discussions to supplement cancelled events. Find out more at the library's website and Facebook. Library staff are available 8 a.m. to 5 p.m. weekdays to answer questions at 307-237-4935.
Silent Book Club, hosted by Wyoming Institute for Humanities Research 5:30 p.m. Tuesdays through May 12 is a chance for participants to meet via Zoom with whatever book they'd like and read together for an hour. The sessions include sharing book selections and 40 minutes of silent reading followed by a chance to read sentences aloud to the group. Find details at the Silent Book Club event page on Facebook.
The 'Think and Drink' series, hosted by Wyoming Institute for Humanities Research 5:30 p.m. Thursdays via Zoom features informal conversations by faculty and other invited speakers on a range of topics.
Follow arts & culture reporter Elysia Conner on twitter @erconner
Concerned about COVID-19?
Sign up now to get the most recent coronavirus headlines and other important local and national news sent to your email inbox daily.