Kylie Jenner splits from Travis Scott
Kylie Jenner has reportedly split from Travis Scott.
The 25-year-old make-up mogul and Travis, 31, have decided to call time on their relationship after they recently spent Christmas apart.
A source told Us Weekly: "Kylie and Travis are off again, they were supposed to spend the holidays together, but she went to Aspen to be with her family and friends up there."
Despite this, the celebrity duo intend to remain friends.
The insider added: "This has happened so many times before, they're known to be on again off again, but always remain friends and great co-parents."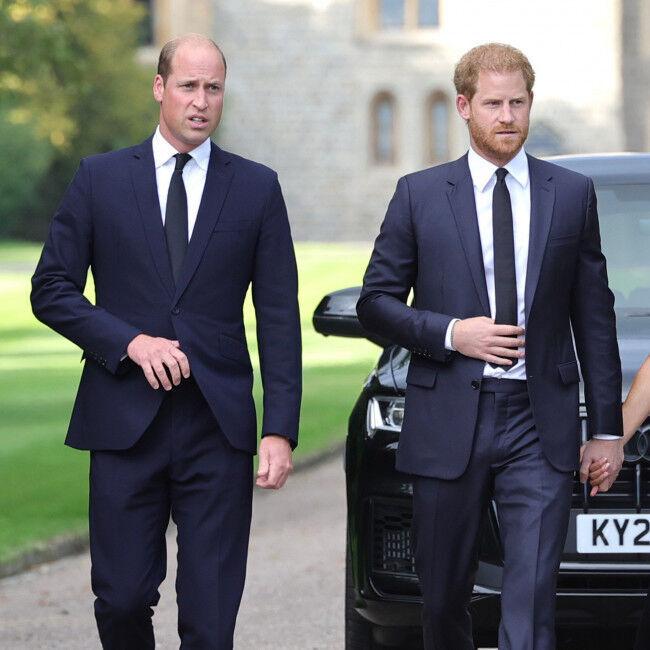 Prince Harry claims Prince William lunged at him
Prince Harry has claimed a "steaming" Prince William "lunged" at him twice in a row over his interview with Oprah Winfrey.
The 38-year-old prince had met with his brother and father King Charles - who was then still the Prince of Wales - during peace talks in the gardens of his Frogmore Cottage abode following Prince Philip's funeral in April 2021.
According to The Sun newspaper, Harry alleged William "grabbed [his] shirt" during the discussion, when they were talking about the tell-all interview and he expressed his belief the agreement about he and wife Meghan, Duchess of Sussex, stepping down from royal duties had been "violated", prompting his brother to tell him to "take it up with Granny".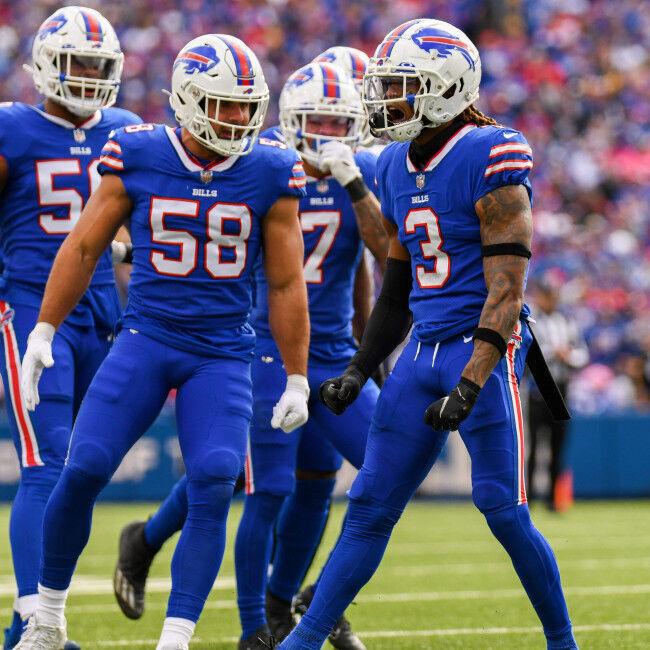 Damar Hamlin thanks fans
Damar Hamlin has thanked fans for their support.
The NFL player - who had to be resuscitated on the field after suffering a cardiac arrest during his team Buffalo Bills' game against the Cincinnati Bengals last Monday (02.01.23) - is taking steps in his recovery and has spoken out for the first time since the medical emergency, asking his followers to keep praying for him.
He tweeted on Saturday (07.01.23) afternoon: "Putting love into the world comes back 3xs as much… thankful for everyone who has reached out and prayed.
"This will make me stronger on the road to recovery, keep praying for me!(sic)"
Celeb news for the week of Jan. 2
Prince Harry was 'high on laughing gas' during Archie's birth
Prince Harry was "high on laughing gas" at the birth of his son Archie.
The 38-year-old royal tied the knot with Meghan, Duchess of Sussex in 2018 and the pair went on to have their firstborn a year later but he has now revealed that while his wife was "calm" during the birth, he had to eat chicken from Nando's.
Writing in his new memoir 'Spare', he said: "Meg was so calm. I was calm too. But I saw two ways of enhancing my calm. One: Nando's chicken (brought by our bodyguards). Two: A canister of laughing gas beside Meg's bed. I took several slow, penetrating hits. Meg, bouncing on a giant purple ball, a proven way of giving Nature a push, laughed and rolled her eyes. I took several more hits and now I was bouncing too! I could see the thought slowly dawning. Gracious, the husband's had it all. "Sorry," I said meekly."
Harry also claimed to have placed a photograph of his late mother Princess Diana - who died in a car accident at the age of 36 in 1997 - on a table in the delivery room and added that there was a "vibe change" when medical staff entered the room as Meghan gave birth.
He said: "The anaesthetist hurried in. Off went the music, on went the lights. Whoa. Vibe change!"
The Duke of Sussex went on to welcome baby Lili in June 2021 with the former 'Suits' actress but later joked in the memoir that in that instance he "didn't tough laughing gas (because there was none).'"
Lacey Chabert wants to be in Mean Girls the Musical
Lacey Chabert wants to be in the movie adaptation 'Mean Girls: The Musical.'
The 40-year-old actress starred as insecure teenager Gretchen Wieners in the 2004 cult hit 'Mean Girls' alongside Lindsay Lohan, Amanda Seyfried, and Rachel McAdams - which was adapted into a musical in 2017 - and explained she would love to make an appearance in the upcoming film adaptation of the Broadway show and would also be keen to know what her character is like today.
Asked if she would like to make a cameo appearance in the movie - which is set to star Renee Rapp and Angourie Rice -, she said: "Absolutely! I mean, I'd love to know what Gretchen's up to these days!"
In the stage musical, Gretchen - who is known as a member of high school clique The Plastics and is a keen server of Queen Bee Regina George - was initially played by Ashley Park and Lacey went on to praise the 'Emily in Paris' star for taking on her signature role and explained that they have kept in touch ever since meeting.
She told Entertainment Tonight: "She was so incredible and it was a surreal experience for me to sit there and watch something that we'd all been a part of come to life in this new way. "It was just surreal and wonderful and I thought they did such a good job at adapting the movie to the show. She was amazing and I loved meeting her afterward. We've kept in touch a bit on social media and I'm just always rooting for her. She's awesome."
Child star Adam Rich dead at 54
Adam Rich has died at the age of 54.
The actor - who was known for his role as Nicholas Bradford on the classic 1970s sitcom 'Eight is Enough - passed away on Saturday (07.01.23), with a law enforcement source explaining to TMZ that he was found "lifeless" at his home in L.A, and while there has been no official cause of death, the official insisted that "this was not foul play."
Over the course of five seasons, Adam played the youngest son of the Bradford family on 'Eight is Enough' alongside the likes of Dick Van Patten, Lani O'Grady, Connie Needham, Grant Goodeve and later starred in action series 'Code Red', voiced the role of Presto the Magician in 'Dungeons and Dragons' before making his final appearances on screen in a 1993 episode of 'Baywatch' and as himself in the 2003 comedy 'Dickie Roberts: Former Child Star.'
Adam had reportedly battled with drug addiction throughout his life and underwent treatment at the Betty Ford Clinic in 1992 but was arrested for DUI a decade later and claimed upon leaving jail that be had "been sober for 10 years."
Following his passing, publicist Danny Deraney remembered Adam - who in the years since stepping back from the spotlight had occasionally made personal appearances and marketed script ideas for TV shows and films - as a "loving soul" who did "not necessarily" want to be famous.
He said: "He was just a very kind, generous, loving soul. Being a famous actor is not necessarily what he wanted to be. ... He had no ego, not an ounce of it."
Prince Harry had a 'naked encounter' with a Las Vegas dominatrix
Prince Harry once had a "naked encounter" with a dominatrix.
The 38-year-old royal - who stepped down from his official duties in 2020 and moved to L.A with his wife Meghan, Duchess of Sussex - is set to release the controversial memoir 'Spare' on Tuesday (10.11.22) but is said to have left his "fumble" with Las Vegas stripper Carrie Royale, 51, out of the book.
She told The Daily Star on Sunday: "I was with him for a good 20 minutes, with lots of kissing and fumbling. I was wearing a dress over a string bikini and and the dress soon came off, leaving only my bikini. He was already naked. He's a coward, I knew he wouldn't tell the whole truth in this book!"
Harry - who now has children Archie, three, and 20-month-old Lili with the former 'Suits' actress - is thought to have met the Sin City worker a decade ago and Carrie went on to add to the outlet that she and her friends had been "invited to party" at a hotel with the Duke of Sussex and "laughed" when she heard his claims that he had lost his virginity to an older woman.
She added: "Harry was already naked and running around laughing by the time we got to his room and he was giving people naked hugs. Maybe because I was talking about from Britain, he took me by the hand and led me to his room. We kissed for about 20 minutes and he said afterwards 'That was really nice' and then we went back to the party.
"I always knew he had a taste for a cougar!"
Jane Fonda and 80 for Brady co-stars couldn't stop talking
Jane Fonda and her '80 for Brady' co-stars couldn't stop talking.
The 85-year-old actress admitted she, Sally Field, Rita Moreno and Lily Tomlin became a "problem for the director", Kyle Marvin, because they had so much fun on set, they found it hard to get back into character and start working.
She joked to People magazine of the "problem": "Getting us to stop talking to each other and start playing our characters.
"You know, we just -- whether it was Rita and I singing -- she starts a song and I finish it and vice versa. And I don't know, we just, we really enjoyed it."
Jane had known her co-stars for decades so was thrilled to get to work with them.
She said: "You know, I've known Lily for 50 years.
"I've made three other movies with her and another one is being shown on Sunday, by the way. 'Moving On', which I love, dark comedy.
"I've known Sally 40 years, and I just so admire her and watching her process of creating the character during the course of filming was really special."
And Rita, 91, was delighted to be cast alongside such "spectacularly special actresses."
She gushed: "So, you know, when the names were first mentioned to me, I said, 'Who?! Who did you say is in this?! Oh, my God, that's incredible.' And you know, it was incredible. It was fabulous.
"This woman who is next to us here, Jane Fonda, is sensational and funny.
"And the movie, I'm happy to say, it's so wonderful to sit here and not be even a little bit nervous. It's funny, it does everything it's supposed to do, this movie.
"And this woman is -- I keep saying 'This woman' because she's right next to me and you can't see her -- but Jane is just spectacular, and she's funny."
Jane praised Rita's work ethic and admitted she was "in awe" of her.
She said: "I mean, when I started to feel tired, I'm 85, but she's 91, and she never got tired.
"She was so full of energy and imagination and joy. I mean, look at her. I just, you know, I'm in awe of her, and she's my new role model."
Kris Jenner and former bodyguard given another year to resolve sexual harassment row
Kris Jenner and her former bodyguard have been granted 13 months to resolve his sexual harassment case against her.
The 'Kardashians' star was accused of groping Marc McWilliams and also making racist and homophobic remarks during his term of employment - which lasted from 2017 to 2019 - in September 2020 but after they failed to settle the case through private arbitration, Los Angeles Superior Court Judge Armen Tamzarian has now granted an extension.
They now have until 14 February 2024 to hammer out the details, and the judge warned the pair he expects "arbitration to be done by then."
At a status hearing on Friday (06.01.23) - which neither Kris nor her former employee were present for - the frustrated judge asked the lawyers for both sides: "This is taking a very long time. What's going on?"
According to DailyMail.com, McWilliams' attorney, Sean Novak, explained a private judge had been selected to oversee the case in proceedings scheduled for December this year, but the showbiz matriarch's legal representative, Michelle Doolin, disputed whether it had been scheduled, prompting the judge to set the new hearing date.
Marc previously claimed he had been wrongfully dismissed from his job and accused the 65-year-old momager of having made comments to him of a "sexual nature", referenced his physicality and asked about his "sexual activities", as well as instigating "intimate physical contact".
The original filing stated: "Between May, 2017 and September 12, 2018 defendant Jenner began repeatedly and frequently causing her body to come into intimate physical contact with the body of [McWilliams] and making overt comments of sexual nature to [McWilliams] on a repeated basis."
However, Kris insisted the claims made by the security guard - who also alleged he was fired after complaining about shortened hours and no meal breaks to the company who had contracted him - are completely false.
Her lawyer, Marty Singer, said: "His absurd allegations are clearly fabricated and are contrary to easily confirmed facts. Kris never acted inappropriately toward him.
"The security company stopped assigning McWilliams to work there after the guard was repeatedly caught sleeping in his car on the job. Significantly, McWilliams never made any complaints to his employer about Kris until contriving this ludicrous claim a year later."
Nicolas Cage wishes he'd seen James Dean's movie mistakes
Nicolas Cage wishes the world had seen some of James Dean's mistakes.
The 'Unbearable Weight of Massive Talent' actor is a huge admirer of the late Hollywood icon - who tragically died in a tragic car crash aged 24 in 1955 and had just three big screen credits to his name, in 'East of Eden', 'Rebel Without a Cause' and 'Giant' - and he wonders what else Dean would have done in his career.
He told Empire magazine: "When I think about my heroes, like James Dean, what would he have done? He was robbed from us too early.
"He has a perfect career because he only got to make three moves. If you're in the game for 50 years, you're going to start making mistakes, but that's okay. I would have liked to see some of his mistakes."
The 58-year-old star also reflected on his career change in the mid-1990s when he was seen more as an action hero with roles in blockbusters like 'The Rock', 'Con-Air' and 'Face/Off'.
However, Nicolas insisted while it was "a dream", he has other ambitions at this point in his own life and career.
He explained: "Well, it was a dream come true. An adolescent dream, but a dream nonetheless. I wanted to do that which I was told I was not capable of.
"It's not where my heart is now. My heat is in the movies we talked about earlier, like the Kore-eda films, but I am eclectic. I will keep mixing it up."
When it comes to his inspirations, Nicolas noted he will watch "anything" with Cagney and Bette Davis, while his more contemporary influences include Cate Blachnett.
He added: "I'm also looking at a lot of Japenese movies, particularly [Hirokazu] Kore-eda.
"His picture 'Like Father, Like Son' ripped my heart out. I think those actors are the best in the world right now.
"There's a cinéma vérité style to the performances where I feel like I'm in the room with them but they don't know I'm there."
Prince William accused Prince Harry of being 'brainwashed' by therapist
Prince William feared Prince Harry was being "brainwashed" by his therapist.
The Duke of Sussex claimed his older brother got in touch with him after the 2019 Well Child awards after seeing him grow emotional on television and started questioning his state of mind.
Harry wrote in his new memoir 'Spare' that the exchange sparked a 72-hour argument and he even urged William to join him at one of his therapy sessions to prove there was nothing sinister going on.
He wrote: "He said I wasn't well. He said again that I needed help.
"I reminded him that I was doing therapy.
"In fact, he'd recently told me he wanted to accompany me to a session because he suspected I was being 'brainwashed'."
Harry, 38, claimed he invited his 40-year-old brother along to a joint meeting with his therapist, telling him it would be "good for you [and] good for us" but the Prince of Wales refused.
The BetterUp CIO - who has children Archie, three, and Lili, 19 months, with wife Meghan, Duchess of Sussex - went on to claim William believed his desire to step down from royal duties was because he "was unwell" and as a result thought Harry "was unwise" to want to move overseas.
But Harry thinks he had simply become a "stranger" to his brother after spending "months" working on himself.
He wrote: "After months of therapy, after working hard to become more aware, more independent, I was a stranger to my older brother.
"He could no longer relate to me - tolerate me. Or maybe it was just the stress of the last few years, the last few decades,
finally pouring out."
And the prince admitted he sometimes reads back his exchanges with William and is amazed at how much their relationship has changed.
He recalled thinking about the text messages: "How did we get there?"
Brendan Fraser says obesity is one of the last accepted forms of bigotry
Brendan Fraser says obesity is one of the final accepted forms of "prejudice and bigotry".
The 54-year-old actor - who met with people from Florida's Obesity Action Coalition as he prepared to play Charlie in 2022's 'The Whale' - hopes the movie can help change the way society looks at people who are obese.
He told Empire magazine: "Obesity is among the last accepted norms of prejudice and bigotry that we have in our society now.
"I think [the film] might be able to help turn the tide of that dialogue. It might change some hearts and minds."
Brendan also reflected on comparisons between himself and his character, who a reclusive English professor.
He said: "I stepped away from Hollywood, from filmmaking for a while because I did have some chips and dings in the paint, and the hinges needed to be repaired.
"And it did take a... it took a lot more out of me than I was really ready for, but I had to do it, and it took a while."
However, the 'Mummy' star noted he's in a "good" place now, and he didn't hit the same lows as Charlie in the film.
He explained: "The good news is I'm out of pain, I feel good. So... no, I did not retreat to a room alone and harm myself in any way.
"But... in its most extreme examples, yeah, I can see how Charlie would have some issues."
Long after filming finished on the movie, Brendan still can't stop thinking about his character.
In November, he said: "I think about this guy all the time. I interviewed people on Zoom calls in researching for this, connections made possible by Dr. Goldman at the Obesity Action Coalition. It's a support and resource group that has a huge following and membership online.
"It's essentially a place where families and people who live with people who are obese, or are obese, can go to when they need health services, referrals, everything. It's a wonderful organisation.
"The people I talked to gave me something so honest that I really questioned if I was qualified to have this information. Something I learned, as heartbreaking as it is, is that each person who told me their story had one thing in common: There was someone in their youth who was very cruel to them by the way they spoke to them, and it set in motion the rest of their life. Sadly, it most often was a father, I noticed."
Justin Hawkins left 'limping' after doing David Lee Roth-style split stage jump
Justin Hawkins suffered a hamstring injury after doing a "David Lee Roth-style split jump" on stage.
The Darkness frontman hasn't been able to run due to sustaining a leg injury while trying to copy the former Van Halen frontman and breaking a rib after attempting to jump on a balcony at another gig.
He told Classic Rock magazine: "Me and my brother [Dan Hawkins] try to run, even when we're on tour.
But I haven't been able to do anything for a while because I did a David Lee Roth-style split jump and f***** up the hamstring in my left leg.
"It was a great jump, with my legs over my head, but when I landed I went: 'Uh-oh.'
"Then we were just on tour in Australia, and I jumped on the balcony.
"It didn't have the sort of lip I'm used to, so I ended up falling in a bit sideways and broke a rib.
"So at the moment I'm limping and I find it difficult to breathe.
"But apart from that, I'm in tremendous shape."
The 'I Believe in a Thing Called Love' rocker's latest injuries come after he revealed he was rushed to hospital after a freak accident left him with chemical burns.
The 'Masked Singer' star melted his shorts to his skin after he accidentally got toxic chemicals all over himself whilst cleaning his swimming pool at his home in Switzerland.
Speaking in 2020, he said: "There was a problem with the pool, a pump thing and some chemicals came out of it.
"I think it was a PH negative chemical to control the acidity of the pool.
"I was trying to fix it and I touched my legs and my shorts melted onto my legs, so then I had to go to hospital."
Keke Palmer 'can't wait' to meet her baby
Keke Palmer is "very excited" to meet her baby.
The 29-year-old actress is expecting her first child with boyfriend Darius Jackson, and Keke is already experiencing a range of different emotions.
She shared: "I'm very excited, nervous, and curious more than anything because it's one of those things that no one can really prepare you for.
"More than anything, I can't wait to get my hands on my baby."
Keke also revealed how her pregnancy has already transformed her life.
She told the New York Post newspaper's Page Six column: "I'm a naturally fast-paced person.
"For me, life is going at least 90 miles per hour, that's me cruising. So yeah, I think in general, whether it's the holidays or this transition I'm having in my life, slowing down is definitely not something that comes naturally to me."
Keke actually announced her pregnancy during a recent appearance on 'Saturday Night Live'.
The actress used her opening monologue on the long-running comedy show to "set the record straight" about her pregnancy.
Keke - whose film credits include 'Hustlers' and 'Lightyear' - told the audience: "There's some rumors going around, people have been in my comments saying, 'Keke's having a baby, Keke's pregnant,' and I wanna set the record straight - I am!
"I gotta say, though, it is bad when people on the internet spread rumors about you y'all, but it's even worse when they're correct. I mean, like, I was trying so hard to keep it on the down low, cause I got a lot of stuff going on, you know? ... But honestly this has been the biggest blessing, and I am so excited. Guys, I'm going to be a mom."
Jessie J 'hasn't fully processed' her pregnancy
Jessie J's mind "hasn't fully processed" her pregnancy news.
The 34-year-old pop star recently announced that she's expecting her first child, 13 months after she suffered a devastating miscarriage, and Jessie has now taken to social media to share her emotions with her followers.
She explained on her Instagram Story: "As I lay here (2am) can't sleep.
"Thinking about today and the overwhelming amount of love and support I am feeling. I can't help but think about all the women and men still struggling with loss and infertility.
"It feels so strange to be on this side after being told I would never get pregnant, to pregnancy loss to then being pregnant and how quickly it is all happening.
"My mind hasn't fully processed that it's actually happening some days which is why I kept it quiet for so long.
"The anxiety in the beginning was overwhelming and I felt like I had my eyes closed just hoping it all would continue to go well. Which in moments I still very much have whilst allowing myself to feel the joy and celebration of this experience.
"I don't even know what my point is tbh. (sic)"
Jessie also observed that she's been "blessed with the biggest gift" she'll ever receive.
The singer - who started dating basketball player Chanan Colman in 2022 - added: "I just am still with you and I haven't forgotten about any of it. I still want to hug anyone struggling.
"I don't take a second of this for granted and continue to pray for a safe landing of this magical baby everyday.
"I know I have been blessed with the biggest gift I will ever receive and I pray more than anything you get yours. However that looks. Love you. (sic)"
Prince Harry 'cried once' over Princess Diana's death
Prince Harry "cried once" over the death of his mother.
Princess Diana died in a car crash in Paris in August 1997, aged 36, and Harry has now revealed that he and his brother, Prince William, felt they couldn't show any emotion when they met mourners in public.
In a new interview with ITV's Tom Bradby - which is due to be broadcast on Sunday (01.08.23) - Harry explains: "I cried once, at the burial, and you know I go into detail [in 'Spare', his new memoir] about how strange it was and how actually there was some guilt that I felt, and I think William felt as well, by walking around the outside of Kensington Palace.
"There were 50,000 bouquets of flowers to our mother and there we were shaking people's hands, smiling ... and the wet hands that we were shaking, we couldn't understand why their hands were wet, but it was all the tears that they were wiping away."
Harry still vividly remembers the outpouring of emotion from the British public in the aftermath of Diana's death.
He said: "Everyone thought and felt like they knew our mum, and the two closest people to her, the two most loved people by her, were unable to show any emotion in that moment."
Meanwhile, Harry recently revealed that he actually retraced Diana's final moments ten years after her death.
The 38-year-old prince explained that during the Rugby World Cup in 2007, he drove through the same tunnel where the crash took place.
In his memoir, Harry explains: "The World Cup provided me with a driver, and on my first night in the City of Light I asked him if he knew the tunnel where my mother…
"I watched his eyes in the rearview, growing large.
"The tunnel is called Pont de l'Alma, I told him.
"Yes, yes. He knew it.
"I want to go through it.
"You want to go through the tunnel?
"At sixty-five miles per hour - to be precise.
"Sixty-five?
"Yes.
"The exact speed Mummy's car had supposedly been driving, according to police, at the time of the crash."
Leonardo DiCaprio and Gigi Hadid 'aren't exclusive'
Leonardo DiCaprio and Gigi Hadid "are not exclusive".
The 48-year-old actor - who has previously dated the likes of Gisele Bundchen and Bar Refaeli - and Gigi, 27, were romantically linked to each other in 2022, but according to an insider, they're just "seeing where things go".
The source told 'Entertainment Tonight': "Leo and Gigi have enjoyed their time together when they're able to see each other, but when they're busy with various commitments, they're doing their own things and they are not exclusive.
"They have respect for one another and have always just been seeing where things go."
Gigi has a two-year-old daughter called Khai with former One Direction star Zayn Malik. And the model is currently feeling "balanced, happy, and focusing her energy on her career and daughter".
The source added: "Her main priority is her daughter and keeping things positive and chill."
Leonardo, on the other hand, is "having fun and prioritizing work and spending time with friends".
In September, Leonardo and Gigi were spotted spending time together at various locations in New York City.
However, multiple sources insisted to PEOPLE that they weren't officially dating at the time.
One source said: "They are getting to know each other."
However, another source added: "Leo is definitely pursuing Gigi."
Leonardo was spotted with Gigi shortly after he split from model Camila Morrone after four years of dating.
And according to one insider, the Hollywood star was keen to spend time with friends and family as he looked to move on from his previous romance.
The source explained: "They've been seen hanging out with groups of people. It's only been a few weeks since the split. Since then, he's been hanging out with friends and family."
Louis Tomlinson splits from Eleanor Calder
Louis Tomlinson has split from his on/off girlfriend Eleanor Calder.
The 31-year-old singer and influencer Eleanor reportedly called time on their relationship before Christmas as Louis' touring took a toll.
A source told The Sun newspaper's Bizarre column: "It put pressure on their relationship, Louis being away for so long.
"Other things have gone down between them and for now, at least, they have split up.
"They have mutual friends and a long history, so at the moment it doesn't look like a reunion at some point is completely off the cards. But now they are not together."
Louis and Eleanor first started dating in 2011 and split in 2015.
Following their break-up, Louis fathered a son, Freddie, who is now six years old, with Briana Jungwirth, following a brief fling.
He went on to date actress Danielle Campbell, 27, before rekindling his romance with Eleanor in 2017.
Louis' split with Eleanor comes as a surprise after he previously gushed about their relationship and hinted that marriage was on the cards.
He said: ""The luxury with Eleanor is I've known her since before One Direction's first single 'What Makes You Beautiful' in 2011, so she's felt the whole growth of everything.
"One day, yeah, I'd imagine [marriage]. If you're asking me if I'm going to marry her, yes, I think so. And kids? I'd say so."
Hailey Bieber admits to 'struggling with PTSD' after health scare
Hailey Bieber "struggled with a little bit of PTSD" after suffering a blood clot in her brain.
The 26-year-old model revealed in March that she'd been hospitalised, after suffering "stroke-like" symptoms, and Hailey has now admitted that she's struggled to move on from her health scare.
Hailey - who is married to pop star Justin Bieber - told the 'Run-Through with Vogue' podcast: "I struggled with a lot of anxiety after [my health scare]. I struggled with a little bit of PTSD of just, like, the fear of maybe it was gonna happen again.
"It was just a feeling that I was, like, I never want to experience that ever again. It was so terrifying, so jarring, so discombobulating in every single way that you could imagine."
Last year, Hailey revealed via social media that she was hospitalised and treated for a blood clot in her brain.
The blonde beauty made a recovery within hours, but she was still shocked by what happened.
Speaking to her Instagram followers, Hailey shared: "Although this was definitely one of the scariest moments I've ever been through, I'm home now and doing well and I'm so grateful and thankful to all the amazing doctors and nurses who took care of me!"
The model also thanked her fans for the supportive messages they sent to her on social media.
She wrote: "Thank you to everyone who has reached out with well wishes and concern, and for all the support and love."
Hailey later revealed that she thought she'd suffered a "full blown stroke".
She explained: "It's like having a ministroke.
"It definitely feels like having a stoke, except my body was able to resolve it pretty quickly and then I didn't have any more issues for the whole rest of the day and the whole rest of the time that I was in the hospital."
50 Cent wants to create an 8 Mile TV show
50 Cent plans to turn '8 Mile' into a TV show.
The 47-year-old rap star is currently working on a TV adaptation of the 2002 drama film, which starred Eminem alongside Michael Shannon, Anthony Mackie, and Kim Basinger.
50 shared: "It's gonna be big. I'm working. I ain't got no duds. I'm batting 100."
50 was actually discovered by Eminem and he thinks the TV show could enhance the legacy of the 'Real Slim Shady' hitmaker.
He told the 'BigBoyTV' YouTube channel: "I think it should be there for his legacy because it's important to me that they understand it."
50 explained that the show will provide a "backstory" to the hit film. He also revealed that it could explore Eminem's younger years.
Meanwhile, 50 and Eminem both performed at the Super Bowl halftime show in 2022.
The duo were joined by Mary J. Blige, Dr Dre, Snoop Dogg and Kendrick Lamar, and Mary likened the experience to "getting an Oscar nomination".
The chart-topping star - who has been nominated for two Academy Awards during her career - also claimed that the Super Bowl was the perfect platform to introduce hip-hop music to the world.
She said: "Hip-hop is East Coast. Hip-hop is West Coast. Hip-hop is Europe. This is why it's going to be so major, because this is what the Super Bowl is showing to people: It's not just one thing. [Hip-hop] is everywhere."
Elsewhere, Snoop promised that it would be "one of the greatest Super Bowl halftime shows" of all time, prior to taking to the stage.
He said: "I tell you, this it's gonna be one of the greatest Super Bowl halftime shows that you ever witnessed. Dr. Dre is on it. He's putting his time together with the specifics and the dynamics of what we're doing."
Royal biographer 'perplexed' by Prince Harry's memoir
A royal biographer feels "perplexed" by the claims made in Prince Harry's memoir.
Jonathan Dimbleby has been baffled by the 38-year-old prince's 'Spare' memoir, observing that it contains revelations that you might to see from a "B-list celebrity".
He said: "I am perplexed. I am at a loss. He is clearly a very troubled man.
"I'm concerned incidentally that everyone uses the word revelations. Yes, there are obviously revelations about how he lost his virginity, taking drugs, and how many people he feels he might have shot down from his Apache. But those are the kind of revelations, in part, that you would expect, I suppose, from a B-list celebrity."
Jonathan, 78, also thinks King Charles will be "extremely pained" by the claims made in the memoir.
He told BBC Radio 4's 'Today' programme: "I can only imagine he is extremely pained, very frustrated and would be very anxious to bring it to an end."
In his memoir, Harry claims that he killed 25 people while serving in Afghanistan.
The prince - who undertook two tours of the country - explained that he killed 25 Taliban fighters during his time in the British army.
He wrote: "It seemed to me essential not to be afraid of that number [of people killed]. So my number is 25.
"It's not a number that fills me with satisfaction, but nor does it embarrass me."
Harry even likened the Taliban fighters to "chess pieces removed from the board".
Despite this, the prince actually relished his time in the British military as it allowed him to escape the dramas of royal life.
He said: "I was no longer Prince Harry, I was Second Lieutenant Wales of the Blues and Royals, second oldest regiment of the British army."
Stand-up comedy was a necessary evil, says Kumail Nanjiani
Kumail Nanjiani initially viewed stand-up comedy as a "necessary evil" in his life.
The 44-year-old star began performing stand-up comedy at open-mic events after moving to Chicago - but he now admits it was a "miserable" experience for him.
Kumail - who was born in Karachi in Pakistan - shared: "I only got into stand-up because I wanted to write jokes. It was a necessary evil.
"I hardly performed before 9/11 and afterwards things suddenly shifted; I found being on stage miserable. People felt OK yelling racist stuff at me and it kept throwing me.
"I had to pre-write specific comebacks to take control so I wouldn't lose the rest of the audience."
Kumail performed his stand-up routine on nights and at weekends while he worked at the University of Chicago.
And, at the time, Kumail didn't feel he had any alternative.
He told the Guardian newspaper: "It would take a lot of effort to not run away before every show but I felt I had no choice. There was nothing else that I loved that I also felt I could be good at, if I was given the chance."
The Hollywood star eventually quit his job and ultimately found it easier to be himself on stage.
Kumail said: "If you're on stage being yourself and you don't do well, the audience is rejecting you and your personal story, whereas if you're playing a character, they're just rejecting your persona.
"It took a long time for me to open up to that scrutiny in talking about myself. Just talking about a movie I liked took years."
Kumail's parents were initially angered by his decision to quit his job at the University of Chicago. But they're now huge fans of his movies.
The actor - whose film credits include 'The Big Sick' and 'Eternals' - said: "My parents watch everything I do. Thankfully, they get a kick out of it and they're really proud. Once I started getting recognition, they stopped worrying about this being my career."
Brad Pitt 'plans to step back from Hollywood'
Brad Pitt plans to take a step back from Hollywood.
The 59-year-old star remains one of the biggest names in the movie industry - but Brad reportedly plans to take a step back from Hollywood after selling a 60 percent stake in the production company that he founded with his ex-wife Jennifer Aniston.
A source told the New York Post newspaper's Page Six column: "Brad has decided that he wants to live a peaceful life going forward and is deciding what 'semi-retirement' looks like for him."
The movie star sold the 60 percent stake in his production company to a French media conglomerate. However, he intends to continue acting.
A second source told the publication: "One thing he's decided is that he will likely continue acting."
Meanwhile, Brad made a concerted effort to get sober after his split from Angelina Jolie.
The actor previously revealed that he felt "safe" at Alcoholics Anonymous and that he found a "really private and selective" group of people who wouldn't betray his trust.
Brad - who was married to Angelina between 2014 and 2019 - explained: "I had a really cool men's group here that was really private and selective, so it was safe, because I'd seen things of other people, like Philip Seymour Hoffman, who had been recorded while they were spilling their guts, and that's just atrocious to me."
Brad remains on a mission to improve his health, after he managed to kick his smoking habit amid the COVID-19 pandemic.
The 'Moneyball' star initially tried to limit the amount he smoked - but he eventually decided to commit to his ambition wholeheartedly.
He shared: "I don't have that ability to do just one or two a day. It's not in my make-up. I'm all in. And I'm going to drive into the ground. I've lost my privileges."
Jeremy Renner pays tribute to ICU team
Jeremy Renner has paid tribute to his ICU team.
The 52-year-old actor has been in intensive care since being run over by his own snowplough at his Lake Tahoe ranch and Jeremy took to Instagram to thank the medical team who have been looking after him.
The picture shows Jeremy in his hospital bed, with a number of medical professionals standing around him and he wrote: "Thank you Renowned Medical ICU team for beginning this journey."
The accident came after Jeremy tried to help remove a stranded family member's car from the snow near his home in Tahoe.
Jeremy was struck by a snowplough and left "completely crushed" by the vehicle, according to a 911 call made after the incident.
A doctor - who lived nearby - fixed a tourniquet to his leg, which was bleeding heavily, until the actor was airlifted to hospital, where he was kept in an intensive care unit in a critical condition, before he underwent surgery for blunt chest trauma and orthopedic injuries.
His family released a statement thanking fans, saying they were "tremendously overwhelmed and appreciative of the outpouring of love and support".
The Washoe county sheriff, Darin Balaam, said earlier this week: "At this point in the investigation... we believe this is a tragic accident."
The 'Avengers' actor has been flooded with well-wishes from fellow Marvel co-stars including Chris Hemsworth, Chris Evans, Chris Pratt and Paul Bettany as he recovers, with famous faces including Penelope Cruz, Orlando Bloom and Heidi Klum also sending him uplifting messages.
'I hate those people': Iggy Pop rejected calls from Grammys for years
Iggy Pop rejected calls from the Grammys for years.
The former Stooges frontman was finally honoured with the Lifetime Achievement prize at the 2020 Grammy Awards, but he has admitted he refused to speak to Grammys bosses because he didn't want to be "an exhibit in their museum".
He told Classic Rock magazine of the accolade and The Stooges making it into the Rock and Roll Hall of Fame in 2010: "Things changed and society met me halfway.
"The Grammys kept wanting to talk to me on the phone and I kept telling my manager: 'I don't want to talk to them. I hate those people. They want me to be an exhibit in their museum or something.'
"Then when I finally spoke to the lady from the Grammys a couple of months later she said: 'We're giving you the Lifetime Achievement.
Without you, there's no Lil Nas X and there's no Billie Eilish.'
"According to her, 'You're a direct link to the artists that are at the top of our awards list this year.'
"So that's what one person had to say, and I'll take that for what it's worth."
Meanwhile, Iggy just revealed he was almost in AC/DC.
The 75-year-old punk star - whose real name is James Newell Osterberg, Jr - claimed that he could have been part of the rock band alongside the likes of Angus Young, Malcolm Young, Phil Rudd, Cliff Williams, Brian Johnson, and Stevie Young but was unsure how he would "fit into" their kind of music.
He said: "They had a manager many years ago, when I hadn't reformed The Stooges, I hadn't moved to England. And this guy said, 'Are you interested in joining AC/DC?' They were looking for a singer. I listened to their record. I thought, I can't fit that bill,I wasn't, like, 'Ugh, I don't like them.' It was quite well made. They do careful work, but I'm not what they needed."
The 'Lust for Life' hitmaker went on to add that he did cross paths with the late Bon Scott - who was the lead singer of AC/DC from 1974 until his death in 1980 at the age of 33 - although he still struggles to remember the circumstances of their meeting because they were so drunk.
He told The New York Times: "I had some wonderful encounter with Bon somewhere, and we were both drunk and stoned. I see pictures sometimes. I go, I don't remember, but that's me with Bon. I loved what he did."
Cate Blanchett begs to work with Viola Davis
Cate Blanchett has begged to work with Viola Davis.
The 53-year-old actress is such a huge fan of the 57-year-old star that she wants to "audition for the role of co-star or supporting actress or personal assistant to Ms. Davis in any project she has".
Speaking at the Palm Springs Film Festival as she presented Viola with the Chairman's Award, Cate said: "There's some actors that you aspire to be, there's some actors that you aspire to know, and some that you want to work with and learn from, hoping that some of the magic wisdom and stardust will rub off on you. Viola Davis is all three. Make no mistake, this is actually not a speech, it's kind of an audition because I'm auditioning tonight for the role of co-star or supporting actress or personal assistant to Ms. Davis in any project she has. I'm Australian; I make a really good little coffee and, actually, I know how she takes it. It's a black decaf, little bit of oat milk and a dash of cinnamon. I think I'm in."
However, Cate admitted she hasn't yet got a project for them to work on together.
She said: "I don't have an idea but I just want to work with you. I'm selfish. I want some of Viola's emotional power. I want some of her stardust, her effortless technical mastery and her constant access to the flaws that makes her characters so painfully human. I want some of her dignity, her grace, her old soul depth. And I want to look as fabulous as she looks in red on the red carpet. I want her deep throated, sometimes joyous, but always knowing, laugh. I want some of her sass. I want some of her ass. I just want some all of this to rub off on me, and I know I'm not alone. I know I'm joining a really, really long line, but I'm dogged and I'll wait. It's kind of creepy, but I will wait."
Kris Jenner's tribute to Tristan Thompson's late mother
Kris Jenner has paid tribute to Tristan Thompson's mother after she died suddenly.
The showbiz matriarch - whose daughter Khloe, 38, has daughter True, four, and a five-month-old son with Tristan, 31 - took to social media to share her sorrow after it was revealed that his mother Andrea passed away following a heart attack.
Kris shared a number of pictures of Andrea and wrote on Instagram: "I am so heartbroken by the sudden passing of Tristan's mom, Andrea. My thoughts, prayers and all of my love are with Tristan, Amari, Dishawn and Daniel. You were the most amazing, dedicated, devoted, and selfless mom and such a loving, kind, and fabulous grandmother. What a blessing you were to your family!!! I will miss you Andrea. I will miss your bright spirit and amazing light. Thank you for always praying for us and lifting us up and encouraging us along the way. Rest in peace beautiful angel @realtristan13."
Khloe's best friend Malika Haqq wrote: "Beloved Andrea. I will miss praying with you most of all. I'll never break our promise. Ever. Till we meet again."
And Malika's twin sister Khadijah Haqq added: "We will miss you so Ms. Andrea, thank you for the wisdom!"
Tristan left Los Angeles "as soon as he could" to be with his family in Toronto after he received the news and Khloe was spotted with him.
A source told E! News: "Khloe will comfort and help him navigate what will be a very difficult time.
"This was unexpected. She was incredibly close to his mother, and like Khloe and the Kardashian family always do, they will come together and support their loved ones in their most difficult time of need. Tristan is the father of Khloe's kids and she and her entire family will always be there for him."
As well as Tristan, Andrea - who worked as a school bus driver - is survived by sons Dishawn, Daniel, and Amari and her husband Trevor Thompson.
Britney Spears to Jamie Lynn: Is it THAT hard to be my sister?!
Britney Spears has questioned Jamie Lynn after she suggested it was "hard" to be her sister.
The 41-year-old pop star - who was locked in a conservatorship that gave her family control of her fortune and allowed them to dictate her professional commitments from 2008 until 2021 - took to social media on Friday (06.01.23) after her Jamie Lynn complained she "struggles with her self self-esteem" because of her sister's success and Britney reminded her how much she had treated her over the years when she was not allowed to indulge.
She wrote on Instagram: "Are we gonna say it was hard being my sister ???? Hmmmmmmmmmmm.... really ??? Well this was my spa plan at Vegas as my childhood friends had their heads held high with a seat for toes and nails and a bottle of champagne for each one of them while I STOOD AT THE DOOR not allowed to go in.... but bet ur bottom dollar they be gotten their entertainment from me that night !!!!! I've learned from the BEST... do we dare set aside our SELF CARE AND ACKNOWLEDGE a childhood friend ???? WHY no !!!!"
The '...Baby One More Time' legend has become estranged from her family since the termination of the conservatorship -and added that she would rather "trash" her former friends and reminded Jamie Lynn - who is best known for appearing on children's television in the mid 2000s - through the post that she could not even own her own name for over a decade as she admitted her mind was "blown" by her sister's accusations.
She added: "WHY no !!!! We teach her the MEANING OF MEAN and then throw her away in the end with no self rights !!!! You want me to share it on Telly ??? I'd rather spit in their faces and trash them on Instagram cause that's all my family has ever been to me !!!! Pssss here are pics of what nerve damage can do... which I have right side of my body and goes numb every night !!! Not a victim story or crying about it because I was never a big deal... I sat in a chair for 10 hours a day and no rights for 4 months !!! They hurt me and nothing was done except that I lost 15 years of my life with my family owning my name ... subjected to being an angel while my dad has 5 women on his tour bus drinking that cup of coffee ... so cool and smooth it must have been nice owning my name for 15 years... it honestly blows my mind the hardships you say you have had with having me as your sister ... I'm sorry you feel that way but don't ever poke at my broken foot in a kitchen telling me to go to the doctor because my foot infection might infect your royal children !!!"(sic)
Earlier this week, the former 'Zoey 101' star, 31, claimed that while she was very "proud" of Britney for her achievements, she has "never had anything" for herself.
She said: "Growing up, my sister became famous, worldwide famous, when I was very young. I'm so proud of her, love her to death, but I don't know. Sometimes I feel like I don't really have anything for myself. I struggle with self-esteem all the time."
Chelsea Handler: We need a woman back on late night TV
Chelsea Handler wants to take over 'The Daily Show permanently.
The 47-year-old comedienne stepped down from her late-night talk show 'Chelsea Lately' in 2014 but is set to return to screens as one of several guest hosts of 'The Daily Show' following the departure of Trevor Noah and is hoping that she will be a "good fit" for the role in the long term.
She said: "If it's a good fit, then it's a good fit. I'm definitely open to the possibility of it."
The former 'Chelsea Does' star went on to explain that her passion for late-night television was reignited when she guest-hosted 'Jimmy Kimmel Live! in June soon after the overturning of Roe v Wade - which stripped millions of women in America of the legal right to undergo a legal and safe abortion - and called for more women to be at the forefront of the talk show genre.
She told E! News: "I just realised, 'Oh, this is what I love to do, "'I love being in a writer's room. I love commenting and sounding off on people.' And right after Roe v. Wade, I hosted that. It's definitely in my wheelhouse and I'm good at it, and I like it, and I'm in the mood to work, so that's the most important thing. When you're in the mood to do something, that's when you really churn out the best stuff. We need a woman on late-night television. It doesn't even have to be late night, it's just we need a woman. Men don't represent us. We represent us!"
Melissa Joan Hart is to celebrate Christmas in June
Melissa Joan Hart is to celebrate Christmas in June.
The 46-year-old actress - who is best known for playing the title role on the classic 1990s sitcom 'Sabrina, the Teenage Witch' is joining of a number of famous faces including the likes of Andrew Walker, Paul Campbell, Brennan Elliott, Jen Lilley, Taylor Cole and Cameron Mathison gearing up to front Christmas Con in Kansas City, to be held in the summer of this year.
In a statement, convention founders Christina Figliolia and Liliana Kligman said: "We have constantly been asked to bring Christmas Con to the Midwest and what better place to host a Christmas convention than the birthplace of Hallmark, Kansas City. All of us are truly excited to come share the Christmas spirit this June."
The former 'Clarissa Explains It All' star will sign autographs and pose for photographs with fans at the unseasonably festive event over the summer, which is to take place on the weekend of June 9 - 1 and will be hosted by 'Mean Girls' star Jonathan Bennett.
The news comes just weeks after Melissa - who is married to rock star Mark Wilkerson and has Mason, 16, Braydon, 14, and nine-year-old Tucker with him - explained how she manages to incorporate her faith into the Christmas season.
She said: "We obviously always put our Nativity out as well as our tree and everything else … we do Advent, and we go to Christmas Mass on Christmas. We always make sure we remember the reason for the season … try to find places to inspire joy and hope … all the things that the season is supposed to represent by doing service work, going to local food banks, donating gifts to kids in need."
Khloe Kardashian denies using drugs for weight loss
Khloe Kardashian has denied using drugs to lose weight.
The 38-year-old reality star shared images from her Sorbet cover shoot on Instagram but many of her followers used the comments section to accuse her of using the diabetes medication Ozempic to lose weight until one user labeled the allegations "disturbing", to which Khloe responded with a clapping hands emoji.
Khloe replied: "Let's not discredit my years of working out. I get up 5 days a week at 6am to train. Please stop with your assumptions. I guess new year still means mean people."(sic)
Last year, Khloe's elder sister and 'The Kardashians' co-star Kim, 42, went on a crash diet to lose a reported 16 pounds in three weeks in order to fit into a dress once worn by late Hollywood legend Marilyn Monroe to attend the Met Gala and following the event, comedian Heather McDonald noted that a lot of celebrities have turned to the drug for weight loss in recent years, naming the Kardashian family specifically.
She said: "I am not at all endorsing this, but people are talking about. A lot of people are wondering, 'What are the Kardashians using where they had such rapid weight loss and dropped it so quick and their bodies completely transformed?' A lot of people were talking about this and it's called Ozempic."
Khloe's comments come just a day after she wore fake bangs for a photoshoot and pointed out how the hairpiece had "changed the shape of her face" but slammed follower comments that she had undergone plastic surgery.
She wrote: "Fun fact: I wore clip on bangs for this shoot. It was fun to give a different look and not be committed. I am surprised with how much I liked the bangs even though they changed
the shape of my face. Would you ever get bangs?
"I openly talk about my nose job and anyone who 'looks up' to me must know I've lost over 60 pounds over the years. So recently the only change is the bangs. I didn't know I had to do a running list.. Either way, attacking someone is sad in my opinion. Unprovoked is the saddest part. If you are offended or don't like what you see, you simply don't have to say anything. I hope you have a great first week of the new year. Thanks for making mine so jolly!"
Prince Harry is 'completely naive', says Colonel Tim Collins
Prince Harry is "completely naive", according to Colonel Tim Collins.
The 38-year-old royal - who stepped down from royal duties in 2020 and now lives in LA with his wife Meghan, Duchess of Sussex - completed two tours of Afghanistan as part of the British Army and claimed in his new memoir 'Spare' that he had killed 25 people, but now former British Army Office Tim, 62, says he has "betrayed the trust" of the military.
He said: "The military has always embraced him into the family no matter what had gone on before. He's now betrayed that trust in the same way he's betrayed his birth family. I think he's completely naive. There's no understanding of what he's doing and what he has done. He needs somebody to put their arm around him, but not somebody who is putting their arm around him in order to make money. That's the key thing."
Tim went on to add that the army's trip to Afghanistan was a "legally sanctioned intervention" and insisted they did not go there specifically to kill, but acknowledged there was a "regrettable" loss of life.
He told The Times: "We went to Afghanistan as part of a legally sanctioned intervention for the benefit of the lawful government and people of Afghanistan. We didn't go there to kill people. In the course of duties, people were killed. Enemy were killed; we lost almost 500. Sadly some innocent people were killed in the crossfire. All loss of life is regrettable."
Harry - who has Archie, three, and Lili, 19 months, with the former 'Suits' actress - wrote: "It seemed to me essential not to be afraid of that number [of people killed]. So my number is 25. It's not a number that fills me with satisfaction, but nor does it embarrass me."
Harry even likened the Taliban fighters to "chess pieces removed from the board".
RHOSLC star Jen Shah sentenced to six years in prison
Jen Shah has been sentenced to 78 months in prison.
The 49-year-old reality star - who is known for appearing on hit Bravo show 'The Real Housewives of Salt Lake City' - was arrested in March 2021 on wire fraud and money laundering charges in connection with a telemarketing scheme and finally sentenced to six and a half years behind bars on Friday (06.01.23) after pleading guilty in July 2022, according to E! News.
Jen - who is married to football coach Sharrieff Shah and has children Sharrieff Jr., 28, and 19-year-old Omar with him - is said to have defrauded"the elderly and vulnerable" through her telemarketing scheme, along with assistant, Stuart Smith, who is expected to be sentenced in March.
Lawyer Priya Chaudhry said: "Jen has spent a month reading the names of those she has hurt. She has prayed for their forgiveness. But she cannot forgive herself. Jen understands she cannot undo the pain or repay them today - but today is about justice for them. Measuring the pain."
On the show, Jen's tagline is: "The only thing I'm guilty of is being Shah-mazing" but in court, Jen reportedly said through tears: "Reality TV has nothing to do with reality, even my tagline."
Jen had initially pleaded not guilty to the crime until earlier this year and according to E! News must now report to prison on February 17, with her legal team recommending that she be detained in a minimum-security prison in Texas, although her reporting prison is yet to be decided.
Last year, Jen insisted that she has been "wrongly accused" as she protested her innocence.
Speaking in a trailer for the 'Real Housewives of Salt Lake City: After Show', she said: "I don't take this lightly. It's my life and more importantly, it's my family's life. I care about them more than anything. I don't want my kids or my husband or my mom or my family affected by this and so I have to fight. I'm representing not only my family but I'm representing everybody out there that has ever been accused, wrongly accused or wrongly convicted of a crime that they didn't do.
"And if I have the means to fight, I'm going to fight. I'm going to fight because what is happening is not right and this has not only happened to me. There are so many other people out there in America that this has happened to, that have gone to prison, they're completely innocent, their lives have been ruined."
Prince Harry mocked as 'mad big mouth loser' by Taliban over '25 chess piece' kill boast
Prince Harry is being mocked as a "mad big mouth loser" and "dirty idiot" by the Taliban for bragging he killed 25 "chess piece" enemy fighters in Afghanistan.
Members of the terror cell told Mail Online on Friday (06.01.23) they don't believe the Duke of Sussex's death toll boast and said he committed war crimes and "needs a doctor".
Speaking from a checkpoint outside Islam Qala, on the border with Iran, Taliban commander Molavi Agha Gol, 32, said: "We are still here ruling but he has fled to his grandmother's palace. He's a big mouth loser who has been trying to get attention.
"I do not even believe what he said about the Mujaheddin. He is a loser and scared to go to a combat zone. We made history by kicking him and his army out of our homeland and he should be very angry about that.
"Do not believe whatever losers tell you. I see news about him a lot on my Facebook feed and really think he's gone mad and needs a doctor immediately.
"Even if he believes (he killed 25 Taliban), our martyred Mujaheddin are in heaven, but his invading friends are burning in hell and I really hope I was in Helmand when he was there, to make him understand what real chess pieces are.
"If he's a real man and not a f****** loser, come to Afghanistan again."
Molavi Nabi Jan, a Taliban official in the western Afghan city of Herat, added: "He's a dirty idiot and a drunk jackal. He has destroyed all bridges behind him and is now just trying to avoid drowning in history.
"Using the Taliban and his family is his last tool to make people talk about him. I know him very well. God left him on his own to give him a very big punishment at the end."
And Taliban official Anas Haqqani, tweeted about Harry's brad: "Mr. Harry! The ones you killed were not chess pieces, they were humans; they had families who were waiting for their return.
"Among the killers of Afghans, not many have your decency to reveal their conscience and confess to their war crimes.
"The truth is what you've said; Our innocent people were chess pieces to your soldiers, military and political leaders. Still, you were defeated in that 'game' of white and black 'square'."
Harry, 38, known as 'Captain Wales' during his decade in the military, claimed in his memoir 'Spare' he killed 25 Taliban fighters during his second tour of duty in Afghanistan.
He said he thought of them as "chess pieces" he'd obliterated from a playing board rather than human beings, saying in the book: "You can't kill people if you see them as people."
Harry was deployed to Helmand province as a forward air controller in 2007 and returned in 2012, and said in his book he flew on six missions that resulted in the "taking of human lives".
Former British Army Colonel Richard Kemp has warned Harry may have put a target on his back with his remarks, and was quoted by The Sun on Friday (06.01.23) saying: "It undermines his personal security. He has shot himself in the foot."
Alec Baldwin begged fans to follow wife Hilaria on social media for her birthday present
Alec Baldwin begged fans to follow his wife on social media for her birthday present.
The 64-year-old actor posted a video on Thursday (05.01.23) making the plea ahead of Hilaria Baldwin turning 39 on Friday (06.01.23), saying he wanted the drive to help her reach one million followers on Instagram.
He said: "Hey everybody, it's the day before my wife's birthday. I would like to ask you, as a birthday gift or even just gesture to my wife, would you follow her on Instagram?
"Tomorrow is the birthday of my favourite person. May I ask you a favour?
"I would like to ask you a small favour, and that is my wife is just, it seems like she's just centimetres shy of a million followers on Instagram.
"Obviously I love my wife - I'm crazy about my wife, blah, blah, blah… all the things we say about people we're in love with.
"My wife's the most fabulous person I've ever met in my whole life. That's true. That's true. That's definitely true.
"I would like as many of you as possible, I would like a really great, great surge of people to follow my wife on Instagram to say happy birthday to my wife. Would you do that for me? ... Please. Thanks."
Some fans hit out at Alec for the gesture, with one calling it "super shallow", while others defended his clip, saying it showed he was a good husband.
Hilaria - who has 993,000 Instagram followers - this week described Alec as "husband goals" for rubbing her feet on a sofa before a night out, four months after she had her seventh child.
The couple, who married in 2012, have kids Carmen Gabriela, nine, Rafael Thomas, seven, Leonardo Ángel Charles, six, Romeo Alejandro David, four, Eduardo Pao Lucas, two, and daughters Ilaria Catalina Irena, three months, and two-month-old Maria Lucia Victoria.
Hilaria said in December she hopes she and Alec are "done" having children.
But she added because the actor has not undergone a vasectomy she can't guarantee they won't add to their family.
She also admitted they are "not okay" following the 'Rust' killing.
Hilaria was seen tearing up in an interview for 'Extra' as she told how no one could have imagined the death of cinematographer Halyna Hutchins, 42, who was fatally shot on the set of the film on October 21 last year after a prop gun loaded with live ammunition was accidentally discharged in the hands of 64-year-old Alec.
She said: "We can't be okay. No one is okay. It was and is a tragedy that nobody could ever have imagined."
When asked how the Baldwin family is coping following Halyna's death, she added: "We're not okay."
Alec was involved in a wrongful death lawsuit filed by Halyna's family, which included her husband, Matthew, before both parties settled in October.
In November, Alec sued 'Rust' crew members and the armorer for negligence and for supplying a prop gun loaded with ammunition.
In July, Hilaria posted online pleading for less "darkness and negativity" and said it was "now more than ever" easier to "slander people" and "cherry pick and piece together strands taken out of context, 'opinions', or complete fabrications".
Prince Harry confronted by talking bin when mushroom trip turned sour
Prince Harry was confronted by a talking bin when a mushroom trip turned sour.
The Duke of Sussex, 38, said in his memoir 'Spare' - in which he also admits to having taken cocaine - he and his friend took chocolate shrooms washed down with tequila at a party before he started to hallucinate.
He said: "Beside the toilet was a round silver bin, the kind with a foot pedal to open the lid. I stared at the bin. It stared back. Then it became... a head.
"I stepped on the pedal and the head opened its mouth. A huge open grin.
"I laughed, turned away, took a p***. Now the loo became a head too.
"The bowl was its gaping maw, the hinges of the seat were its piercing silver eyes. It said, 'Aaah'."
Harry - dubbed the 'Party Prince' before he settled down with his wife Meghan, Duchess of Sussex, admits in the book he took coke a "few" times when he was aged 17 after being "offered a line" during a hunting weekend.
But he claimed he didn't find it "very fun".
The prince also claims in the memoir, released early in Spain before its official 10 January publication date, he was once dragged into an office and questioned by a member of the Royal Household staff over the potential use of illegal drugs.
He said he was interrogated during the Queen's Golden Jubilee of 2002 after a journalist asked Buckingham Palace about his drug-taking habits.
Harry also confesses in the book to smoking cannabis, saying he did coke partly to be different and because he was a "17-year-old willing to try almost anything that would upset the established order".
A translation of the Spanish edition of 'Spare' obtained by Mail Online - which is also full of stories of Harry's alleged fights with his older brother Prince William - said the class-A drug didn't make him "feel particularly happy", but said it did make him feel "different".
Mel Gibson 'months from shooting The Passion of the Christ sequel'
Mel Gibson is reportedly months away from shooting a sequel to his controversial 2004 film 'The Passion of the Christ'.
Jim Caviezel is said to be returning in the role of Jesus while Mel, 67, is apparently returning as director of 'The Passion of the Christ: Resurrection', according to Newsmax.
The title has already been reported, but the outlet said in an update on the project it could "begin filming in the next few months".
Mel's 'Passion of the Christ' made $612 million globally at the box office on it is $30 million budget, making it the highest grossing R-rated film in US cinemas.
It created uproar with its graphic violence, for portraying antisemitism and apparently straying from the Bible.
Mel, infamous for his anti-semitic outbursts including that "Jews are responsible for all the wars in the world" when he was pulled over for drunk driving in 2006, said in 2016 about his plan for a sequel to 'Passion of the Christ': "Of course, that is a huge undertaking, and you know, it's not the 'Passion 2'. It's called 'The Resurrection'.
"Of course, that's a very big subject and it needs to be looked at because we don't want to just do a simple rendering of it - you know, read what happened.
"But in order to read it, experience and explore probably deeper meanings of what it's about, it's going to take some doing and Randall Wallace (the screenwriter of 'Braveheart') is up to the task.
"He is also, as well as a brilliant writer, he is a great director. He directed 'We Were Soldiers' and 'Heaven is for Real' and stuff.
"So, he is a good writer and director."
Tom Hanks hates watching his films back
Tom Hanks struggles to watch his hit movies back.
The 66-year-old star has doubts about his acting ability and has to "wrestle with authenticity" when looking back on his "big hit" films.
Speaking on The Great Creators with Guy Raz podcast, Tom said: "I wrestle with authenticity.
"I wrestle with the difference between lying for a living as an actor and lying to myself as a human being."
The two-time Oscar winner prefers not to watch his films again as it always leaves him with a sense of regret about his performance.
Hanks explained: "(I see) the falsehood in them. I see the loss. I see that one time, 'Oh man, I missed that opportunity.'
"And it's not because, at the moment, I chose not to - it's because, after it was done, I realised I didn't go far enough. I didn't go to the place that I could have gone.
"Then I asked myself, well, why? Was it because I was satisfied with what I had? Was it because I wasn't up enough on the text? Was it because I didn't have enough of those ideas in my pocket? Or you know, was it because I was late that day and we had to rush the shot and instead of six passes, we only got two passes at it?
"That's where the self-doubt creeps in."
Tom claimed that the 1994 film 'Forrest Gump' - which landed him an Oscar for Best Actor - as one of the few movies where he gave his all.
The 'Cast Away' star recalled: "We all sat together for weeks with (director Robert Zemeckis), and Bob was saying, 'Well, what do we make of that?'
"We started at the beginning of the script and we all talked about everything. Even scenes we're not in, and what it meant to the text. That doesn't mean your own lines.
"You must know the text, because the text is the interpretation of the theme, and the theme is why you're all there in the first place."
Mindy Kaling won't return for Inside Out sequel
Mindy Kaling isn't returning for the 'Inside Out' sequel.
The 43-year-old actress voiced character Disgust in the 2015 Pixar movie, but she won't be back for the 2024 follow-up film.
She told The Wrap: "I had a great time working on 'Inside Out' and am sure 'Inside Out 2' will be great.
"But I'm not working on it."
The original movie told the story of characters Disgust, Joy (Amy Poehler), Sadness (Phyllis Smith), Fear (Bill Hader), Anger (Lewis Black), who all made up the main emotions of 11-year-old hockey player Riley (Kaitlyn Dias), who struggled after moving Minnesota to San Francisco, California for her dad's new job.
In September, it was confirmed Poehler would be reprising her role in the sequel, which is scheduled for release in summer 2024.
A tweet on the official 'Inside Out' Twitter account read: "Oh JOY! Amy Poehler is back to star in Inside Out 2. Directed by Kelsey Mann, produced by Mark Nielsen, and written by Meg LeFauve, Disney and Pixar's Inside Out 2 releases Summer 2024. (sic)"
But one sequel Kaling is involved in is 'Legally Blonde 3'.
Last year, it was revealed the star has been penning the script for the third film with Dan Goor.
The actress-and-writer expressed how she didn't want to be the one who "messes up" the soon-to-be trilogy starring Reese Witherspoon - who first played the accidental aspiring lawyer in the 2001 original, written by Karen McCullah Lutz and Kristen Smith, and again in 2004's 'Legally Blonde 2: Red, White and Blonde', written by Kate Kondell - as it's her version of Marvel's 'Avengers'.
She said: "I think of it like Reese's 'Avengers'. Elle Woods is like her Captain America, and so you don't want to be the person that messes up that story, so for me, we are just taking our time because we want it to be really good."
Donald Trump and two rioters sued for $30m by girlfriend of late Capitol riot cop
Donald Trump and two rioters are being sued for $30 million by the girlfriend of a police officer who died after the January 6 Capitol Hill attack.
Sandra Garza, the long-term partner of Capitol Police officer Brian Sicknick, 42, argued in her lawsuit, filed at the Federal District Court for the District of Columbia on Thursday (05.01.23), that Trump, 76, along with Julian Khater, 33, and George Tanios, 40, were "directly and vicariously" liable for her former boyfriend's death.
The filing, made a day before the two-year anniversary of the riot, added: "As a direct result of the attack by Defendants Khater and Tanios and others - which Defendant Trump instigated - Officer Sicknick suffered physical injuries.
"The following day, on January 7, 2021, Officer Sicknick tragically died."
"All that transpired on January 6th - including the actions taken by Defendants Trump, Khater, and Tanios - played a significant role in the medical condition that led to Officer Sicknick's death the following day."
Khater pleaded guilty in September to assaulting three police officers, including Brian, with a chemical spray in the Capitol riot.
Tanios, who reportedly passed the substance to Khater, took a plea deal in July over charges related to the January 6 attack.
Brian suffered two strokes and died of natural causes and Sandra's lawsuit seeks $30 million in damages from Trump, Khater and Tanios.
Sandra also accused the trio of conspiring to block the official certification of the 2020 election, assault or aiding and abetting assault, and rioting or inciting a riot.
The Washington medical examiner ruled Brian's death was the result of multiple strokes that occurred hours after the riot, and prosecutors avoided linking his death to the assault.
But the medical examiner admitted "all that transpired played a role in his condition", while the Capitol Police are considering his death as a "line of duty" fatality.
Trump is facing a string of civil suits arguing he owes major financial compensation for his role in the events surrounding the Capitol attack.
A federal judge in February allowed three civil suits against the former US leader should move forward.
Officer Sicknick was one of five police officers at the Capitol on January 6 who died in the year after the attack.
The four other officers - Jeffrey Smith, Howard S Liebengood, Gunther Hashida and Kyle DeFreytag - died by suicide.
Billie Eilish's childhood home swarmed by cops after 'burglary' attempt
Billie Eilish's childhood home was swarmed by police after a man allegedly jumped a fence and tried to break into the house.
The suspect is now in LAPD custody after officers responded to a burglary call on Thursday (05.01.23) night to the singer's family house in the Highland Park area of Los Angeles.
It has been reported a man in dark clothes and black mask hopped over a fence, but it's unclear if anything was taken or anyone was home at the time, including 21-year-old singer Billie.
Footage shown on local television showed police scouring the home for evidence following the incident.
Billie, born in Los Angeles to actress Maggie Baird and actor Patrick O'Connell, was raised in the house with her 25-year-old brother and musical collaborator Finneas.
It's understood Billie's parents still own the home.
The singer and Finneas gave fans a look at the home in the 2021 Apple TV+ documentary, 'The World's a Little Blurry', and she was seen as a teen at the house recording with her brother.
Billie said in the film they made an "album in our bedroom" and told fans their do-it-yourself efforts showed "anything is possible".
The singer also opened up the home for a CBS Sunday Morning segment in December 2019.
Seven-time Grammy winner Billie, who is dating musician Jesse Rutherford, 31, said in 2021 that she still spends many nights in her childhood bedroom to be close to her parents and told Rolling Stone magazine she only moved out in 2019.
Anne Heche's son announces launch of her posthumous book
Anne Heche's son has announced the launch of her posthumous book.
Homer Laffoon also thanked fans for their "overwhelming" support as he shared details of the 'Call Me Anne' tome, five months after his actress mum was taken off life support following her fireball car crash.
He posted on his late mum's Instagram account alongside a cover of the book: "Homer here. Never imagined I'd find myself responsible for mom's IG account, but here we are.
"First things first, from August to now, the amount of love, care and support shown by those on social media and IRL has been overwhelming and blessedly received - thank you.
"One day at a time is working for me as I'm sure the healing journey will be a long one. Your good thoughts and well wishes will continue to comfort me on my path.
"But this is my mom's account so enough about me. I have a responsibility to share with her community what she was working on and how excited she would have been to tell you herself.
"My mom had a completed manuscript for a second book at the time of her passing. The book is the product of mom's further efforts to share her story and to help others where she could.
"'Call Me Anne' is the result and I know she was excited to share with the world.
"So, mom, here I am sharing it with the community you created, may it flourish and take on a life of its own, as you would have wanted.
"For those in Los Angeles, there will be a special event at the Barnes and Noble at The Grove. I know mom would want to see everyone's smiling face as she read an excerpt and signed copies.
"I don't plan on using this platform too often but know she loved her fans, loved writing (she wrote endlessly) and it would not feel right not to reach out at a time like this.
"As mom liked to sign off, Peace and love, Homer."
The Barnes and Noble book promotion event will be held on January 24 and feature a reading by Anne's friend Heather Duffy.
Anne, 53, who released her first book, titled 'Call Me Crazy', in 2001, suffered a "severe anoxic brain injury" in her August 2022 crash before she was taken off life support.
Prince Harry lost his virginity 'behind a pub at the age of 17'
Prince Harry lost his virginity to an unnamed older woman at the age of 17.
The 38-year-old prince has revealed in his new memoir, 'Spare', that he lost his virginity in a field behind a "very busy pub" in 2001, when he was still a student at Eton College in Windsor, South-East England.
Remembering a lunchtime meeting with one of the royal family's bodyguards, Harry wrote: "I suspected he was referring to my recent loss of virginity, a humiliating episode with an older woman who liked macho horses and who treated me like a young stallion.
"I mounted her quickly, after which she spanked my a** and sent me away. One of my many mistakes was letting it happen in a field, just behind a very busy pub. No doubt someone had seen us."
However, it ultimately transpired that the bodyguard was actually there to discuss another issue.
Meanwhile, Harry recently explained that he married the Duchess of Sussex for love rather than an "urge to marry someone who would fit in the mould" like other men in the royal family.
The prince - who has Archie, three, and Lilibet, 19 months, with the duchess - revealed in his 'Harry and Meghan' documentary series that he followed his heart when he proposed to the former 'Suits' actress.
Harry - who married the duchess in May 2018 - explained: "I think for so many people in the family, especially obviously the men, there can be a temptation or an urge to marry someone who would fit in the mould, as opposed to somebody who you are perhaps destined to be with.
"The difference between making decisions with your head, or your heart."
Gianluca Vialli dies aged 58 after pancreatic cancer battle
Gianluca Vialli has died at the age of 58.
The former Italy and Chelsea striker has passed away after a long battle with pancreatic cancer.
Vialli was first diagnosed with the disease in 2017 but it returned last year after he had been given the all-clear in 2020.
The sports star left his role with the Italian national team last month and explained that he needed to undergo treatment for the disease.
The striker started his playing career in his homeland with Cremonese before representing Sampdoria and Juventus - who he joined for a then world record fee of £12.5 million in 1992.
During his 16 years as a player in Italy, Vialli won every major trophy on offer, including Serie A titles with Sampdoria and Juventus in 1991 and 1995 respectively.
The star is one of only nine footballers to have won the three main European club competitions.
Vialli moved to the Premier League with Chelsea in 1996 and became player-manager of the Blues following the sacking of Ruud Gullit in 1998.
He became the first Italian to manage a Premier League club and went on to lead the Blues to glory in the League Cup, UEFA Cup Winners' Cup and UEFA Super Cup in his first months in the role.
Vialli ended his playing career to focus on management in 1999 and enjoyed more success with the London club as he guided them to victory in the FA Cup and Charity Shield in 2000.
However, he was sacked early in the 2000/2001 campaign after an indifferent start to the season.
In a social media post, Chelsea wrote: "You'll be missed by so many. A legend to us and to all of football.
"Rest in peace, Gianluca Vialli."
Vialli then managed Watford in the 2001/2002 season but was sacked after a disappointing year in charge.
The footballer won 59 caps for Italy and scored 16 goals at international level. He represented the Azzurri at three major tournaments.
Prior to his death, Vialli had been the national side's head of delegation.
Prince Harry was suffering from frostbitten penis at Prince William's wedding
Prince Harry was suffering from a frostbitten penis during his brother's wedding.
The Duke of Sussex was left with a chilly willy after a 200-mile charity expedition to the North Pole in March 2011 - which raised £2 million for the Walking with the Wounded - and just a month later at Prince William and his sister-in-law Catherine's nuptials he was still suffering with his wintry wand.
He wrote in his new memoir 'Spare': "Upon arriving home I'd been horrified to discover that my nether regions were frost nipped as well.
"And while the ears and cheeks were already healing, the todger wasn't. It was becoming more of an issue by the day."
Harry, 38, admitted his father Prince Charles, 74, was very "sympathetic" about his frostbitten ears and cheeks following the trek.
He said: "Pa was very interested, and sympathetic about the discomfort of my frost nipped ears and cheeks."
The royal also confirmed in the bombshell book that both he and William, 40, were circumcised as children, despite reports claiming their late mother Princess Diana - who died in 1997 aged 36 - had "forbidden it".
He added: "There were countless stories in books, and papers (even The New York Times) about Willy and me not being circumcised.
"Mummy had forbidden it, they all said, and while it's absolutely true that the chance of getting penile frostbite is much greater if you're not circumcised, all the stories were false. I was snipped as a baby."
Harry later went to the doctor after using Elizabeth Arden cream on his polar privates.
The duke embarked on the gruelling, 13-day North Pole trek alongside four ex-servicemen, who were all injured in Afghanistan.
Bam Margera was 'pronounced dead' after suffering 4 seizures
Bam Margera was "pronounced dead" last month after suffering four seizures.
The former 'Jackass' star was admitted to hospital after he was struck down with coronavirus, and during one seizure he bit his tongue so hard it "was nearly falling off", and he later drank some infected blood which gave him pneumonia.
He said: "I basically was pronounced dead on Elvis' birthday, December 8th. I did not know that I had gnarly COVID. My body was shutting down, and I went into four seizures, each one lasting 10 to 20 minutes, and on the fourth one, I bit my tongue so hard, it was nearly falling off.
"It got so swollen and puffy, it wouldn't fit in my mouth, and I was drinking the infected blood, which gave me pneumonia as well, so when the shaman took me to the hospital, I went into my fifth seizure, and I couldn't breathe without a tube down my throat."
Bam didn't know he had been in hospital for nearly a week, thinking he had been there for just "a couple of hours" after he "blacked out".
Speaking on his former 'Jackass' co-star Steve-O's 'Wild Ride!' podcast, he added: "I woke up five days later thinking I was there for a couple of hours.
"They're like, 'Dude you've been here for nearly a week. We tried to take the tube out, and you weren't breathing on your own.' "
The 43-year-old professional skateboarder was released from hospital in San Diego last month, and he thanked fans for their "love and support".
He wrote: "I'm out! Thank you to my friends, family and you for the love, support and prayers [praying hands emoji] [purple heart emoji]. (sic)"
Just days earlier, Bam's family revealed he was on "the road to recovery".
The family of the former 'Viva La Bam' star wrote on the social media platform: "Bam was recently hospitalized. Fortunately, he is now testing negative for Covid and receiving care for pneumonia.
"Bam is on the road to recovery. We ask and thank you for your positive prayers.(sic)"
Prince Harry reveals final words to Queen Elizabeth
Prince Harry has revealed his final words to his grandmother, Queen Elizabeth, following her death last September.
The 38-year-old prince was in the UK when the monarch passed away aged 96 but failed to make it to her Balmoral estate in Scotland in time to say goodbye to her before she died, thought he got to spend some time saying his farewells after she had gone, telling her he hoped she had been reunited with his grandfather Prince Philip, 17 months after his death.
He wrote in his new memoir 'Spare': "It was difficult, but I kept on thinking how I'd regretted not seeing my mother at the end.
"I stayed in one place without moving, gazing at her for a long time, gathered strength and continued going forward.
"I whispered to her that I hoped she was happy and that she was with grandpa."
And he also told the late queen he "admired her for having carried out her functions to the end... the Jubilee, welcoming the new Prime Minister".
Harry then walked out of the room to let his wife Meghan, Duchess of Sussex, know he had arrived at the estate safely.
He also claimed in the book he learned the queen had died via the BBC's news coverage after his plane landed in Aberdeen and he received a text from Meghan which urged him to: "Call me the moment you get this."
And the Duke of Sussex had rowed with his father, King Charles, who had told him not to bring Meghan to Scotland with him.
He said of their phone call on the subject: "He said I was welcome at Balmoral, but he didn't want … her.
"He started to lay out his reason, which was nonsensical, and disrespectful, and I wasn't having it. [I replied,] 'Don't ever speak about my wife that way.'"
BLACKPINK's Jisoo to release debut solo album in 2023
BLACKPINK's Jisoo is to release her debut solo album this year.
The 28-year-old singer took to social media to confirm she will drop a record in 2023.
In response to a fan who asked on Korean mobile app Weverse whether they could "look forward" to Jisoo's solo album, the star wrote: "Please wait for Jisoo's solo album in 2023."
YG Entertainment added in a statement: "BLACKPINK's Jisoo is currently working hard on recording her solo album.
"While carrying out a busy world tour schedule since last year, she finished the album jacket photo shoot and worked on music production whenever she got the time in order to keep the promise with fans. She will greet [fans] soon with good news."
In January 2022, Jisoo was asked whether she plans to release solo music later in the year, and she replied: "Of course!"
The K-Pop girl group are also made up of Jennie, Rosé and Lisa, all three of which have already had solo releases.
Jennie was the first, when she dropped single 'Solo' in 2018, and Rosé and Lisa followed in 2021.
This comes after Jisoo and Camila Cabello joined forces for a duet of 'Liar' at BLACKPINK's final date of their North American tour in November.
The group drew the US leg of their 'Born Pink' world tour to a close in sensational fashion at the Banc of California Stadium in Los Angeles on November 20th, bringing out the former Fifth Harmony star to perform the track from Camila's LP 'Romance'.
The 'Don't Go Yet' hitmaker came out on stage in a custom 'Born Pink' outfit.
Noah Schnapp comes out as gay
Noah Schnapp has come out as gay.
The 18-year-old actor - who is best known for playing Will Byers in 'Stranger Things' - shared the news with his fans in a TikTok video.
He said: "When I finally told my friends and family I was gay after being scared in the closet for 18 years and all they said was 'we know.' You know what it never was? That serious. It was never that serious. Quite frankly, it will never be that serious."
Noah's on-screen character in 'Stranger Things' is gay, and the teenage actor even referenced Will's sexuality in the TikTok caption.
He wrote: "I guess I'm more similar to Will than I thought."
Noah previously explained that season four of the show will explore Will's "personal struggles and struggles with his identity".
He said: "I feel like people are used to seeing him fighting a monster or struggling with the supernatural side of 'Stranger Things'.
"But this season, it's just more about his personal struggles and struggles with his identity, and I think it's interesting for the audience to see that."
Noah also addressed Will's sexuality during an interview in July.
The actor - who stars on the show alongside Millie Bobby Brown and Finn Wolfhard - confirmed in the interview that Will had feelings for his best friend Mike, adding that it was "100 percent clear that he is gay".
Noah said at the time: "Obviously, it was hinted at in Season 1: It was always kind of there, but you never really knew, 'Is it just him growing up slower than his friends?'
"Now that he's gotten older, they made it a very real, obvious thing. Now it's 100 percent clear that he is gay and he does love Mike."