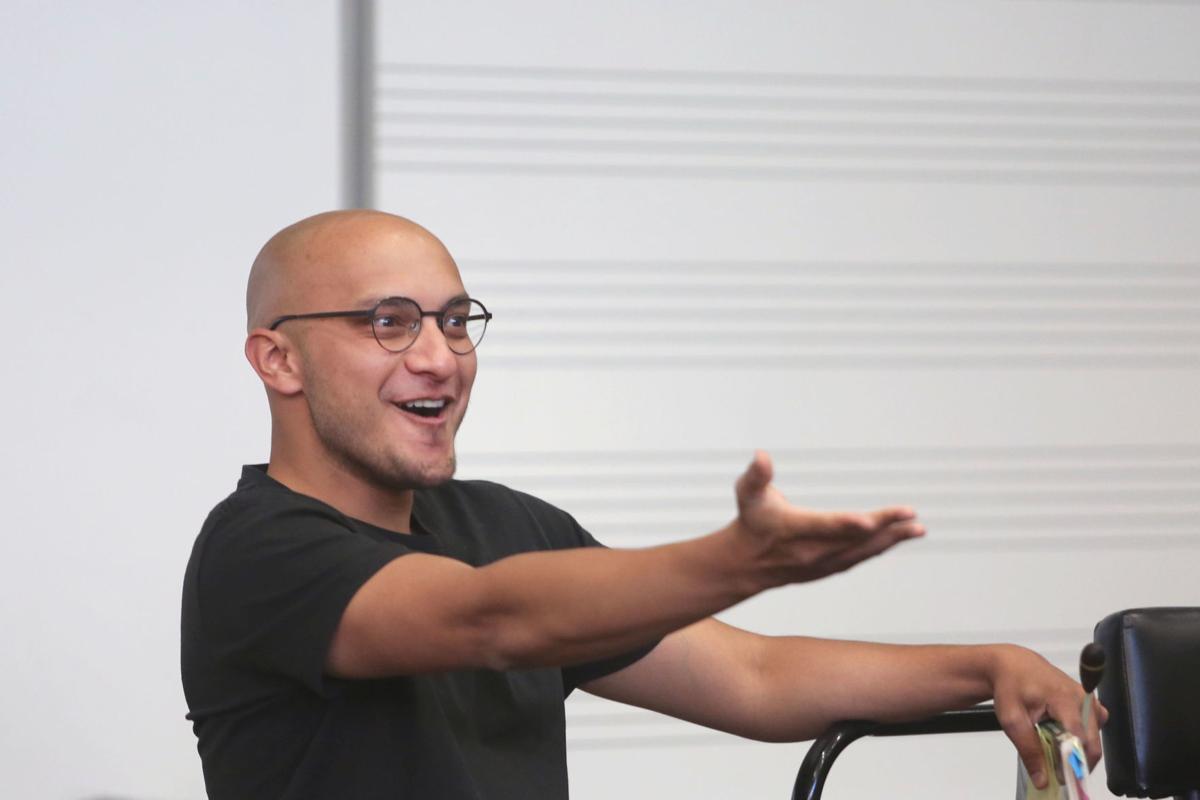 The Wyoming Symphony Orchestra kicked off 2019 under the baton of then-guest conductor Christopher Dragon. The January concert was part of his audition to become the symphony's next music director and conductor.
The symphony in May announced Dragon as the new conductor and music director after an 18-month search that involved concerts last season with four finalists for the job.
He immediately set to work on the symphony's current season, "Celebration," which began in October and runs through April.
Dragon aims to offer something different for every concert and sees big possibilities in working with the orchestra and community. Community elements have included local dancers and singers in December's concert, and Dragon has mentioned big plans for future shows are on the way.
When Christopher Dragon found out he'd become the new Wyoming Symphony Orchestra music direc…
"Each of these concerts is — at least my approach is, we're going to try to present in a new, fresh way so it's fun and accessible to everybody," Dragon said in May. "Because in the end, I want the Wyoming Symphony to be a part of the Casper community."
A native of Australia, Dragon brings experience from major symphonies across the globe, including as assistant conductor of the West Australian Symphony Orchestra in Perth before he arrived in the Rocky Mountains to become the associate conductor of the Colorado Symphony. Besides becoming the Wyoming Symphony Orchestra music director, he was promoted in May to resident conductor for the next two years of the Colorado Symphony.
Dragon is also known for the time he walked on stage in an inflatable T-Rex costume to conduct the "Jurassic Park" theme during a Colorado Symphony show.
A tyrannosaurus rex stepped onto the podium and, with his stubby reptilian arms, raised his …
He first performed with the Wyoming Symphony Orchestra in his new role as conductor in October's official season kickoff. A paperwork delay last summer for his U.S. visa forced him to miss the symphony's August Pops in the Park concert, though he expects no further travel issues.
His next appearance with the symphony is in January in a concert with Steven Lin, who performed during Dragon's audition here. This time, Lin will perform Beethoven's Piano Concerto No. 1 to kick off the symphony's homage to Beethoven's 250th birthday with a major Beethoven piece as part of every concert in 2020. Another upcoming concert will celebrate the anniversaries of women's suffrage in Wyoming and the U.S.
You have free articles remaining.
The Wyoming Symphony Orchestra's new music director, Christopher Dragon, won't be able to co…
Choosing the new conductor involved input from the musicians and community. It was a difficult decision among the strong crop of finalists, and yet a clear one, members of the symphony's search committee said in May.
Symphony principal trumpeter Scott Meredith was part of that committee.
"He's probably the finest conductor I've ever worked with, right off the bat," Meredith said in May. "... It's kind of like getting a Super Bowl-caliber quarterback for your team. So this is the person that I think will take us to the next level for sure."
Meredith remained impressed through October rehearsals, when he said the conductor's personality and contagious love for his work will draw audiences from around the region.
A tyrannosaurus rex stepped onto the podium and, with his stubby reptilian arms, raised his …
"So audience members are going to come and want to be a part of that," Meredith said in October. "I think that people are going to just like to be around him in such a way that people liked to be around — and I'm going to use a big name, but Bernstein."
Dragon's goal is for the symphony to be a central part not only of Casper but also the entire state.
"So I see, really, the Wyoming Symphony becoming the orchestra of Wyoming," he said in May.
Dragon already began plans in 2019 for the next season, with ideas including more pop concerts, educational opportunities for students and connecting with younger community members.
Dragon quickly took to Casper and its symphony in 2019 and looks forward to its future.
"I think something that really sold me about coming to the orchestra and accepting the job was actually the Casper community," Dragon said in May. "Everyone was so warm and so welcoming and … it's very appealing to know that the symphony is so supported by its community. That's something that really stood out, was that the Wyoming Symphony was well-supported by the Casper community.
"So it's a great place to be coming to, because I know there's a lot of potential there and especially because I know the community wants the orchestra to do well."
Follow arts & culture reporter Elysia Conner on twitter @erconner