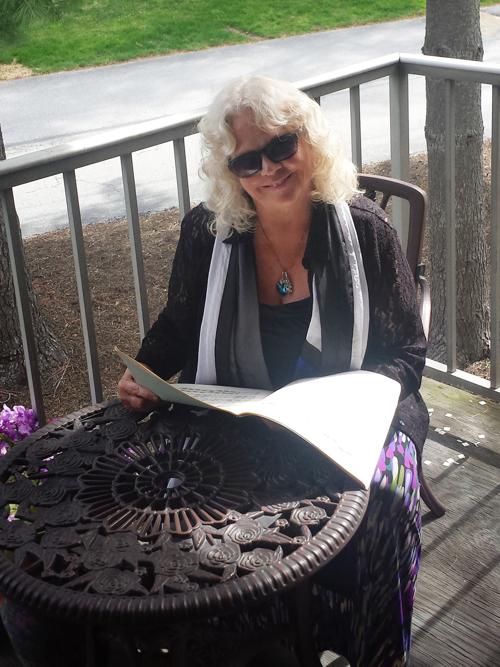 Besides great musical talent, she's remembered for her love for her family, music, her students and for entertaining her many friends and fellow musicians in her home.
"I loved her joie de vivre, her joy of life and her exuberance for living," her friend Inge Kutchins of Casper said. They met through the Casper Chamber Music Society when Ahlquist took over the helm of the organization from Kutchins in the 1990s. Ahlquist later taught as an adjunct faculty member at Immaculata University in Pennsylvania, according to her obituary.
"And I think my favorite memory was just her exuberance, and her love of life and her spirit of joy and her artistry, her beautiful gift of music, which was mentioned in the obituary, that family and music were her joys in her life," Kutchins said.
Thermopolis to Carnegie Hall
Worland native Ahlquist would return to Wyoming to perform in Casper as well as Thermopolis and give programs for students. Jacky Wright, who booked her Thermopolis performances and school visits, recalled Ahlquist worked well with all ages of youth and described her as "so talented but so gracious and down to earth as well."
"It was a real inspiration for them to see that you could attend school in Hot Springs County and still go on to perform in somewhere like Carnegie Hall," Wright said. "So, you know, it just showed them that the sky's the limit, really, even though you come from a small town."
When they'd ask Ahlquist how she went from Thermopolis to Carnegie Hall, she'd tell them, "lots of practice."
Ahlquist debuted with the Wyoming Symphony Orchestra at age 14 and studied at the music schools of Juilliard and Eastman, where she earned her doctorate degree, according to her obituary. She taught at Casper College from 1992 to 2002 and received a Wyoming Governor's Art Award "for her inspiration to music students." Ahlquist performed solo and chamber music recitals at concert halls like the Lincoln Center, The Library of Congress and the Rockefeller Mansion, and she was a top prize winner at the French Piano Institute's Festival International in Paris.
Her CDs received critical acclaim and a gold medal at the 2014 Global Music Awards, and The New York Times said, "Ahlquist has made a name for herself championing Portuguese keyboard music. She plays with vigor and strength as well as with sensitivity," according to the Casper Star-Tribune in 2017.
She taught many students including New Orleans musician Andre Bohren, who started piano lessons with her at age 14 in Casper and took her classes Casper College. The two in 2017 performed a set of shows in Casper and Thermoplis and were planning another when she emailed about her diagnosis, saying she was surrounded by family and at peace with whatever transpired, he said.
Bohren described Ahlquist as "an incredible inspiration" who passed on technique and ways of looking at music that are relevant to every piece of music he's ever played. She remains very much in his playing.
"I definitely would not be in the musician that I am today without Janet Ahlquist," he said. "That's without a doubt."
'She's made her mark'
Ahlquist played piano with her whole body and a full emotion, Bohren said.
"She was a showy piano player and her personality was kind of like that as well," Bohren said. "You know, when she walked into the room, she very dramatically walked into the room."
She'd walk in wearing her signature long scarves and flowy clothes. Bohren while going back to school in New Orleans asked a professor with a degree certificate from Eastman on her wall if she'd by chance attended with Ahlquist many years before.
"Big blonde hair? Always, always playing the 'Flight of the Bumblebee' boogie woogie arrangement?" the teacher asked.
The piece was still often Ahlquist's showstopper encore.
"So she absolutely made an impression on the people she was around, you know," he said.
Ahlquist entertained lavishly in post-concert gatherings at her apartment where she'd have dinner ready and the guests shared wine, Kutchins said. Ahlquist, who never discussed her age, always bore a quality of youthfulness.
"And she was always in good spirits," she said. "And I loved her laugh, and ... and the bounce of her beautiful blonde hair."
Bassoonist Richard Turner met Ahlquist through the Casper Chamber Music Society. She often played piano at the assisted living facility in Casper where her mother lived, and Turner's performances with her included a musicale she organized for the residents there. Her gentle, soothing voice was a contrast with her intense gaze as a group musicians would make eye contact to start a piece.
"And the intensity would be — if you were ready for it — was a little bit scary," he said. "And then you'd start playing with her it was just this wonderful experience."
Musicians, especially at Ahlquist's level, often have a reputation for music consuming their lives, but she was well-read with diverse interests and diverse interests that especially made her a joy to be around, Turner said.
Ahlquist is survived by her children Kirk Roberts, Tracy Sandmann, and Jon Roberts as well as grandchildren and many other family members and friends, according to her obituary. A gathering to celebrate her life will be held at a later date.
"She's made her mark on so many people, and through her teaching and her playing and her personality," Turner said. "I kind of always think those people don't really leave us. They just sort of change form and the memories carry us forward."
Follow arts & culture reporter Elysia Conner on twitter @erconner
Stay up-to-date on what's happening
Receive the latest in local entertainment news in your inbox weekly!